Choosing a dedicated amplifier for an acoustic guitar can be hard.
When it comes to trying, testing, and pretty much wasting money on amplifiers that just don't offer as much as they should, we've been there and can fully empathise.
When it comes to acoustic amplifiers, this is never more true. Any acoustic guitar worth its salt will naturally be very sensitive once a signal is running through it, therefore you need an amplifier that can deal with, and react to the depth and resonance required to get a true, electro-acoustic guitar tone.
After all, what's the use in a fancy electro acoustic if it's let down by a sub-par amp? So, let's have a look at our top-ten selections, tried and tested and put through the ringer so that you can make the right choice (and not spend a fortune on multiple amps like we did).
Best Acoustic Amplifiers – Top Ten Selections
This list is by no means in a best to worst order. Rather, we've chosen the types of amplifiers that acoustic guitarists of all skill levels will be comfortable with, from beginners to experts alike.
1.

Fender Acoustasonic 15 Watt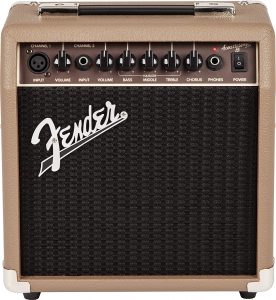 If you've already been browsing acoustic amps, you've probably come across the Acoustasonic. This 15-watt beauty is as feature packed and low-cost as it is stylish, equipped with both a guitar input incase you're busking or taking your acoustic on the road (which also makes the low weight ideal).
Commonly a beginners amp mistakenly purchased for electric guitars, Acoustasonic is specifically tailored for acoustics via the custom 6 inch Fender speaker, crafted for dealing with higher acoustic frequencies so you'll be able to hear every harmonic, and every deep chord sing.
Other features including low to high-end equalisation and a chorus setting to properly blend the depth of the tone, and get the shimmery chorus effect that many beginner acoustic players don't think to add as a tone enhancer.
All in all, it's a brilliant amp, one that we'd recommend mostly for beginner guitarists who are getting to grips with an electro acoustic in their room (as it's compact and can be taken to open mic nights or small gigs too).
View Price
Full Review
2. Fishman Pro LBT-500 Loudbox Mini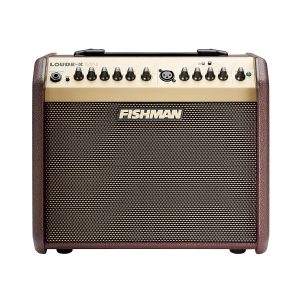 If you're a seasoned acoustic guitarist, you'll no doubt have heard of Fishman before. The Loudbox mini might sound like a contrast, but when you plug it in and crank up the volume, it's clear to see just how much of punch the LBT-500 mini packs.
To say that it is 'only' 60 watts (in the context of larger acoustic amplifiers), you're certainly not missing out on any reactivity or sheer volume. Unless you're playing huge venues, 60 watts will get the job done when it comes to volume.
Like most premium acoustic amps this comes with a microphone slot, and like the Acoustasonic comes with a chorus effect, and an additional reverb effect (another fantastic effect for beginners to experiment with).
The bluetooth connector option means that you can wirelessly connect your acoustic, great for simply walking round the room to simulate playing on a stage, or for when actually playing in a live environment so that you don't have to worry about tripping over those pesky cables. You also get preamp and tone controls as standard for those extra tweaks which, when dealing with an acoustic signal, can make all of the difference.
It might be a little bit bulky for players stuck for space, otherwise if you're already playing small gigs and venues and want a dedicated acoustic amp, it'll certainly get the job done.
View Price
Full Review
3.

Boss ACS Live 60W Combo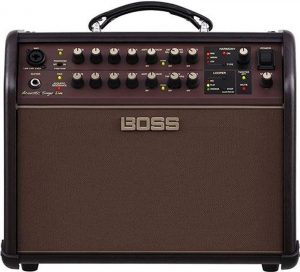 Another 60 watt amp, this time from Boss (who are arguably more better know for their pedals than they are their amplifiers). We were very, very pleasantly surprised with this amp, and in standard Boss stylings they've really gone to town with the features you'll find on the ACS Live. So let's have a look.
Straight out of the box, the visuals are striking. It's a vintage inspired look, that is just as durable as you'd assume at a glance. It's dual channel meaning that, like most of these quality acoustic amps, you can have a separate guitar and mic signal running through, with different tone and setting tweaks one each one.
For the mic channel, there are some fantastic starter effects for vocalists looking to tweak their sonic output! Reverb, delay, and a unique vocal harmony channel which gives an octave and loop effect in one.
The guitar channel has the standard bass, middle and treble controls you'd expect, along with a lovely built-in looper, two types of chorus effects, and even an anti-feedback setting. It's very slightly pricier than some of the other amps in this list, but when you consider the dedicated dual channels, a nifty looper and additional effects, it's certainly worth that touch more in price. This is also easily our favourite in the list… Give it a go!
View Price
Full Review
4. Fender Acoustasonic (40 Watt)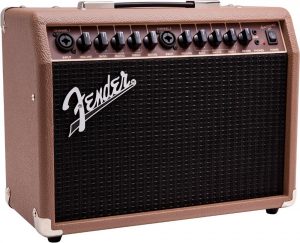 You're probably looking at this guide right now and thinking… hold on, haven't you just included the Acoustasonic at the top of this list? And yes, you'd be right. However, we simply had to include the larger, more robust version in this ultimate collection too.
The Acoustasonic 40 watt is the top-tier of Fender acoustic amps (at least in our humble opinion). This utter beast is a compact unit, with a vast array of different tonal options to really give you that acoustic depth, most notably in live settings (where other, less refined acoustic amps might struggle).
You get a two-channel input for your guitar, mic or other, with the standard knobs (bass, middle and treble) alongside some very nifty effects like reverb and chorus. There's also a setting for aux and headphones, making this ideal for guitarists who want to go from playing quietly in their bedrooms, to throwing out their headphones and playing loudly in a live environment.
If you're serious about an acoustic amp and want to invest in one that will grow with you, don't pass up the chance that the 40 watt Acoustasonic offers.
View Price
Full Review
5. Roland Portable Acoustic Amp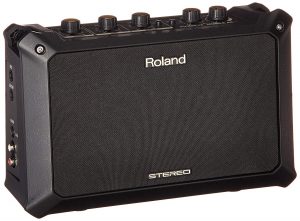 We've included this one more specifically suited for buskers and road musicians, simply because the majority of the people looking for an acoustic amp will be in this position. And, whilst amps like the previous ones reviewed in this guide are great for a live setting, they may not be specifically suited for travelling acoustic guitarists who are specifically looking for a battery powered amp that can withstand sustained road life!
One of the more simpler amps in this guide, the Roland Stereo is literally made for making acoustic guitar playing in live settings as simple and portable as possible. It boasts up to 15 hours of battery life, an incredibly sturdy construct, surprisingly light weight and easy to understand controls. Therefore if you're all about the playing and not about the fiddling with the amp, it's ideal.
You just get standard guitar and mic inputs, and volume controls. Very compact and simplistic, but if that's you want then stop reading this guide and go check the Roland amp out. If you're the type of guitarist that likes those additional effects, this won't be for you. However, there's nothing stopping you taking a small pedal board on the road with you too!
View Price
Full Review
6. Yamaha THR5A Mini

The TH range from Yamaha is a complete, sturdy lunch box style looking range of compact amps that have been tailored to common types of guitarists (such as rock, metal and studio). For the purpose of this guide we've focused on THR5a, the yellow concoction crafted solely for acoustic guitarists.
Yamaha boasts the THR5A as a compact acoustic amp with studio readiness, and they certainly deliver on their promise. The amp relies on a simulator which is able to accurately emulate a combination of retro tube amplifiers and dynamic microphones, meaning that the tone you're going to get will be natural, warm, and full-bodied.
Despite the million dollar looks, this amp is actually fairly underpriced considering its features and the incredibly natural tone that can be achieved from it (from the get go). If you're just looking for a dedicated acoustic amp and not one that might be useful for your standalone electric axes too, then this is certainly one for you to check out.
View Price
Full Review
7. Marshall Acoustic Soloist AS50D (50 Watt)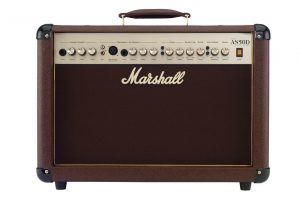 The Soloist AS50D is one of the more classic amplifiers in the Marshall acoustic collection. It's a 50 watt, sturdy amp that is build for the gigging guitarist in mind (and if you're wondering if it's as bullet proof as it looks… it is!).
The amp comes with an external XLR mic output as standard (for those buskers and duos out there looking for an amp to cater to a mic), a stereo input for on-the-fly backing track usage, and also a myriad of effects such as digital chorus, reverb, and a quirky digital effects loop.
View Price
Full Review
8. Stagg 10 AA USA (10 Watt)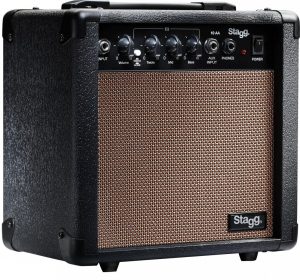 Some beginner guitarists might be lucky enough to have been gifted the Stagg 10 AA USA, as it is a very common first amp for players who receive an electro acoustic guitar. Don't be fooled by the 10 watt volume either… whilst it might not be loud enough to fill stadiums, it's certainly enough for the bedroom guitarist (and compact enough to fit in even the pokiest of apartments too).
The amp comes with the stand 3-band Bass, Middle and Treble EQ, along with aux input and headphone jack. The AA USA also has volume and gain controls, great for that extra little boost when needed.
It's also a tough little unit that will take any travelling bumps and scrapes you can throw at it. Compare this with the headphone setting for playing silent guitars even more silently when on the road, this is easily one of the best compact acoustic amps for players looking to travel.
View Price
Full Review
9. Fishman Loudbox Mini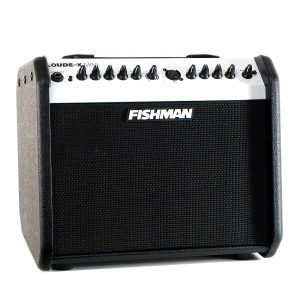 Look at this dapper unit! The Fishman Loudbox Mini is one of the more premium amps in our guide, and for good reason. The sheer tonal and effects options alone are what puts this acoustic amp up there.
Despite the bulky looking size, this is in fact the lightest acoustic amplifier that Fishman have ever made. The loudbox lives up to its name with a 60 watt speaker, and comes with the type of premium controls that you've probably come to expect when flicking through this guide.
The two channel amp comes with instrument (guitar) and mic inputs, 3-band EQ controls (low, mid and high), reverb and chorus special effects settings as standard.
If you're an acoustic guitarist worried about having to drag a heavy amp around but don't want to compensate for a smaller, potentially poorer-quality amp, then this is definitely the one for you.
View Price
Full Review
10. Sunyin Joyo Portable 10 Watt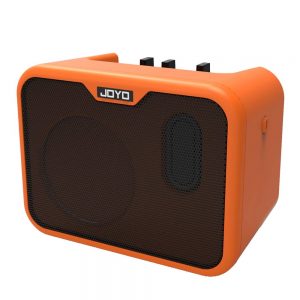 Portable? Check. Battery powered? Check. Bright and vibrant enough to be seen a mile away? Check! This is quite a new brand and a rare find for ourselves, and after testing we just had to include the Joyo Portable to our list.
With a surprisingly snappy 10 watt speaker, this is an extremely portable amp under 2kg, that comes with a very handy carry strap so you can busk and play on the go! It's this travel strap which gives the Joyo its biggest appeal; a truly individual portable acoustic guitar amp that couldn't be easier to take with you wherever you go (and look good while doing it).
Other points of note include a headphone connector, volume knob, two-way tone setting, and even a gain setting which we certainly didn't expect to see! When it comes to cheap portable amplifiers, the guitarist on a budget can't really go wrong here.
View Price
Full Review
Video Demos
Fender Acoustasonic 15 Watt
Boss ACS Live 60W Combo
Marshall Acoustic Soloist AS50D
Frequently Asked Questions
We understand that you may have some burning questions after looking at these amps in this guide. And, whilst we've given answers to common types of acoustic amplifier questions, there may be some we've missed.
If that's the case and you don't see the answer you're looking for, please leave a comment below and we will add the reply to our list.
What are the most common types of acoustic amplifiers?
In terms of the types of acoustic amplifiers, you'll commonly find cheaper acoustic amps are battery powered, and the more expensive versions powered how most usual amps are. If you're thinking more about brands, then Fishman is arguably the most well known producer of acoustic amps (in comparison to larger brands which focus on amps across the spectrum of guitarists and guitar types).
Do I have to spend a lot of money on an amplifier?
Absolutely not. As you'll see in this guide, we've tried to keep the prices low and the features high, which has proven easy to do based on the amps we've chosen. Like anything to do with guitars, you can make it as expensive as you like, however this doesn't necessarily mean that the added price means a better product.
Rather, consider why you're wanting to purchase a dedicated acoustic amp; portability, sturdiness and tone are all valid reasons. So, pick your reason and get to choosing!
Is buying effects pedals for an acoustic guitar worth it?
Most acoustic guitarists will commonly opt for reverb, chorus, loop, delay, and even sometimes a mild overdrive/gain effect. Whatever you choose is up to you, however you will commonly find that most quality acoustic amps will come with reverb and chorus settings pre-built, therefore we'd recommend investing in a quality loop pedal so that you can thicken your output.
Can I use an electric guitar in an acoustic guitar amp?
Of course, however it may be defeating the object slightly if you're purchasing an amp solely for an electro acoustic guitar. This isn't to say that you won't get a fantastic tone via your electric from an acoustic amp, just not that it's crafted specifically for an all-electric guitar.
Conclusion
Hopefully you've found the types of compact acoustic amplifiers you've been looking for in this guide.
Enjoyed this guide? Check out related guides such as the travel guitar guide for players on the move, and, if you're serious about busking and putting together a larger sound as an individual guitarist, give the Boss RC-30 Looper a look.
More from Amplifiers
---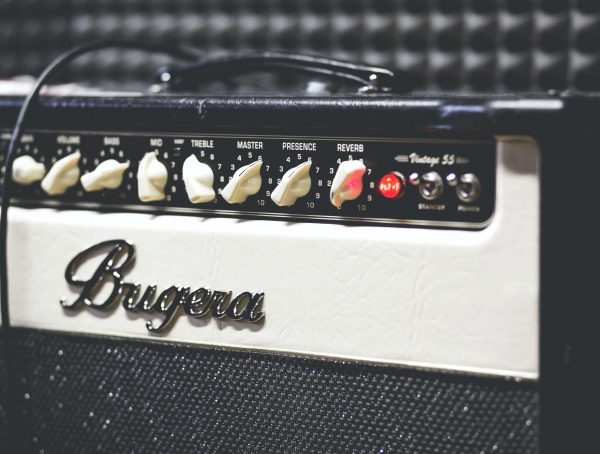 Looking for a miniature guitar amp (with a headphone jack) that still packs a punch? You might be landing on this …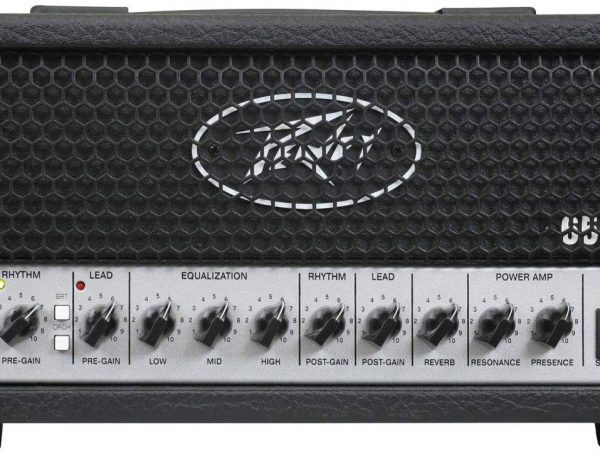 How does the Peavey 6505 Mini Head compare to larger amplifier heads? Here we're going to be taking a little look …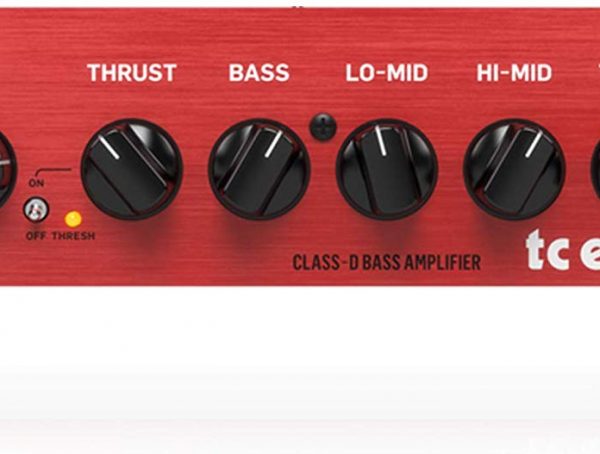 Is the TC Electronic BQ250 one of the best bass amp heads on the market? Let's find out in this review. …
Editor Picks
---