Sound

Build Quality

Size

Price
Summary
Our overall winner is the classic Ibanez Tube Screamer TS808!
The complete guide to choosing the right overdrive pedal for you
Players of all ages and abilities cannot deny that blues music is simply awesome. And whether you are the the kind of guitarist to crank the mega distortion and tear through a solo, or if you prefer the slightly overdriven smooth pentatonic solo, you're going to need a guide to discover the best electric guitar pedal for you.
All pedals listed are reviewed with completely transparency, and are both played and owned by the Guitaarr team. So, let's take a look at this ultimate overdrive and distortion pedal guide!
 Updated June 2020 with new pedals and updated pricing. 
From boosting your signal to completely transforming the gain and distortion of your clean signal, you can't go wrong with this collection of pedals below.
Table of Contents: 
Quick Look – The 20 Best Overdrive Pedals in 2020
| Image | Pedal | View Price |   |   |
| --- | --- | --- | --- | --- |
| | Boss SD-1 | AMAZON | | |
| | Blackstar HT-DUAL | AMAZON | | |
| | Electro Harmonix Double Muff Fuzz & Overdrive | AMAZON | | |
| | Ibanez TS808 Tube Screamer | AMAZON | | |
| | Caroline Guitar Company Haymaker Dynamic Drive | AMAZON | | |
| | Blackstar LT Overdrive Pedal | AMAZON | | |
| | Orange Getaway Driver Overdrive | AMAZON | | |
| | Pigtronix Fat Drive Tube Sound Overdrive | AMAZON | | |
| | Boss BD-2W Blues Driver Pedal | AMAZON | | |
| | Yngwie Malmsteen Fender Overdrive Pedal | AMAZON | | |
| | Moog Minifooger Analog Overdrive Pedal | AMAZON | | |
| | Seymour Duncan Forza Overdrive | AMAZON | | |
| | Digitech DOD Looking Glass Overdrive | AMAZON | | |
| | Voodoo Lab Sparkle Overdrive | AMAZON | | |
| | Ibanez TS808HWB Hand Wired Tube Screamer | AMAZON | | |
| | Seymour Duncan 805 Overdrive Pedal | AMAZON | | |
| | Valeton Tube Engine Vintage Overdrive | AMAZON | | |
| | EarthQuaker Devices Bellows Fuzzdriver | AMAZON | | |
| | Ibanez BB9 Bottom Booster Pedal | AMAZON | | |
| | JHS Pedals Morning Glory Pedal | AMAZON | | |
1. Boss SD-1 Super Overdrive Pedal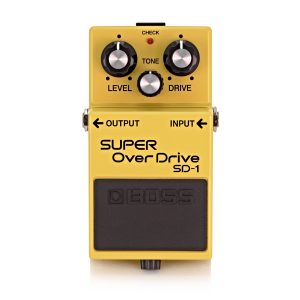 Kicking off this extensive list, we are starting with one of the most popular Boss pedals for blues players, and a true classic in of itself, the SD-1 Super Overdrive in a unique, stand-out yellow.
Whether you've heard of this pedal or not, you'll certainly end up falling in love with its unique sound and the way it can both boost your existing overdrive into turbo distortion mode, or how it can slightly boost your signal to deliver a slightly distorted, new-era blues tone which will be as unique as it will be clear.
It just takes level, tone and drive to make all the difference. We recommend this primarily for metal players looking for a distortion and overdrive booster.
Pros: Build, pricing and usability make the SD-1 great for guitarists of all levels.
Cons: Not recommended for players in need of a more 'crushing' distortion tone. Much more suited as a booster pedal or for lightly overdriven tones to couple with a nice, clean, natural amp setting.
Recommend for: Metal players looking for a signal boost / Blues Players in need of a distorted tone.
2. Blackstar HT-DUAL Valve Distortion Pedal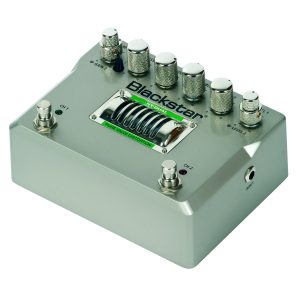 What a beauty! The Blackstar HT-Dual is a two channel distortion pedal, and is capable of both boosting a dry overdriven signal, and transforming a clean signal to distortion-driven bliss.
The valve pedals favoured by artists the world over, Blackstar rose to prominence once guitarists realised they could purchase affordable, high-quality and aesthetically pleasing real valve pedals, even if they didn't have a valve amp. This affordable and unique approach is why the HT-Dual distortion pedal is right at the top of this list. Perfection.
Pros: When it comes to tone, this is easily one of the most natural, amp-like overdrive pedals on the market. Blackstar truly have become market leaders with their range of valve pedals and the HT-Dual is no exception.
Cons: May be slightly too expensive for beginners, and the range of effects may be too much for players who are new to overdrive pedals to get used to.
Recommended For: Seasoned players who want to pair a modern pedal with a nice amp. Great for lead and rhythm players who have an idea of the kind of overdriven tone they're looking for and now how to use high-end pedals to get it.
3. Electro Harmonix Double Muff Fuzz & Overdrive Pedal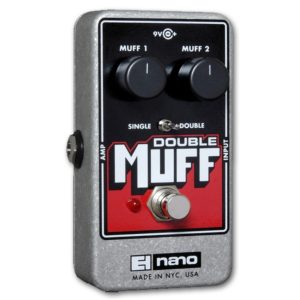 When we talk about the perfect combination of a fuzz & overdrive pedal to guitarists, they all think of the same thing. The classic 'big muff', now reinvented as the 'double muff' fuzz and overdrive combo. With a transparently simple and easy to use interface, Electro Harmonix pull no punches with design simplicity, as all of the work is put down to what's inside.
Plus, it makes adding this dual pedal to your pedal board an easy task. A vintage dual overdrive sound, this pedal will give your tone the illusion of a classic overdriven amp, with a tinge of fuzz and a warm distorted texture to round off the sound. Think 60's solo with a modern vintage amp.
Pros: The dual effects are both surprisingly good, and we say that because of the very fair price of the Double Muff. The experimentation that the pedal offers in such a compact form is both rare and brilliant for players of all levels, thanks to the incredibly simple controls.
Cons: Not ideal for the single-effect purists who prefer to build up a larger pedal board and experiment with individual effects, no matter how could multi-effects offering may be!
Recommended For: Players actively looking for a dual overdrive and fuzz pedal that delivers a true tone on both sides.
4. Ibanez TS808 Tube Screamer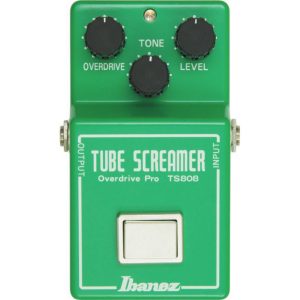 Ahh, now we're talking! Hopefully already part of your pedal board if you are a fan of overdriven blues, but if not, have we got the classic pedal for you. The classic Ibanez Tube Screamer TS808 is a good as it gets, used by famous acts from shredding sensations Steve Vai and Joe Satriani, to blues players the world over looking for a controlled signal boost with proven tone and sustain.
This pedal comes in the classic Tube Screamer shape, and is recommended for blues players looking to boost a slightly overdriven tone, right down to metal guitarists looking for an additional boost to an already distorted signal. This is an amazing pedal, and one we highly recommend.
This is also our overall winner (like you couldn't have guessed!). You can learn more about the Ibanez Tube Screamer, its heritage and why it is our favourite overdrive pedal for blues guitarists below.
Pros: Highly recommended for players looking for a classic overdrive tone, that is true to the classic overdrive effects that ca be heard on music from the 60's onwards. Also great as a booster pedal, and can be controlled very easily.
Cons: The learning curve of the pedal may be slightly high for complete beginners, so it's much more suited for players who already own overdrive pedals and want to take the next step.
Recommended For: We throughly believe this is the best pedal for players looking to take the next step in the world of overdrive pedals.
5. Caroline Guitar Company Haymaker Dynamic Drive Pedal
Let's delve a little deeper into the murky waters of the cross between overdrive, distortion, and a good ol' signal boost. Lurking in the undergrowth is this thing of beauty, the Haymaker dynamic drive pedal from the Caroline guitar company.
The gold lettering and various turning devices are enough to mesmerise you, and that's without even listening to the tonal capabilities this drive pedal can bring. The dynamic branding comes from the capabilities of this overdrive pedal, with 3 options (open, mid-gain and high-gain) to allow your guitar to truly emulate vintage tube overdrive and retro distorted signals.
If you're serious about an overdrive pedal and want a complete all-rounder with a large range of capabilities, then this is the one for you.
Pros: The logical next step for diehard fans of overdrive pedals who want complete control over their overdriven output.
Cons: As you can see from even a first glance, the pedal can be quite intimidating in terms of controls, and will take some time to get to grips with for beginners new to the world of effects pedals.
Recommended For: Seasoned players wanting to get everything they can out of a diverse overdrive pedal that offers complete control over its output.
6. Blackstar LT Overdrive Pedal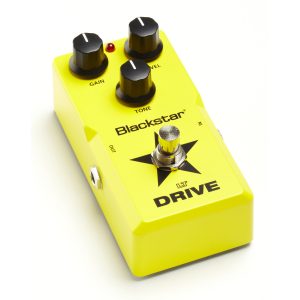 Blackstar are synonymous with quality amplifiers, pedals, equipment and all that good stuff. They'll also be popping up a lot in this list, and for good reason too.
The LT Overdrive pedal is an excellent little addition to any pedalboard, lit up in a vibrant yellow so you'll know exactly where to stomp for a boost when it's your time to shred a blistering solo.
As expected with Blackstar, this pedal will give you that vintage tube sound, with added compression and signal boost as standard. Lovely stuff.
Pros: Fantastic size for smaller pedal boards and guitarists with limited floorspace. Also, as many amplifiers have a hollow back, you can very easily store this pedal in the rear for quick access to that Blackstar distorted goodness!
Cons: Not what we would consider to be an overdrive/distortion blend pedal, so could be considered too limited for players looking for an overdrive pedal that packs a very heavy 'punch'.
Recommended For: Perfect as a booster pedal of an already overdriven tone.
7. Orange Getaway Driver Overdrive Pedal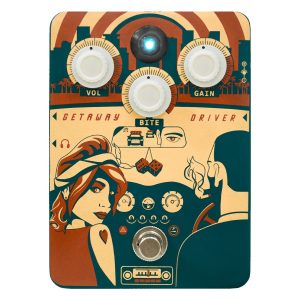 Check out the design on this pedal! We all know and love the classic Orange amp design, and with their pedal range they've clearly taken things further still, whilst keeping designs true to their retro roots. The getaway driver overdrive pedal is ideal for the guitarist looking for an overdrive pedal which not only provides retro vintage overdriven tones, but can be used across all devices.
What do we mean by that exactly? We mean this overdrive pedal is amazing for the modern guitarists looking for a pedal capable of holding its tone via DI recording, through MIDI devices, and through classic tape and live recordings. It also looks really cool, which is a tick in our book every time.
Pros: It might sound cringey, but we'd describe this overdriven tone as 'sweet', in the sense that it's so good it just puts a smile on your face. Easily our runner up in this guide.
Cons: Not many cons here, other than again if you're looking for an overdrive pedal with plenty of controls or tonal diversity you may not find it here.
Recommended For: This one's for the classic overdrive fans who know exactly what they're looking for, and don't mind paying a little more for a quality pedal that delivers.
8. Pigtronix Fat Drive Tube Sound Overdrive Pedal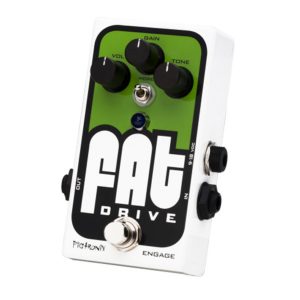 Looking to get retro and super serious with your overdriven bluesy guitar tone? The fat drive overdrive pedal from Pigtronix is an analog overdrive pedal, capable of emulating vintage overdrive tones, whilst retaining the sound of your guitar.
This is also a popular pedal for many blues keyboard players looking for a crystal-clear, overdrive tube emulation pedal which allows the original signal of any instrument to shine through too. We recommend this one for multi-instrumentalists, and players looking for an overdriven tube tone replica without splashing out on a real old tube amplifier.
Pros: The pedal isn't called 'Fat' for no reason, because that's exactly what the effect delivers… A fat tone that packs a punch.
Cons: If you're looking for a whacky, more experimental overdriven or distorted effect, you won't find it here.
Recommended For: Ideal for multi instrumentalists that want a modern distorted pedal which delivers.
9. Boss BD-2W Blues Driver Pedal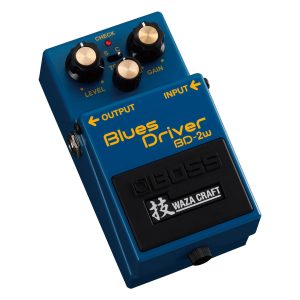 A custom Boss pedal for blues players… What's not to love here? The epitome of special custom pedals, the Boss BD-2W Waza Craft Blues Driver Pedal is certainly a sight to behold.
A custom Japanese re-release of the much loved BD-2 blues pedal, the blues driver is famed for its responsiveness, which is why many blues players flock to this pedal for a tone that can be bounced around and manipulated with the flick of a switch.
The tonal range here is fantastic too, with the ability to go from mild-gain 12 bar blues to searing pentatonic solos at a stomp. It's also a one of a kind, so if you are a fan of Boss then don't sleep on this one!
Pros: It's a pedal for blues players, designed by one of the best pedal companies in the world, who know exactly what blues players want…
Cons: Might be a little too tinny and compared to other Boss pedals it might be good but it's not quite a classic just yet.
Recommended For: Guitarists looking just for overdrive pedals for blues, or for blues solos. Great for fans of Gary Moore and Joe Bonamassa who know the kind of distorted blues effect they're looking for.
10. 

Yngwie Malmsteen Fender Overdrive Pedal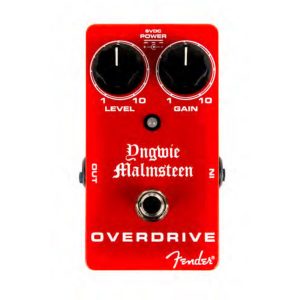 The Fender Yngwie Malmsteen pedal is everything that neo-classical shredders are looking for. If you're a fan of Yngwie and that vintage, sharp tone of his, then this is the one for you.
Built with Yngwie to ensure that his stand-out tone is spot on, this pedal is both compact enough to take on a tour, and deceptively small considering the punch it packs! For heavy tone to make those solos scorch, this is the overdrive pedal you need.
Pros: If you're a fan of Yngwie and that crunchy, high-end overdriven tone he's known for, then you're going to want to give this pedal a try.
Cons: Far too one note for players looking for a diverse overdrive pedal.
Recommended For: hardcore fans of Yngwie Malmsteen who already have the classic Fender Stratocaster with the modified fretboard and want to complete the full ensemble.
11. Moog Minifooger Analog Overdrive Pedal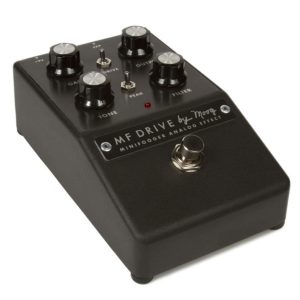 Looking for the best overdrive pedal for both electric guitars and bass guitars? Make sure you don't overlook the Moog Minifooger Analog Overdrive pedal.
Styled in a discreet, chrome black, this pedal gives you the option to transform both your high and low-end overdrive, and truly renovate your guitar tone into something unique.
Pros: Very easy to use, and surprisingly reactive across all types of guitars, from bass, standard, seven strings and more.
Cons: The number of controls may be a little too intimidating for beginners.
Recommended For: Guitarists who like to noodle with bass, acoustics, seven strings and everything in between, and need a pedal which is designed to work with all.
12. Seymour Duncan Forza Overdrive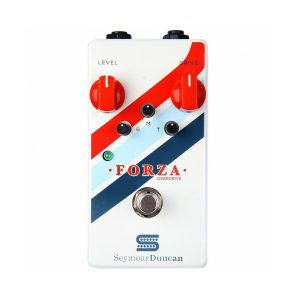 If you're looking to splash out a little bit more on a pedal that is built to keep the amplified tone of your guitar pure, then you can't go wrong with the Seymour Duncan Forza Overdrive pedal.
The back to back overdrive stack allows the tone to remain, whilst providing the overdriven tone you're looking for. You also have full control over bass, mids and highs. so you can further influence the exact tone that emits from your amplifier.
Pros: Great for beginners who are working with a bit of a higher budget than most and want a pedal to work with for years to come.
Cons: May need to be paired with a distorted amplifier effect or singular distortion pedal to get more out of the Forza than a standard overdriven sound.
Recommended For: Players new to overdrive effects who want to splash out a little and get it right the first time from a brand with a legacy that they can trust with their stomp box effects!
13. Digitech DOD Looking Glass Overdrive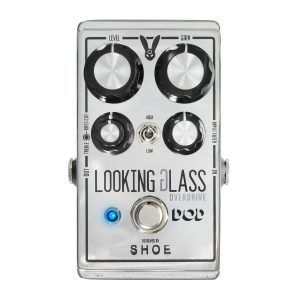 Time to get trippy with the DOD Digitech Looking Glass overdrive pedal. An overdriven, true bypass pedal, this pedal is great for players looking to monitor the level of fuzz, growl and distorted filth which emanates through their signals.
As your stomp on the pedal and increase the gains, the tone will become noticeably more distorted, therefore you can use this pedal as an alternative to a heavily overdriven amp patch, or to massively boost an already overdriven tone into beautifully distorted realms.
Pros: Is very true to the tone of the original signal input (the amplifier), and gives you a very generous degree of control over the overdriven signal.
Cons: Could actually be considered as more of a distortion than an overdrive, however we'd argue that it's a perfect medium and in-between.
Recommended For: Players looking for a heavy overdrive pedal, or an overdrive/distortion combination in one pedal.
14. Voodoo Lab Sparkle Overdrive Mod Pedal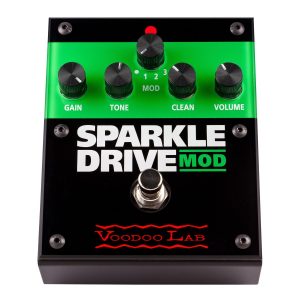 Tone customisation and simplicity are the name of the game with the Sparkle Drive Mod pedal from Voodoo Lab. This is also a great pedal for beginners who are saving up for a pedal, and want to keep their overdrive/distortion/fuzz pedals to a minimum.
The mod selector allows complete tone customisation, from the built-in stock circuit to the 3 custom circuits at the turn of a knob. Another brilliant feature is the clean knob, allowing for fine-tuning by adjusting the clean module as well as the overdriven one.
Pros: We absolutely love the custom circuits option and the degree of signal manipulation available with the controls on the pedal.
Cons: Not recommended for players who just want a 'stomp and go' pedal, as the Sparkle Drive will take a bit of playing around with to land on the tone you're looking for.
Recommended For: Great for patient players looking to modify a standard overdrive output.
15. Ibanez TS808HWB Hand Wired Tube Screamer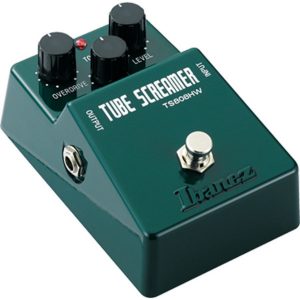 Now, it's obvious that here at Guitaarr we love the Ibanez Tube Screamer. Having already named it our top selection for this list, why would we be mentioning it twice? Because this is the ultra-limited, sought-after hand-wired TS808HW. With only 100 of these made each month, this as limited as an overdrive pedal you are going to get.
Probably the most priciest on our list too, but if you're looking for that unmistakable vintage tone then you really can't go wrong with this. With overdrive, tone and level controls, you have both the capability to control your tone, and have the ability to brag about your brand new, super limited hand-wired pedal too. Psst… This would also make a truly amazing gift for a guitarist or fan of blues music in your life too.
Pros: Anything hand wired and retro is great for players who are already fans of retro guitar effects, however the Tube Screamer offers such an original tone that it simply cannot be ignored.
Cons: May be too expensive for beginners just looking to experiment with a cheap overdrive pedal.
Recommended For: The lovers of classic and boutique guitar pedals that truly want a one-off stomp box that will stand out in their pedal board.
16. Seymour Duncan 805 Overdrive Pedal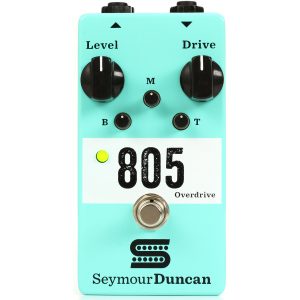 A three band EQ overdrive pedal straight from California, the Seymour Duncan 805 Overdrive Pedal is as vintage American as it gets.
Even the simple design screams lightly overdriven vibes and surfing infused tones. Control your tone with the 805, and keep your pedal board looking cool. We recommend this pedal for fans of the Californian aesthetic, and for guitar players looking for that vintage warm tone without too much distortion. Perfect.
Pros: A surprising amount of control over bottom, mids and highs is on offer for such a small pedal.
Cons: May be too 'timid' in terms of an overdriven offering for many players.
Recommended For: Great for fans of a softer, surfer-style overdriven tone that just want a subtle overdrive effect that is still good enough for jamming, gigging and even recording.
VIEW PRICING
17. Valeton Tube Engine Vintage Overdrive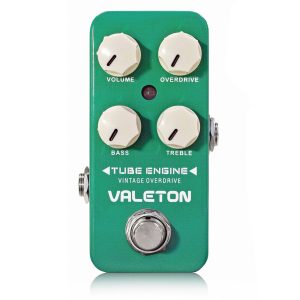 The Valeton Vintage Overdrive is absolutely perfect for guitarists looking for overdrive pedals on a budget, and for guitarists who have limited pedal board or accessory space and want a compact pedal that is still capable of packing a punch.
From manipulating the bass and treble, to fine-tuning the overdrive of the vintage tones, this pedal is absolutely perfect. We highly recommend this for beginners looking to experiment with overdrive pedals too.
Pros: For the price, the sound and controls on this compact pedal really cannot be argued with.
Cons: As with many of the cheaper pedals, the output may be considered too 'one note'.
Recommended For: Beginners who just want a cheap pedal that says what it does on the box, and are not too bothered about the overall quality of the overdriven sound.
18. EarthQuaker Devices Bellows Fuzzdriver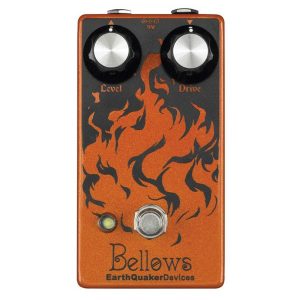 We just had to get a top-quality fuzz and overdrive pedal into this list! This is the EarthQuaker Devices Bellows Fuzzdriver, a true bypass pedal for extreme fuzz and dirty tones.
This can be combined with an overdrive pedal for maximum gains, or can be used on its own for a primary fuzz pedal with an overdriven tinge. If you're looking to make your solos stand out, then this is the pedal for you.
Pros: One of the rare combination pedals in our list, great for Hendrix fans who are looking for a pedal that will delivery a Cross Town Traffic style tone.
Cons: If you're looking for a pedal that provides overdriven effects and nothing else, then this one is not for you!
Recommended For: Players that want an overdrive pedal with the room to experiment, yet stay true to an overdriven tone.
19. Ibanez BB9 Bottom Booster Pedal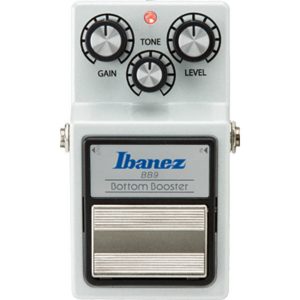 Having covered a lot of overdrive pedals that you can use as a primary source of overdriven goodness, we though it'd be good to reveal an amazing, dedicated signal booster pedal to be used alongside the natural drive of your amp, or to be combined with another overdrive pedal. Yet again it's an Ibanez, this time the BB9 Bottom Booster.
A true bypass for assured control, this pedal will fatten-up the bottom end of any signal, and is primarily used in conjunction with an overdrive pedal to ensure all bases are covered, and the blues tone you're looking for is as layered and complete-sounding as possible.
Pros: The Bottom Booster works well as both a stand-alone pedal, or when integrated with other similar pedals to really transform the lower-end of your guitars signal.
Cons: Cannot necessarily be relied on as a true overdrive without help from another pedal or amp setting.
Recommended For: Ideal for rhythm players looking to add a noticeable boost to their low-end.
20. JHS Pedals Morning Glory V4 Transparent Overdrive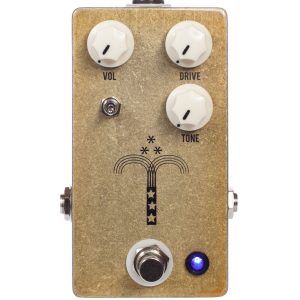 The last pedal in our list is a beautiful combination of design, tone and craftsmanship, with the versatile capabilities of switching from a simple, muted overdrive to a full-on distortion and heavy blues tone.
If you're looking for a pedal for both rhythm and lead blues, then the JHS Morning Glory Overdrive pedal is definitely worth checking out!
Pros: A very diverse pedal which can be used for all styles of playing, with a tone that leans slightly more towards blues players and a less aggressive overdriven tone than some of the pedals in this guide.
Cons: Can be too expensive for beginners not willing to invest in a pedal without having found what they consider to be their signature sound.
Recommended For: The bedroom guitarists and live artists who like to switch playing styles whilst having a light overdrive effect they can rely on.
VIEW PRICING
Guitar Pedal Accessories & Must-Haves
Whether it's your first time buying pedals, or you are just in need of some quick deals and offers, we've sorted you out with the selection of the best low-priced pedal accessories below. From pedal cables to portable pedal boards and boxes, get the accessories you need at a decent price!
| Image | Item | View Price |   |   |
| --- | --- | --- | --- | --- |
| | Boss BCB-30 Pedal Board | AMAZON | | |
| | Ruach Orange Tolex 1 Pedal Board | AMAZON | | |
| | Planet Waves Classic Patch Cable | AMAZON | | |
Overdrive & Distortion Pedals by Genre
Now we know this post is primarily associated with the best pedals for blues players, but what about all of the other genres? And what about fans of boutique pedals too?
We've got you covered. From Jazz and Metal to overdrive pedals for acoustic guitars, we have scoured our pedal collections and spoken to the experts to give you the ultimate guide for your favourite genre too. We hope you find the perfect pedal for you!
The 5 Best Overdrive Effects Pedals & Stomp Boxes for Jazz Guitarists 
We are going all out in this list. From slightly boosting your mids to completely transforming your signal into a psychedelic wonderland, these are the pedals that will get the job done: 
1. Electro Harmonix Soul Food Transparent Overdrive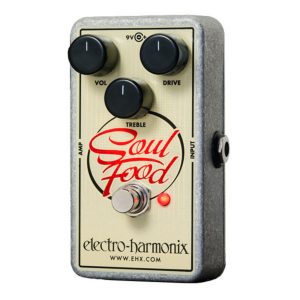 For many jazz guitarists, it's all about keeping things minimal, with the option of ramping up a guitar signal at the flick of a switch. The Soul Food Transparent Overdrive pedal from Electro Harmonix does just this, and is crafted to ensure the original signal remains.
As many jazz guitarists prefer the natural sound of the amplifier to carry through, this is a paramount feature of any overdrive pedal for the budding fusion player.
2. 

Emerson Custom Pomeroy Overdrive, Boost & Distortion Pedal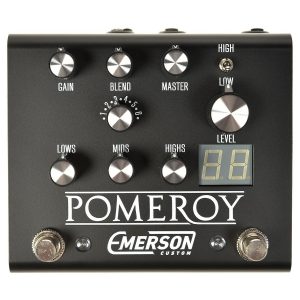 What was that last part about having the ability to control your tone as a gigging jazz guitarist? The Emerson Pomeroy Custom pedal offers complete control with separate boost, distortion and overdrive options, with additional options of tone manipulation from lows, mid and high transformation, to a unique blending option across all 3 signal outputs.
If you are the kind of guitarist who wants a perfectly overdriven tone which can be used for both rhythm and lead, then you can really pinpoint that exact setting with the Emerson Pomeroy Custom.
3. 

Ernie Ball 6183 Expression Overdrive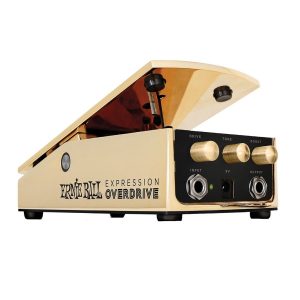 This pedal is perfect for the true fans of tech, music theory, and those guitarists completely obsessed with tone and overdriven signal control. Styled like a classic wah-wah pedal, the Ernie Ball Expression Overdrive pedal provides complete control, allowing for a complete tonal blend at the touch of the expression pedal.
This is the ideal pedal for fans of overdriven volume swells, and for live players looking for an option to build up to an overdriven tone, rather than the standard option of an on/off pedal.
4. 

Keeley Red Dirt Mini Overdrive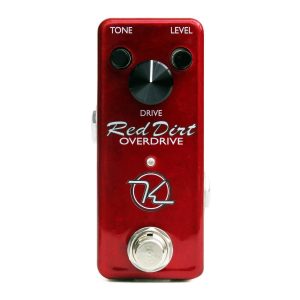 So you've had the options of our selection of the best intricate pedals for jazz guitarists… But what about a single stomp, no-fuss option for those players who want a quick overdriven stomp box to be thrown into the mix?
The Keeley Red Dirt mini overdrive provides just that option, with the ability to control the tone and level as standard. Don't let size fool you on this one. If you are after a high-quality overdrive for your jazz pedal setup, then the Red Dirt mini cannot be overlooked.
5. 

Maxon OOD-9 Organic Overdrive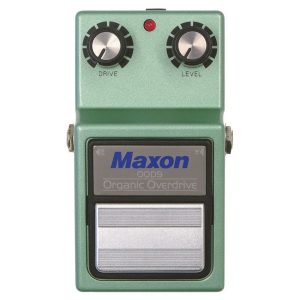 The last one in our overdrive jazz guitar pedal list is the OOD-9 Overdrive pedal from Maxon. Look a bit like another certain Ibanez pedal in our list?
Well, this is also a retro blues inspired pedal, however we've chosen this as a staple jazz guitar overdrive pedal due to its unique and one-off organic tone, modelled from vintage 1970's amps and the ability to keep the stomp-box signal as true to amp output tone as possible.
If you're a fan of keeping solos true to their natural amp tone (and not having overdrive or distortion pedals interfere with any other effects in your pedal board) then the Maxon OOD-9 is the one for you.
VIEW PRICING
The 3 best distortion & overdrive pedals for metal guitar players 
We couldn't leave the metal players out of this post. When it comes to distortion pedals, most metal players will naturally flock to them. But what about overdrive pedals? These can be used to boost your lead signal as a metal player, or to simply add that extra depth when it comes to beefing up your rhythm or seven string riffs. We've kept this one to a top 3, to stop ourselves from going over (pedal)board.
1. Mesa Boogie Flux Drive Overdrive & Gain Pedal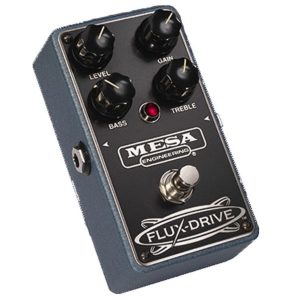 Coming in at the top of this list is the Mesa Boogie Flux Drive pedal, a stunning chrome black pedal suited for metal players of all sub-genres and approaches to flicking that distorted switch.
The overdrive/distortion combination allows each guitarist to settle on their own tone, albeit it a super overdriven one for starters. We recommend this pedal for both boosting your lead signal and beefing up the mids in a verse rhythm section.
2. Wampler Dracarys High Gain Distortion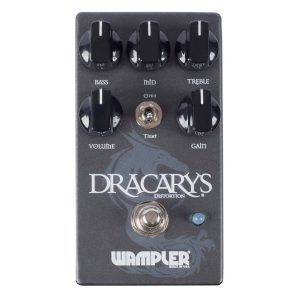 Here's another, lesser known pedal with an amazing penchant for diversity of overdrive and distortion. The combinations are endless with the Dracarys High Gain pedal, perfect for targeted boosts mid-solo, or to beef up that 2nd verse when you're chugging on the bottom strings. EQ is also tightly controlled with the unique open/tight switch.
If you're serious about your distortion when it comes to metal music, then it'll be worth giving this one a test drive.
3. Boss ML-2 Metal Core Distortion Effects Pedal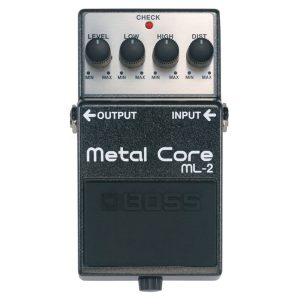 Whether you're a blues guitarists, a metal shredder, a country plucker or a prog rock virtuoso, we all have a Boss pedal in our arsenal already which is a firm favourite. The metal core pedal is a staple in any metal players pedal board if it isn't already.
Seamlessly integrating with your board and adding the searing, crushing metal tone you need, this is perfect for absolutely reinventing your distorted tone and adding that ear-melting output you've been searching for.
Videos & Demos of Our Top Overdrive & Distortion Pedals
Ibanez Tube Screamer
Electro Harmonix Double Muff
Blackstar HT Dual Valve Distortion
Boss BD-2 Blues Driver
Orange Getaway Driver
Overdrive & Distortion Pedal Frequently Asked Questions
We understand that you may be coming to this post with a lot of questions. We've outlined popular questions we get frequently asked below, as well as a few you may not have thought about until now.
Can you use an overdrive or distortion pedal with an acoustic guitar?
Of course you can! We strongly recommend you use an overdrive pedal instead of a distortion, as the overall tone will be just too high-end and gain-driven for an acoustic guitar. The classic choice for an acoustic guitar overdrive pedal is our winner the Ibanez TS808 Tube Screamer, or for players looking for that modern touch you should also check out the Boss Blues Driver overdrive pedal too.
How do you avoid feedback when using an overdrive pedal with an acoustic guitar?
This is a common one that many beginners overlook, only to purchase an overdrive pedal solely with the aim of adding it to their guitar setup. The ensuing feedback and chaos that comes with not properly setting your acoustic up for an overdrive signal is easy to be avoided with a sound hole cover.
This is a device which eliminates feedback, and allows you greater overall control of your acoustic signal. Our favourite sound hole cover for acoustic guitars has to be the Ultra FBR2 Feedback Buster.
How much money should I spend on an overdrive pedal?
This is totally subjective, and completely up to you. You do not necessarily need to spend a lot of money to get the tone you're looking for. All it takes is a little bit of research, or you can check out the current prices in this post. The best pedal for your money however in our opinion? It's got to be the Boss SD-1.
Liked this post? You'll love our guide to the best seven string guitars for metal players and shredders!
More from Guitars
---
The Gibson Les Paul is a classic electric guitar that has been a favorite of guitarists for generations. One of …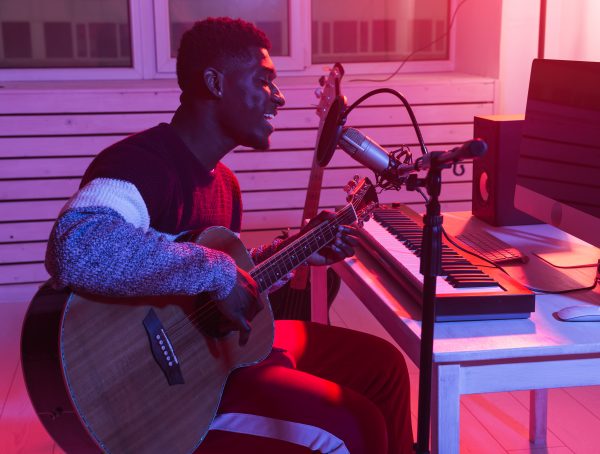 When recording music or audio, the equipment you use can affect the outcome of your production. This is necessary for …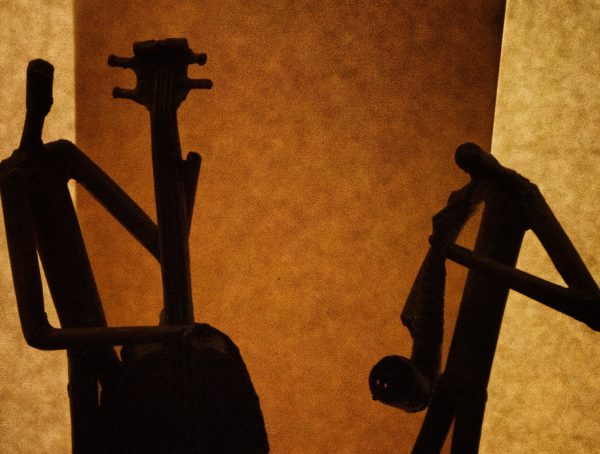 What should you be looking for when buying a gypsy jazz-specific guitar? Well, first of all, hello to you my fellow …
Editor Picks
---