What should you be looking for when buying a gypsy jazz-specific guitar?
Well, first of all, hello to you my fellow lover of all things gypsy jazz! This guide is a bit of a fan letter to the times I've spent trying to master those pesky jazz scales in music stores up and down the country. From my experience, I'd outline gypsy jazz guitar buying to three main aspects:
Size – You'll find that many of these guitars can be quite bulky, so it's just something to think about if you're used to playing smaller guitar shapes
Price – These are guitars to largely fit quite a specific genre of music, and you're likely to pay a premium accordingly. However, my advice would be not to go for a cheaper option just to save a bit of money, as most of these guitars are on the expensive side of things to begin with
Tone – These guitars are much louder than you may expect, even the raw acoustic ones. Adjust your tone and sound requirements accordingly!
10 of the best gypsy jazz acoustic guitars on the market today 
1. Godin A6 Ultra Semi-Acoustic-Electric Guitar – Natural Cedar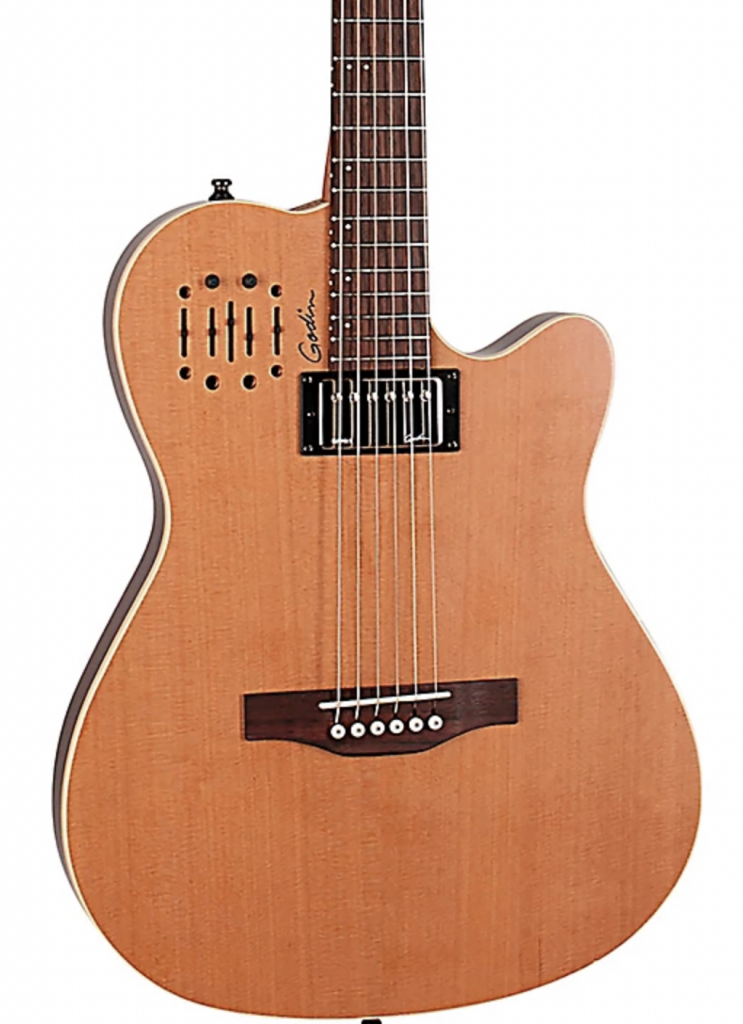 Get plucking joy from this Godin A6 Ultra Guitar! Made from naturally beautiful cedar wood and with the electric feel of the semi-gloss mahogany guitar neck. This guitar gives you both the plugged-in acoustic sound and electric feel, helping you get an array of different sounds from gypsy jazz to rock music. 
But this guitar order comes with much more than just a fantastic instrument itself. It also has other enhancements, including dual outputs, a custom Godin preamp specifically designed for the A6 Ultra, an under-saddle transducer, alongside a gig bag to keep it all safe and protected as you travel.  
2. Godin A6 Ultra HG Semi-Acoustic Electric Guitar – Black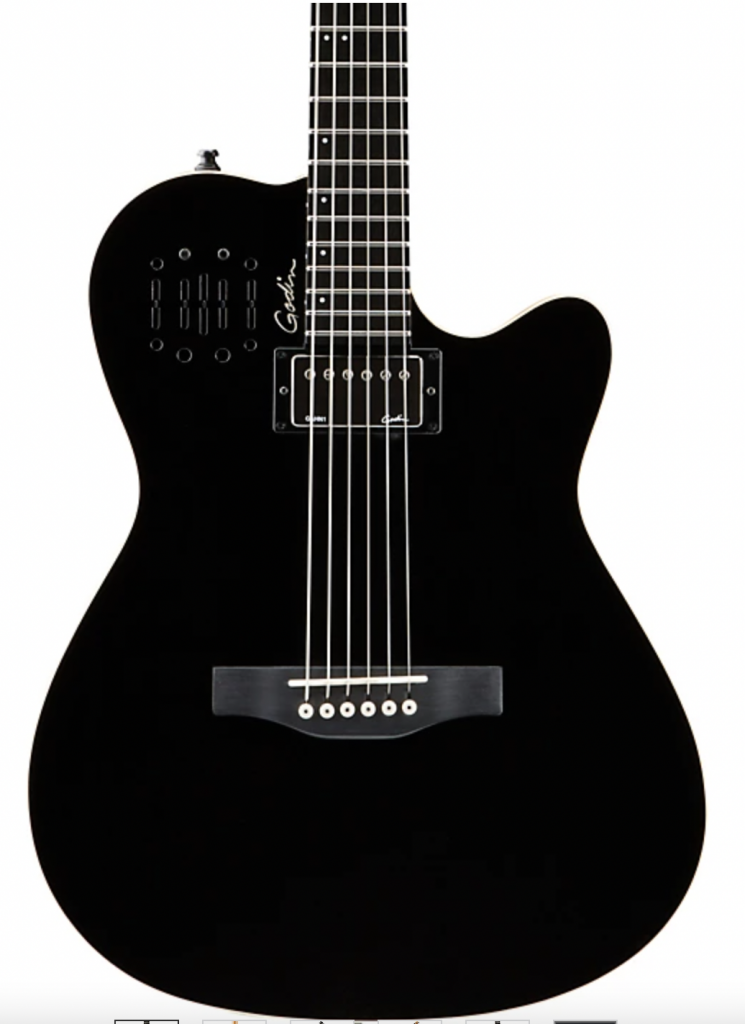 There are no strings attached when it comes to this fantastic Godin Black A6 Ultra! The two-chambered silver leaf maple body and the high gloss finish will help you feel like a Gypsy Jazz rockstar. You can plug the Godin Guitar into either the single acoustic mix or in stereo, and with your magic fingers, you can control what tone will come out from Jazz to Country. 
This Godin guitar is a semi-acoustic and electric guitar, meaning you can plugin for the acoustic sound and have the feel of the electric guitar with the mahogany neck and chambered body that will virtually remove any feedback in loud or live settings. 
3. Godin Multiac Steel Doyle Dykes Signature Edition HG Acoustic-Electric Guitar – Black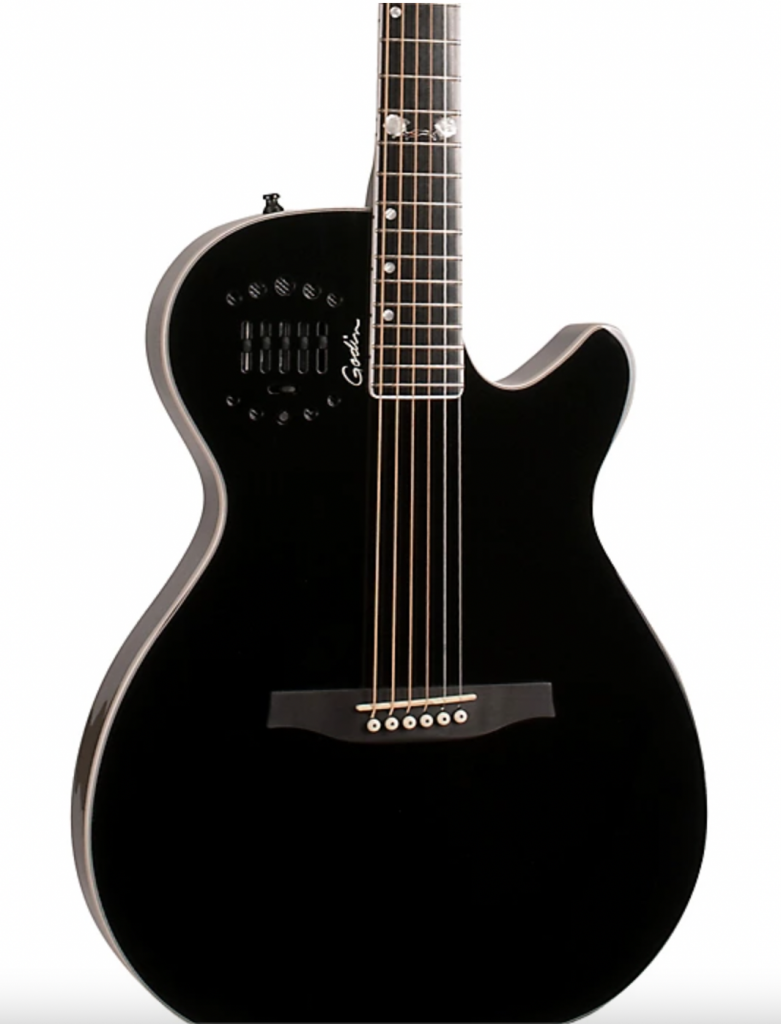 The famous country star Doyle Dykes worked with Godin to create his own Multiac Steel Signature Edition Godin Guitar. Built to his exact specifications and elements, from the spruced solid top, dual-chambered mahogany body and neck, and the Richlite fingerboard with glorious white rose inlays. Doyle specified all of this to allow for various tonal possibilities so you can explore many genres, from Gyspy Jazz to jamming out some country music just like Doyle Dkyes. 
This Godin Signature Edition Guitar has a custom-voiced L.R. Baggs Electronic System. This works by allowing you to blend an LB6 saddle transducer with a Lyric acoustic guitar microphone.  
4. Godin Multiac Steel Natural HG Acoustic-Electric Guitar – Natural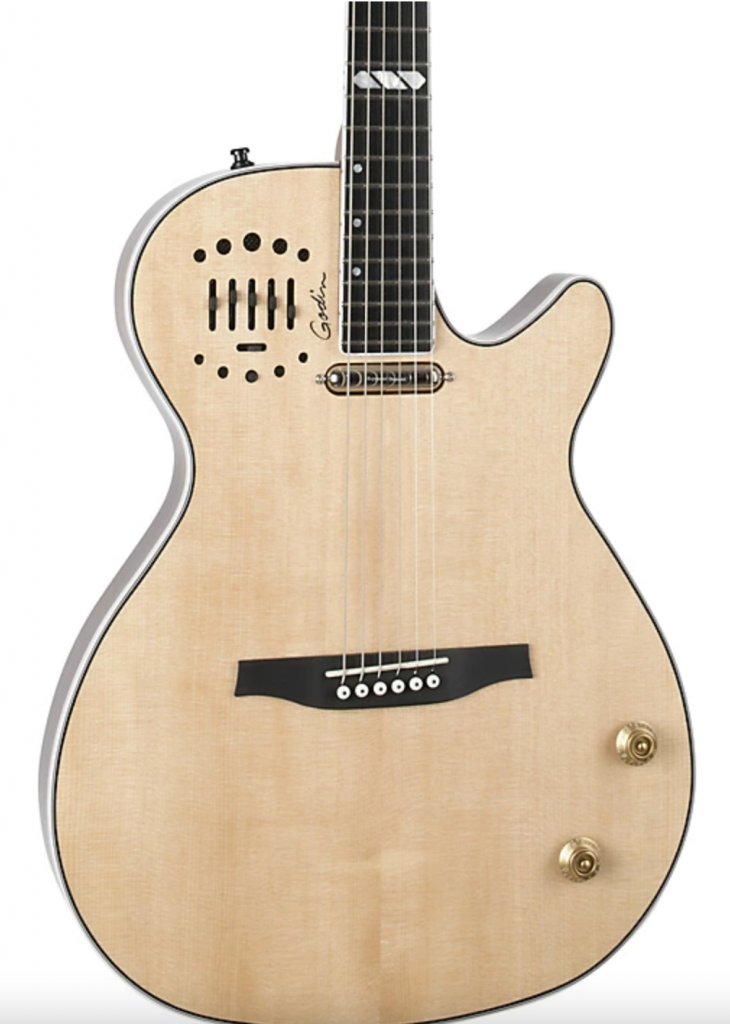 This guitar will strike a chord with your collection! The Natural Multiac Godin Guitar has been created and evolved to become the benchmark for the Multiac Series. This Godin Guitar is the latest rendition of the series. It has many benefits integrated to give musicians worldwide the opportunity to explore different genres and tones from Gyspy Jazz to Rock and Roll! 
This latest Godin Mutliac Steel takes guitaring to a whole new level with custom inlays, unique headstock, top-mounted control knobs and custom-voiced L.R. Baggs electronics. This Multiac Series is a must for your musical journey and will help you try out new skills and possibilities.
5. Godin Multiac Gypsy Jazz Acoustic-Electric Guitar – Natural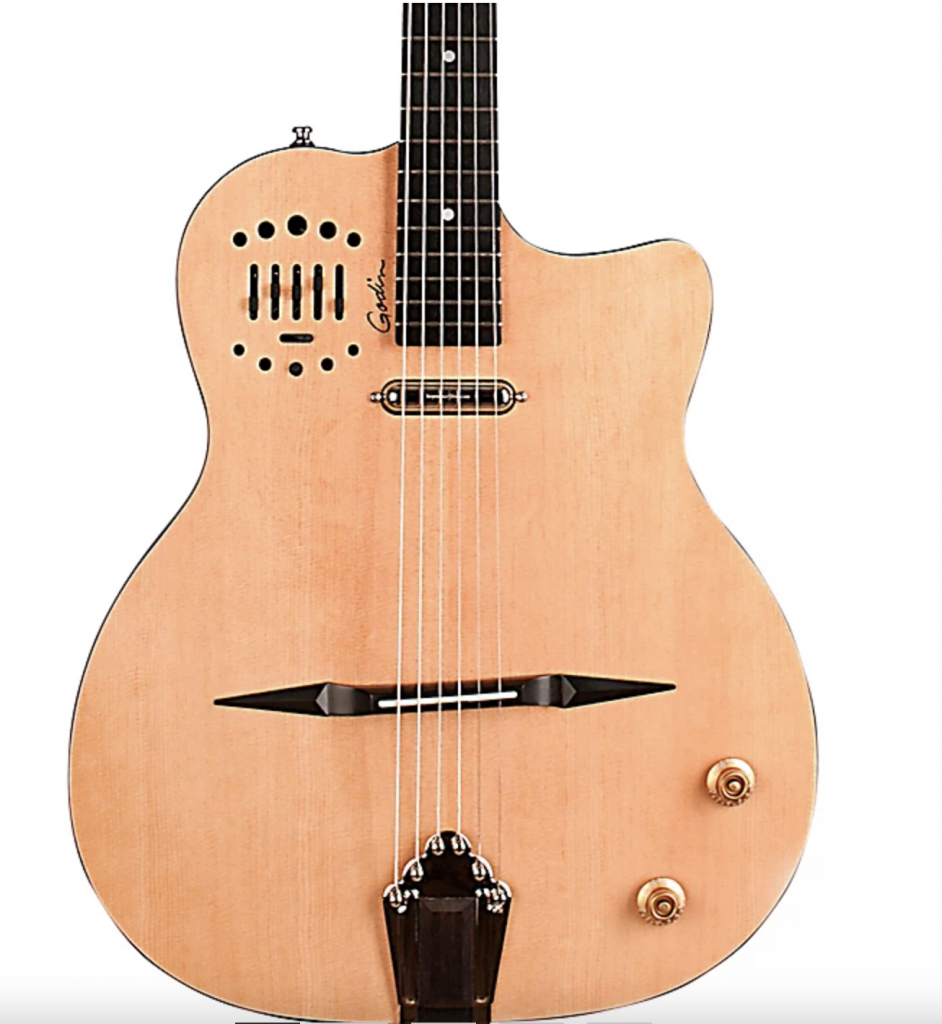 If you are a Gyspy Jazz King or Queen, this Godin Multiac Gypsy Jazz Natural Guitar is an absolute must! The Godin Gypsy Jazz Guitar is a revolutionary gap filler that has filled the hole between the aesthetics of the past and the wants and needs of guitar players of today and the future. 
This model has been created with custom L.R. Baggs electronics, top-mounted volume and tone controls and a Seymour Duncan Lipstick neck pickup. Along with the sleek solid-arched spruce top, a mahogany body dual-chambered in design, this guitar ticks all of the Gyspy Jazz boxes.
6. Godin ACS-SA Slim Nylon String Cedar Top Acoustic-Electric Guitar – Black Pearl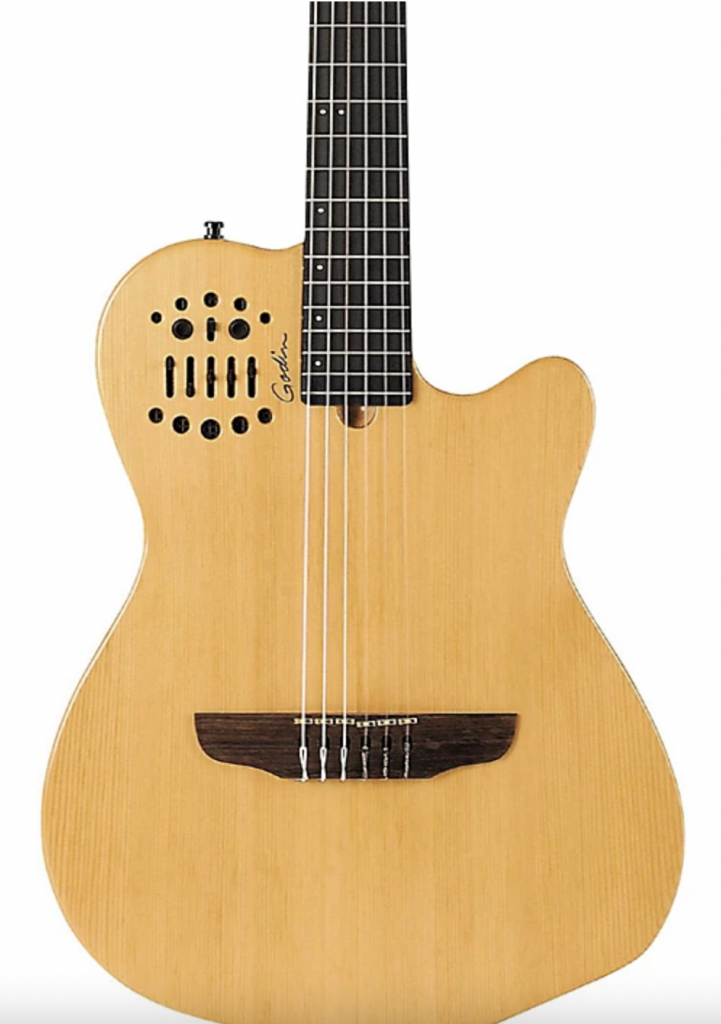 The word "Slim" is the main element of this Nylon String Cedar Guitar that separates it from the rest of the Godin Series. This is because the 1.715" neck width at the nut is a mere 16th of an inch wider than Godin's standard electric guitar nut width. It makes this guitar perfect for anyone who is used to playing with a narrow neck design. 
Apart from the new neck size, this ACS-SA guitar mirrors the same features as the Godin ACS-SA Nylon String Guitar industry standard. The design of this guitar, from the chambered body to the cedar and Silverleaf maple features, leaves this guitar virtually free of feedback which allows you to use this guitar even in loud stage environments and is perfect for you to play Gyspy Jazz to rock out completely.  
7. Godin Multiac Nylon Encore Acoustic-Electric Guitar – Natural SG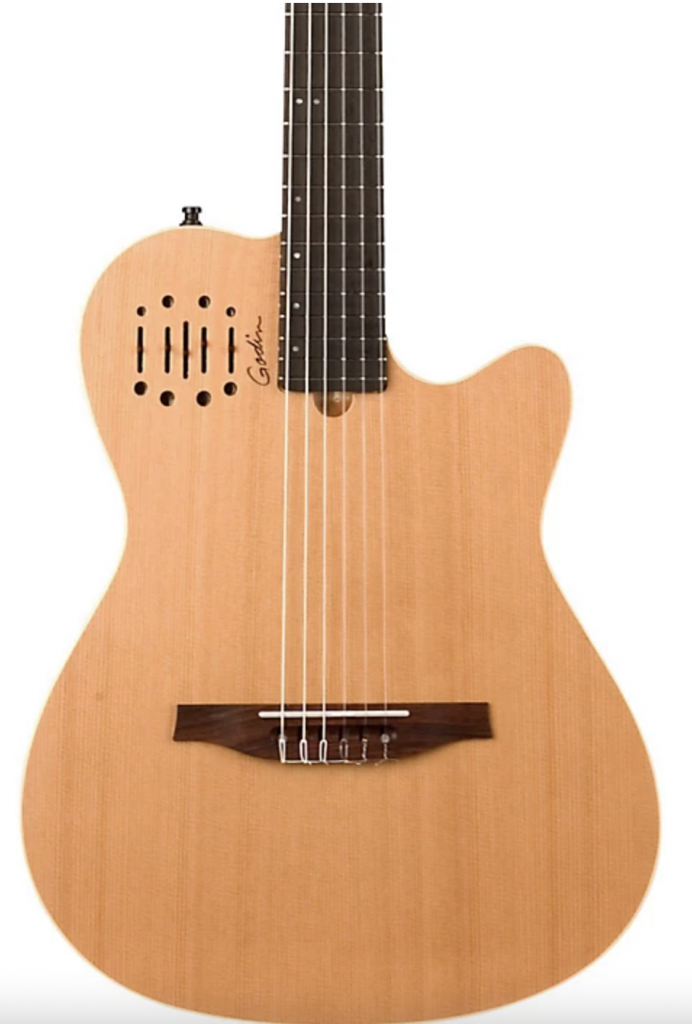 Perfect for all our nylon string players out there! The Godin Multiac Encore Guitar brings the quality of the Multiac series to the nylon world. With a neck wide enough to give our Classic music players the opportunity but thin enough for our Gypsy Jazz lovers to enjoy. 
The electronics are custom-voiced, mixing the sound imaging mic and under saddle transducer to create the Multiac iconic blend. This Nylon Encore Guitar also includes a dual-source preamp, feedback control and a gig bag to give you that kickstart to your musical journey. 
8. Godin ACS Grand Concert Acoustic-Electric Guitar – Black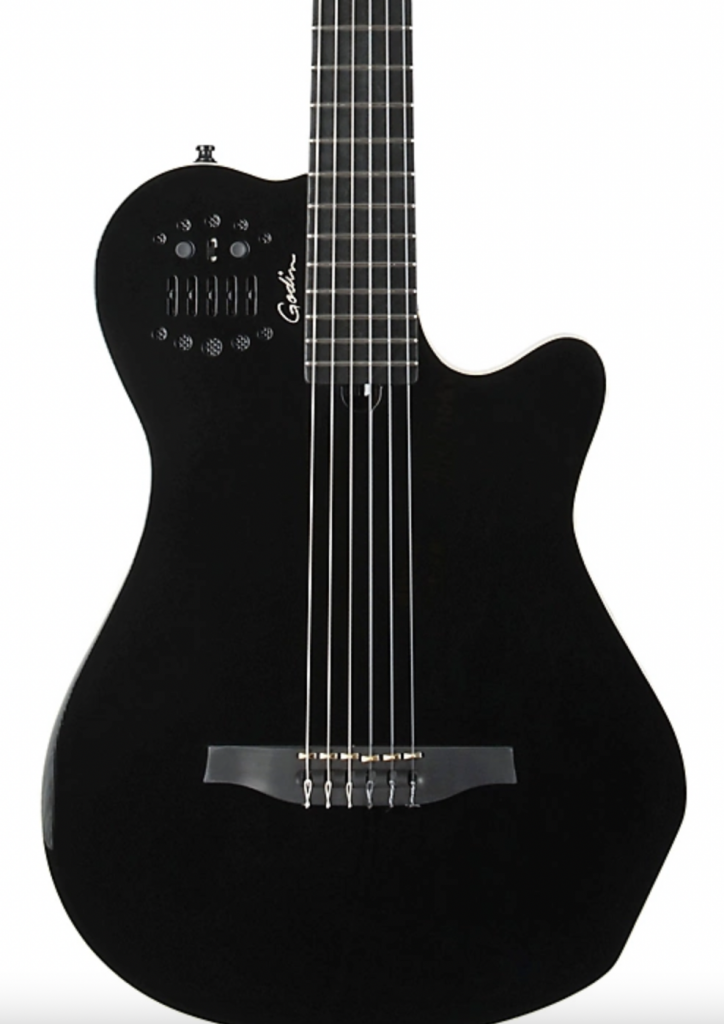 Do you want to experiment with playing different styles from the four corners of the globe? Then this ACS Grand Concert Guitar is for you! ACS are pioneers in creating nylon/synth guitars, redesigning the body shape and having a longer length gives this guitar the design needed to play your choice of music from Latin to Gypsy Jazz. 
This Multiac alternative is the best because it is more affordable and packed with different features to get you the most out of your ACS experience. 
9. Godin ACS-SA Nylon String Cedar Top Acoustic-Electric Guitar Semi-Gloss – Natural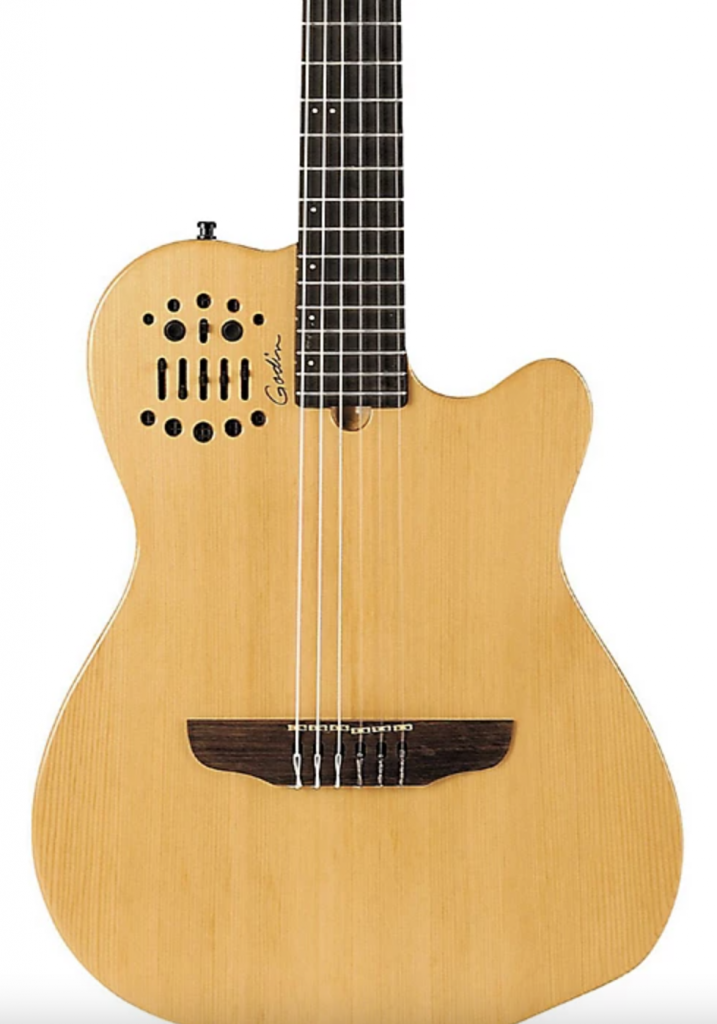 You will never have music treble again with the ACS-SA Top Nylon String Guitar! This guitar is created to blend the classical guitar with a more solid body design. Alongside the comfortable quality neck and the chambered cedar, silver leaf maple body, you will be able to enjoy a synth guitar at a more affordable price. 
What gets this guitar strumming is the individual transducer saddles powered by a customised preamp system, which helps to reduce feedback to virtually zero. These elements and design features make the Godin ACS-SA Nylon Guitar easy to use.  
10. Godin ACS Denim Blue Acoustic-Electric Guitar – Blue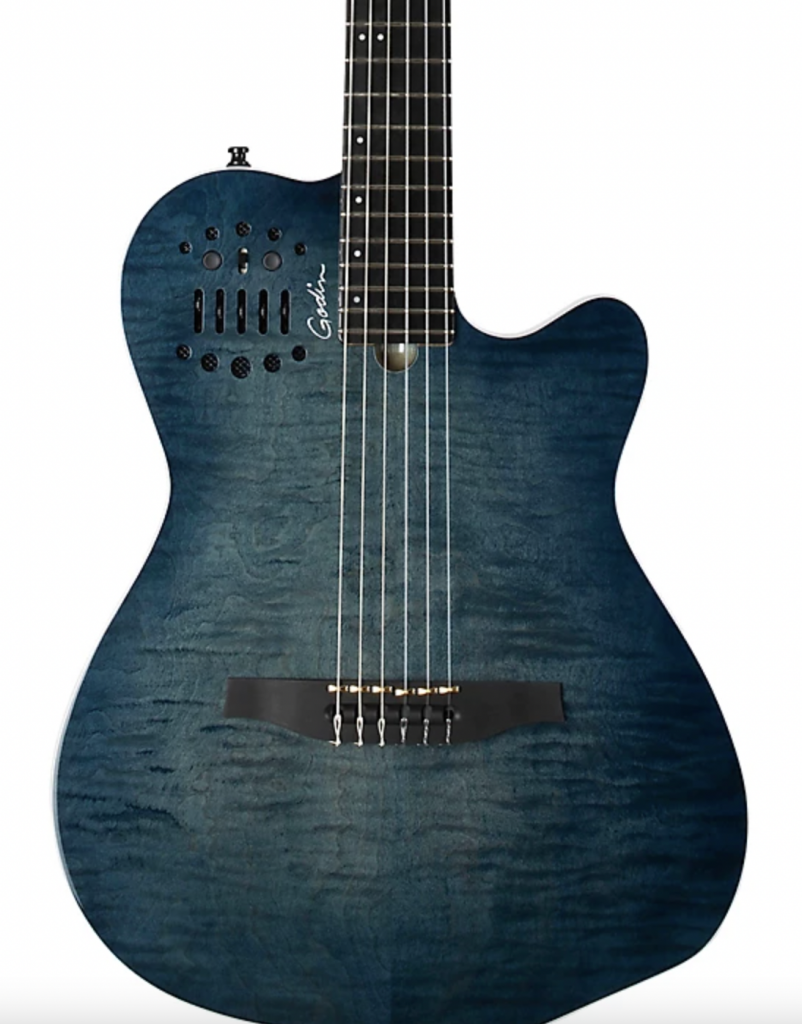 Get your double denim on with this Godin Denim ACS Guitar! This guitar doesn't only look great; it sounds epic too. Designed with nylon/synth string helps create the perfect sound so you can enjoy playing Gypsy Jazz to Latin music covering all kinds of genres from all over the world. 
Made with Custom RMC electronics with 13-pins for Roland GR synths and a stunning denim frame, this ACS guitar is an affordable alternative to the Multiac but is packed with great features and a high gloss finish. 
Conclusion 
Ultimately, to what level you want a gypsy jazz guitar is completely up to you. For some, like many in this guide, you can expect to spend an absolute fortune. Others, you can spend under $500 and still be able to play Django with a convincing tone! The biggest factor with this genre-specific style of guitar is definitely price and size, so do your research accordingly!
More from Guitars
---
The Gibson Les Paul is a classic electric guitar that has been a favorite of guitarists for generations. One of …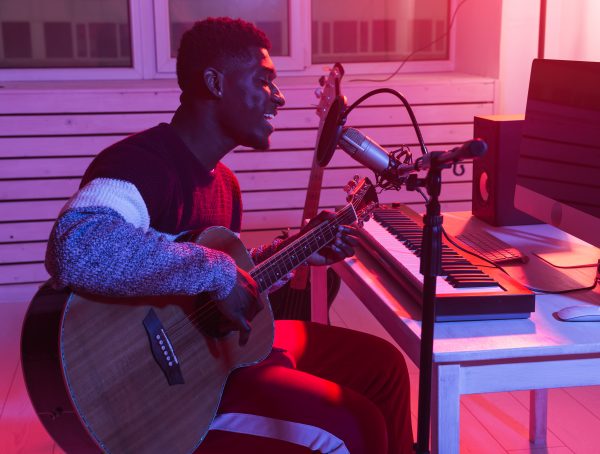 When recording music or audio, the equipment you use can affect the outcome of your production. This is necessary for …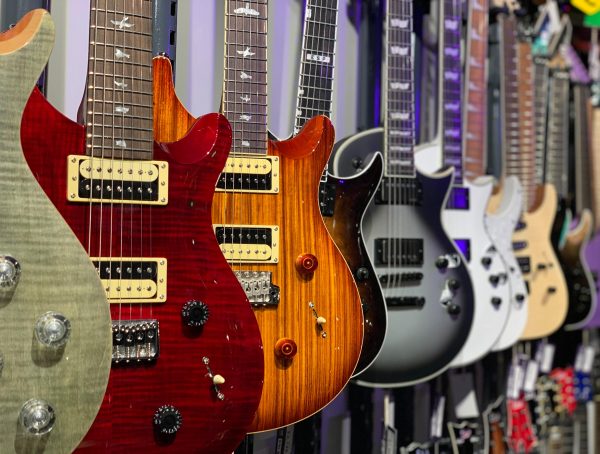 When you start out in what I like to call the incredible world of the guitar, you might immediately assume …
Editor Picks
---