When you start out in what I like to call the incredible world of the guitar, you might immediately assume that you have to spend a fortune to get the right tone or skill level, and that a more expensive guitar reflects this… Well, you couldn't be more wrong.
There are countless 'cheap' electric guitars that offer value for money and an incredible playing experience. This guide explores some of the best, specifically those under the 200 dollar price range.
What you need to know about buying a guitar under $200
You might be surprised to see that you can get some incredible brands for fairly cheap prices, and that's the main point I wanted to drive home in this guide. Just look at the first few guitars in this list! You have Epiphone from Les Paul, Squier from Fender and the much-loved Jackson range of guitars for shredding and playing fast.
Naturally, none of these guitars come with an amp or any accompanying pedals. You might get lucky with a free cable and some plectrums, but largely what you see is what you get. And, at this price, there's nothing wrong with that. Here's what you can also expect for guitars at this price:
Material – Commonly you'll see electric guitars in this price range made of maple or basswood (two of the most common materials). You'll also see other materials too, but these are some of the more expected ones. Whilst they don't necessarily hold tone as well as some of the more premium models, there's absolutely nothing wrong with them and with the right amp you'd never really know any different.
Pickups – These guitars come with stock pickups, e.g. not a brand-specific one like some of the more expensive ones. For example, some of the more premium guitars used in metal music like Jackson and Ibanez will come with EMG or DiMarzio pickups as standard. However, the pickups you do get are a true representation of tone and are still going to be versatile whilst also providing depth.
Playability – Finally, what level of playability can you expect for an electric guitar under 200 dollars? Will there actually be any difference? Honestly, no. The main real difference is going to be in tone based on the pickups and hardware. What you play and how you play it is down to your style. It's not like these guitars have warped necks just because they don't cost a fortune!
Ten of the best guitars under $200
1. Epiphone Les Paul Melody Maker E1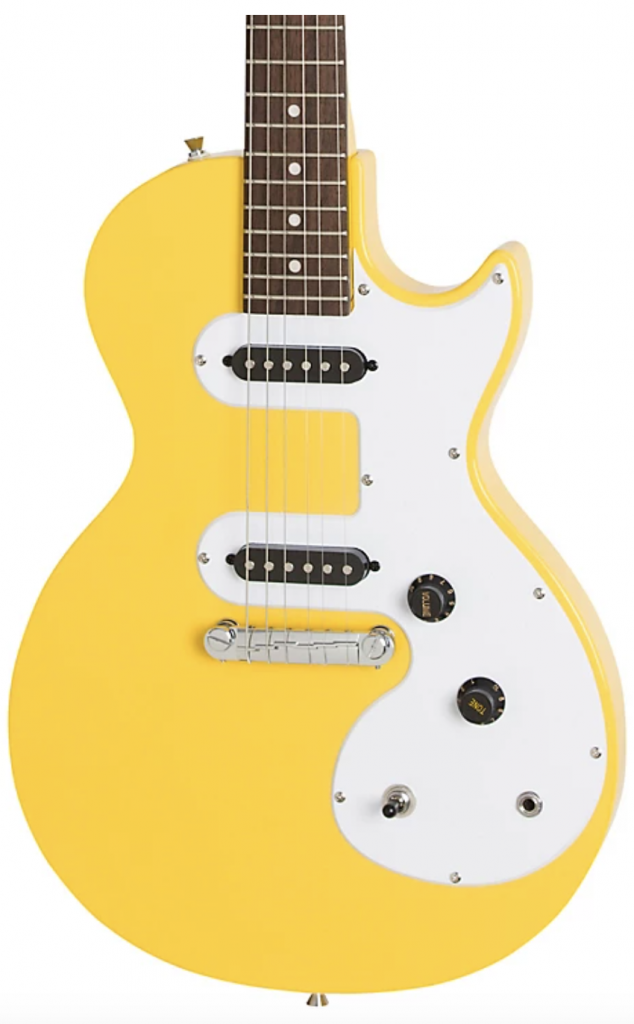 This Epiphone electric guitar is slim and lightweight as well as being a perfect budget alternative compared to some other guitars on the market, luckily though a cheaper product doesn't mean less quality in this case.
The body of the guitar is made from solid wood and the neck is made from mahogany. It has a single cutaway design and is finished in a sun yellow colour with contrasting gold and black hardware.
This guitar also features a 2017 Epiphone logo as well as the Epiphone logo from the 60's, giving this guitar the vintage feel without having to pay for the privilege of having a vintage product. 
Check Price
2. Epiphone Les Paul Special-I Limited-Edition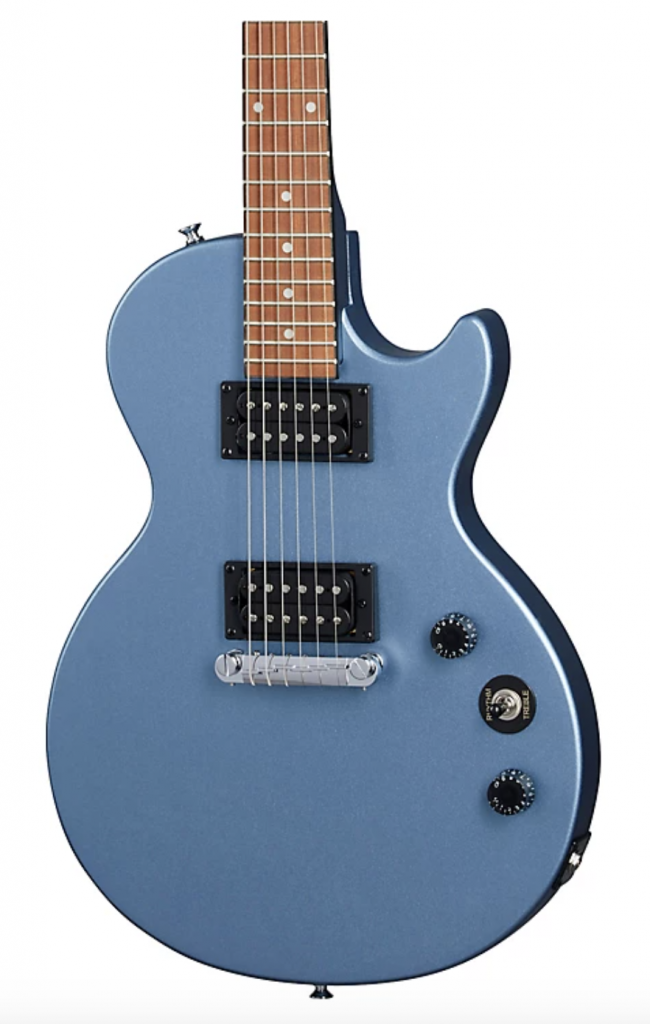 This sleek electric guitar has a retro look and feel to it, as the name suggests this guitar is meant to look "worn".
This paired with the pelham blue colour and the black and chrome minimalistic hardware really does give you that retro feel. The body is made from basswood and the neck is made from mahogany.
This makes the product affordable without having to compromise on the quality. As this guitar is limited edition, it comes with some special features including a pair of hot open-coil Epiphone 700T and 650R humbucker pickup. This guitar is currently priced at $179.00.
Check Price
3. Mitchell MM100 Mini Double Cutaway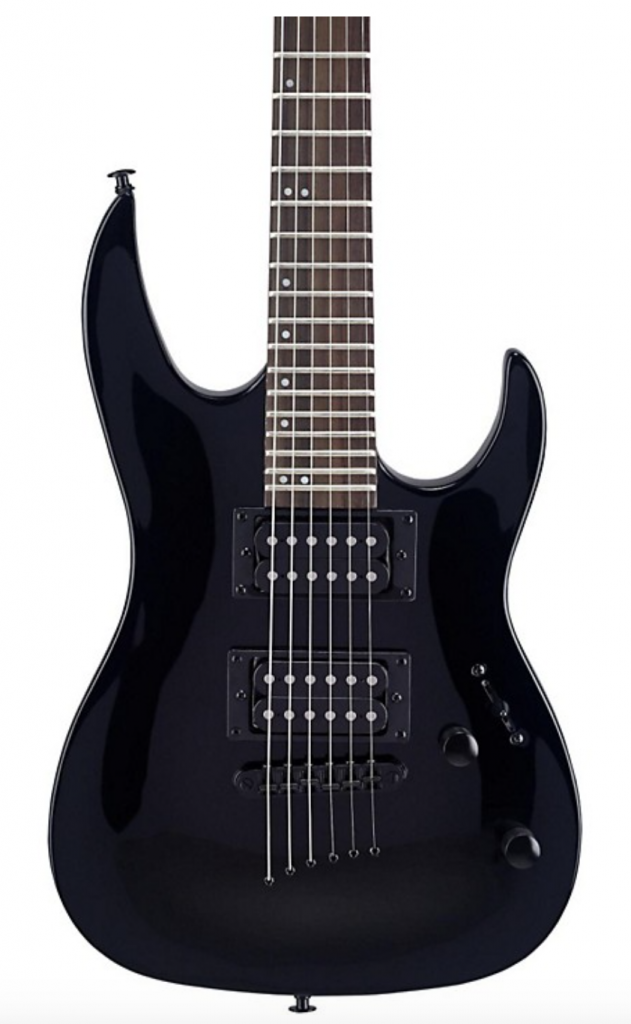 This guitar is the cheapest out of this list and is currently on sale reduced from $119.99 to $89.99. Despite this though, this guitar is unique, it features a double cut away design making it a different shape.
Made from a basswood body and a maple neck, this guitar is just as durable as other on this list despite having a large price difference. The chrome hardware and black finish to the guitar really contrast each other giving you the illusion that the guitar has a high price tag.
This guitar also features two high-output ceramic humbucker pickups which gives the guitar so much power despite its smaller size. 
Check Price
4. Squier Bullet Stratocaster Hardtail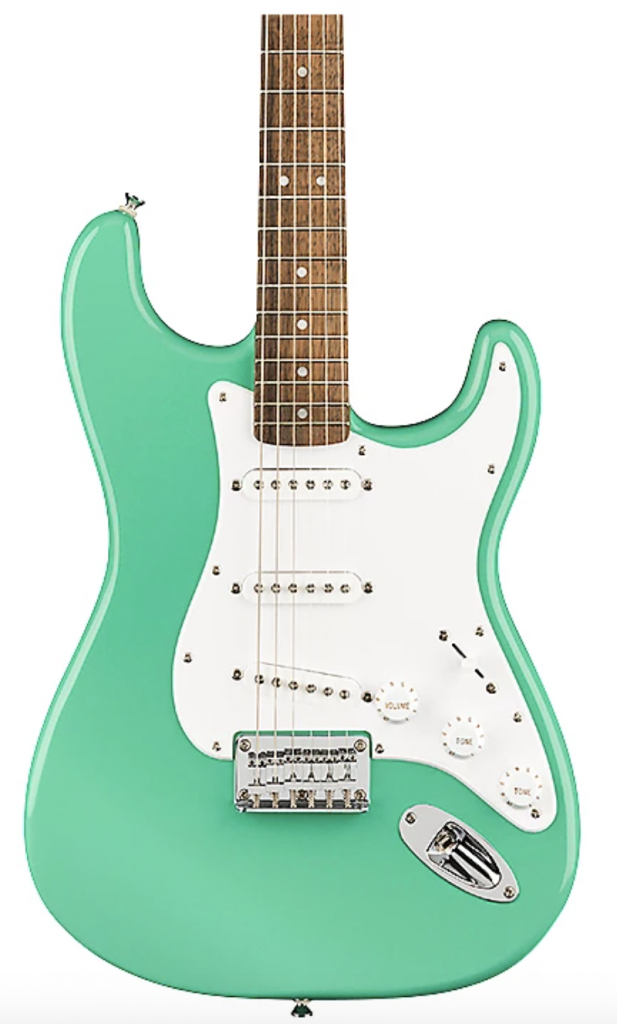 This has got to be the most unique colourway out of this whole list. If you're looking for something eye-catching then this sea foam green Squier limited edition electric guitar is sure to cut it. Luckily this guitar is currently on sale for $189.99 down from $209.99, just making the under $200 list. It features a 21fret fingerboard, making it easy to play and practice with.
The body of the guitar is made from poplar and the neck made from maple. In terms of design, this guitar has a double cutaway shape to it and is finished with chrome hardware which perfectly contrasts the sea foam green body.
5. Jackson Dinky JS11 Electric Guitar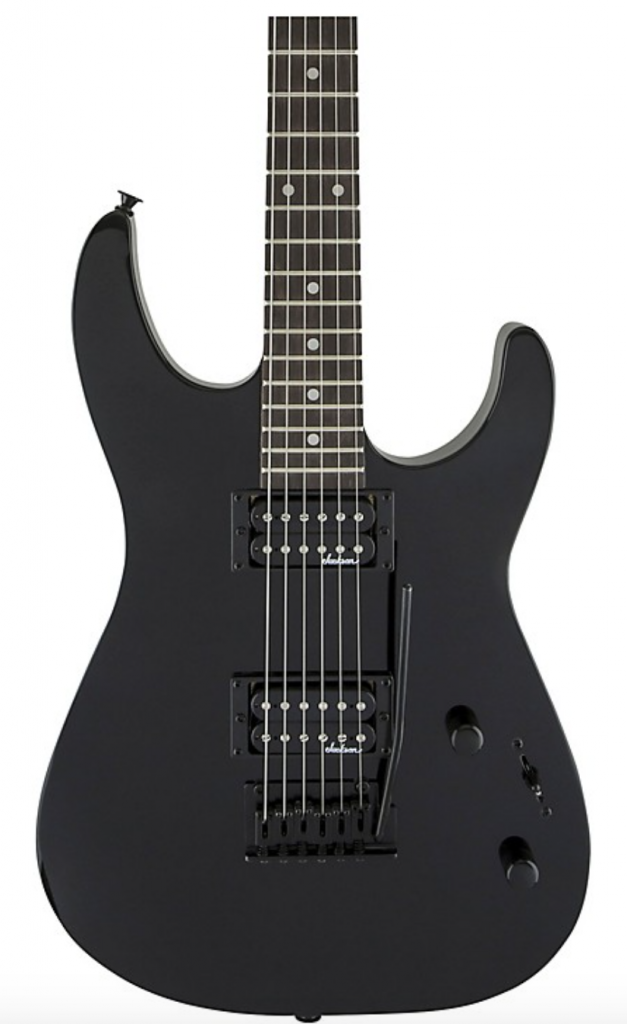 This electric guitar is the most modern guitar appearance wise on this list. It is finished in a matte black colour with matte black hardware making it the perfect guitar if you like to keep up with trends.
The body of the guitar is made from solid wood and the neck is made from maple with a bolt on design. It also has a graphite reinforcement, so this is a sturdy guitar. It also has a double cutaway design to make it look even more unique. All for under $150!
Check Price
6. Squier Limited-Edition Bullet Telecaster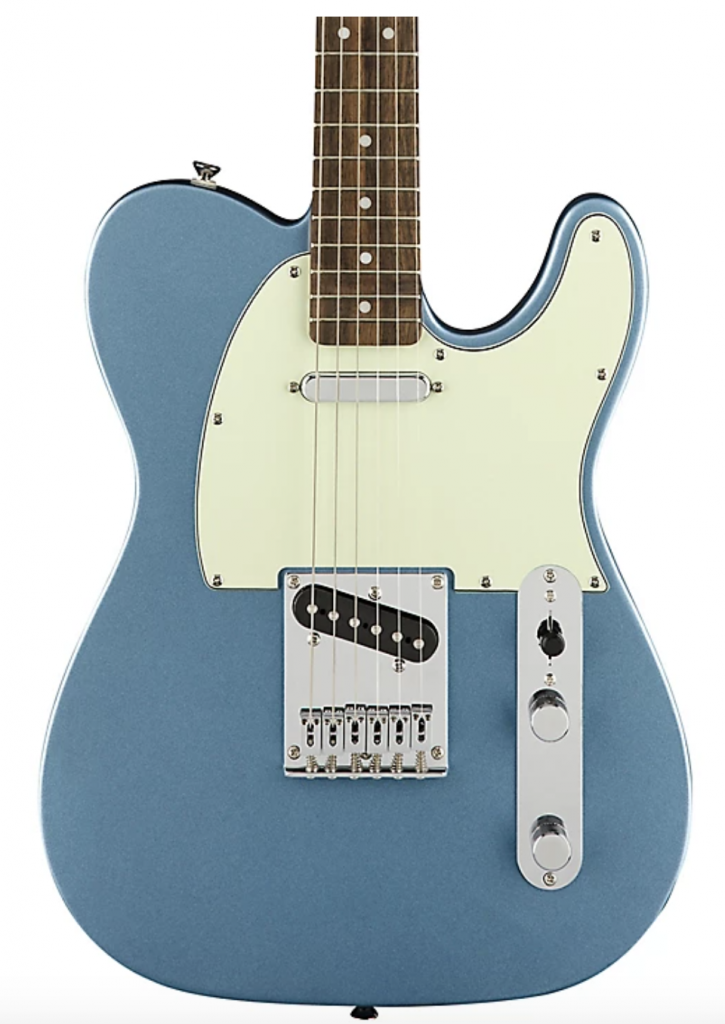 This is another limited edition Squier electric guitar. This time it's in a cool blue colour. A great choice of guitar if you. Want something that's different to the classic natural wood-stained guitars. Priced at $159.99 a $20 reduction from its original price of $189.99, this guitar is great value or money.
It is rare to find limited edition guitar with such a unique colourway for well below $200. Made from solid wood and featuring a single cutaway design, this guitar is strong and made to last as well as being nice to look at. It also has a thru-body strung 6-saddle fixed bridge and sealed tuners ensuring that you can make some good music with this product. 
Check Price
7. Ibanez GRX20 Electric Guitar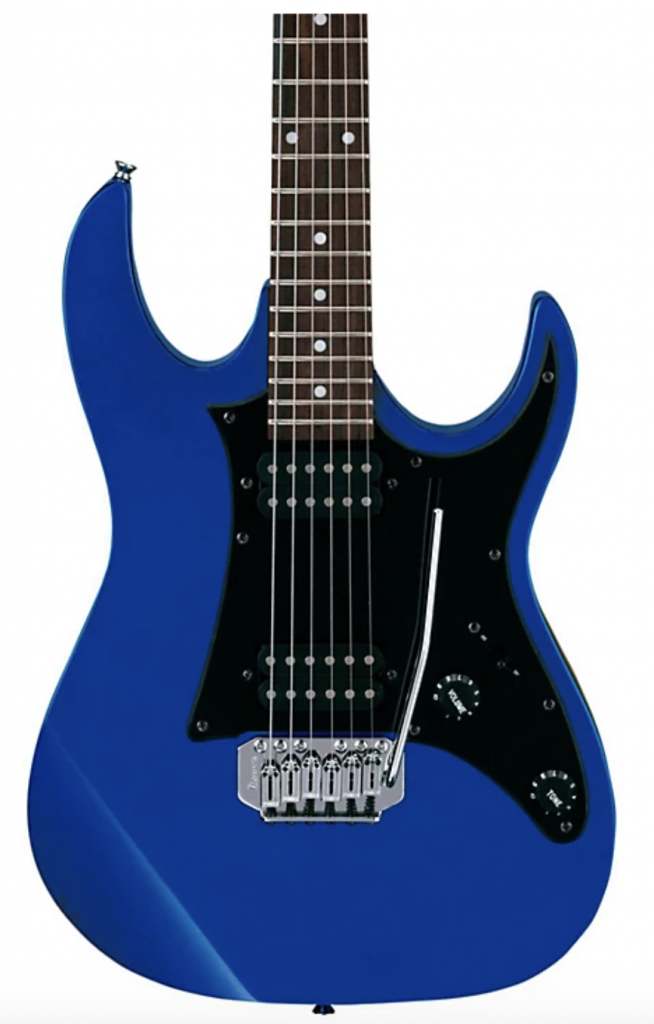 Just because a guitar is under $150, it doesn't mean you have to compromise. This guitar not only looks great as it is it finished in a jewel blue and black colour with shiny chrome hardware, but it is also great quality.
In terms of materials, the fretboard is made from treated New Zealand pine and the neck is made from maple wood. The vision behind this guitar was to create an affordable guitar that still had the Ibanez quality and feel to it.
Check Price
8. Ibanez GIO RG Electric Guitar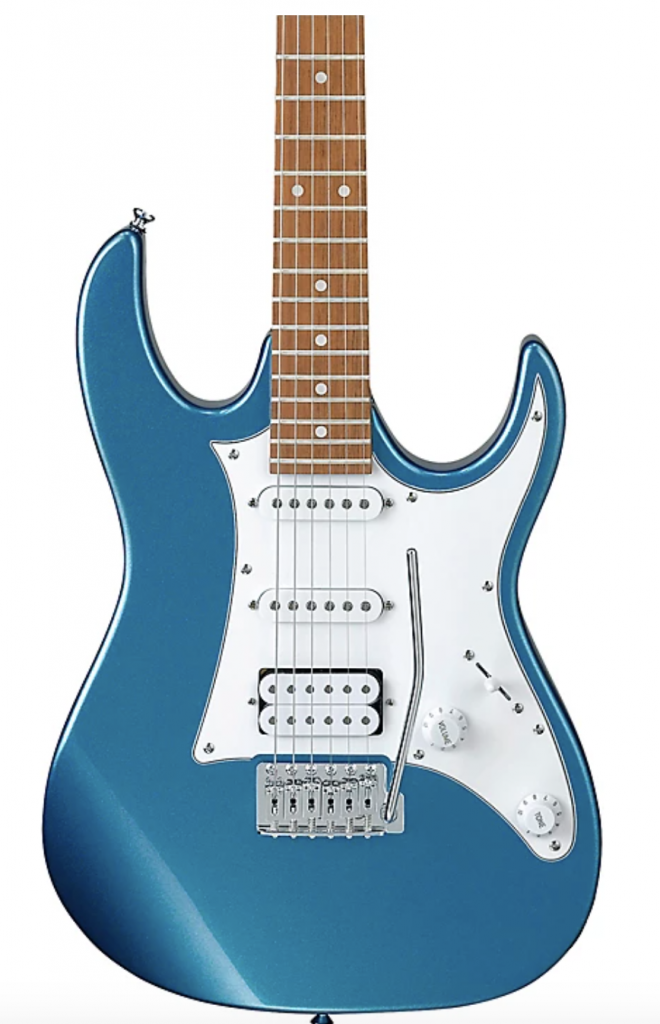 Next up is another blue guitar but this time it's in a metallic blue shade, equality as stylish and eye-catching as the others. In terms of spec this guitar has three infinity R pickups with a 5-way sector switch, giving you the freedom to create a variety of tones so you can make some great music.
This guitar also gives you the opportunity to play to a professional standard without having to pay out thousands of dollars in equipment.  
Check Price
9. Squier Mini Jazzmaster HH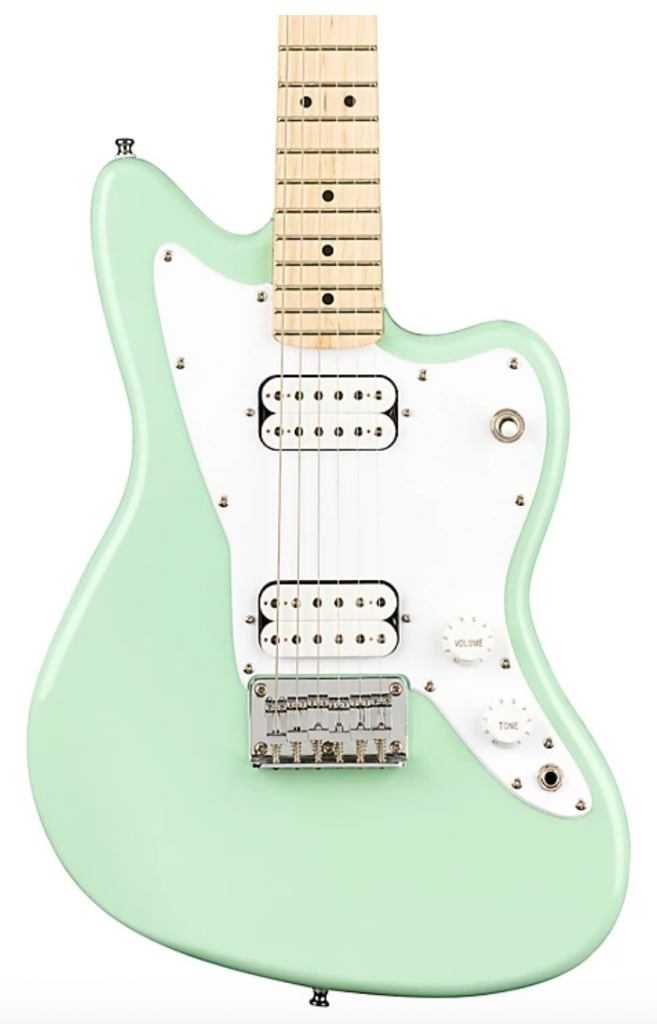 This surf green electric guitar is designed to be thin and lightweight which makes it easier to play and more convenient to use in everyday life. It features a light wood-stained neck which alongside the green body makes the guitar breakaway from traditional.
The squier range from Fender allows you to experience the great quality of Fender products without having to pay the high-end prices of more traditional Fender guitars. 
Check Price
10. ESP LTD Viper-10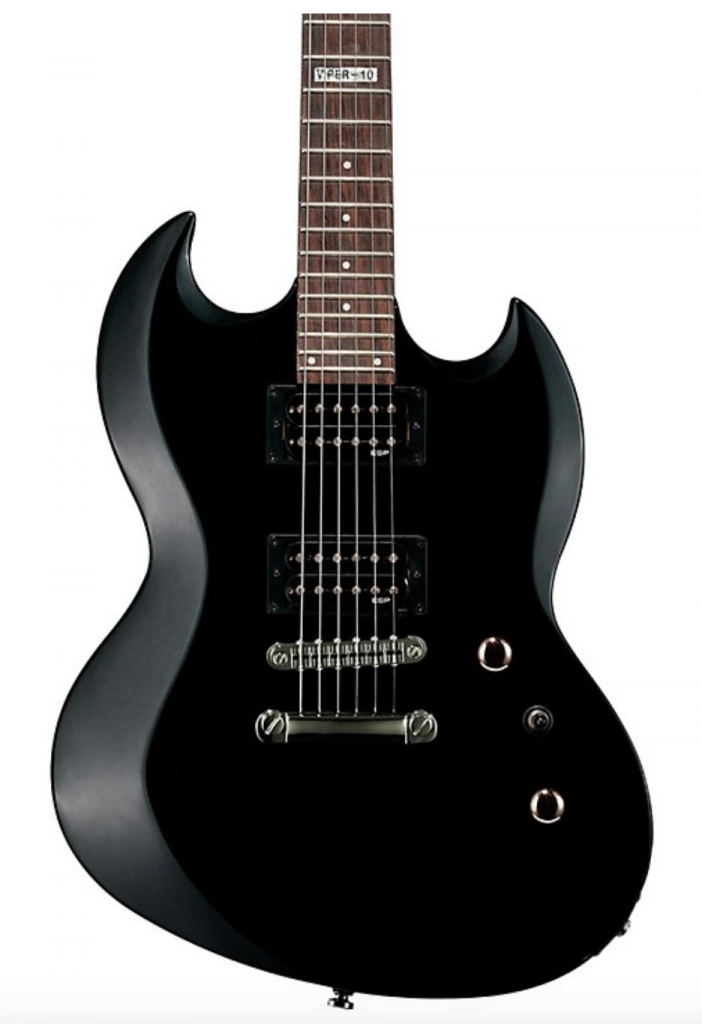 Coming in at $199.99, this guitar only just makes this under $200 list, but it is worth a mention. Made from basswood and maple and featuring a curvy double cutaway design, this black electric guitar has a very professional appearance.
It has a 24-fret fingerboard and two humbucker pickups, giving you all the technology you need to create various styles of music.
Yes, it is pricey compared to others on this list but you're getting a stylish guitar made using high quality materials, with the best technology you can get without having to spend a fortune. 
Check Price
Conclusion
And there you have it! Ten incredible guitars that won't cost you the earth, perfect for beginners and advanced players alike. Make sure you check out some of the other buying guides collated on this site, including the best PRS guitars breakdown and guide to the best 12 string guitars.
More from Guitars
---
The Gibson Les Paul is a classic electric guitar that has been a favorite of guitarists for generations. One of …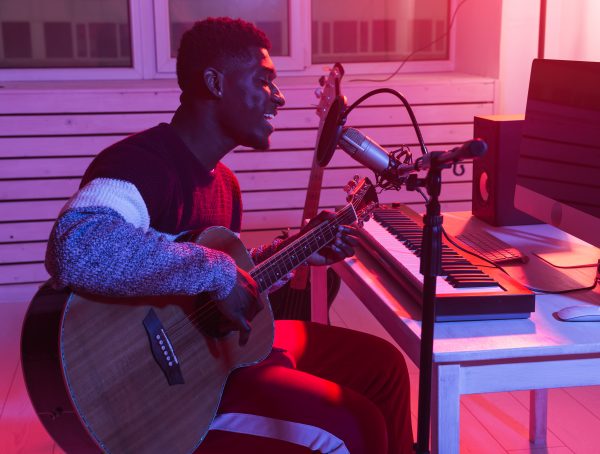 When recording music or audio, the equipment you use can affect the outcome of your production. This is necessary for …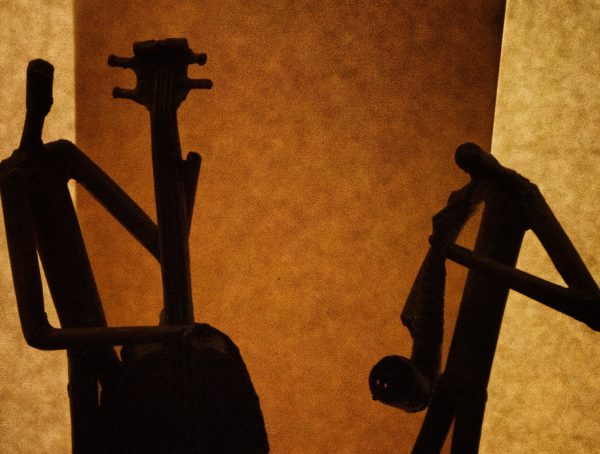 What should you be looking for when buying a gypsy jazz-specific guitar? Well, first of all, hello to you my fellow …
Editor Picks
---