Best Budget
Jackson Dinky
A perfect, compact guitar for players new to shredding
Best Overall
Ibanez RG470AHM
The type of shredding guitar you keep for a lifetime. It has everything
One of the most iconic and sought-after shred guitars of all time
So, you're looking for a guitar specifically for playing fast
Let's not mince words here either. Every guitarist has either thought of owning or owns a specific guitar for tearing up the fretboard. My personal choice is an old Ibanez RG that I got for half price at a music store that was closing down. It's not 15 years old, beaten, bruised, and one of my favourites!
So, having been a fan of 'shredding' guitars for years, I've put together a guide to ten of the best that I've either played or had my eye on this year.
Ten of the best guitars for shredding (2020 Data)
1. Ibanez S670QM

The Ibanez S Series has been the go-to guitar series for rock and metal players since 1987 – and it's not hard to see why. Not only are they beautiful guitars to look at, but they're crafted for maximum comfort and playing performance, making them some of the top guitars for shredders.
The S670QM has several handy ergonomic features such as a double cutaway and an ultra-thin body that make it ideal for flashy playing. Its thin-profile Wizard III 3 piece maple neck meanwhile sports unique S24 dot inlays and 24 jumbo frets on an ultra-flat 15.74" radius that allows for speedy picking and easy string bending.
Its pickup is also designed for maintain clarity while playing aggressively. The high output neck and bridge outputs, Infinity single coil pickup and Infinity humbuckers help to deliver a piercing metal tone that ideal for wild solos. This is accompanied by a 5 way pickup switch and 2 knob volume control, allowing for complete tonal flexibility.
To top things off, the S670QM also features an Ibanez Edge Zero II locking tremolo system, ideal for those that like to give their shredding a lot of whammy. This tremolo system will hold your guitar in tune no matter how many Kirk Hammett solos and Van Halen dive bombs you try to replicate.
2. Dean Dimebag Dean From Hell CFH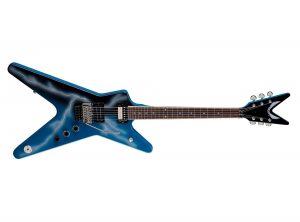 The Dean Dimebag Dean From Hell CFH is a tribute to the guitar that metal legend Dimebag Darrell used and abused while on tour. It's the ideal instrument for delivering screeching divebombs and breakneck speed solos like Dimebag himself.
The guitar features high output humbuckers and DBD traction knobs for helping to deliver a vicious tone. The 22-fret rosewood fingerboard meanwhile offers lots of stability while playing at speed, while the Floyd Rose tremolo arm allows players to deliver Dimebag-like squeals. The iconic Dean shape meanwhile allows easy access to the higher frets.
The guitar comes with the famous lightning graphics that adorned Dimebag's guitar. If you're an avoid Pantera fan, this could be the perfect axe for you.
3. Ibanez S621QM 

Another model belonging to the iconic Ibanez S-series, this guitar is similarly perfect for those that like to play fast and loud. It's a popular choice for metal and hard rock musicians around the world.
Like the S670QM, the S621QM features a thin-profile Wizard III 3 piece maple neck with unique S24 dot inlays and 24 jumbo frets on an ultra-flat 15.74" radius – which makes it well suited for fast shredding and violent string bending. It similarly features a double cutaway, but with a contoured mahogany body.
The S621QM doesn't have a tremolo arm, instead opting for a Ibanez fixed bridge. This keeps the strings in tune even when playing aggressively. Quantum humbuckers and a five way pickup switch meanwhile allow for total control over tone. There's also a two knob volume control that can be used in tandem.
4. Jackson Pro Rhoads RRT-5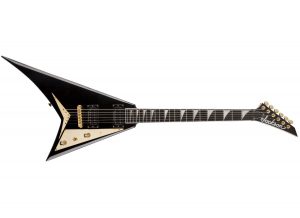 Want to shred like Randy Rhoads? The Jackson Pro Rhoads RRT-5 is a tribute to the pioneering metal guitarist. Designed to replicate Randy Rhoads' very own axe, it is definitely one of the best guitars for shredding.
Its hottest features include its Seymour Duncan Distortion humbuckers (guaranteed to help you achieve that crisp snarling distorted guitar tone) and its 22 jumbo frets (they'll help you pull off any aggressive string bending that may be necessary).
It also sports a three-way toggle pickup switch for helping to nail the right tone and a Jackson compensated and adjustable TOM-style bridge with anchored tailpiece.
On top of this, it looks mean and is the perfect for guitar for anyone wanting to give their stage presence a boost. It's black gloss V-shaped body makes this feel like a true 'axe'. The neck is maple and graphite enforced and there are pearloid sharkfin inlays between the frets to offer that added jagged aesthetic.
5. Dean Mustaine VMNTX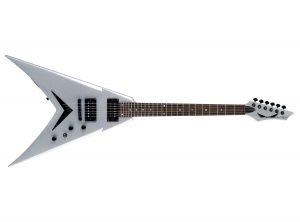 For those that want to shred like Megadeth's Dave Mustaine, the VMNTX is another beast of a guitar that is certain to serve you well. It has an iconic V-shaped body designed to replicate Mustaine's very own guitar and is available in black or silver. The neck profile was meanwhile designed by Mustaine himself.
When it comes to great guitars for shredding, the VMNTX sports all the right features for fast and crisp guitar playing. It's got Dual Dean design black open humbucker pickups for helping to nail the perfect metal tone. It's bolt on 24 fret maple neck and rosewood fretboard meanwhile looks cool while providing sturdy support while soloing at speed.
The VMNTX also possesses Mini Grover 6 in line tuners and black hardware. It's a must-have for Mustaine fans.
6. Ibanez RG470MSP

Ibanez's RG series has long been a popular choice for metal and hard rock guitarist and similarly contains some excellent guitars for shredding.
One particularly formidable axe is the RG470MSP. It's turquoise sparkle finish immediately turns heads, but the guitar has more to offer than cool aesthetics – it's also got some impressive features for helping to produce some mean sonics.
Its quantum pickup is built for shredding, offering an accelerated bass response for keeping track of high-speed spidery riffs. It delivers a crushing mid-range and precise high-end for crystal clarity. A 5-way switch meanwhile allows players to fully experiment with tone.
The guitar also has a double locking tremolo arm with tuning stability capable of pulling off crazy dimebombs. Its Wizard III maple neck is meanwhile thin but sturdy, capable of taking a lot of abuse, while the 24 fret maple fingerboard helps to pull off intricate riffs.
7. Jackson X Series Soloist SLX

The Jackson X series was designed with fast guitar playing in mind. They're also a relatively affordable option compared to other built-for-speed guitars of the same quality. As a result, they can be one of the best guitars for shredding for those on a tight budget.
The Soloist SLX is a particularly stunning instrument in the Jackson X series. It features a basswood body and a through-body maple neck with graphite enforcement. Its rosewood fingerboard contains 24 jumbo frets and features a creative curved design towards the nut to help with chords, while flattening out towards the neck joint to help with low-action bends.
A Floyd Rose special tremolo arm allows for freakish whammy action, while two separate designs of humbucking pickups – a Duncan designed alnico HB-103N towards the neck and a high-output ceramic HB-103B towards the bridge – help to deliver outstanding tone. A three-way switch and single volume knob make up the tone controls.
8. Ibanez Steve Vai JEM JR

Fans of Steve Vai's shredding style will love the JEM JR. Designed to Steve's specs, this formidable guitar is perfect for fast and flashy guitar soloing.
It boasts a trio of Ibanez quantum pickups including humbuckers with ceramic magnets. A five-way switch, master volume knob and master tone knob allow for plenty of experimentation with tone (something that Steve Vai is very passionate about).
It also features an ultra-thin neck to help with speedy guitar playing and also possesses an Ibanez double-locking tremolo system for aggressive whammying.
On top of helping to produce great sound, it also looks cool. It features a trademark 'monkey grip' near the upper horn and is carved from mahogany covered in a white finish. It also features a rosewood fretboard patterned with Steve Vai's 'tree of life' inlay.
9. PRS SE Hollowbody Standard Semi-Hollow Body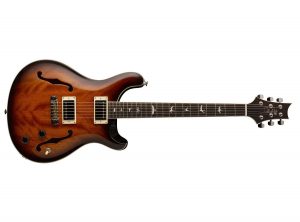 With its vintage aesthetic and unique hollow construction, the PRS SE Hollowbody is ideal for those that want to shred but don't necessarily want to be confined to hard rock and metal.
It's firstly got a classic and sophisticated look about it that makes it suitable for playing metal, blues or folk. The fingerboard is ebony and contains 'old skool' birds inlays (an iconic feature of PRS guitars). The body is meanwhile made from laminated mahogany, resulting in a slick classic rock look.
As for the 'hollow body', this helps to deliver a warm and resonant tone. Despite its hollow centre, it's also very sturdy, offering the stability of a modern electric guitar. The SE Hollowbody features an adjustable stoptail bridge and a 22-fret wide fat neck, as well as some 85/15 'S' pickups.
10. Jackson JS32 Dinky DKA-M

When it comes to the best guitars for shredding, Jackson JS guitars are one of the most affordable options. They make it possible to achieve the classic Jackson tone without breaking the bank – and have become a popular option as a result.
Hot features of the Jackson JS32 Dinky DKA-M include its arch-topped basswood body and 24 jumbo frets, helping to make intricate chords and riffs easier to play. Black sharkfin inlays and black hardware help to give the guitar a mean look.
The guitar contains two high-output Jackson humbucking pickups with ceramic magnets for achieving a fierce tone. A Jackson-branded Floyd Rose double-locking tremolo bridge meanwhile allows for whammy usage during solos.
Video Demos
Here's a small selection of the guitars in terms of their playability, how they look and sound:
Advice for beginners buying a guitar for shredding
Whilst I've outlined my ten favourites, you're naturally going to want to do your own research when buying any guitar, which as an avid player is something I would urge you do.
When buying a guitar specifically for the purpose learning how to play fast and experiment with different 'shredding' techniques, there are some things you can opt for to ensure that you're actually getting the right kind of guitar for what you're after.
Choose a thin neck
Opting for a guitar with a thin neck will allow you greater access to the entirety of the neck, meaning that you're going to find it easier to stretch and wrap your hands around for things like multi-fret legato and pentatonic alternative picking runs.
It's also a vital component of shredding if you have small hands, as the thin neck is less to contend with.
Guitars like the RG or the Jackson Dinky have been favoured for years because of their relatively thin necks, and you can certainly notice the difference especially coming from something like an acoustic or a bulkier electric guitar.
Opt for a light material like basswood
This tends to be more of a significant choice if you're choosing a guitar that you're either going to be playing stood up, or for long periods of time.
Shredding can certainly zap your energy and concentration, so the last thing you want to be worrying about is contending with a heavy guitar along with the extreme concentration of landing that tapping solo!
24 frets
Whether you're going to use all 24 or not, you may regret not getting a guitar without them incase you need to use them in the future. This is particularly important if you're doing techniques like whammy bar dive bombs and experimenting with solos from other bands and artists.
Chances are, a couple of them will be utilising that 24th fret!
Locking tremolo system
Speaking of dive bombs and whacky techniques, it's also very common for players who love a shredding session to go overboard on the whammy bar.
If this sounds like a part of playing that you want to incorporate, then a locking tremolo system will not only stop your guitar from going out of tune but also significantly reduce the chances of a rogue snapped string when the blistering solos get intense.
Frequently Asked Questions
Do you need a specific guitar for playing fast?
Of course not, however certain guitars simply do offer more for certain styles of playing. The above guide I've outlined gives just some of the reasons why there really are specific 'shredding' guitars, but it's not crucial that you opt for one in this guide.
Is it better to get a guitar with a thin neck for shredding?
I personally believe so, yes. Having come from playing a bulky acoustic guitar, my first time playing an Ibanez RG was mind blowing in terms of the fretting possibilities.
Do metal and shredding guitars all have a locking tremolo system?
No, because some players won't get the use out of a locking tremolo system. If you're not going to be using the whammy bar excessively, then the cons probably do weight out the positives, as changing the strings on a guitar with something like a Floyd Rose can be a notoriously tricky and tiresome exercise to perfect.
Can you shred on a bulky guitar like a Les Paul?
Of course you can! The ones I've recommended in this list are the types of guitars that are more optimised for playing fast, but it doesn't mean that playing fast should be ruled out on any guitar, electric or otherwise.
Conclusion
If you liked this guide and have found the shredding guitar you're looking for, then may also want to check out a recent guide on playing fast (so you can put your skills to the test on a brand new axe!).
More from Guitars
---
The Gibson Les Paul is a classic electric guitar that has been a favorite of guitarists for generations. One of …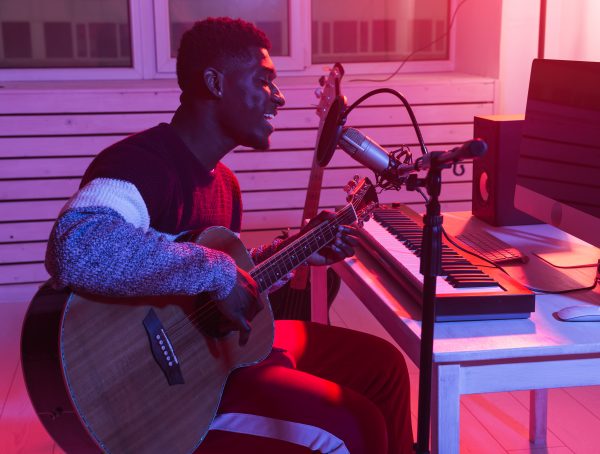 When recording music or audio, the equipment you use can affect the outcome of your production. This is necessary for …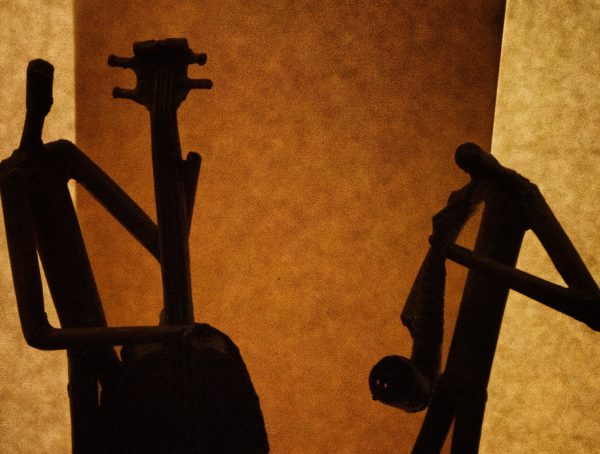 What should you be looking for when buying a gypsy jazz-specific guitar? Well, first of all, hello to you my fellow …
Editor Picks
---