Sound

Build Quality

Features

Tone

Size

Price
Summary
Our overall winner is the amazing MXR M152 Micro!
Looking for a guide to the best flanger pedals to suit your guitar playing style?
Look no further than our ultimate guide. Like many of the guitar effects pedal guides in our series, this guide follows the same format; we check out each pedal on our list, provide non-biased information, then select our favourite as the overall winner.
Flanger pedals are often seen as more of a novelty effect than the incredible, versatile effect they can be. From a phaser-like effect to a subtle, soaring tone, a flanger pedal really can take any standard tone to the next level.
Updated May 2020 with new products, FAQ's and extended information. 
Table of Contents: 
Top 20 | Demos | Conclusion | FAQ's
Along the way you'll find demos, video reviews, and even accessory guides to help out the beginner guitarists amongst us looking to get started with the wonderful world of flanger effects. Without further ado, let's get into this pedal guide:
Quick Look – The Best Flanger Pedals of 2020
1. NUX Flanger Core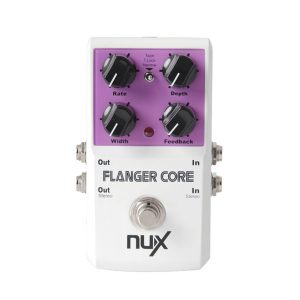 Starting off this guide is the Flanger Core from one of the smaller brands on this list… NUX. Not a stranger to tailoring pedals to the whims of their audience, NUX have combined features galore with a very fair price point, resulting in a great beginners pedal that gets the job done across an array of different tones.
The pedal comes with 4 knobs: width, feedback, rate and depth. The flanger core also comes with 2 types of flange, both normal and tape. The tape option is a retro cut back to the original flanger pedals, combined with the depth of options which means you can truly create your own unique sound. To learn more about the difference between the standard and tape flanger effects pedals, jump to the FAQ for the low-down.
We recommend the NUX core for intermediate guitarists with a semi-established pedal board, who want to experiment with new and old sounds to create an individual flange/chorus tone.
2. Palmer Roots Flanger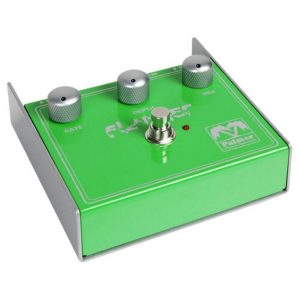 There's a standard flange, there's a deep flange, and then there's the rich flanger tone. And this is exactly what Palmer have done with their roots pedal. You can separate the rate of the effects, the depth and the flange mix, which is where the rich tone comes in to play. By controlling depth, you can really start to hone in on the specific sound you want. Rate is a standard feature, but depth is what really makes the Palmer stand out.
There's no denying that the vibrant toxic green colour is anything other than… unmissable? Either way, this is a great entry pedal and not too pricey either.
3. MXR M152 Micro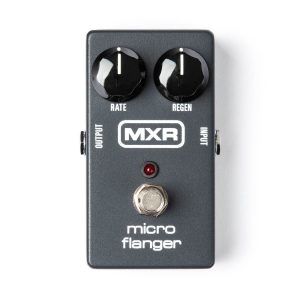 When you think of MXR, most guitarists will immediately jump to the Eddie Van Halen signature model. And there's nothing wrong there, but we're here to highlight the other pedals in the fantastic MXR range. Namely, their answer to a flanger and pedal board space saver, the M152 Micro.
Modelled on the M117, this is essentially the same pedal, shot with a shrink gun. The rate knob controls the speed and rate of the flange effect, while the Regen (regeneration) knob looks after the entire picture of depth. In other words, you can control the speed and intensity of the effect, with a turn of a knob.
We can't recommend this pedal enough for beginners, as it gives just enough features to find your own tone, is a perfect price, and takes up little to no room on any pedal board. You'll be tapping like Eddie in no time! This pedal also wins the crown of overall winner of this guide. 
4. Digitech Nautila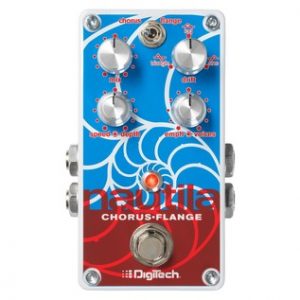 In typical Digitech fashion, they always have to take things one step further. And, not only have they fashioned the Nautila in a psychedelic wonderland, but they've also managed to combine both chorus and flange effects into a compact, versatile stomp box.
You can choose between 8 unique chorus tones, and 4 flanger settings, with the ability to blend the two together for as unique a chorus effect as you'll find. Want that classic, palm-muted power chord flange sound? You can have it. Looking for something more minimal? You can use the setting for a tone that disappears at the low end, and emerges in the high-end tonalities for a one-of-a-kind solo boost.
Other features of the Nautila include speed and depth controls, wave modelling settings, on-the-fly speed control with foot switch versatility, and even an emphasis option to control overall intensity.
If you want to get serious about effects and have a basic understanding of music technology and how pedals work, then this is a serious (and recommended) piece of kit to get stuck into.
5. Electro Harmonix Electric Mistress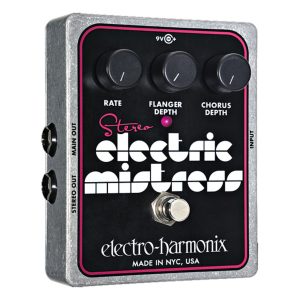 As with our previous pedal, the Electric Mistress from Electro Harmonix has both chorus and flange effects. However, the primary difference here is that the stereo output blends the chorus and flange together. So what does that mean for the average player? It means that, if you're looking for those signature Hendrix, other-worldy chorus tones, then the Electric Mistress can deliver them right out of the box.
You can control the flange and chorus depth, with a rate setting used to control overall intensity.
The much-loved 'matrix' mode allows you to control the sweep, meaning the depth of both effects can be tailored to your liking. 60's pysch rock, here we come! Couple with an octave pedal for the ultimate classic rock setup.
6. MXR EVH90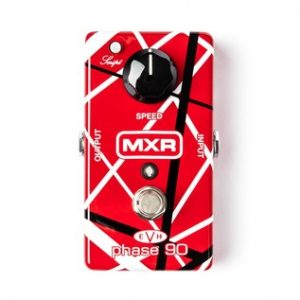 Here we have it. Call it a phaser, call it a chorus, or call it a flange… Whatever it is, MXR have hit it out the park with this compact beast. The pedal behind the iconic Van Halen tone, the EVH90 offers a simple speed control and nothing else. Why? Because the chorus/flange quality is just that good.
But wait… There is something else! Hidden in the confines of the top left corner is the subtle 'script' switch, used to provide you with the ability to switch between both vintage and modern phase tones associated with this pedal.
There's a reason why this is at the top of our list. You get the iconic rock phase and flange sound, the options to switch between retro and modern tones, and you don't have to pay an arm and a leg. What's more is that it's compact, and just looks downright awesome. Don't pass up the opportunity to purchase this mini beast!
7. Moog MF-108M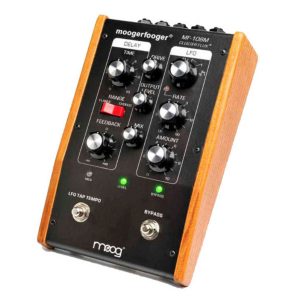 Limited edition? Check. Most expensive in our list? Check again. So why've we included this? Because we know that some of our readers are both lucrative and love to spend on guitar gear, but also because this pedal is amazing. It's certainly a retro cut, but it blends the flange and chorus effects together perfectly.
You can control everything from effect feedback intensity, time of an effect loop/resonance, the drive, range, and even the complete mix to blend the combined effects together. It also includes wave manipulation and tap tempo, so you can really get your teeth into the overall effects setup.
It just looks so cool and retro too. Plus it's a Moog… Yeah, we need to stop talking about this one already, just be sure you check it out.
VIEW ON AMAZON
8. Empress Effects Nebulus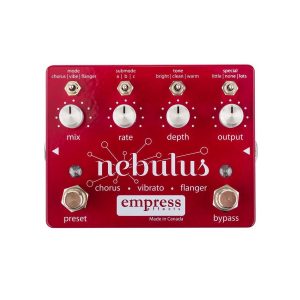 The Nebulus from Empress Effects might look like a complicated piece of kit, buy don't let the knobs and whistles fool you… This is a very user-friendly, uncomplicated pedal, perfect for players of all levels.
The effects available blend chorus, vibrato, and of course a flanger. Notice we've included tape flange in the title of this ultimate guide? This is exactly what we're talking about, and it's also why Empress Effects really meant business when building this pedal. The tape effect on the Nebulus mimics the 60's sound, a very deep and smooth tone blended with a minimally distorted effect. Blended with the chorus and tremolo effects, the overall sound results in a post-modern, warm flange blend.
The price isn't too cheap, but then again a pedal like this will not be cheap to make. We can't recommend this pedal enough for lovers of the Hendrix/60's effects, particularly those looking for a vintage chorus and flange combination without having to rely on a complete pedalboard to get that effect.
9. Maxon FL-9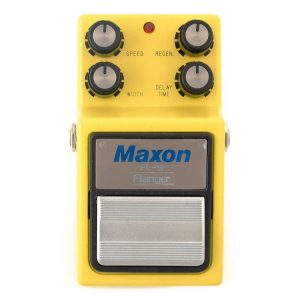 Get a load of this yellow beast! Kinda like a bumble bee without the sting, at number 9 we have the FL-9 from long-standing pedal manufacturers, Maxon.
A vintage pedal that was created by the company in the 80's (so expect the vintage tone), this pedal was actually created for Ibanez to pass on to their sponsored guitarists, back when hair metal was the thing… Now, how 80's is that!
Modelled similar to a Boss pedal, the FL-9 allows you to control delay time, speed, width, and regeneration. The effects on offer are heavily retro, think almost more of a phaser than a flange. Not that it's a bad thing though, so if you're a fan of classic rock, hair metal and big stadium power chords, this is definitely the pedal for you!
10. Source Audio Mercury Flanger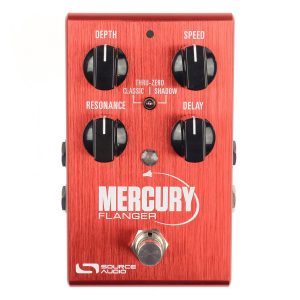 Don't let the technical sounding brand name fool you, you don't have to be an audio engineer or pedal expert to get to grips with the Mercury flanger. 
 A stereo flanger, the Mercury pedal is known for three classic effects options, and the depth of each effect these settings provide. You can choose from the classic flange mode, the shadow setting for fans of the 'plan take-off/voom/' effect, and the brilliant thru-zero which provides a unique tape flange effect that rivals the best of the original and dedicated tape flangers in our list. 
Controls on offer include speed, delay, resonance and depth… That's a lot of control for a compact pedal, and with the three factory options on top of that, this is a serious pedal for players who want to develop a unique effect/signature pedal tone. 
11. Boss BF-3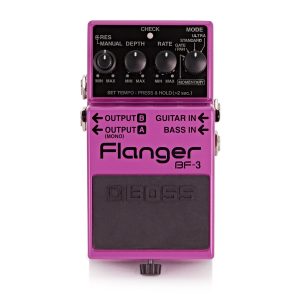 When you think of a classic flange as part of a pedalboard, the ever-striking BF-2 from Boss will no doubt be the one that springs to mind. The BF-3 is a modern update, developing and even improving upon the core points of the BF-2 which guitarists know and love. Another stereo flanger on our list, the BF-3 focuses on two new additions, the ultra and gate/pan settings, which gives you a greater degree of control in relation to its aged counterpart. Not that we're hating on the BF-2… 
If you do however want to keep the classic effects, then there is also the standard mode for fans of the original flange effect of the BF-2. This pedal just allows you to turn things up to 11 in the flange department! 
12. TC Electronic Vortex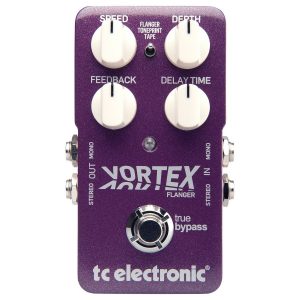 Talk about a compact beast! We're no strangers to the wonders that TC Electronic provide when it comes to effects pedals. 
The third stereo flanger we've reviewed in a row, the Vortex has made its way onto this list for a clear reason… versatility. You can easily switch between a mild flange effect to overlay with a distorted signal, right up to explosive, soaring sounds and a phaser-esque modification of the guitars signal. Perfect. And, with just two types to choose from, the jump is instant and very easy to pull off when playing in a live setting. 
The Vortex is something they've clearly thought out, and we're not just talking about the effect on offer either. The build, width, and even knob size have been meticulously arranged to allow for optimum space-saving capabilities, so if you're looking to save room in your pedal board but still want a flanger with all the bells and whistles that you'd expect, then the Vortex is the one for you.  
13. Marshall RG-1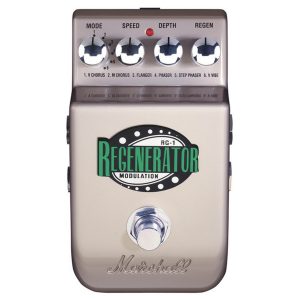 Aside from amplifiers, Marshall are incredibly well known for a few of the stand-out pedals in their extensive arsenal. And whilst something like 'The Guv'nor' might be the first from their range to come to mind, we want to put a new challenger up to the top spot… A win for Marshall and a beautiful pedal all-round, the RG-1 Regenerator. 
This pedal is straight up, no frills, vintage flange. And at a fair price, you get exactly what you pay for. 
You can switch between modes, and whether that's phasing or the retro flange you've been looking for, it's easy as the turn of a knob. Standard controlling of depth and speed are included, and sealed in a bulletproof case. 
We recommend this one for the no nonsense guitarists. If you want a cheap pedal to provide a vintage tone, then get the RG-1. 
14. Mooer ElecLady Analog Flanger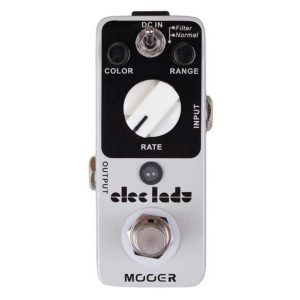 At Guitaarr we love quirky pedals. Anything out of the ordinary, or an adaption of a classic, instantly catches our eye. But to make it on to this list, quirkiness is simply not enough. We humbly introduce one of the most unique and surprisingly adept miniature flange pedals we have ever encountered, the Electric Lady from Mooer. 
At a glance, it's easy to assume this pedal is a one stomp does all type of pedal. This couldn't be further from the truth. There are miniature controls littered across the pedal, which work incredibly well in varying the effect; and, for the price, this is a fantastic surprise. 
The first setting you encounter is color. This is another way of saying the general mix or overall blend of the effect. Rate and range control the intensity and type of effect, with a final filter effect for added depth. 
You'll be pleasantly surprised with the price, the character, and the amount of possibilities that come with a pedal of this size. If you're strapped for cash or space, the Electric Lady is a no brainer! 
15. Carl Martin Classic Flanger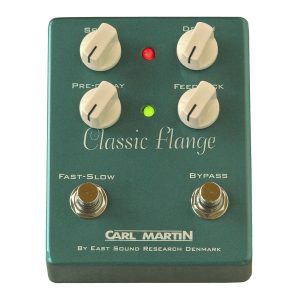 Carl Martin pedals may not be as well known as the Boss's of the world, but don't let that dissuade you. These pedals are pure vintage, timeless, and built with a clear goal; retro effects pedal delivery.
Controls include feedback, speed, depth and pre-delay, with the latter being a particularly interesting function to get to grips with. 
The tone of the effects speak for itself… Pure vintage and nothing else. No frills, just exactly what you're looking for. 
16. Joyo JF-07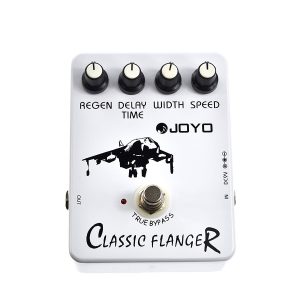 The JF-07 from Joyo is a vintage flanger pedal, with a very unique 'regen' option that offers a warm blend of 50's and 60's era vintage tones.
The stand-out point to this pedal is the modulated tones used alongside the standard warmth of the true-bypass signal. This means that, as a fan of rock and even psychedelic music, you can continue to merge the original tone with a modulated signal for super classic rock flange vibes!
17. Bonsai Flanger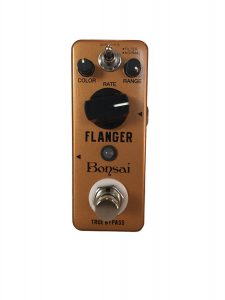 The Bonsai signature flanger pedal packs a lot of punch for its miniature size. Don't let the size fool you either, there's plenty that can be done with this shrunken-down stomp box.
The first two controls that jump out at you are 'colour' and 'range'. As you can imagine, colour refers to the mix of effect, whilst range matches the colour and rate of effect with the dry signal from the guitarists amplifier. The big knob in the middle focuses on the rate, which measures the speed of the effect.
This pedal is incredibly fairly priced, a great size for players on the move, and is built to last.
18. MXR M117R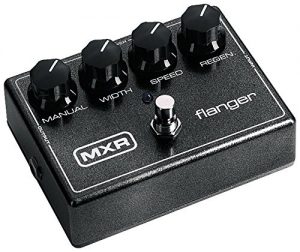 The M117R is another MXR on our list which is a take on the classic M117, just with an added, modern update. This is the monolith is MXR pedals for seasoned players and flanger fans. The width and speed controls are added as standard, with the 'manual' control which controls the actual frequency of the signal, and the 'regen' option which provides access to what can be classed as the elasticity of the effect.
This is a pedal that provides unparalleled access to signal control. If you don't mind splashing out the cash and paying a bit extra, then give this on a serious thought.
19. Electro-Harmonix Flanger Hoax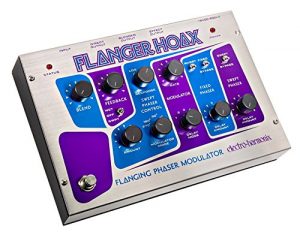 Flange? Check! Phaser? Check! An all-in-one modulator? Triple check!
The flanger hoax pedal is probably named so because it isn't just a flanger a pedal… so therefore the name is a hoax? It's also not just for 6 strings, it's bass friendly and even favoured by many keyboard players as a multi-effects modulator pedal of choice.
Don't let all of the knobs and buttons fool you, this might be pricey and come with a lot to do but it's so easy to use. You can blend all of the pre-installed effects too, and really find your perfect modulated signal.
For an all-in-one modulator pedal for the money, you've got to check this one out.
20. Source Audio Gemini SA242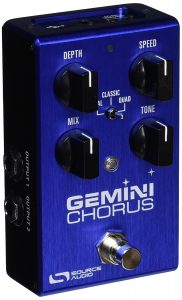 Last in our definitive flanger pedal buyers guide is the Gemini Chorus pedal. Not strictly a flanger and not strictly a chorus pedal either, this stomp box bridges the gap nicely, and doesn't cost the earth.
Control the mix of chorus and flange, along with the depth, speed, and even tone. You can also pair the pedal with external devices to spare pre-sets for when you return to the pedal, or even if you want to route pre-sets via a pedal board to really give your own stamp of individuality to each tone.
Video Demos & Reviews
You've seen the reviews, you've made your choice, but what do these pedals sound like? Check out the video reviews selection of our top 5 favourites below!
MXR M152 Micro
Digitech Nautila 
Boss BF-3
Electro Harmonix Electric Mistress
MXR EVH-90
Conclusion 
If you are looking for a specific type of pedal, then we've listed the 3 most common questions we are asked when it comes to flanger pedals below. And whether you're a beginner or an expert, you'll no doubt find the perfect one for you.
Our top pick 
The legendary MXR M152 Micro.
The best cheap flange pedal 
Without a doubt it has to be the compact, brilliant and ridiculously diverse Electric Lady Flange from Mooer.
The best flange pedal for beginners 
Has to be the classic Boss BF-3, based on functionality, build, and the general lifetime of experimentation that comes with a Boss pedal.
FAQs
Do I need to buy an expensive flanger pedal? 
No! Some of the ones we've included at the top of our list are sorted by quality and price. That means that you can keep flange purchases below three figures, and still have a fantastic stomp box that will get the job done.
What's the difference between a flanger and a chorus pedal? How do flanger and chorus pedals work?
A flanger pedal produces the effect signal by varying the phasing shift of the effect. Read more here. A chorus pedal is a much more subtle effect, brought about by splitting a dual signal and using one signal to slightly detune and delay, which results in the 'thick' tone many chorus pedals provide, which can be intensified with any standard pedal. Learn more here.
The difference is that the chorus pedal isn't as intense, whereas flanger pedal are continually phased signals which can minified, but not completely stomped-out.
Enjoyed this post? Be sure to check out our hugely popular guide to the best overdrive pedals, and take a look at this buyers guide to octave pedals which will go perfectly with your flanger pedal too.
More from Pedals
---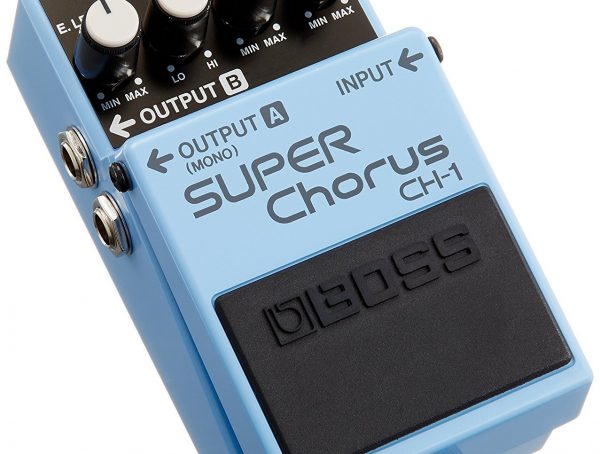 By now we've played, reviewed and got engrossed in countless Boss pedals... but what's one more, right? The CH-1 is …
As a guitar player, how do you choose the best chorus pedal? The right chorus pedal can add a huge amount …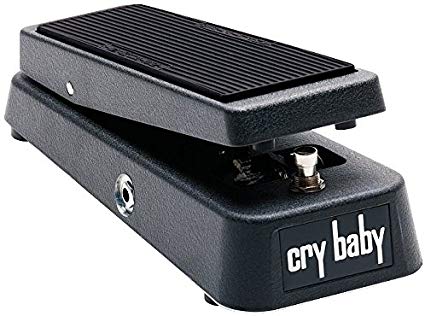 Full Review   First Impressions  We're perhaps a little biased with the Cry Baby, because it's such an utter classic, so it can …
Editor Picks
---