Top Selection
Top Selection – The Boss Audio TR2 Tremolo Pedal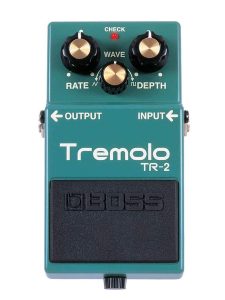 Check Price
An in-depth Guide To The Best Tremolo Pedals For Guitarists
Whether you like to play pop, blues or metal, the right tremolo pedal can add an extra edge to your leads and rhythms.
Despite their name, tremolo pedals don't work like the tremolo bar on your guitar. Instead, they let you shape your tone into a V-shaped or square wave, creating a unique chopping effect that switches your guitar's signal from full volume to a depth of your choosing.
Today, a huge variety of tremolo pedals are available, ranging from high-end options to cheap, simple pedals aimed at beginners. We've listed our 10 favourite tremolo pedals below, along with detailed information on each pedals' strengths, weaknesses and interesting features.
The best Tremolo pedal that we recommend for guitarists is the Boss TR-2 (click to see current prices). This pedal has features such as wave, rate and depth, perfect for guitarists of all levels and with the diversity to be experimented with as much as your playing style or level of experience requires. Wave types can also be blended which is a rare addition for pedals of this price. The TR-2 is 73x59mm, making it great for players from bedroom guitarists to session musicians looking for a reliable tremolo add-on to their pedalboard. 
Keep in mind that, whilst this pedal is what we recommend out of all of the pedals in this review, it still might not be right for you. Be sure to take a look at all of the pedals in this guide to make an informed decision on the types of Tremelo pedals that will fit your style and needs as a guitarist perfectly. 
Top Ten Tremolo Pedals
1. Donner Golden Tremolo Pedal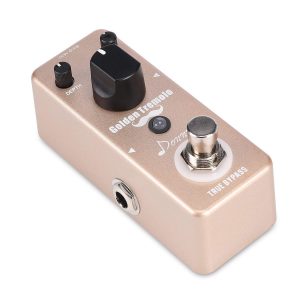 The Golden Tremolo from Donner is a compact, affordable option aimed primarily at beginner guitarists and enthusiasts looking to branch out with a new effect.
Priced well under $/£50, the Golden Tremolo packs a good sound into a compact design. This is an extremely compact pedal that can fit into a gig bag or onto your pedal board. With just three controls — depth, speed and bias — it's not hugely complicated, but offers plenty of options.
From a sound perspective, the Golden Tremolo is a good buy. While it isn't quite good enough to use in the studio, it delivers a classic tremolo sound that's good enough for use in a practice room or at rehearsals. All in all, for the price, this is a good quality tremolo pedal.
Pros: Very modestly priced and simple to use. Would also make a great gift for guitarists due to the low price and surprisingly high quality of the tremolo effect.
Cons: May be too limited for experienced players looking for a pedal that offers a challenge, or a pedal that would force the player to learn more about tremolo effects to provide a greater sense of achievement (we're looking at you, complicated loop pedal lovers!).
Recommended For: Beginners, players with limited space in their pedal board, and guitarists who want a low-cost pedal to experiment with a tremolo effect within a singular pedal.
Check Price
2.

TC Electronic Pipeline Tap Tremolo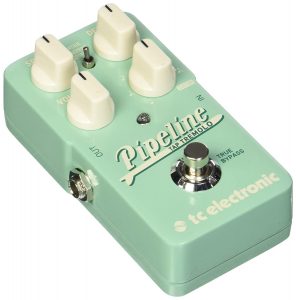 The TC Electronic Pipeline Tap Tremolo is a high-end, stylish tremolo pedal that delivers a huge range of different sounds, making it a great option for enthusiasts and professional musicians.
First, let's cover the construction. This pedal is made out of solid metal and feels extremely well made. It's a fairly compact pedal that isn't too difficult to carry around. The four control knobs on the front of the pedal feel strong and sturdy, as does the durable on/off switch.
As for the sound, the Pipeline Tap Tremolo is excellent. It includes a wide range of effect modes, from a classic vintage-era tremolo to a range of harder, more sculpted sounds. If you're looking for a high quality, premium tremolo pedal that's extremely versatile, this is the one to choose.
Pros: Offers a huge range of customisable settings, particularly for guitarists who are purchasing this pedal knowing exactly how to deal with modified modulations via onboard controls!
Cons: If you're just looking for a plug in and play option, the Pipeline Tap may not be the best option as it takes a bit of modifying to get the type of tremolo effect that will work for you.
Recommended For: The choice of effect sub divisions and modulation options make this pedal fantastic for experienced players in need of a challenge. Also recommended for guitarists who are a fan of the vintage-style tremolo effects of the 50's and 60's, and require a pedal that will deliver exactly that. We strongly suggest you pair this pedal with a retro valve amp for maximum old-school goodness.
Check Price
3. JHS Tidewater Tremolo Effects Pedal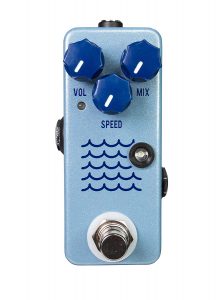 JHS offer a range of compact, high quality tremolo pedals aimed at guitar enthusiasts, with the Tidewater occupying the middle of the pack. Compact and durable, this pedal is a great option for gigging, rehearsals and even for use in the studio.
The Tidewater only includes three control knobs — aside from the volume, there's a speed knob for controlling the pace of the effect, as well as a control knob for the mix. If you're looking for a versatile pedal, this isn't it.
However, the Tidewater does what it's supposed to do — recreated a classic, amp-style tremolo effect — extremely well. If you're not concerned about versatility and just want a classic Vox-style tremolo, this is likely the pedal you're looking for.
Pros: Very easy to use, nice and compact, and the controls do exactly what they say they will.
Cons: As with most of the more compact pedals in this list, the level of control available is not as diverse as some of the more high-end pedals. The blue colours look great but also may be a little hard to see in a live environment, which is always something to consider if you're a guitarist in a band/ live act and like to play with your pedal controls when on stage.
Recommended For: Great for beginners looking for a more high-end, compact pedal than some of the lower-cost effects in this guide. Perfect for storing and transporting in a gig bag or guitar case too for travelling guitarists.
Check Price
4. Behringer UT300 Tremolo Pedal
Behringer are well known for producing high quality guitar effects pedals at very fair prices, and the UT300 Tremolo is no exception.
With a warm, classic sound, this pedal channels the timeless tone of classic 60s and 70s amp tremolos. The sound is surprisingly versatile and easy to control, primarily thanks to the three large, easily accessible control knobs at the top of the pedal.
From a build quality perspective, the UT300 gets a mixed score. While it's light and easy to fit into a gig bag, it's made of plastic and simply isn't likely to be able to tolerate the same level of on-stage abuse as higher quality, more expensive stompboxes made from metal.
Pros: The Behringer pedals ranges are to Boss what Squier is to Fender. A cheaper version of a classic model, but still absolutely amazing for the price. The pros for the UT300 are quite clearly the price and the simplicity of the pedal, notably the wave control options which are rare to see in such a low-cost tremolo effect.
Cons: The more hardcore Tremolo fans will be looking for a pedal with a greater degree of wave control, therefore this isn't recommended if you've already got a simple tremolo pedal and are looking to graduate a more complex effects unit!
Recommended For: Fantastic for beginners and gigging guitarists in need of a classic Tremolo pedal that rivals some of the more expensive stompboxes on this list.
Check Price
5. Boss Audio TR2 Tremolo Pedal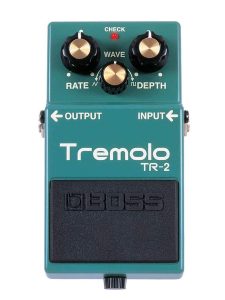 Boss is one of the best-known brands in guitar effects pedals, and for good reason. Famous for everything from distortion pedals to multi-effects boxes, the Boss Audio TR2 delivers the same excellent quality that Boss is known for in the form of a tremolo pedal.
The wave, rate and depth controls go from surprisingly subtle to severely modulated, meaning that the degree of control possible via the TR2 is simply staggering when considering it only has three very simple controls.
The sound of the TR2 is just classic boss — a versatile tremolo effect that you can adjust and tailor in terms of rate, wave and depth. Thanks to the famous Boss build quality, this pedal feels rugged and strong enough to use with confidence in the practice room or on the stage.
While the Boss TR2 isn't the most expensive tremolo pedal around, it's not the cheapest pedal on the market either. All in all, if you're looking for a mid-priced tremolo pedal that's truly built to last, the durable and great-sounding Boss TR2 is a reliable choice. It's also the top-pick in this guide, and for very good reasons!
Pros: The Boss TR2 is exactly what most guitarists are looking for in a tremolo pedal. As outlined at the start of the guide, if you're a guitarist with a more particular tremolo sound that you're looking for, it may not be the best, but for all of the standard and slightly tweaked tremolo effects the TR-2 will certainly deliver.
Cons: As we have to keep saying just incase you're a guitarist with a very specific tremolo effect that you're in search of, the TR2 may not tick enough boxes for the players in need of a complicated effects unit or a pedal with dozens of control options.
Recommended For: Guitarists of any level who are not already experienced with tremolo pedals or standard tremolo effects. Great price, solid build construction, and very responsive for such a compact pedal.
Check Price
6. Source Audio SA243 Vertigo Tremolo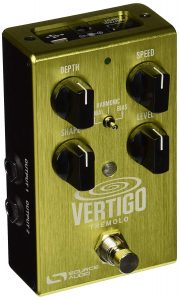 Made out of brushed metal, the Source Audio SA243 is a durable, high-end tremolo pedal that's aimed squarely at enthusiasts and professional musicians.
The SA243 features three different style of tremolo. There's a harmonic tremolo, opto tremolo and bias tremolo, allowing for a huge range of different sounds. Add depth, speed, shape and level controls and it becomes easy to tailor the tremolo effect to suit your unique playing style.
This pedal also pairs with Source Audio's Neuro Hub, giving you full MIDI functionality, as well as the ability to save up to 128 recallable MIDI presets. With two outputs and outstanding build quality, this is truly a high-end tremolo pedal aimed at professional guitarists.
Pros: The sheer range of styles, the degree of control, and options for pairing with external audio sources make this the best pedal on this list for session guitarists and studio players in need of a diverse range of tremolo effects.
Cons: Not the best choice of tremolo pedal for beginners, as the range of controls may be lost on players who are looking for a simple on/off stompbox that delivers a standard tremolo effect.
Recommended For: Professional guitarists, session musicians, studio players and recording artists in need of a pedal that has external integration options and countless variations of a core tremolo effect.
Check Price
7. TC Electronic Vibraclone Rotary Effects Pedal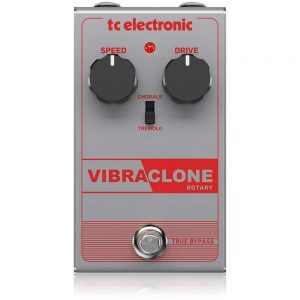 Available for less than $/£100, the TC Electronic Vibraclone Rotary pedal packs a pair of vintage tremolo sounds into a compact, durable enclosure.
The Vibraclone features a classic tremolo sound as well as a chorale setting, giving you access to a range of different sounds to choose from. From a control perspective, it's easy to tweak and  tailor the effect using the large, solid-feeling speed and drive control knobs.
Thanks to its true bypass design, the Vibraclone won't disturb your signal chain when it's not in use. With its easy-to-use design and "built-like-a-tank" quality, this is a reliable pedal that's just as suitable for the stage as it is for the practice room or studio.
Pros: A great option for the players looking for a more specific effect, notably the rotary tremolo effects which is reminiscent of vintage-era tremolo styles.
Cons: The rotary effect is a very iconic style of tremolo effect, therefore the Vibraclone is not best suited for guitarists looking for a more general, one mode fits all type of pedal.
Recommended For: Perfect for guitarists who are looking for a retro rotary tremolo effects unit.
Check Price
8. Biyang Tonefacier TR-8 Tremolo Pedal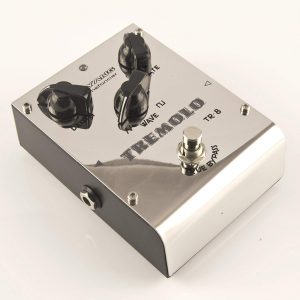 Durable, versatile and affordable, the Biyang TR-8 Tremolo is a great tremolo pedal for beginner guitarists looking for a pedal that's built to last.
Available for less than $/£60, the TR-8 packs in features normally seen in significantly more costly pedals. First, it's made entirely out of metal, with a strong enclosure that's completely capable of handling the demands of an on-stage performance.
Second, it features three sturdy, durable-feeling control knobs, as well as a reliable on/off switch and solid inputs and outputs. It's also a true bypass pedal, meaning it won't add any extra noise to your signal chain when it's inactive. All in all, a great entry-level pedal for a very fair price.
Pros: Incredibly durable, and a very fair price. Similar controls to the Boss TR2, with a very solid stompbox casing!
Cons: The pedal is quite big and heavier than the majority of those in this list, so unless you're a guitarist looking to put together a pedalboard or have room in your existing setup, the TR-8 may not be the best option.
Recommended For: Great as a logical next step up from a cheaper tremolo pedal, and ideal for players putting together their first pedalboard with the room to spare for a larger, durable pedal.
Check Price
9. Danelectro Billionaire BT-1 Filthy Rich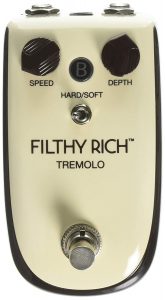 With its classic 1950s styling, the Danelectro Billionaire BT-1 is certainly a stylish pedal. It's also a functional one, delivering a classic tremolo effect with comprehensive controls for the effect's depth, speed and hardness
The BT-1 is a well-made pedal, with a durable build that feels just as suitable on the stage as it does in a practice room. This pedal features true bypass switching, meaning you can use it in any setting without worrying about its effects on your signal chain.
Inspired by Danelectro's deep amplifier tremolo, which was invented in the late 1940s, the BT-1 is all about delivering a classic mid-20th century tone. While it won't appeal to everyone, this is an excellent pedal that's worth considering if you play classic rock, funk or pop.
Pros: A stylish retro look, and great as a one-stomp fits all type of vintage tremolo pedal. We're also a huge fan of the hard/soft effect which allows players to switch from a subtle tremolo effect to a full-on vintage modulated signal overhaul.
Cons: May be too simple or considered to be lacking in options for players looking for an effects pedal that offers more the standard controls.
Recommended For: The hard/soft effect and style of the BT-1 is one what will sway players looking for a certain kind of tremolo pedal.
Check Price
10. BBE Tremor Dual-Mode Analog Tremolo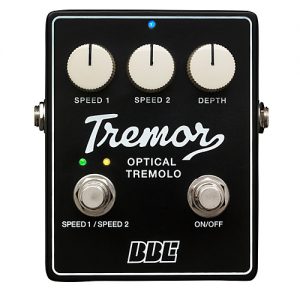 Manufactured using a military-spec circuit board and a seriously thick enclosure, the Tremor is a highly durable tremolo pedal from BBE.
Ideal for gigging, this pedal isn't overly complicated. Instead, it focuses on delivering a timeless, versatile tremolo effect very well. There are three control knobs — one for the first speed, one for the second and another for the depth of the effect.
The first switch is a simple on/off button for the effect, while the second lets you switch from one speed to the other. If you're looking for a smart, durable and effective tremolo pedal that's made for the stage and built to last, this one is definitely worth considering.
Pros: Easily the best looking pedal on this list, great speed options for players in need of a tremolo pedal that is uniquely focused on it's speed offering, and a good size for players with room in their pedalboard.
Cons: The pedal isn't exactly cheap and may be too big for some players with restricted practicing room.
Recommended For: Experienced guitarists looking for a pedal that focuses on tremolo speed, great for players who need that degree of speed control for certain songs or when playing in a live situation.
Check Price
Video Demos 
Take a look below at a couple of the pedals on this list, to see how they sound in action! This is not all of the pedals on this list, just an overview of a couple of different styles so as a guitarist you can make an informed decision on the style of tremolo pedal you need to buy.
Boss TR-2
JHS Tidewater
Source Audio SA243
Danelectro Billionaire
Frequently Asked Questions
How do Tremolo pedals work?
Tremolo pedals work by changing the levels of volume at a varied rate set by the user of the pedal. It's a simple modulation effect, used to provide a 'shutter' type of sound which could not be achieved by manually adjusting the volume knob on the guitar or via a volume expression pedal.
Are Tremolo pedals good for beginners?
We'd never say that a certain type of pedal is not good for beginners, rather that individual pedals within a range may not be suited for guitarists not used to the world of guitar pedals. Tremolo effects are a little different in that, unless you're an experienced player looking for a very specific style of effect or a pedal with dozens of modulation options, a beginners tremolo pedal will give exactly the effect you'd expect without any messing around.
This is good for beginners in that it's easy to choose a simple, cheap tremolo pedal to give the effect a try without having to spend a small fortune.
 Tips for using a Tremolo pedal
Common controls include speed, depth, and often options for choosing the type of wave
Speed refers to the speed of the tremolo effect, naturally the more this is increased the more rapid the effect. This is done by rapidly adjusting the volume of the inputted signal to achieve the tremolo effect.
Depth refers to the amplitude of the signal, can be tweaked as needed. It is arguably not too important, certainly not as important as the speed effect.
The type of waveform on a pedal will dictate the type of the modulating effect, in terms of how the signal is carried. This is best explored by playing around with a tremolo pedal. Common waveforms include square wave, triangle wave and sine wave.
Conclusion
Hopefully this guide has helped you in your quest to choosing the best tremolo pedal for your playing style. If you like this guide be sure to check out similar content such as the loop pedal guide and our tips for choosing the best travel guitar for taking on a trip.
More from Pedals
---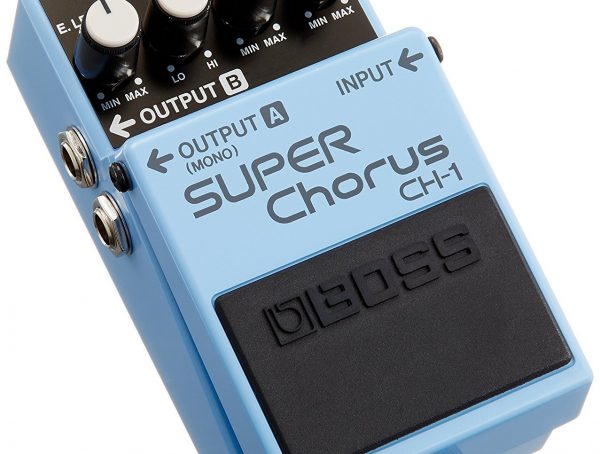 By now we've played, reviewed and got engrossed in countless Boss pedals... but what's one more, right? The CH-1 is …
As a guitar player, how do you choose the best chorus pedal? The right chorus pedal can add a huge amount …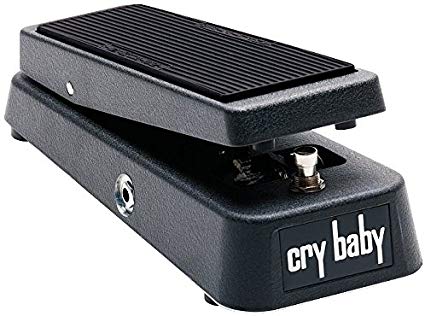 Full Review   First Impressions  We're perhaps a little biased with the Cry Baby, because it's such an utter classic, so it can …
Editor Picks
---