The Overall Winner
Sound

Build Quality

Features

Tone

Size

Price
Summary
Our overall winner is the amazing Boss RC-30!
Looking for the best loop pedals in 2019? Our guide is here to help. 
This serves as both an introduction to loop pedals, and a guide from the experts as to which loop pedal is right for you. We have reviewed the best loop pedals on the planet, and have put together a list of the 15 best for all kinds of guitarists. Whether you're looking for a loop pedal for practicing, want to make a YouTube channel and do loop covers of your favourite songs, or even if you're looking for an all-in-one looper for everything from rehearsals to playing live, we have all bases covered.
Table of Contents: 
Top 15 | Pedal Accessories | Demos | FAQ's
Quick Look – The Best Loop Pedals For Guitar Players
1. Boss RC-1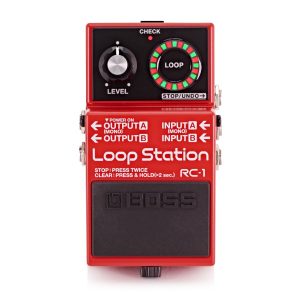 We had to start this list off with the classic Boss RC-1 Loop Pedal. If you're here as a fan of earlier loop pedal videos (such as watching the famous Ed Sheeran appearance on Blue Peter that kicked off a lot of the mainstream love for loop pedals), then you may already have an RC-1 at home. A fantastic entry pedal for loop players, the RC-1 is compact, versatile, and priced incredibly fairly for the features that are packed into this stomp box. 
The RC-1 provides a solid 12 minutes of recording time, with the option to also call and loop stereo instruments via the pedal too (great for multi-instrumentalists). With a single stomp you can erase, loop, pause, and save each patch that is fed through the pedal.
Here's the thing… We can write about the RC-1 all day. It's easier to keep things simple and say, if you're a beginner or are curious about loop pedals, give the RC-1 a chance. It's incredibly easy to use and the price-point is spot on… It also fits in your pedal board with ease and is built to last… Perfect.
2. Digitech JamMan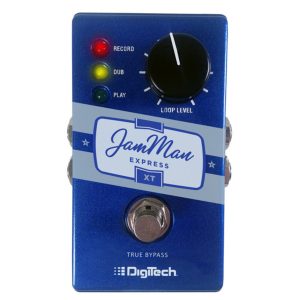 Next up on our definitive guide is the JamMan looper from Digitech, a company that is no stranger to the wonderful world of loops. We've linked to two different versions of the JamMan below: one is the Express XT, which is Digitech's smallest loop pedal they've ever made (and great for players looking to cut their teeth on an inexpensive pedal), and the other is the JamMan Solo JMSXT. Let's look at both pedals separately to see which one is better for the type of guitarist you are:
JamMan Express XT 
The Express is a great alternative to the Boss Rc-1 as a beginners loop pedal. A true-stereo pedal, the Express comes with 10 minutes of loop time and a record/dub function for unlimited loops within a patch. There is also a large volume control for the levels of the loop, and the compact size makes this great as either a pedal for travellers, or for players who are lacking room in an existing pedalboard.
JamMan Solo JMSXT
For the fans of Digitech looking to get serious about looping, the JMSXT is the next step up from the simpler Express XT. This pedal stores up to 35 minutes of loops, with an additional SDHC port to import CD loops into the pedal! Loops can also be sped up or slowed, without altering the original pitch of the looped patch. Truly an amazing piece of kit for the experimental guitarist.
3. Singular Sound BeatBuddy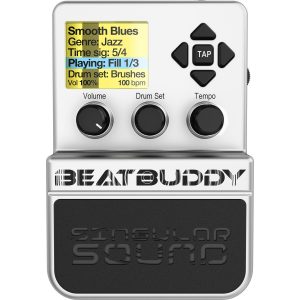 Now, this pedal isn't for looping your guitar through, so let's get that right out of the way. So, why have we included it in the definitive guide? Because if you're looking for the ultimate looping setup, then it's worth knowing about the Singular Sound BeatBuddy.
This is a pedal for looping drum beats; 200 pre-loaded beats in fact. Using 10 different kits, the pedal can be used to accompany live musicians as an alternative to a full kit, for a soloist looking to add depth to a performance, or even the casual player in need of easy drum programming for a track or live video.
Either way, when coupled with a quality loop pedal, the loop/drum duo is unstoppable.
4. Boss RC-30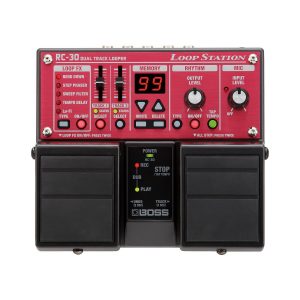 The Boss Rc-30 just had to be the top of our list. This is the epitome of loop pedals, from all aspects including price, build, durability, usability, and features. Boss have become incredibly skilled at not just creating fantastic pedals that guitar players want, but they've also nailed easy to use pedals with minimal learning curve. And, when it comes to loop pedals, this is a top priority for a player of any level.
The first striking feature of the Rc-30 is the huge 3 hours of live recording time. This is fantastic news for guitarists looking for the ideal pedal for a live setup. Also, the dual pedals means that its now easier than ever to stop, overdub, and even apply effects to a live recording. And yeah, you heard that last one right…
The RC-3o comes with 5 built-in effects, from pitch shift and lo-fi to a sweeping-effect and more. There are also core, basic rhythm templates that come as standard to jam along to, and also you can add a mic or any instrument to the pedal to really ramp up your loop game. And, with 99 memory banks in which to store loops, you're never going to be struggling for space.
As we've got other favourite pedals to get through, we're going to have to wind down our praise of the RC-30 at this point for the time being. You can check out the full range of features at the links below, and we also recommend heading to the demos section of this guide to really get a feel for what this pedal can offer!
5. Pigtronix Infinity Looper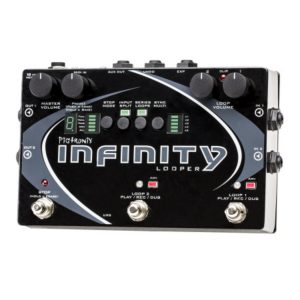 Now, this is a very (metaphorically) heavy piece of looping technology, and is certainly not for the beginner or the faint of hearted. But, as die-hard fans of Pigtronix, we just had to include the infinity looper to our list. It's not too user friendly, it isn't wallet friendly, but if you're looking for a pedal to really get stuck into, then the Infinity Looper ticks all the boxes, again and again.
The Looper allows for dual stereo loops with syncing functionality, 9 loop presets, a unique parallel looping mode, USB port to export saved loops, and an amazing reverse playback setting. We're only briefly brushing over the functions and features of this pedal, but believe when we say that there's more than enough to get stuck into. If you want to get down and dirty with a looper (and don't mind fiddling with buttons and settings) then make sure you check out what Pigtronix have to offer!
6. TC Electronic Ditto Looper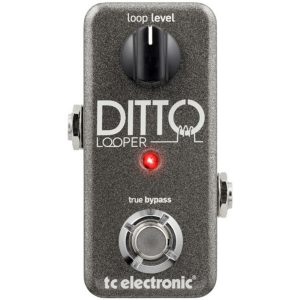 If you're really struggling for pedal board space, or are a travelling guitarist and need to travel light, then this next pedal is the perfect solution. The Ditto Looper from TC Electronic measures in at a tiny 48 x 48 x 93 mm (in other words, very small!) and comes with 5 minutes of live looping time. The pedal has both a redo and undo function, with unlimited overdubs to boot.
This pedal has won awards, and has also swayed the opinion of many guitarists and live players that bigger is not always better when it comes to the tech side of playing the guitar. It's also priced very fairly, as you would expect for a pedal of its size.
7. NUX Loop Core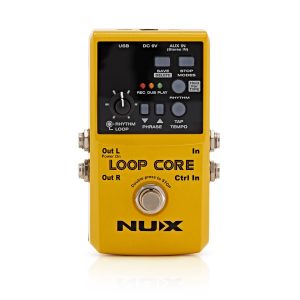 Another mini looper pedal, the NUX Loop Core comes in at number seven on our list, and bridges the gap between the simplicity of the smaller pedals, and the growing complexity as the larger pedals gain size and features. The NUX Loop core has a whopping 6 hours of recording time, up to 99 available patches to be stored and built-in drum loops & patterns with a tap-tempo so you can really get into the groove.
You can also layer the sounds and rhythms from other pedals, and really start to build up a complex sound which begins with a single loop. Don't let all of the buttons fool you either, this pedal is great for new users who just want a small pedal that offers a little bit more.
8. Electro Harmonix Canyon Delay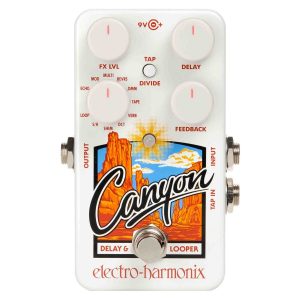 Get a load of this crisp, clear, and all-round awesome looking looper! From one of our favourite pedal manufacturers comes the Canyon Delay and Looper, a combination pedal that sets the tone for multi-loop pedals from here on out.
The difference between this and the other loopers in the list is the combined delay and loop feature. The Canyon offers maximum loop time of just 62 seconds, however this is combined with 5ms to 3 seconds of a digital tape delay. Other effects include reverse loop, a deep octave shift, and memory man looper for delay and looping combinations.
9. Line 6 JM-4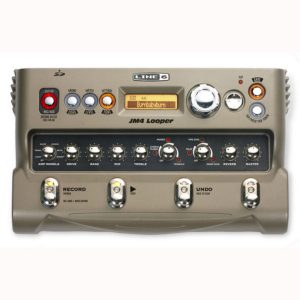 If you're a fan of presets and having all the hard work done for you, then you're going to love the JM-4 from Line 6. This looper comes with over 200 artist created presets, 150 presets which are based on specific songs for the artists, and 36 programmable presets which come built-in. The 'Endless Jam' feature is where these patches and presets truly come to life, as you can jam along with the loops already inside.
Another point to note is the large amount of effects that come onboard with the pedal. As is typical of Line 6, they love a built-in effect or two. The JM-4 comes with a tremolo, phaser, chorus, delay, echo (tape and sweep) and reverb as standard. What's not to love there!?
10. Mooer MML1 Micro Looper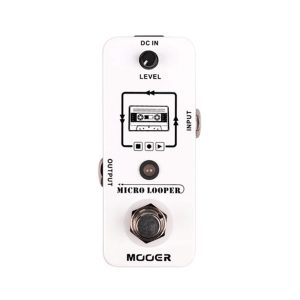 We absolutely love this pedal. It's compact, it's light, and it's incredibly easy to use. It's also cheap, and for what you get in terms of versatility, you really can't argue with the price there either.
This minuscule pedal comes with a whopping 30 minutes of recording time, with unlimited overdubs as standard. The true bypass means that, once the pedal is idle, it will not interfere with any other pedals or signals running through your amp or coming into your axe.
With just one knob, you simply control the level of the loop, stomp to record, then get shredding. We can't recommend this pedal enough for players curios about looping who don't want to fully commit to a larger pedal.
11. Digitech Trio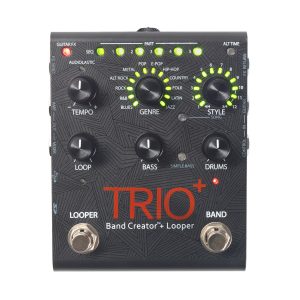 There's new generation pedals, then there's the TRIO from Digitech. This pedal picks up on the way you play the guitar, from the tempo of your riffs to the style you are playing. It then calculates a drum and bass loop to fit with your playing style… How next-level is that!!
The pedal learns the songs you play, with instant recall on up to 3 pre-sets as you are playing. There are also 12 genres and song styles to be explored.
The pedal comes with a built-in loop with unlimited overdubs as standard, however the true feature here is the band you can create at the click of a button and the flick of a switch. From sequencers and mapping out tempos, to customising bass lines and the mode of the band loops, there's all sorts that can be done with the TRIO. Check it out at the links below.
12. Electro Harmonix 720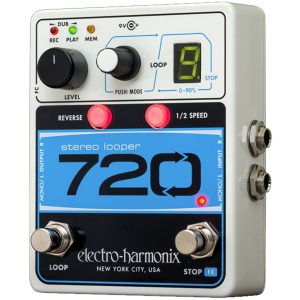 With a whopping 12 minutes (or 720 seconds if you're that way inclined) of stereo loop, the Electro Harmonix 720 is a retro cut, looking like something fresh off the Star Trek Enterprise.
You can control the levels and even the speed of the loop, slowing down without switching the pitch or removing any of the quality of the original stereo loop.
What's unique about this pedal is the reverse setting, and also the incredibly rare 'trails', or loop-fadeout setting which you'll be hard-pressed to find on any other pedals. This is a truly brilliant addition, and great for guitarists looking for the best pedal for YouTube videos and live recordings… We think the 720 is your best choice.
13. Mooer Ocean Machine – Devin Townsend Signature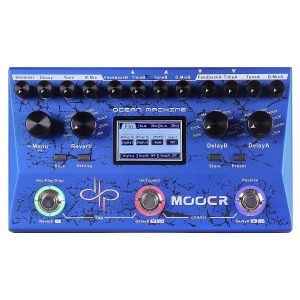 If you're a fan of delay and reverb, and are looking for a combination of the two along with a looper, then the Ocean Machine from Mooer is easily your best choice. A signature Devon Townsend pedal which contributes to the iconic guitar sound of Strapping Young Lad and also his solo efforts, the Ocean Machine adds depth to any tone.
The delay loops up to 60 seconds, with up to 2 seconds of stereo delay effects and incredible depth on the reverb additions.
Just couple this with a quality overdrive pedal and a pair of EMG humbuckers and you're good to go!
14. Outlaw Effects Lasso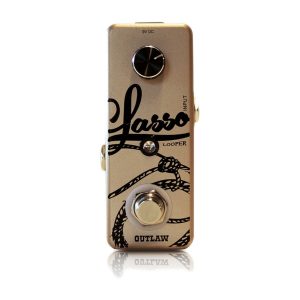 It's no secret that we love compact pedals here. We've covered plenty already, but just had to include this other one.
From Outlaw Effects comes the Lasso, a stomp box with up to 10 minutes of looping time, true bypass output and unlimited overdubs as is standard with these types of pedals.
Another great addition for players looking to experiment with loops or who have limited space, this pedal also makes a great gift as it looks a lot more expensive than it is (and probably should be)!
15. TC Electronic Ditto X4 Dual Track Looper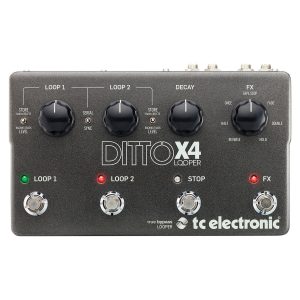 Dual tracks loopers are just good fun. And, whilst not something we would recommend for beginners, these are great for experimental guitarists and shredders looking to jam rhythm chords, or to double up the octaves on solos to give a live solo a boost.
The X4 looper includes 2 loops to track and play around with, and a unique decay button to control the depth and cutoff of each true bypass signal.
If you're looking for recording quality loops, or are just generally in need of a dual track looper for your own practicing, shredding and soloing purposes, then make sure you check out the X4.
Loop Pedal Accessories & Must-Haves
If this is your first time buying a loop pedal, or even a guitar effects pedal, then there are a few pieces of equipment which you need to keep in mind. We've outlined just a handful of the must-haves which can make your life easier when it comes to getting a pedal board or live looping setup sorted.
Loop Pedal Demos & Video Reviews
You've read the reviews, but how do you know which pedal is exactly right for you? We've included a top 5 selection of the favourites within our list, so you can see exactly how these pedals work, operate, sound and look.
Boss RC-1 
Pigtronix Infinity Looper
Boss RC-30
Electro Harmonix Canyon Delay
Digitech Trio 
Frequently Asked Loop Pedal Questions
What Loop Pedal Does Ed Sheeran Use? 
Ed Sheeran is a huge fan, as we are, of the Boss Rc-30. This is what he started off with, before graduating to the BC-300 and then on to his own custom pedals which are put together just for him.
Is Using A Loop Pedal Difficult? 
Like any pedal, it all depends on the degree of difficulty and the amount of features and controls on the pedal which dictates the degrees of difficulty the user is likely to experience. We recommend starting with one of the smaller pedals on our list, before diving into a dual-track or something similar so you can work your way up to multi-track wonders.
Are Loop Pedals Worth It? 
This all depends on what you want to use one for! If you're looking to just see what all the fuss is about, then start with a low-cost pedal. You will not regret it.
Loved what you just read? Why not check out our ultimate guide to the best overdrive pedals? We also cover the best guitar stands over at our users guide too. Happy reading!
More from Pedals
---
Tired of your guitar tone sounding like it was recorded in a closet? The right reverb pedal can give your tone …
Looking for the best multi-effects pedal for your style of playing in 2019? Want to expand your guitar toolkit with a …
Searching for the right distortion pedal to add a little extra crunch to your sound? We've got you covered. Whether …
Editor Picks
---