Best On A Budget
PRS SE 245
Great for players looking for a PRS without the high price tag
Best Overall
PRS SE Custom 22
Arguably the definitive PRS in terms of shape, looks, feel and tone
Best Premium
PRS SE Hollow Body II
For players looking to take their PRS ownership to the next level
Once you get fixated on a guitar brand, it can be hard not to consider any others. So, you'll do your research around one, then often get stuck because you've pigeonholed yourself into one brand, but really want another.
This is one of the main appeals of PRS because, as brand, PRS guitars are often deemed to be a blend of the classic Fender Stratocaster and the Gibson Les Paul. With many of the common types of PRS guitars you get the slim and lightweight body of a Stratocaster, with the beefy humbuckers and scorching tone of a Les Paul. And, if you've decided it's the brand for you, then it's going to be hard to choose the exact model for your style of guitar playing.
We've put together a handy guide of the best PRS guitars in 2020 to help you make the right decision
Oh, and if you're wondering, PRS stands for Paul Reed Smith (the founder and original luthier of the brand). Now, enough of a history lesson… how about those guitars?
1. PRS SE Custom 24 – Charcoal Burst

PRS are known for their striking looks, and the SE Custom 24 range is certainly no exception. Because of this, you're going to no doubt see our favourites occur a couple of times in this list, just in different finishes. But, we feel this is important information you need to be aware… it's about looks as much as it is about tone these days (we're only joking slightly when saying this…).
The Custom 24 comes in an amazing charcoal burst finish, spread via a flamed maple veneer across a mahogany body, and beautiful maple top.
The custom humbuckers sit on a 3-way selector, which are primed for classic rock and blues tones. However, they're also at home with a clean signal, which is a very nice surprise. There's also a push knob for active coil tapping, and really pushing those humbuckers to the max.
Wondering why you'd want a PRS with a coil tapping function? It's because the brand actually listens, and wants to offer a versatile tone. Simply but, this deactivates a coil and makes the tone much brighter, sort of like a telecaster. So with this you're essentially getting the beef of a Les Paul, with the versatility to switch to a twangy Telecaster or Strat tone!
It also comes with those classic bird inlays, so, seriously, what is there not to love. Looks like we're off to a good start!
2. PRS SE Custom 22 – Sapphire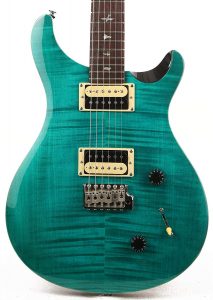 You're probably looking at the Custom 22 and the Custom 24 and thinking… what's the difference? Well, the clue is in the name! Here difference is simply the finish and the fact that the Custom 22 has… 22 frets, or 2 less than the Custom 24 if that's easier.
Now, with this specific model, you're looking at an incredible sapphire finish, again achieved with a flame maple veneer with the identical mahogany build construct as the Custom 22.
You're also looking at the same electronics and pickup features, and the coil tap also comes as standard with the Custom 22 models.
If you're a fan of lighter finishes and want your frets to stop at the 22nd, then this is clearly the PRS for you!
3. PRS SE Mark Holcomb SVN (7-String)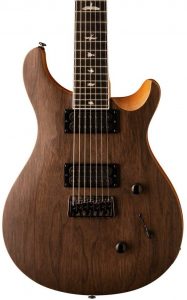 If it's a classic PRS you're looking for, then you might be better off with either those we've listed above and below this one. And, if you're new to the world of seven string guitars, then you might be better checking out our guide to the best seven string guitars before going full steam ahead with the SVN.
Words of wisdom aside, there's no denying that this is a striking guitar with an incredibly clean aesthetic. The versatility that comes out of it just show how well-rounded PRS can make their guitars, as at a glance any guitar player would instantly think the PRS SE Mark Halcomb is clearly made for metal guitarists only… this couldn't be further from the case.
Rather than focus on how it looks initially, let's jump straight into those Seymour Duncan Alpha pickups, which in recent years have clearly become a firm contender to the EMG humbucker monoliths. Now, they're just as heavy as EMG's, but have the classic single coil versatility to also offer a 5-way selector, and therefore a great range of overall tone (which makes switching from heavy metal riffs to slow clean guitar a breeze).
In terms of build quality you're looking at mahogany back, with that perfect neck 'scoop' which is from a beveled maple top. The natural finish is from a fine walnut veneer, and you'll be sliding your fretting hand along a smooth satin maple neck and an ebony fingerboard… perfection!
4. PRS SE 103495 – Amber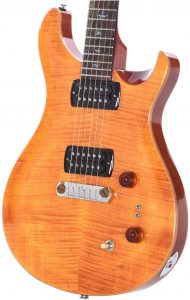 You're no doubt starting to see a trend in the finishes from Mr. Paul Reed Smith, and who can hate on the flamed tops?
With the 103495 you're looking at one of the more original SE designs, and as you can see from the solid body and slight cutaway, it's a shape that has remained popular for good reason.
As is typical with the majority of PRS guitars you're looking at a mahogany neck and back, with a carved maple flamed top and a slick rosewood fretboard.
Compared to some of the other series in this list the 103495 is a little simpler, which, if you're not about the flashy things in life and are looking for an SE that appears a little more 'classic', is great. If being flashy is more your style, then you're better off opting for the custom SE range with its flamboyant flamed top goodness.
5. PRS S2 Singlecut – Scarlet Red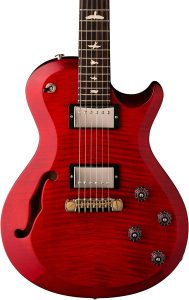 The PRS range is evolving! Another reason why we love the brand, and more evidence that PRS simply listen to what guitarists want.
As if it wasn't enough that they'd add the coil tap in so that the custom SE range becomes a blend of Fender and Gibson's most popular guitars, but they're now also taking those classic F holes most commonly seen on guitars like Gretsch and adding them to their swirling pot of guitar luthier wizardry.
With the S2, PRS have kept some things the same as the custom range including a maple and mahogany body blend, and the incredible flamed top finish. The single cutaway is also kept the same, with the addition of the F hole which transforms the S2 into a hollow body, and a guitar that is now much more acoustically resonant than standard models.
6. PRS SE Custom 24 10-Top – Orange Tiger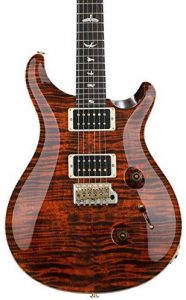 First thing you're probably thinking with this specific custom 24 is that it looks expensive… and you're right. Generally, models without the signature singlecut are more expensive, especially those which are not in the SE range (which you could relate to the Mexican Strat models which are sometimes even 50% cheaper than those made in America).
With the 10-top you're looking at a solidbody with a mahogany body and neck, and a premium rosewood fingerboard.
It also comes with the classic humbuckers, with no coil tap present here. Just pure, raw humbucker power, so if you're looking for a premium model to rival a classic Les Paul, you've found it.
7.

PRS CE 24 Dustie Waring – Satin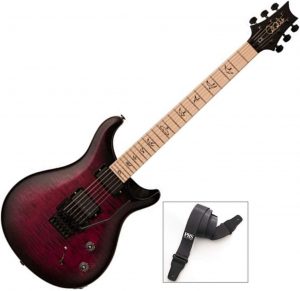 Last up is a PRS that is a little different from the classics. And it ultimately answers the question of do PRS make any guitars specifically for metal guitarists?
Now, we've seen PRS rival Fender, Gibson and even Gretsch with their F hole additions. So, logically there are only a few major guitar brands left to compete with! Enter the CE 24 custom range from the Between the Buried and Me guitarist Dustie Waring, and what is clearly a direct competitor to the premium Ibanez RG range.
The most obvious addition you'll notice is the Flloyd Rose locking tremolo system, something any metal guitarist will struggle to live without! Alongside the signature satin finish, you're also getting Mojotone DJ Tomahawk pickups, another rival of EMG and a pickup brand that certainly knows how to give a guitar a 'crushing' tone (which is exactly what this does).
In terms of body build you're looking at all-over mahogany and 24 frets on a maple fretboard. We'd recommend this more for metal guitarists who are primarily going to be playing with distorted tones, as the clean tones are a little muddy and don't balance up to the premium distorted modes.
PRS – First Time Buying Guide
Okay, so if you've landed on this page then you've already no doubt decided that it's a PRS guitar you're going to be buying.
And whether you've seen some of the guitars in our list that you like the look of or still need to do your own research, it's worth you knowing a thing or two about the main differences between PRS guitar types, and what you can expect from some of the more popular ranges (either new to 2020 or those which have been there since the start).
Build Quality
The PRS overall build quality is much more striking than many of the popular guitar brands. Let's take a look at what makes it special:
Inlays
The bird inlays are famously 'PRS', and can be mostly seen on their premium guitar models.
Finish
As you've seen from our top selections, the flamed maple top is a very common finish on both SE and premium custom ranges.
Materials
PRS don't skimp when it comes to quality build materials. Commonly you'll find maple and mahogany all-over. It's not cheap, but there's a reason why PRS can charge what they do for even the SE models… because their guitars really are that good.
SE Range
The SE ranges are commonly manufactured in Korea and/or outside the USA, which means they can generally be offered at a cheap price (in the same way that most popular manufacturers offer discounted ranges from outside of the USA manufacturing).
Humbuckers
The humbuckers on the PRS ranges are generally two single coins wound together, which give an incredible responsiveness, especially alongside the coil tap functionality in many of the SE and custom ranges.
Stratocaster Replicas
Recently, PRS very directly started to compete with Fender by introducing what is very clearly a Stratocaster copy. Check it out for yourself (personally, we're a fan):

Price
Price can differ wildly, dependant on where the PRS you want to buy is made, its features, and whether or not PRS are creating the guitar as a limited run or as part of their mainstay ranges.
Negatives
As with many of the major guitar brands, there isn't really much to say in the way of negatives across their ranges, as they're continually bringing out new and improved guitars to ensure all guitarists have access to their offering.
The main negative of PRS at the minute is that they haven't quite cracked inclusivity across the board, and prices can still be a little too high for most guitarists.
If you liked this PRS brand guide, you'll also love the complete guide to the best Ibanez guitars for players looking to up their shred game!
More from Guitar Brands
---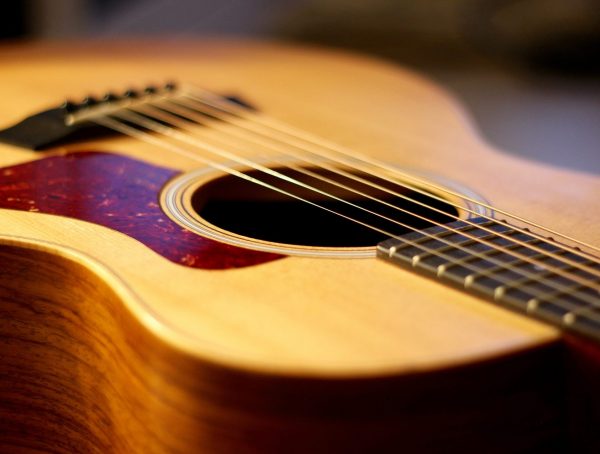 Wondering what the best acoustic guitars are from iconic brand Taylor? It's certainly quite a common question! And, in terms of …
So you're looking for a Fender but don't know what to choose... We've all been there! When it comes to comparing …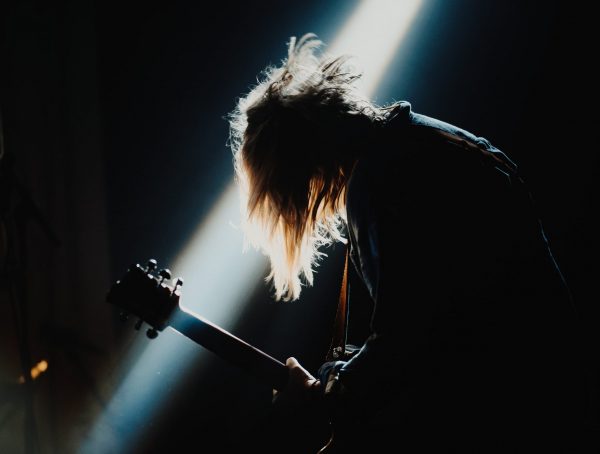 We've reviewed the Ibanez RG & GRG together - Here's what we honestly think. So, what's actually the difference between the …
Editor Picks
---