Our Top Pick
Playability

Looks

Tone

Durability

Electronics
Table of Contents/Jump To: Full Reviews | Accessories | Demos | FAQs
Updated in 2020 – 3 new guitars added with new FAQ & Demo sections
Looking for the best seven string guitars available in 2020?
With a specific look at the range of seven strings available in 2020, we've scoured dozens of online stores for the best deals and prices so you can get the best seven string guitar for your money. Whether it's rock and metal, or even blues and country, seven strings offer a fresh alternative to the standard six string and can really add a crushing bottom line to your playing.
If you're used to a six string guitar then getting to grips with an added string can seem a little challenging and even daunting for some guitarists at first, but it's really nothing to worry about. Take the time to really get to grips with the feel of the thicker nick, fret sizings and more before committing and going on the search for the perfect seven string guitar that is right for you.
With this being said, let's take a look at our top 12 picks:
The 12 Best Seven String Guitars – Quick Look
1. Schecter C-7 Deluxe – 7 String in Satin White
First up in the list is this modestly priced offering from Schecter; their C-7 Deluxe range 7 string in a crisp Satin White. For whatever reason, Schecter have massively underpriced this axe at just and with the specs we're about to outline below, you'll wonder why too.
As it is what many would class as a 'shredders' guitar, the C-7 is deceptively light, and because it's built for speed has a thicker neck than expected considering the addition of the lower B string.
The ideal 7 string guitar for beginners looking to dip their toes into the world of metal and the possibilities that come with an electric seven string, the Schechter comes with a basswood body, a 24 fret rosewood neck, 2 signature Schecter diamond pickups and a tune-o-matic bridge. Definitely the best seven string guitar for beginners, the C-7 is not one to be missed at a great price.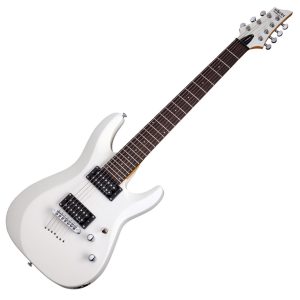 2. Dean Michael Batio MAB7X 7 String – Classic Black
Fans with a knowledge of metal players and a love for mind-bending shredding will no doubt have heard of Michael Angelo Batio. The MAB7X is a classic 7 string from his signature range, modelled exclusively for fast playing and metal riffs and endorsed by one of the true legends of shredding himself.
Much like the C-7, this is clearly a 7 string guitar built for shredders and fans of tearing up the fret board.
With a 'C' profile on the maple neck for ease of access to the 24 frets, a Floyd Rose locking tremolo system and 2 DMT Design humbuckers that really pack a punch, the Batio MAB7X is massively under-priced and an absolute steal for lovers of metal and guitarists looking to hone their speedy chops.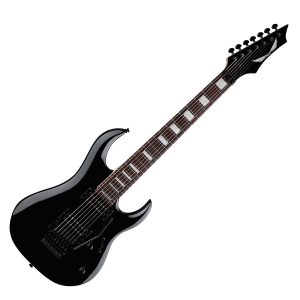 3. Ibanez S7521QM Seven String Electric Guitar – Transparent Red Burst
Ibanez have always been a brand associated with creating iconic axes, and their take on seven (and even eight string) guitars have introduced to the world some of the best guitars for metal, heavy rock and shredding.
Whilst the S75 is exactly built for speed in the way that the previous 2 guitars in our guide were, this doesn't mean that playing fast or learning metal on the neck is impossible. With this being said, there's a reason that Ibanez have stuck to two thick humbuckers and a wider neck; it's built for the type of crushing chord tones that one would expect to hear on any Deftones album. If that's your style, then make sure you give the S75 a closer look.
And, at a modest price, this Ibanez seven string is certainly no different. With a set of Quantum Pickups, a maple top (quilted), Wizard 3 neck profile and 24 frets on the maple neck, the Ibanez S75 is primed and ready to handle all of the metal playing that you can throw at it.
We recommend this as a beginners seven string, or a great all-round guitar for live events and gigging.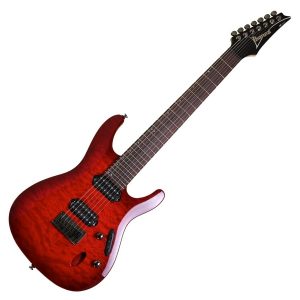 4. Jackson SCX7 Seven String – Gloss Black
Another brilliant mid-range axe which is massively under priced, the glossy black Jackson SC Seven String is a slick looking axe with even slicker features.
Boasting impressive characters such as a set of custom Jackson Pickups, a Dark Rosewood Fretboard and an impressive mahogany body over an arched top. This guitar is a steal and makes for a great introductory guitar to learning metal, rock, and electric guitar for beginners.
It's also one of the more common shapes that you'll see in this list, so it makes sense to go after this seven string if you're looking for a classic shape with that added extra.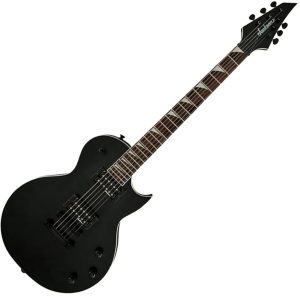 5. Dean Thoroughbred Stealth 7 String – Black Satin
Normally associated with razor-sharp guitars and axes with mind-bending aesthetics (double neck MAB Guitar anyone?), Dean have introduced the thoroughbred series to offer an alternative stance on the classic rock guitar shape, tone and style.
The Stealth 7 string is crafted in solid mahogany, an 'ultra Access' C neck that is a common feature on Dean Guitars, and a set of active EMG 707 Pickups which are widely regarded as the best pickups for metal guitar. This is certainly a step up from the mid-range seven strings in the list, but if you're serious about investing in a seven string with quality hardware, electronics, and one that looks simply awesome, then give the thoroughbred a go.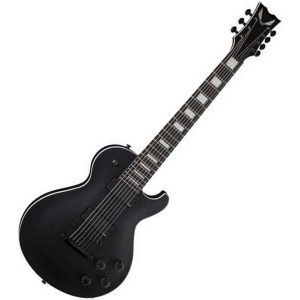 6. ESP LTD TE-417 Seven String – Snow White Satin
Taking another look at the latest ranges of classic-rock guitar inspired seven strings, the ESP LTD range has taken a turn towards the styling's of Fender, and their TE-417 certainly does not disappoint.
With a snow white mahogany body, active EMG humbuckers that provide both a low-end growl and a high-end jangly Telecaster-esque tone, finished with a maple x rosewood neck combo, the ESP LTD TE offers an amazing alternative to lovers of metal and rock guitar that need that little bit more from a Strat, a Tele, or any of the old classic guitars. With the added seventh string, this truly is an excellent all round seven string electric.
Many Telecaster players are often searching for something a little bit heavier, but their stock pickups just don't carry through. ESP have very clearly addressed those concerns with their construction of the TE-417, and we think they've done an absolutely brilliant job.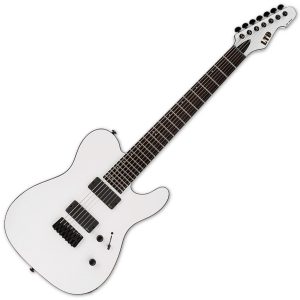 7. ESP LTD H-1007B 7 String Baritone – Natural
Now, this is the seven string guitar to end all seven strings. The ESP LTD '1007B is a baritone electric guitar, meaning that the low ends are extra-low, and can be handled perfectly. With EMG 7HX Metal Pickups, a 5-piece maple neck, 24 Jumbo Frets, and an Exotic Hawaiian Koa veneer top finish, this is the final axe in the list and our all out favourite.
The price also certainly reflects the overall built quality and the generally unique vibes given off by the H-100. Naturally, with any guitar you're going to end up paying more for a premium build construct and higher-end materials, however this is definitely reflected in the tone. Going back to the versatility, the exotic wood construct allows this ESP to be just as suited with clean tones as it is distorted, meaning that you can get that bass goodness behind your standard 6 string chords when switching to a clean setting.
Think of the signature verse chords from 7-string players like Wes Borland. That deep, low B sits perfectly in the mix and adds an additional layer of feel to the already shimmering standard chords.
It might be the highest priced on this roundup , but rest assured that if you want to learn metal guitar, or if you take your metal and rock guitar playing seriously and want to add that extra edge, then this is definitely the guitar for you.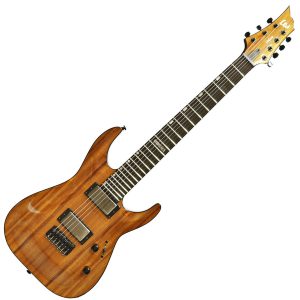 8. Ibanez UV70P Steve Vai – Black
Get a load of this beauty! When people think of a Steve Vai seven string, or even an Ibanez seven string, many will think of this. Clearly a look back to the Passion and Warfare days, this beautiful axe from the Vai/Ibanez duo is not one to be missed out on.
Naturally the neck is incredibly thin, and the guitar is light all round. If you've ever played or owned an Ibanez JEM, RG or even the earlier GRG models you will know exactly what this guitar feels like; in a word, familiar. Ibanez have not sacrificed any of what makes their popular shredding guitars great, and by doing so have created the ultimate ins stylish speed when it comes to a seven string.
With only a few in stock at any one time, if you can managed to catch this (and you're a fan of 80's inspired, retro axes) then you can't miss out on this! A maple/walnut neck, retro green and black colourway, and signature Dimarzio Blaze Pickups (to name but a few points), the UV70P is fairly priced as a limited axe, and to be honest we actually thought it'd be more expensive. Prices and stock are subject to change, so if this is the seven string for metal you've been looking for, then you have to snap this one up ASAP.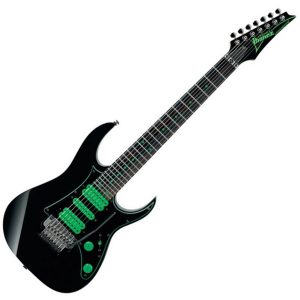 9. Jackson Pro Series – Dinky DKA7M in Natural
We all love a natural guitar. There's something so satisfying about a stripped-back axe, whether that's because we love to imagine the journey a pre-worn axe has been on, or if it's just that the no-fuss minimalism of a stripped-back, natural seven string is just simply refreshing (in a world of black metal axes), it's always a nice addition to add. Recently picked up by many jazz lovers across Instagram, we've seen a huge surge in light, natural finish axes, from jazz and blues players to metal lovers and more.
So let's have a look at what else makes this guitar so special. Part of the Dinky series, the DKA7M features an ash body, arch top, 24 jumbo frets and Seymour Duncan humbucker pickups which certainly pack a punch. For a versatile seven string guitar, the Jackson DKA7M is definitely worth a look!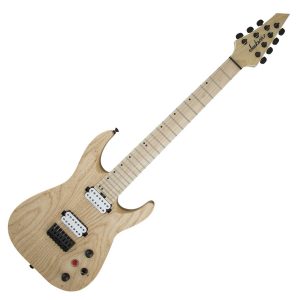 10. Ibanez RG7PCMLTD Premium 7-String in Twilight Black Gradation
Hands up if you're sick of seven string guitars in block, dark colours? Not exactly a common problem, but for true seven string fans we totally understand.
The RGPCM is a premium seven string in the Ibanez RG collection, finished in a stunning 'Twilight Black' gradation. Starting with a lighter tone at the top, the natural finish blends with the light fretboard to gradually diminish across a yellow spectrum, to a black at the bottom of the guitar. But enough about the amazing colour; what features does it have? The RG7PCMLTD comes with a modern 11-piece wizard-7 neck, a sturdy ash body and maple top, with DiMarzio PAF 7 pickups that really pack a punch.
A modern seven string guitar for the modern guitarist, you'll be hard-pressed to find a better all-rounder when it comes to a seven string for all genres.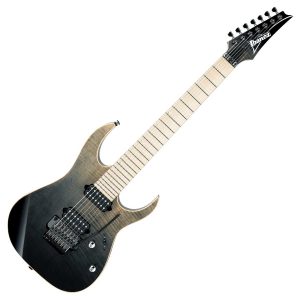 11. Dean Rusty Cooley 7 String Flame Top Guitar – Trans Blue
A firm favourite when it comes to seven string brands, Dean are certainly no stranger to providing guitars for metal across the spectrum of genre, price, and even stunning limited edition and signature ranges which rival any other brand. One such guitar is the signature Rusty Cooley Dean 7 string, in a unique 'Trans Blue' finish.
Completely developed with the style of signature playing approach of Rusty, if you're a fan of his music and style (and want to replicate it with a modern seven string) then here's an axe to certainly not look past! Features include EMG 707 pickups (awesome pickups for seven strings and metal guitar players), a mahogany body, flame maple top and classic rosewood fingerboard. All in all, an amazing axe.
We recommend coupling the Rusty Cooley signature model with a Boss Mega Distortion, or something similar that can really bring out the wizardry of the EMG humbuckers. And, on that note, do not overlook the clean setting when it comes to EMG. We urge you to turn down the distortion even just for a little while to fully appreciate just how 'thick' the EMG's can take a standard tone, even without any additional effects added.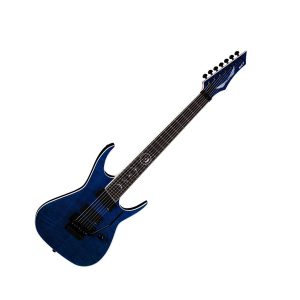 12. ESP LTD SH-7 Brian Welch 7-String Guitar in See-Through Purple
The final guitar in a list, and one of the most recent seven string guitars released just at the end of 2017 in preparation for 2020 metal seven string lovers, the ESP LTD SH-7 is another beautiful seven string in their signature range. Also one of the most expensive on our list, this guitar is definitely one to get on your christmas list, so you can spend all of 2020 mastering a well-rounded seven string guitar from a reputable brand. With features including a basswood body, maple neck, evertune bridge and diverse Fishman humbuckers, this is easily a signature guitar for the ages.
Fans of Korn and Brian Welch can not miss this one! If you're looking to learn guitar for nu-metal and replicate that low, growly sound, then this is the seven string guitar for you.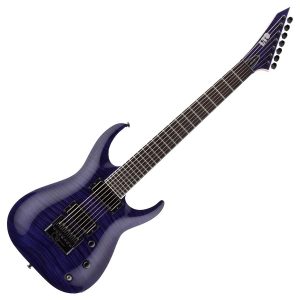 Must-Have Accessories for Seven String Guitarists
Now you've got the guitar, you're going to need some accessories too. To save you looking through pages and pages of seven string accessory products, we've highlighted our favourite must-haves and most practical seven string guitar products. Check them all out below. 
| Image | Product | View Price |   |   |
| --- | --- | --- | --- | --- |
| | Fender California Cable, Candy Apple Red | AMAZON | | |
| | Large Dean Gig Bag | AMAZON | | |
| | K&M Guitar Wall Mount | AMAZON | | |
| | Dunlop 7 String Electric Guitar Strings | AMAZON | | |
| | Dunlop Heavy Plectrums for Seven String Guitars | AMAZON | | |
Demos & Video Reviews of Our Top 5 Selections
We can talk about seven string guitars until we're blue in the face (and we're partial to rambling), however you're going to need to hear what the guitar sounds like eventually right? Rather than share demos to every guitar in our list, we've picked out the top 5 demos for our overall favourites. Happy listening!
ESP LTD TE-417
Ibanez UV70P
Jackson Pro Series – Dinky DKA7M
Dean Rusty Cooley 7 String
ESP LTD SH-7 Brian Welch 7-String
Seven String Guitar FAQ's
When it comes to seven string guitars, you can read as many reviews as possible, but without knowing the reason you want to get one (and the history behind the seven string guitar) then you are simply buying blind. With this being said, we've compiled a list of the most frequently asked sevens string guitar questions, with detailed answers to provide you with more information around the subject of the seven string.
What is the main difference between a six and seven string guitar?
The clear difference is the addition of the lower b string, essentially starting the EADGBE string pattern in a loop; BEADGBE. Other differences tend to include:
The neck of the guitar tends to be flatter, generally resulting in a neck and overall tone which is much more suited to carrying the lower notes of the low b string.
The overall sound of the guitar is heavier, due to the addition of the lower string. This is why seven string guitars are a firm favourite of metal guitarists, as the heavy tone is guaranteed with the added 7th string.
A 7 string guitar will have greater tension within the strings, therefore detuning and general varied tuning options are easier to carry out (especially detuning in comparison to a 6 string guitar).
Should I choose a 6, 7 or 8 string guitar?
Generally speaking, if you are a beginner you should start with the classic 6 string guitar. The standard 7 string has an added lower B string, and the 8 string guitar tends to have an added lower B (like the seven string), and another string beneath that B tuned to an F#. This is however at the discretion of the manufacturer, and you may find different models with different tunings and string additions.
Why do metal players choose 7 string guitars?
Ever since the rise of nu-metal and bands such as Deftones and the rap metal of Limp Bizkit, seven string guitars have exploded in popularity across the guitarist scene. Metal players gravitate towards seven string guitars because of the added B string, and the fact that detuning and odd tunings can be experimented with ease, whilst the guitar maintains its string tension, action and tone.
What is the standard tuning of a seven string guitar? What other common tunings are used?
As referenced above, the common factory tuning of a seven string guitar is: BEADGBE. Other tunings include:
These are standard drop tuning options and work brilliantly for metal songs and heavy rhythm sections.
Can you use 6 string accessories with a 7 string guitar?
Generally, yes you can. 7 string guitars usually fit into standard gig bags, and can be used with accessories such as slides and capos alongside any 6 string guitars you may have. We've included accessories purely for 7 string guitars in the section above. Just to be sure that they're actually going to fit by measuring against the neck of your 7 string.
Who makes the best seven string guitars for the money?
It has to be Ibanez. Whether you're looking for seven string guitars under 1000, or even under 500, you can guarantee that you'll find an Ibanez seven string that will get the job done. These 3 Ibanez Seven strings below are under 1000 (dollars and pounds), are highly rated, and come with the Guitaarr seal of approval:
Is it harder to play a seven string guitar guitar than a six string?
In the interest of being honest and also not trying to dissuade you from a seven string, they certainly pose an added challenge. What you will find is that it takes time, sometimes even weeks or month (dependant on how ofter you play), to get used to manoeuvring around the fretboard with the added low B string.
Now, we're not saying that the added B adds difficulty in the sense that you no longer know the types of notes or chords you're playing, it's more that your picking hand will naturally strike the lowest string in assumption that it ends up being a low E… and with a seven string guitar this is obviously not the case! Our advice is to go to your local music store and actually try a few of these guitars out before making the jump and actually purchasing.
It can be very easy to buy a 7 or 8 string guitar on a whim, only for it to end up being a passing novelty. Taking the time to understand why you want the added string and the types of sounds you want out of the guitar will make you much more likely to stick with it in the long run.
Liked this post? Make sure you don't miss our ultimate overdrive & distortion pedal guide.
More from Reviews
---
As a guitar player, how do you choose the best chorus pedal? The right chorus pedal can add a huge amount …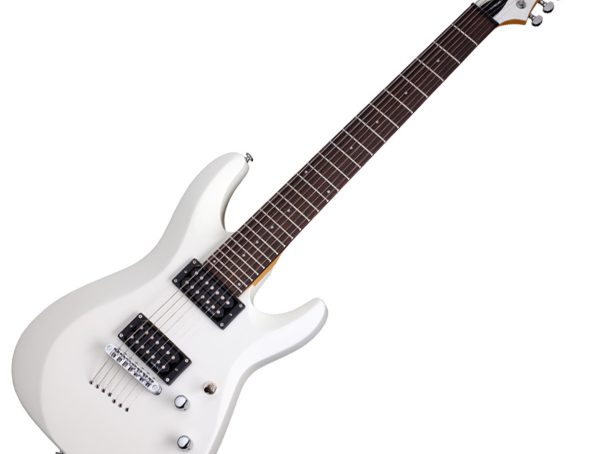 Is the Schecter C-7 the best budget 7-string guitar on the market today? Quick Look It certainly rivals its competitors, but how …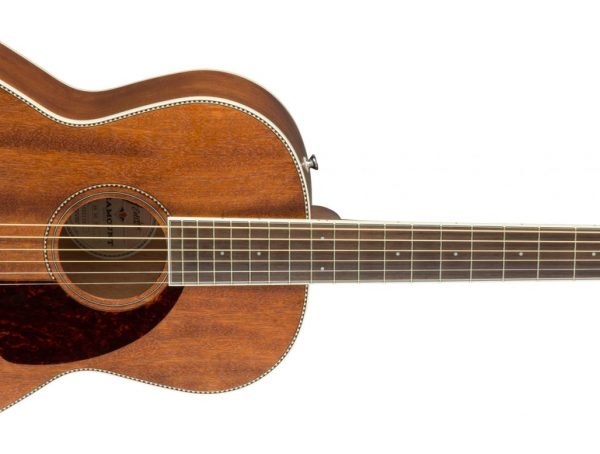 The PM-2 might just be the best parlour guitar from Fender yet. But how does it fare under our extensive …
Editor Picks
---