Summary
Sound

Build

Cost

Playability
Fender PM-2 Review
Fender PM-2 Review – View Prices
View Price
The PM-2 might just be the best parlour guitar from Fender yet. But how does it fare under our extensive review?
The PM-2 is Fender's answer to many prayers of acoustic blues players the world over. It's a classic, 50-styled parlour guitar, with the modern innovations and build quality that has come to be expected from an acoustic guitar by Fender.
Looks aside, how does the guitar actually sound? And does it make sense to opt for a Fender parlour shape above a classic acoustic or a dreadnought body? We've got the answers to your questions below…
Fender PM-2: The Low-Down
Build
A quality acoustic guitar needs a strong construct, and Fender certainly haven't skimped on the build. The entire body is made of solid mahogany, finished in natural and blonde stylings so you can take your pick of the retro parlour design.
With a solid mahogany top, body and sides, the tone is incredibly thick with quality wood that enables the chords to resonate from the small body. But more on that later.
The neck is also a standard mahogany, with a rosewood fingerboard and a thick urethane finish that means the quality of the wood will last a lifetime.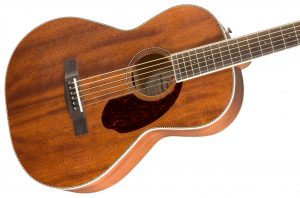 Spec (the need to know bits)
Full solid mahogany body and neck
Classic rosewood fingerboard
15.75″ fingerboard radius
Vintage Fender headstock
Classic parlour guitar shape
Sound & Playability (Video Demos)
Like we said, the tone is thick and warm, and is certainly surprising coming from the smaller parlour body shape. The rich mahogany allows the low-end in particular to ring out, perfect for playing 12 bar blues and strumming classic chord patterns.
Take a further look at how the Fender PM-2 sound below:
Pros
Incredible tone and sound quality from a small, compact build
Superior build quality compared to other mid-range acoustics
Ideal as a travel guitar due to its smaller sizing
Cons
Isn't priced for beginners
Whilst the sound quality is excellent, it still doesn't match dreadnought acoustics
Recommended For
A well-rounded acoustic parlour guitar that will suit fans of blues music nicely. Also recommended for guitar players who favour smaller acoustic guitars and want a reliable instrument that will withstand sustained usage.
Conclusion
This might just be our favourite parlour guitar ever. Or at least, our favourite that we've reviewed so far. It's a very fair price, build incredibly well, and is still light enough to travel with and play on the road. The vintage finish also give the PM-2 a wow factor, so you'll certainly be getting second looks when playing this guitar in stage. An excellent all-rounder.
View Price
More from Reviews
---
As a guitar player, how do you choose the best chorus pedal? The right chorus pedal can add a huge amount …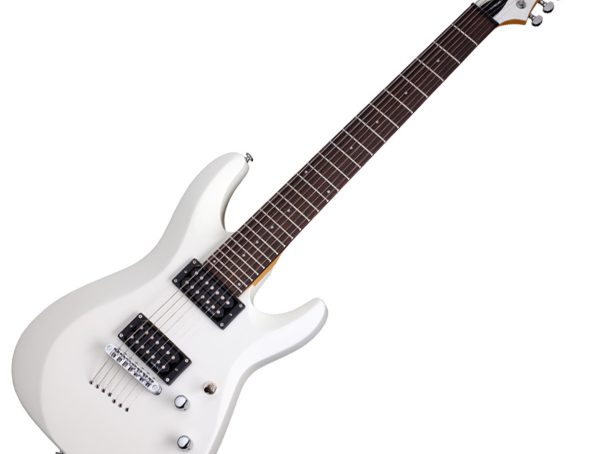 Is the Schecter C-7 the best budget 7-string guitar on the market today? Quick Look It certainly rivals its competitors, but how …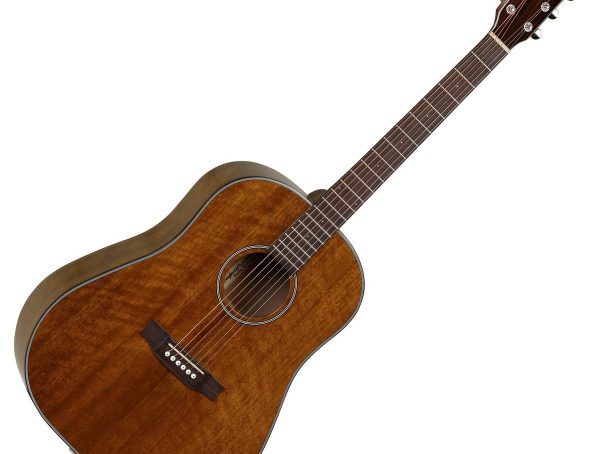 Is the TW40 SDD the best Dreadnought that Tanglewood have made to date? It's certainly up there, and for a mid-range …
Editor Picks
---