Schecter C-7 Deluxe
Build Quality

Features

Price

Tone
Is the Schecter C-7 the best budget 7-string guitar on the market today?
Quick Look
It certainly rivals its competitors, but how does the Schecter C-7 fare against our review? Our main focus of this review was to see if the C-7 was just a run of the mill, budget 7-string guitar for fans of metal and rock, or whether it often a little more and challenged the perceptions of a cynical audience (namely, us). There's a very clear set of reasons that the C-7 has made our best seven string guitars guide, and we'll get into those further down into the review.
All we'll say at this point is, it certainly doesn't disappoint. Read on for the review and to get the run-down on why the C-7 is a great entry guitar for any guitarist looking to enter the world of the 7-string!
Build Quality
A guitar with Indonesian build roots, the C-7 is built with a satin white basswood body, a maple neck and rosewood fretboard that you would expect on any low/mid-level electric guitar worth its salt (7-strings or otherwise).
The choice of basswood is not all that common, however after a bit of digging and comparing with similar models built with the same material, it's clear that Schecter have chosen basswood because it is both light and has an exceptional tonal depth considering its wide availability and connotations with budget-level guitars. By opting for basswood, Schecter can keep the price of the C-7 low, whilst ensuring any potential tonal issues are addressed with a quality neck and bridge.
And, whilst basswood isn't exactly a premium tonal build material, it's certainly not to be sniffed at if you're looking for a budget 7-string guitar (especially if you're only looking at trying out a 7-string and don't want to seriously invest in a more expensive range).
In the spirit of keeping costs down, the C-7 is fitted with Schecter brand diamond plus pickups, which whilst they're not exactly going to rival the heavy growl of EMG pickups, will certainly get the job done (and not muddy any distorted tone in the process).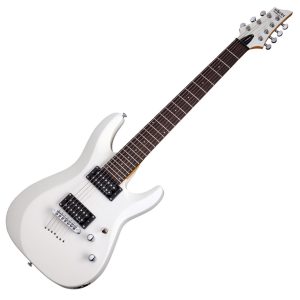 Specifications (need to know bits)
Basswood Body
Schecter diamond pickups
Maple neck
Rosewood fretboard
24 frets
Satin White finish
26.5″ scale
Video Demos
In this review we've been guilty of focusing on the build quality, but this is by no means a bad thing. We're simply trying to get across the point of how Schecter can put out a 7-string guitar at a low/mid-range price, and still build something that sounds incredible.
The video demos will certainly do the tone and basswood build the justice it deserves, and be sure to take the c-7 for a test-run if you get the chance:
Pros
Solid construction
Fantastic price for an entry-level 7 string guitar
Pickups are surprisingly versatile
Cons
As much as the build quality good and the hardware is fantastic, you do get what you pay for when compared to more expensive models
Neck is slightly thicker than competitor ranges (e.g. Ibanez RG's) of the same price
Conclusion
The Schecter C-7 is a fantastic entry-level 7-string guitar, absolutely perfect for beginners or guitarists who just want to have a go of a 7-string without investing too heavily. If you can afford a more expensive 7-string and are worried about overall quality we would suggest looking a bit higher to the 600-1000 price range, however the C-7 certainly has all bases covered and will not disappoint when combined with a mega distortion (and isn't that what it's all about!?).
View Price
More from Reviews
---
As a guitar player, how do you choose the best chorus pedal? The right chorus pedal can add a huge amount …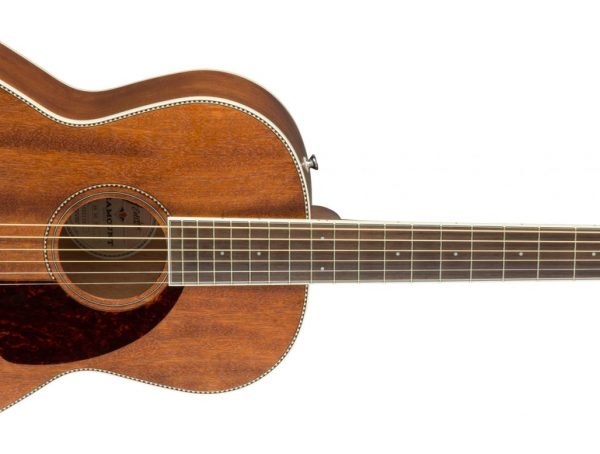 The PM-2 might just be the best parlour guitar from Fender yet. But how does it fare under our extensive …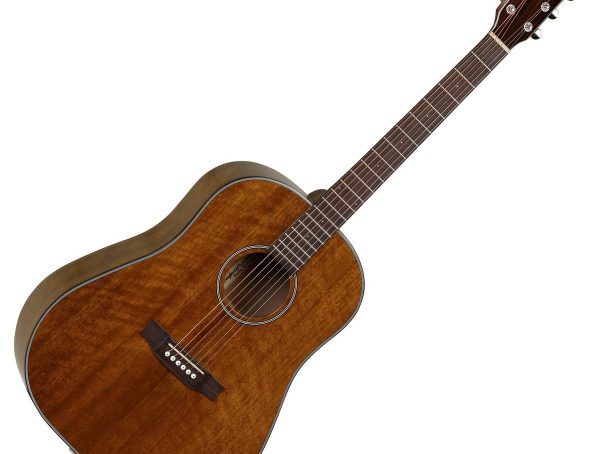 Is the TW40 SDD the best Dreadnought that Tanglewood have made to date? It's certainly up there, and for a mid-range …
Editor Picks
---