Wondering what the best acoustic guitars are from iconic brand Taylor?
It's certainly quite a common question! And, in terms of respected acoustic guitar brands, it's hard to deny that Taylor are right at the top of most guitarists lists.
This guide not only breaks down the ten best Taylor guitars available today, but also serves as a buyers guide in terms of the differences between models, and ultimately what you need to know before getting your hands on a coveted Taylor acoustic.
The Best Taylor Guitars – Top 10 Selection
1. Taylor 224ce-K DLX Koa Deluxe Grand Auditorium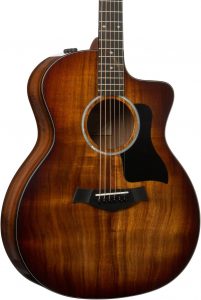 If beautiful luxury at a price point that isn't prohibitive interests you, then this guitar is one to watch. The entire guitar is made from Koa, a wood which gives exceptional acoustics plus a stunning appearance.
This wood comes from the shores of Hawaii, and creates a gorgeous timbre with added brightness that mellows out in the mid-range over time and use. The Grand Auditorium remains an enduringly popular design thanks to it's sonic qualities and superb playability. Comfort, playability and sound quality all unite in this superb instrument. 
The 224ce-K DLX has a wide Sapele neck and a 20-fret fretboard made from West African ebony. There's also a Micarta saddle and Elixir Phosphor Bronze Light strings as standard fit. T
his means a clear, sweet sound on the acoustic side, coupled with the power of electricity to amplify your playing. The ES2 system features three sophisticated sensors located behind the saddle for maximum sound pick-up.
This is paired with volume and tone controls on a preamp, clearing the way for amazing audio every single time. With a deluxe hardshell case for transportation and full shaded edgeburst gloss finish this item consistently wins fans. 
Check Price
2. Taylor GS Mini-e Solid Koa Top ESB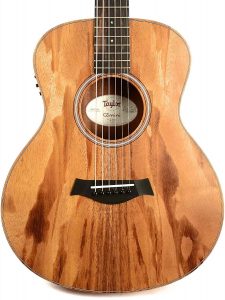 If craftsmanship and portability are your thing, the GS Mini-e will serve you well. This compact guitar plays like a dream and is easy to take with you on the move. The treble strings just ring out for a clear, well-rounded sound.
The sound and look of the Koa wood mean that there's no compromise on quality, even though with it's compact body and shorter neck, this is a guitar that travels well.
The fret board makes a comfortable fit for smaller hands, making this an ideal second guitar or something to learn to play on, while still producing a beautiful tone that will enhance your playing no end. When first learning to play guitar, having an instrument which is easy to handle while losing nothing of it's rich sound is a huge advantage.
You can also couple this smaller guitar with an electric amp to provide the full range of playing experience in one compact body. Users are thrilled with the sound quality this small-but-mighty guitar can offer them, while the beautiful finish gives a lasting impression.
The GS Mini-e is the ideal addition to your collection, especially if you are travelling and want to take a guitar with you that will give you hours of pleasure, be easily transportable but still deliver a great sound.
Check Price
3. Taylor BT2 Baby Taylor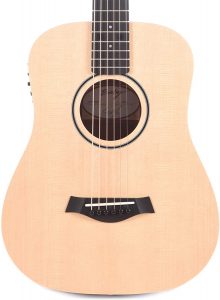 This six-string acoustic guitar with attractive mahogany top could be the one for you. No complex set up required – just tune it up and it's ready to go. A matte finish body with a beautiful textured feel make the look of this guitar highly striking.
This is coupled with chrome hardware for a sleek look. For its size, the Baby Taylor feels exceptionally light and easy to handle. The shorter scale neck can prove easier for players to handle, without compromising on performance.
This guitar plays beautifully right out of the box, with minimal fret buzz. This is likely to become your go-to acoustic option, thanks to the full sound and playability. The beautiful mahogany finish is likely to attract lots of admiring comments, along with the deceptively large range of tone.
With good quality tuners, you'll always have a full and pleasing range of sound at your disposal. The excellent playability makes it the ideal instrument for progression in your guitar playing skills with a quality finish. With Sapele laminate sides and back, and a beautiful polished ebony fretboard this certainly looks the part too. A beautiful buy for the keen player and the novice alike.
Check Price
4. Taylor 200 Series Deluxe 224ce-K Grand Auditorium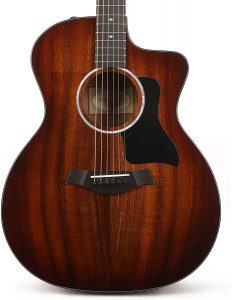 An essential purchase for the guitar lover, the 200 Series Deluxe 224ce-K Grand Auditorium delivers on all counts, from it's stunning appearance to it's innate playability and professional-grade pickup. At an affordable price point, this guitar makes no compromise on quality or utility, with a beautiful full range of intonation.
Ready for the stage, this striking design will draw comments and admiring glances from all quarters. The fully glossed body is made to be brought to life in the flare of stage lights, and what this has in looks is backed up by it's beautiful, full bodied voice.
Complete with a deluxe hardshell case to keep your 200 Deluxe Series perfectly protected at all times, this guitar is the gold standard in workhorse players.
The Grand Auditorium body shape is a well-known hallmark of the Taylor brand for a reason – the superior sound it brings to your performance. This versatile guitar can suit all musical moods –  from sweet, melodic jams to a powerful, polished performance when it matters  with a full range of tonal ability. Known as a genuinely brilliant, all-purpose guitar, this model performs equally well in acoustic mode or when amped up.
The finish of solid Hawaiian Koa wood has been selected specifically for the beautiful impact it has on the guitar's sound, with the natural compression of the wood giving a 'roll-in' effect to each note that will leave audiences delighted.
Check Price
5. Taylor 200-Series 214ce Grand Auditorium

A flagship of the 200 Series, this guitar features a gorgeous Sitka spruce top for mellow conductivity, paired with rosewood sides and back. The satin finish and contrast of the two woods gives a unique appearance and a sonic versatility that is the hallmark of the Taylor brand. For an entry-level instrument at a fair price point, the 214ce packs a serious punch.
Versatility is the name of the game with this being a good, well rounded guitar for easy progression. Taylor's signature ES-T pick-up ensures perfect plug-in-and-play readiness for those wanting to make the switch from acoustic to an amped guitar.
The materials bring quality to your playing – with the North American-grown Sitka spruce wood producing a bright tone through the soundboards and internal bracing that can enhance your playing.
With sharp definition provided to individual notes through the legendary Grand Auditorium body, the guitar top moves fast, giving a pacey, bell-like sound. The sloping cutaway in the body is designed for a freedom of movement in the upper register, and ultimate flexibility as you switch between acoustic and electric playing modes.
With a custom-voiced EQ and fully dynamic response, the 214ce is ideal for those making the move to amplification for the first time.
A relentless focus on quality during the manufacturing process produces a high standard of craftsmanship in the construction of the guitar – with the chrome plated tuners formed using the same gear-cutting machines used in Swiss watchmaking. This guitar really is an all-rounder to be proud of.
Check Price
6. Taylor BBTe Big Baby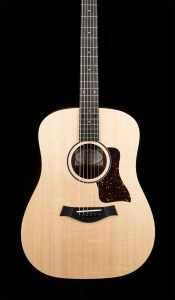 One of Taylor's most popular selling models, a few plays on the BBTe Big Baby, and you'll begin to see why it's so famed among musicians. Whether you're a new player, or more experienced, this model has something to offer.
Featuring the signature fluid playability of Taylor designs, paired with a warm, bright tone, there's a lot to love here. This guitar is a manageable, mid-range size that appeals to all types of players, as it manages to be substantial but not overwhelming. A 15/16-sized dreadnought, the body is designed to sit comfortably, while also giving portability for those who play on the go or are regulars on the gigging circuit.
The handy on-board tuner and signature ES-B electronics give this model the ultimate plug-and-play capability – and ideal first route into live performance.
The arched back of this model gives it it's 'Big Baby' moniker, as well as real gusto behind it's projection and tone. In walnut and spruce with a maple neck, the good looks of this guitar are matched by how easy it is for no-fuss playing.
Definitely the frontrunner for those looking for a model that is quick to pick up and use while still delivering a rich, melodic range of sound. No wonder the Big Baby has so many fans!
Check Price
7. Taylor GS Mini-e Rosewood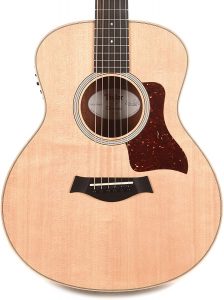 Looking for a musical companion to take on the road? Well, you might just have found it in the GS Mini-e Rosewood ES-B. With it's compact size, the portability you gain here is amazing, paired with a full bodied and bold sound inspired by the traditional Taylor Grand Symphony body shaping.
Put simply, this guitar is just fun to play! Extra polish is added to proceedings with the stunning layered rosewood added to the back and sides and the ES-T electronics giving you ultimate control over how you play.
This guitar takes the best of aesthetic appeal, sonic capability and quality construction and scales it down to an instrument that can travel with you no matter where you go. The tone-enhancing Taylor Relief Rout allows freer vibrational movement along the top, guaranteeing that fullness of sound while not compromising on structure and durability.
A very playable short-scale sapele neck pairs with an ebony fingerboard with 5mm dot inlays, while the GS Mini-E RW also comes with Taylor's incredible Expression System 2 electronics right out of the box, giving a fantastically dynamic response and exceptional capability right out of the box.
The smaller size is belied by the fantastic acoustic sound this guitar makes –  it's the ultimate in compact flexibility.
Check Price
8. Taylor American Dream AD27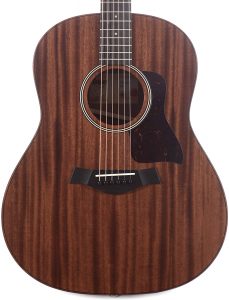 When simple perfection is all you need, the American Dream series has the guitar for you. Traditional hardwood acoustics and looks marry together in the striking Grand Pacific model, with it's solid sapele back and sides and moody, elegant mahogany top.
This gives a distinct voice, especially across the mid-range, complemented with V-Class bracing to enhance both volume and the sustain on those crucial notes.
The result is a clean sound across the spectrum. This guitar offers the tonal versatility to play well across a wide range of genres and is very adaptable to different playing styles. The minimal, restrained design with no loss of function characterizes this guitar.
You'll find 4mm dot inlays, a faux tortoiseshell pickguard, chamfered edges on the body and a slim, matte finish that makes this guitar both modern and timeless. For ultimate protection, your American Dream will come in a Taylor Aerocase to keep it protected in transit.
No matter the style of music you like to play, the Grand Pacific can easily handle it – and look good in the process. This model remains the peak of accessibility for today's players, handling whatever you can throw at it with ease and style. 
Check Price
9. Taylor 414ce-R 

Players who like to take control will appreciate the 414ce-R. If you're looking for a polished and nuanced musical performance, the 400 Series is your natural fit. Part of Taylor's popular series of rosewood guitars, this model is a real workhorse that can lend depth to any player's style.
The eternally-revered Grand Auditorium body gives a real acoustic boost, further bolstered by the revolutionary V-Class bracing. This has a number of sonic benefits –  it enhances natural volume across all tones, improves the sustain of each note and improves natural intonation by creating a more complementary response from the soundboard. This will give your playing a far more cohesive quality with robust low notes and very crisp high notes.
Coupled with a nicely refined appearance, there's a lot to love about this guitar, especially for those who are focusing on improving the specifics of their performance. The care and quality craftsmanship shines out of every single aspect of this beautiful instrument. The incredible sound will ensure that you love every practice session.
The perfectly balanced nature of this model is what makes it so beloved by professional musicians and hobbyists alike. The clear choice for those looking to refine their musical performance, this guitar offers the well-rounded meeting of style and substance that can be quite addictive. 
Check Price
10

. Taylor 114e 
The Taylor quality standard is well and truly alive in this beautiful acoustic-electric combo that is the ideal choice for seasoned players and those new to the guitar world alike.
A warm, sparkling sound welcomes you into the music, thanks to the signature blend of solid North American Sitka spruce paired with a layered walnut tonewood.
Not only does this look fantastic, it gives a depth and beauty to the sound which is unmistakably Taylor. Switch it up easily using the onboard ES2 electronics, which instantly translate true acoustic sound into melodic electric playing.
Check Price
Video Demos
Taylor GS Mini
Taylor Big Baby
Taylor Grand Auditorium 
Taylor Acoustic Guitars – Buyers Guide & Advice
Like any popular brand, and especially with acoustic guitars, there are a few things that you need to be aware of. I've down a breakdown for beginners and experienced guitarists alike in terms of the positives and potential negatives that comes with the Taylor brand.
Materials
What I love about Taylor is that they're not afraid to 'push the boat out' in terms of their material choices, especially for newer ranges. You're looking at everything from graphite, ebony, the now ever-popular koa (classed as a tonewood), and of course a modern take on standard mahogany builds.
The combination of unconventional material pairings is really what sets Taylor apart from more mainstream competitors who may have been sticking to the same old build recipes for a lifetime. Which isn't necessarily a bad thing, but if you like something a bit different then it's nice to see this being offered without having to opt for some obscure acoustic manufacturer.
Sizing
Size varies massively between ranges, again speaking to the diversity of the ranges. These are explored throughout this guide, but essentially you can get everything from a 3/4 size right up to big, thick dreadnought acoustics that carry a booming, full and thankfully uncompromised sound.
Neck
Another reason I love Taylor acoustics is their neck sizing. They are surprisingly slimmer than a lot of other brands, and don't take away from a full-boded sound. naturally this differs between ranges, but I've found that they're easy to play and don't leave your hand aching when learning a g chord!
Cost
For a range of acoustic build with such attention to detail, you're naturally going to be paying a premium price for high-end models. That being said, you can find Taylor guitars for as low as $300-$400 dollars, it just completely depends on what it is you're looking for. For premium materials and on-board electronics, you're obviously going to be paying more no matter the brand.
Is there a certain aspect of paying more for the brand name? Yes and no. In the guitar world, 'Taylor' as a brand even in passing carries a certain prestige. Would you then be putting up prices if you were the Taylor CEO? Sure. But do you feel like this is all show and no substance with any guitars in their range? Not at all. Premium prices are justified when applied to upper-tier ranges.
Tone
Given the premium pricing, tone is of the essence with any Taylor. Even the lower-end models simply carry a crisp and fresh tone that straight-up doesn't disappoint. Not one to disappoint, it's just obvious that a lot of thought goes into how the build and shape of each model complies with what Taylor are looking to get out of the build in terms of tone. And it works.
Auditorium Range
Famed for the range with one the fullest-body sounds, electro-acoustic construction and an all-round fantastic option for gigging guitarists. It's also one of the newer modern ranges, with quirky features such as unconventional sound hole placements, premium electronics and material pairings that you won't find anywhere else.
Mini & 'Baby' Ranges
With artists like Ed Sheeran, the popularity for 3/4 ranges has exploded in recent years. Taylor Mini has also been a mainstay on the mini scene, and why wouldn't it be? These guys really have got all bases covered.
To summarise what you're looking at here as a potential first time buyer: Acoustic guitars crafted with premium materials, which whilst slightly more expensive than competition, are fully justified in their added costs.
Conclusion
There's not much to conclude here other than that Taylor really is a fantastic, premium acoustic guitar brand and that fact simply can't be contested. The problem is, how do you even make the choice on which one to get, with such an enticing and diverse acoustic range?
You could always get more than one for, you know…well, just incase? RIP my bank account is all I can say on that one….
In all seriousness, if you are in the market for a premium acoustic guitar, then you can't go wrong with a Taylor. For more information on acoustic buyers guides and impartial advice, check out the related articles below:
More from Guitar Brands
---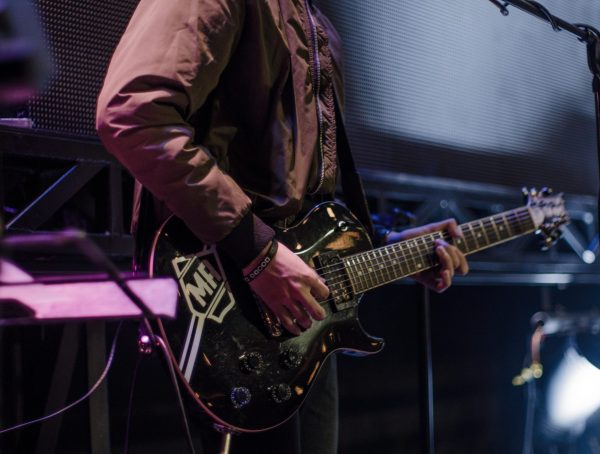 Best On A Budget PRS SE 245 Great for players looking for a PRS without the high price tag View Prices Best Overall PRS SE …
So you're looking for a Fender but don't know what to choose... We've all been there! When it comes to comparing …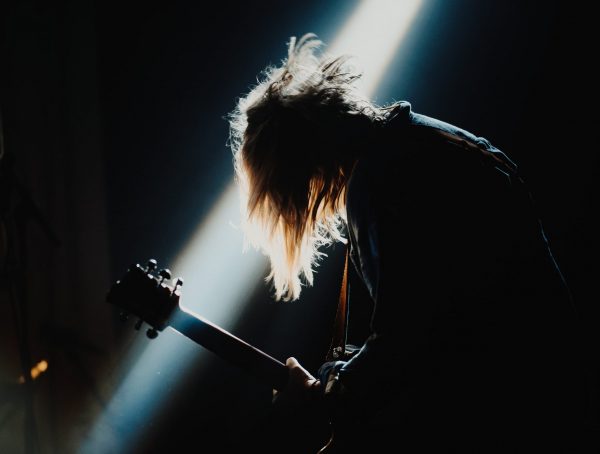 We've reviewed the Ibanez RG & GRG together - Here's what we honestly think. So, what's actually the difference between the …
Editor Picks
---