Searching for acoustic guitars with that guaranteed recording studio quality?
Whether you're going to the studio for the first time and want to treat yourself to a new guitar, or are putting your own home/commercial studio together and want to invest in quality instruments, there are quite a few things you need to look at when getting the right kind of acoustic guitar.
Factors such as build quality, hardware, durability (for those long hours of continuous play) and ultimately, price, all should weigh into your decision when choosing a fantastic all-rounder.
We've put together a guide that will help you make the right decision on an acoustic guitar for your studio. This applies to both the bedroom guitarists looking for a quality set up, right up to existing studio owners who need a mid to high-range electro acoustic that will be sturdy enough to handle continual usage. Take a look at our guide below. 
Our Top 10 Acoustic Guitars For The Studio
1. Taylor 224ce-K DLX Koa Deluxe Grand Auditorium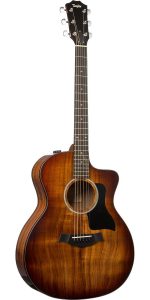 An incredibly well-crafted instrument that sounds as good as it looks. This offering from Taylor Guitars boasts a grand auditorium body with solid Hawaiian Koa top and back/sides. It's a dark brown color, giving it a very classy look and feel.
There's a glossy finish to this acoustic guitar as well, and the ebony bridge is a beautiful touch. Speaking of which, the fingerboard is made of ebony as well, and there's a 25.5" scale neck for you to enjoy too. 
There's a lot to love about the way this guitar looks, but the enjoyment extends when you play it as well. The Koa wood is delicately designed to create wonderful music. Each note comes out in a controlled fashion, and you can hear the music so clearly as you play. The tone is very bright and bold, but it turns into a warmer sound the more you play.
It's a very comfortable guitar to hold and strum, and the electric capabilities make it one of the best acoustic guitars for the studio. It connects to most sound systems, so you can play your music and record it seamlessly. This adds to the beauty of the sound and helps you create amazing music. 
View Price
Full Review
2. Yamaha L-Series LS16M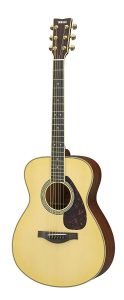 Yamaha is one of the biggest and most trusted brands in the music industry. The L-Series concert acoustic guitar is a brilliant product to consider. If you want to increase the power and warmth of your music, then this guitar will provide just that.
There's a small body with a mahogany back and sides, giving it the appearance of a classical acoustic guitar. Don't be fooled by the size, it still packs a pretty punch! The 5-ply neck also has a very traditional profile, which makes it very comfortable for you to hold and play until your hands get too sore. 
This acoustic guitar provides you with sensational tone balance and an open resonance. But, the key feature is the Yamaha Zero Impact Pickup system. Here, there's absolutely no impact in the pickup when you plug your guitar into an amplifier or sound system. The tones all sound the same as they do when you play naturally, but on a louder and clearer scale.
This makes it one of the best studio guitars around at the moment, and it's particularly impressive for artists that play in live bands and want to ensure their guitar isn't drowned out. Overall, a fantastic acoustic guitar to consider. 
View Price
Full Review
3. Fender FA-235E

Almost every musician will own a Fender guitar at some point in their lives. There's something about the quality of these instruments that makes them so appealing. With the Fender FA-235E, you've got an acoustic guitar that's ideal for recording studios.
First of all, it looks absolutely insane. There's mahogany back and sides with a glorious striped ebony top. The appearance is quite striking and definitely very unique. The entire construction is laminated, so it has some extra durability and a slightly glossy finish. From a visual standpoint, it's hard to beat this Fender. 
How does it play? Well, you get the typical Fender sound quality out of this beauty. The tones are very deep and crisp, you can almost feel every note when it's played. The 32" scale gives you that 'floating' feel when playing a well-built acoustic. It uses Fishman electronics as well, which helps you connect to an electronic device with absolute ease.
If you're something of a beginner and want a guitar that can help you hone your talents and progress as a guitarist, then this could work perfectly for you. It also happens to come in at a more than affordable price for an electric acoustic guitar that is studio-ready. 
View Price
Full Review
4. Taylor GS Mini-e Walnut/Spruce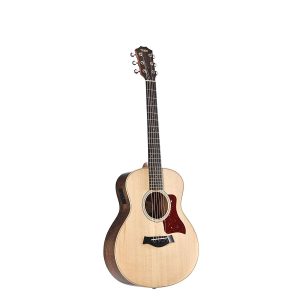 Another gorgeous offering from Taylor, and this acoustic guitar is described as a bit of a pocket rocket. It's scaled down to be more portable – without being overly small. This makes it perfect for traveling musicians. If you often need to travel from studio to studio or concert to concert, then this is easy for you to bring along on the journey. It's not too big, but it's still very durable and maintains an amazingly powerful musical performance.
The materials used in construction have created an immersive sound that delivers a full spectrum of tones and pitches. This makes it a guitar you can play around a campfire, but also one you can plugin and use at the studio. There's a diversity here that's hard to find anywhere else. 
Visually, the small size makes this look very appealing. The stunning Solid Sitka Spruce back and sides contrasts perfectly with the natural finish on the top. A genuine African ebony neck commands a striking appearance that adds to the overall aesthetic appeal. All in all, it looks brilliant, sounds incredible, and is easy for musicians to carry around – what more could you ask for?!
View Price
Full Review
5. Yamaha A3M Cutaway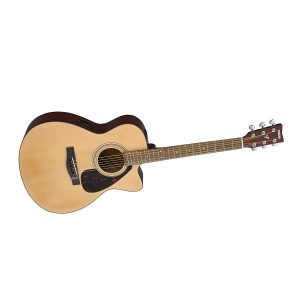 This guitar has been specially designed to be a performance studio guitar. It's expertly crafted using the finest materials to offer a blend of style and substance. The Solid Sitka Spruce top and mahogany neck both offer a warm and comforting appearance. It almost has a country vibe going on, but the powerful acoustic sound is ideal for all musical genres.
The electronic mean that it's louder and stronger in the low ranges, which is all down to the revolutionary Yamaha technology packed into this instrument. 
One issue with a lot of acoustic guitars for the studio is that they sound different when they're new. Sometimes, the longer you play the guitar, the better it sounds. With this instrument, the Acoustic Resonance Enhancement from Yamaha takes care of this potential problem. It instantly provides you with rich, vintage tones that sound like you've been strumming for years. This enhances the performance capabilities and means you can record songs without needing to do too much editing.
You can also blend between microphone models and piezo pickup to help find the ideal tone when recording. In summary, there are some really exciting features that make this a key contender for the best acoustic guitars for recording. 
View Price
Full Review
6. Ovation AX Series 2078AX-5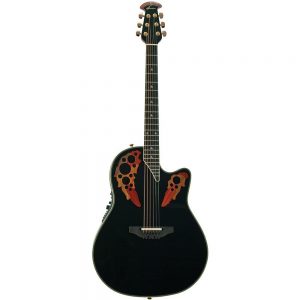 If you want to make a statement in the studio, then you'll be hard-pressed to find an acoustic guitar to match this one. Right away, you notice the design. There's a glossy top that's almost pitch black with some orangey-yellow detailing towards the top. Or, for a splash of extra color, you can get the Cherry Burst option that adds a deep reddy-purple to the face of your guitar. Combine this with a long black neck and you have one of the best-looking guitars on the market today. 
What about the performance? Well, you get a unique multi-sound hold design that really brings the best out of the string vibrations. As a result, the sound is very clear and loud – and each tone holds itself with remarkable efficiency. It comes with the OP-Pro preamp, which really enhances your studio performance. With this, you have a 3-band EQ, a preset tone enhancement circuit, and a chromatic tuner.
Essentially, it lets you get even more out of your guitar and helps you create a sound that you're proud of. The guitar is designed to fit comfortably in your hands and is so easy for you to play. It's a brilliant option for musicians that want to up their game and play around with different pitches and tones. 
View Price
Full Review
7. Guild F-2512E Maple
Many guitarists grow up with a traditional acoustic guitar and find it hard to transition to one for the studio. But, Guild may have found the answer with this minimalistic offering. To the naked eye, it looks like a typical acoustic guitar. There's a Solid Sitka Spruce top, an Indian Rosewood Fingerboard, and a very conventional design.
To traditionalists, this looks like a dream come true. When unplugged, it plays like a glorious acoustic guitar that you jam to in your bedroom or with your friends. But, when plugged in, the sound gets taken to entirely new levels. 
This is thanks to the Guild AP-1 Pickup that helps you capture the natural acoustic voice of this instrument. It takes the soft and warm tones and amplifies them. Each note is phenomenally crisp – there's hardly any change from when it's unplugged, other than the sound is enhanced. Some studio guitars are guilty of altering the tone slightly when you plug them in, but this one keeps the natural sound.
It's expertly engineered for an ergonomic playing experience, which makes it so easy for you to play for hours at a time. The highly affordable price also makes it one of the best acoustic guitars for recording if you're on a budget. 
View Price
Full Review
8. Washburn WCG66SCE-O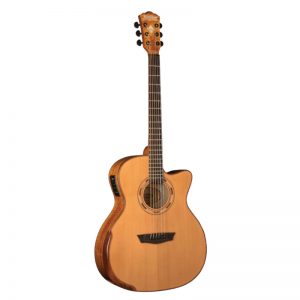 There's an elegance to the Washburn WCG66SCE-O that makes it lovely to look at. A solid cedar top blends beautifully with a salted maple back and sides. The effect is a classic wooden look that's further improved by the rich mahogany neck and headstock. It oozes quality, and this is the type of guitar you buy if you're looking to impress someone!
One interesting feature is the deluxe recurve-style ergonomic armrest bevel. You don't see this that often, but it lets the guitar sit gently in your arms as you play. There's no slippage, you barely have to adjust it, and you can play the time away with ease. 
It sounds extremely pleasing on its own, with very clear tones and a deep sound. Washburn uses Fishman electronics to up the ante when you're in the recording studio or on the stage. It comes with the Fishman 501T Presys+ – which is one of the best pieces of technology in the game right now.
There's an integrated tuner/preamp that lets you shape the tones and create exceptional music. Definitely one to consider if you want to upgrade your existing acoustic guitar. 
View Price
Full Review
9. Martin D-16E Burst Dreadnought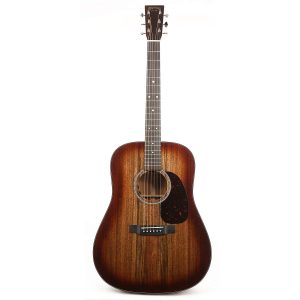 Another incredibly striking acoustic guitar to marvel at. The top material is ovangkol, and this extends around the back and sides too. It's a rare material to find in a guitar, and that's probably why this one looks so different.
The overall design is hard to put into words. It's like there are different shades of wood blended throughout the guitar, creating an almost stripey appearance. The glossy finish on the top adds to the allure and the long neck and silver strings tie everything together. 
Of course, the visual appeal is just one aspect of a good guitar – you also need to know how it plays. The glossy ovangkol top helps create a balanced tonal projection from this instrument. This means you'll have no issues playing all kinds of songs and musical genres with this piece.
It comes with the Fishman Matrix VT Enhance electrontics system, which further improves the tonal quality and gives you a professional sounding acoustic-electric guitar. If you want excellent sound quality and a unique appearance, then keep this guitar in mind. 
View Price
Full Review
10. Takamine GD90CE-ZC Dreadnought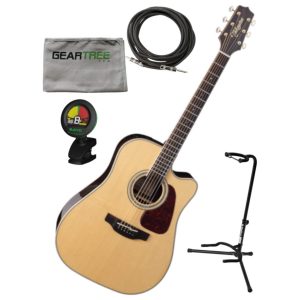 Lastly, we have the incredibly impressive Takamine Dreadnought. At under 2kg, this is one of the lightest offerings for you to look at. It also has a rare ziricote back and sides to blend with the solid spruce top. Ziricote isn't found in many guitars, and it helps to create a very pleasing sound. You get a similar tonal balance to a traditional rosewood guitar, but it's much more solid and sweeter in the lower tonal ranges.
Takamine uses its own electronics (TP4DT) to bring this acoustic guitar into the studio. It's so easy to set everything up, and you have greater control over the tones and performance. 
This also happens to be one of the most naturally beautiful guitars money can buy. Again, it's one for the traditionalists with the classic solid spruce top. But, the back and sides make this very unique. Ziricote offers a marvellous design that mirrors a natural woodland landscape.
It's also worth noting that this guitar comes with a gig bag. So, you can easily move it between recording sessions, the stage, your tour bus – and wherever else you're going! All things considered, a phenomenal piece with excellent value for money. 
View Price
Full Review
Video Demos
Taylor 224ce-K DLX Koa Deluxe Grand Auditorium
Fender FA-235E
Yamaha A3M
Frequently Asked Questions
Like any form of guitar technique, recording an acoustic guitar is quite subjective. However, there are questions we're commonly asked that you will no doubt have in your head, or currently need answers to. Whether that's for recording an acoustic for the first time from home, or taking your guitar to the studio (and what you need to know), we've been there and done that!
If there are any questions that are missed, please let a comment below and we will get them added to the FAQ section of this guide.
Do you need an electro acoustic guitar for a studio? 
Having an electro acoustic guitar will make your life much easier, whether you're recording in a studio or in the home. This is simply because you can DI (directly inject) your guitar audio into your select recording software, and it also saves any hassle with having to mic-up your amplifier. All in all, unless you're adamant on using 100% acoustics, an electro is the way to go.
Is a dreadnought guitar body shape the best for recording?
A dreadnought body will generally give you a fuller sound than compared to an acoustic with a smaller body, however there are tow schools of thought that make focusing just on a dreadnought shape redundant:
If you're running a studio, you're going to want to buy a guitar that is easy for guitarists of all levels to play. Dreadnought bodies are larger than most acoustic bodies, therefore beginners may struggle with the larger sizes.
If you're buying an electro acoustic, a lot of the natural depth will be lost once the electro side kicks in. Therefore, as you'll probably be getting an electro acoustic anyway, we'd recommend focusing on build quality rather than body shape when it comes to a studio guitar.
Should I take my own guitar to a recording studio?
Generally, quality studios will have their own instruments. This all comes down to personal preference, and if you're in the market for a new guitar anyway then it would make sense to take your new purchase to the studio!
Direct Input/Injection vs Mic – What's better for acoustic recording?
Again, this comes back to the point of just how pure you want your acoustic guitar sound to be. A direct inout signal into your recording device will not completely capture the 'essence' of the body and resonance of the guitar, but it'll be pretty close. Mic'ing up your acoustic can take time, but then again if you're going to a studio, they should be doing this for you (so in that instance, you may as well try both options to see which sound your prefer).
If you're recording from a home studio, we'd recommend a direct input, simply to save time and space.
What kind of mic should I use for recording an acoustic guitar?
We're going to put a different guide together for the specific brands that we'd recommend, but in terms of the specific type we'd recommend a high-end condenser microphone (also known as capacitor microphones). The condenser mic is much more versatile and sensitive than the standard stage mic, therefore it's perfect for capturing the tonal range of an acoustic guitar.
Is there anything I need to avoid when buying an acoustic guitar for recording?
We'd strongly advise against buying a full acoustic as opposed to an electro acoustic, just to make your life easier in the long-term. Also, don't skimp on a guitar with a poor wood quality or flimsy construct, as well as one with cheap internal pickups that may end up sounding tinny, or require a lot of work in post production.
The aim of a quality acoustic guitar that is studio quality is just that… it needs to be top notch, from the build to the electronics. Anything less and you'll have to put more time into mixing, mastering, and worrying about flaws in the tone.
What equipment do I need for recording an acoustic guitar?
If you've booked studio time, this isn't something you're going to have to worry about. We'd still advise that you take some guitar leads with you just incase of breakages, otherwise the studio will have the equipment you need.
If you're recording from home setup, then there are countless bit of equipment you can use. However, in terms of equipment you definitely need, make sure you put the following on your shopping list:
Condesner Microphone
DI Box
Acoustic guitar amp (if recording via mic)
Leads & hardware
Conclusion
All of these guitars are special in their own right. Naturally, we can only fit so much into a breakdown of our top ten selections, so we recommend listening to the demos and video guides in the article too so you can really get a sense of the type of tone you think is right for you. 
If you enjoyed this guide, make sure you take a look at our guide to the best guitar stands, so you can leave your new acoustic in safe hands with a stand that won't collapse in on itself!
Also, for a specific premium brand, you'll enjoy our brand guide to the best Taylor guitars.
More from Guitars
---
The Gibson Les Paul is a classic electric guitar that has been a favorite of guitarists for generations. One of …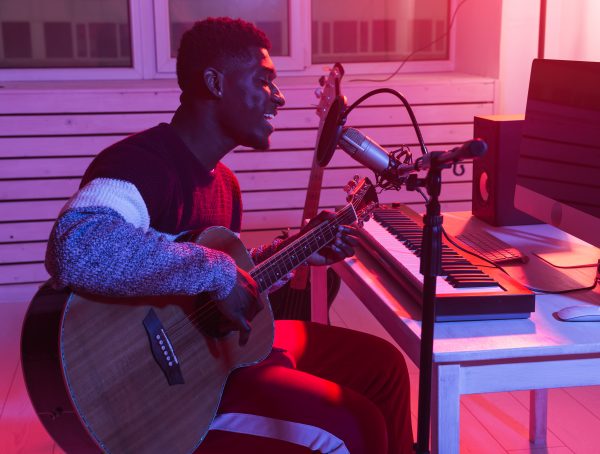 When recording music or audio, the equipment you use can affect the outcome of your production. This is necessary for …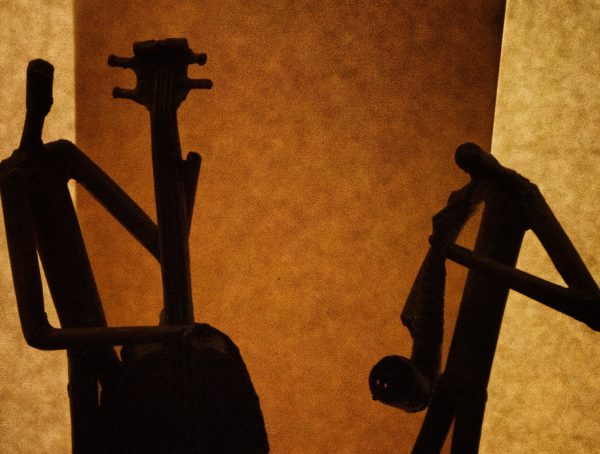 What should you be looking for when buying a gypsy jazz-specific guitar? Well, first of all, hello to you my fellow …
Editor Picks
---