Choosing the first guitar for your child can be a big decision
So, you have to make an informed choice about the right type of guitar that will be easy enough for a child to learn on, and more importantly, one that will keep their interest enough to develop their knowledge and guitar skills beyond the basics.
Let's first have a look at the common types of guitars that people purchase for their children as a 'starter' guitar, then we can look into the pros and cons of each. For the purpose of this guide we're looking at relatively low-cost guitars (so that you're not wasting a fortune if the guitar is only played a few times).
Most Common Beginner Guitars
Now, this is by no means a definitive guide to the plethora of different guitars that are out there for beginners. Neither are we saying that you, as someone looking to buy the first guitar for your child, need to stick with one type or the other… it all completely depends on what you're looking for, your budget, and ultimately the type of guitar you think your child will respond to the most positively.
Let's have a look at what we deem to be the three most common types of beginners guitars:
Nylon String / Classical Guitars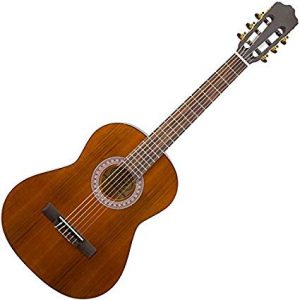 A classical guitar is one of the most, if not the most common type of beginners guitar.
Pros:
Strings are softer than metal or steel string acoustics, meaning that your child will not experience as much pain when building up their calluses (we're not saying they won't experience any pain at all; this is almost inevitable when starting to learn the guitar).
Classical guitars are commonly quite cheap, and can be picked up from sites like Amazon or online retailers as part of a 'beginners kit' (meaning you'll usually get accessories such as a gig bag, spare strings and a cleaning kit).
Learning finger style not only sounds incredible on a nylon string, but it's also softer on the picking hand too (except in this scenario you'd be learning without a plectrum).
Cons 
The neck of classical guitars is commonly thicker than that of an electric or even more standard acoustics. This is, however, a double-edged sword when it comes to learning to play. On the one hand, a thicker neck takes longer for new players to adapt to chord shapes (especially children with smaller hands), however this is arguably better for learners as it forces your hands to stretch and mould to the correct chord shapes, which then be easily transferred to guitars with a smaller neck.
Changing nylon strings on a classical guitar can be notoriously difficult for beginners
Build quality, when opting for a cheaper classical guitar, is often poor. However, this shouldn't really matter if you're just looking for a first guitar that won't cost a fortune!
Electric Guitars

Commonly, you will see electric guitar starter packs for beginners in the shape of either a Fender Stratocaster, or a Gibson Les Paul. These are two of the most instantly recognisable guitar shapes, and are both great types of electric guitars for your little rockstar to get accustomed to.
Pros: 
The neck width on an electric guitar is commonly thinner than on that of an acoustic or classical guitar. This means that learning chord shapes and scales will be slightly (not massively) easier when having to stretch.
If you get a starter pack with an amplifier, it will certainly come with a 'drive' setting, and possibly some built-in effects too. When it comes to keeping your child entertained with the guitar, what's better than playing around with some effects?
Body size in general of an electric guitar is smaller than an acoustic, so it will be easier for your child to hold (and get accustomed to a standard guitar size).
A lot of electric guitar starter kits are very modestly priced, and like the nylon string kits will come with accessories (and sometimes even a small amplifier).
Cons 
The brass/metal strings can be tougher on a beginners hands, prior to a callous being built-up.
It's easy for children to get lost in the novelty of an electric guitar, particularly if you buy a kit that comes with different effects pedal or amps with effects settings. Therefore, to not hit 'peak' novelty at the first hurdle, a more standard classical guitar might be better so that your child then has a fancy electric guitar to work towards.
Electric guitars will commonly be more expensive than cheaper nylon string starter guitars.
3/4 Length Guitars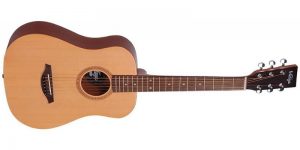 Guitars that are a shorter length than the standard sizing or not often used by beginners as they should, especially for children who may struggle with the seemingly gigantic sizings of a standard guitar (we're looking at you, dreadnought acoustics!).
Otherwise known as travel guitars, these compact versions can certainly be a great place for your child to start.
Pros
Much easier for children to handle, especially compared to standard-sized acoustic guitars
Compact and light enough to travel with (one way of keeping your child entertained on a road trip or camping holiday)
Similar to standard acoustic guitars, they're often cheaper than their electric counterparts
Cons
As your child grows, they may also naturally outgrow the smaller guitar size
Getting accustomed to the smaller size may make the transition to a standard sized guitar a little more difficult
Like any specialised instrument, the scope of ranges, styles and builds on offer are much more reduced than standard guitars
Frequently Asked Questions
Why have you not included a steel string guitar in this post? 
Simply because we're just thinking about getting the strength in the fingers and the dexterity built first, before then transitioning to the larger and more callous-inducing steel string acoustics.
Will learning to play the guitar hurt my child?
Learning guitar can hurt your fingers, no matter your age. We're not talking unbearable pain here, but for children it may initially be off-putting. Encourage regular practice for them so they can quickly build their hand strength and callouses.
How can I increase the chances of my child sticking to playing the guitar? 
Consistency, and making learning fun by ensuring they're learning beginners songs and the basics whilst also sticking to the type of music they're interested in (which will greatly increase their chances of sticking to it). Sounds so simple doesn't it!
Conclusion
Ultimately, the choice is down to you.
You'll know which type of guitar your child will respond the most positively to, and hopefully this guide has helped to give you an insight into our opinions on the best kinds of guitars that we believe beginners will respond to the most.
More from Frequently Asked Questions
---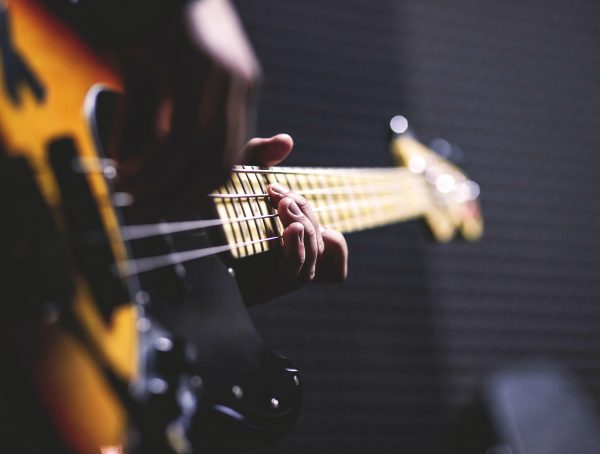 The short answer is yes, you can absolutely play the guitar if you have long nails, acrylic nails, fake nails... …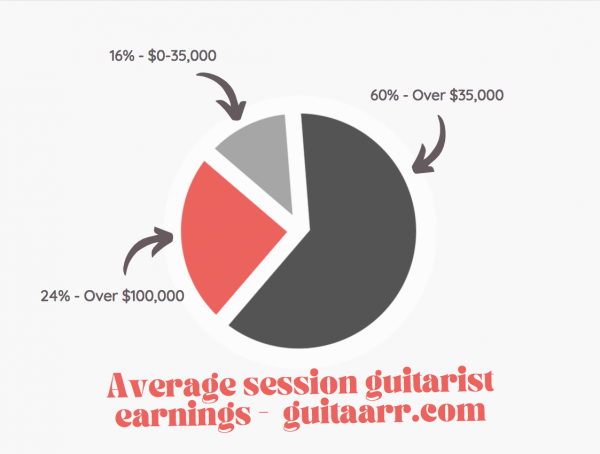 There has been an argument for years now that the era of the session guitarist is long-gone. With nearly every …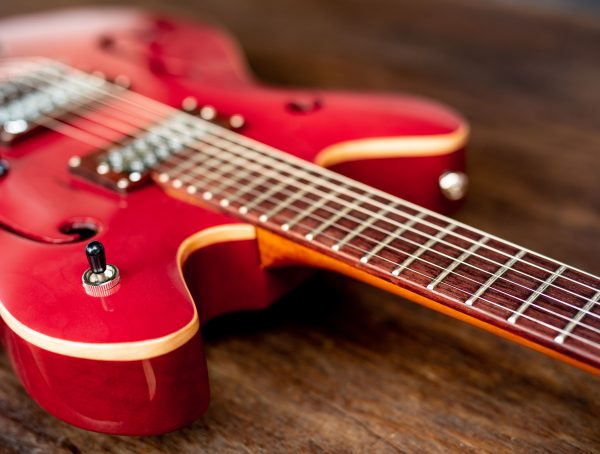 While your first guitar is unlikely to be worth more than a couple of hundred dollars, as you progress as …
Editor Picks
---