There's no denying that Ibanez is one of the top five most iconic guitar brand in existence. From shredding legends like Steve Vai and Joe Satriani, to melodic rockers like Yvette Young and Andy Timmons, Ibanez have not only evolved from their initial ranges but also continue to push the envelope of commercial guitars.
If you've been looking for an Ibanez guitar then you're probably coming up a lot of the same models, namely the RG ranges. Which are definitely awesome, but there's much more to Ibanez than just one affordable range.
Here's a detailed buyers guide to the best Ibanez guitars for players of all kinds
1. Ibanez RG421HPAH

The Ibanez RG421HPAH is a well-tuned combination of beautiful exotic tonewood aesthetics and a rich, well-balanced sound that is sure to please most people's needs. 
The body of the RG421HPAH consists of a Nyatoh interior topped with a layer of ash that's been finished with a blue wave black design to carefully accentuate the wood's natural grain. Leading away from the body, we find a 25.5" Wizard III roasted Maple neck with jatoba fretboard which not only provides an eye-catching reddish brown color, but also turns out a nicely balanced sound of rich mids and a crispy high end. 
Ibanez have gone with DiMarzio pickups for this guitar, bringing their Fusion Edge pickups to this RG's impressive arsenal. The pickups have been tailored to produce powerful, distinctive tones that are characterized by their crisp high end and tight lows – without losing any of its mid-range clarity. 
Furthermore, the RG421HPAH electric guitar comes with a coil tap switch which adds sound and tonal variations in both pickups – ultimately, giving users the ability to amp the sound up to their exact specifications and genre of choice.
 Product Breakdown:
Exotic tonewood body, consisting of a Nyatoh body & Ash top – finished with a blue wave black finish

25.5" Jatoba fretboard complete with Wizard III Roast Maple Neck

DiMarzio Fusion Edge Bridge & Neck Pickups
View Price
2. Ibanez S670QM 

Ever since its creation back in 1987, the Ibanez S Series (or Saber series for those that care) has been hugely popular amongst both hard rock and metal lovers – with many considering it the ultimate metal machine. Originally designed by Hoshino Gakki, the S670QM uses the same fan-favoured shape as the original, characterized by its double cut-out frame, subtle curves, and super thin body for ultimate player control. Speaking of the body, it's made from a Mahogany interior topped with a veneer of quilted maple. It has a finishing coat which is blue and transparent – showing off the wood's grain beautifully. 
Alongside a stunning design, the S670QM comes to the table boasting a metal approved H-S-H pickup schematic that delivers a metal tone most fans crave. With two high-output Ibanez designed Infinity Humbuckers split by an Infinity single coil pickup in the middle, this guitar offers truly endless sonic possibilities. The S670QM also has a 5 way pickup switch alongside a simplified 2 knob volume-tone control system, providing users with almost infinite tonal flexibility. 
The Wizard III neck has been designed using maple and is super-thin in profile (15.74" to be exact) – giving soloists the speed and precision they require most. To further cement this characteristic as a feature, it's laced with unique S24 dot inlays and 24 jumbo frets. The SG670QM is finished off with an Ibanez Edge Zero II locking tremolo system, meaning even the most aggressive of soloists will struggle to destroy or untune this thing. 
 Product Breakdown:
Classic 1987 design, utilizing mahogany and maple throughout

15.74" radius neck for speed and precision

Metal approved H-S-H pickup schematic for rich metal tones
View Price
3. Ibanez AF75 Hollow body

Ibanez has gone fairly old-school with their take on the traditional hollow bodied guitar, but don't let that put you off, this thing still looks fantastic. The AF75, as we'll call it, utilizes the traditional arch top jazz design that looks and feels impressive. The back, sides, and top are all designed using Linden, with dual Ibanez Classic Elite Humbuckers utilized for a full-bodied tone. 
Like the RG421, the neck of the AF75 is carved from Nyatoh wood and shaped for comfort over precision. That being said, with a tapered profile which starts at 21mm (at the first fret) and finishes at 24mm (at the 12th fret), the hollow bodied guitar does offer up plenty of precision nonetheless. Users are treated to a bound walnut fingerboard with luxurious black inlays and a 20 fret design which accommodates total ease of playability. Finally, the AF75 comes equipped with chrome hardware which includes an ART-1 bridge and VT60 tailpiece – giving the AF75 a luxurious and polished design that is a joy on the eyes. 
 Product Breakdown:
Traditional hollow bodied design, finished with luxurious chrome hardware

Classic Ibanez Elite Humbuckers

A well-rounded sound profile consisting of rich lows and clear mids
View Price
4. Ibanez AZ2204 Prestige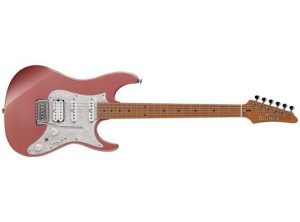 Ibanez's AZ2204 Prestige electric guitar isn't any ordinary guitar. It's creation comes off the back of decades of examining, testing, and understanding the process of designing high-end guitars. Thanks to what Ibanez called "the third phase of guitarists", the AZ2204 was brought to life. The AZ has a shallow back body contour and a big forearm contour which allows players to get complete control over this premium guitar. It comes with a deep waist and custom-designed sizing on each of the body edge curves to make both standing and seating play-styles feel extremely comfortable. 
The S-tech treated maple neck used in this guitar is a world's first. The maple is treated with nitrogen-heating which increases the wood's stability, durability, water resistance, and tolerance to intense temperature changes. After extensive testing, Ibanez concluded that 20.5mm at the 1st fret and 22.5mm at the 12th fret was the perfect thickness for this specific process – also giving the guitar an accurate feel with speed in mind. 
At the heart of the AZ2204 lies AZ's custom hyperion pickups that have been developed in partnership with Seymour Duncan (a well-known manufacturer of pickups). They feature a moderate output through Alnico-5 magnets, prioritizing the clarity of fundamental tones when using distortion-heavy sounds. Overall, they offer a well-balanced, evenly-adjusted sound that works extremely well with various effects pedals and setups. Furthermore, the AZ comes equipped with a Dyna-Mix 9 w/ Alter switch and an Ibanez T1802 Tremolo Bridge which, when combined, offer endless amounts of sound variations.
 Product Breakdown:
Body design specifically for third phase guitarists

Premium materials used throughout

Seymour Duncan Hyperion pickups

Dyna-MIX 9 w/ alter switch & T1802 Tremolo Bridge
View Price
5. Ibanez SEW761MCW

The stunning aesthetic of the Ibanez SEW761MCW is a combination of complex exotic woods accentuated by sleek and stylish curves that really do tick a lot of the right boxes. This guitar is, for lack of a better term, the elegant and efficient design of the Ibanez S series meeting the beauty of nature. 
The SEW comes equipped with a Wizard III roasted maple neck and a fretboard to match. The premium woods used in this guitar aren't just for aesthetic reasons, their dense characteristics provide better transmission of string vibrations to the guitar's body – offering up more accuracy and infinite sustain. The SEW uses a 25.5" Wizard III roasted maple neck which feels great for both speed and precision soloists.
 The body is a combination of Figured black Walnut on top of a Merantin solid body. This fusion of combining woods gives the SEW an attractive and unique look to say the least. 
DiMarzio "The Tone Zone" Humbucker pickups are used in this guitar, delivering a fascinating array of tones that offer a wide dynamic range and "huge" sound characteristic. 
 Product Breakdown:
Exotic woods used throughout

Well-balanced sound thanks to DiMarzio pickups

1 volume, 1 tone control & 5-way pickup selector switch

F106 bridge, Ibanez machine heads & black hardware
View Price
6. Ibanez FR800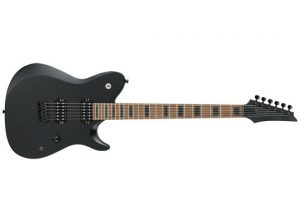 The FR800 is Ibanez's answer to the ultimate metal machine – with every element of this guitar being tailored towards fans of the metal genre. 
Like many guitars in this list, the body of the FR800 is designed using Nyatoh wood. However, to give this guitar it's metal aesthetic, it's finished in an all-black design which looks both gnarly and stylish. The 25.5" Wizard III neck is designed using Roasted maple and comes equipped with a Pau Ferror fingerboard. The luminescent side dot inlay helps light the way on dark stages, with black block accents on the fingerboard providing additional aesthetic appeal. 
Bare Knuckle Aftermath pickups are used in the FR800 and deliver a bright yet wickedly expressive tone that is sure to meet most people's needs. The coil-tap switch allows players to unleash the full potential of the Aftermath pickup's, creating a full output sound that modern players love. With the addition of the innovative Ibanez Mono-rail bridge, players will definitely experience a reduction in cross-talk between strings – alongside flawless intonation. To finish off, the FR800 also has Gotoh locking tuners to provide tuning accuracy and quick string changes. 
Product Breakdown:
Stunning metal-esq design

Dual Bare Knuckle Aftermath Pickups

1 volume, 1 tone control & 3-way pickup selector switch

Luminescent side dot inlay
View Price
7. Ibanez RGA42HPT 

Once again, Ibanez utilizes Nyatoh for the body of the RGA42HPT electric guitar. This exotic wood creates a striking look that is both exciting and expressive – ticking plenty of the right boxes.
The top of the body is characterized by a contour which not only creates comfort for the guitarists right forearm, but also adds a tonne of aesthetic appeal too. It comes equipped with a roasted maple neck that has been heat-treated to increase stability, durability, and resistance to water.
The Jatoba fretboard provides a rich sound that is symbolized by a balanced note attack and full sustain. Jumbo frets have also been installed in this guitar, giving users more accuracy and effortless fingering up and down the entirety of the fretboard. Like the FR800, the RGA comes equipped with luminescent side dot positioning marks, making it easier for players to see finger placements in the darkness of a stage environment. 
DiMarzio Fusion Edge pickups (a collaborative effort between DiMarzio and Ibanez) have been installed in this guitar to help provide the highest levels of clarity and smooth response – introducing a sound that satisfies the demands of modern day progressive metal players. Finished with gold hardware, the RGA also has a double locking tremolo bridge for exceptional tuning and playing comfort. 
Product Breakdown:
Nyatoh body finished with a striking matte blue finish

DiMarzio covered fusion edge pickups

Double locking Tremolo Bridge

Luminescent side dot markings
View Price
8. Ibanez S570AH

One of the cheaper options in this guide comes in the shape of Ibanez's S570AH electric guitar. This one might be more affordable, but don't let that fool you, this guitar still comes with all the ingenuity and quality you'd expect from an Ibanez product. 
As you've probably already noticed, the S series is noticeably different when compared to other Ibanez designs, offering up a more rounded aesthetic characterized by smooth contours across its body for added comfort. The double cutaway body is all-ash in design, bringing to the table a lightweight feel that is both stylish and comfortable.
Like many Ibanez guitars, the neck of the S570AH is a Wizard III cut from maple, providing players with a combination of quick play style and excellent tonal character. The 24-fret fretboard is off-set with white dot inlays and is constructed using Jatoba wood – providing a smoothness that should not be overlooked. This guitar also comes with jumbo frets for additional accuracy and a Edge-Zero II tremolo bridge which adds another dimension to your playing style.
At the heart of this guitar lies Ibanez's proprietary Quantum pickups, designed to provide a wide range of tones suited to most popular genres. A clear difference between this and other guitars within the Ibanez range, is the third middle pickup they've implemented. This single-coil Quantum pickup will help provide high-end articulation and great distorted tones.
A five-way switch can be found next to the volume controls and allows players to acquire the sound they most desire – combining the power of all three pickups for excellent tonal variety and expression. Overall, an extremely reliable guitar that ticks a lot of the right boxes. 
Product Breakdown:
S Series style double cutaway design

All-Ash Body for lightweight feel

24-Fret Jatoba fretboard with jumbo frets to match

Edge-Zero II tremolo bridge with locking nuts
View Price
9. Ibanez Steve Vai JEM JR

The JEM JR electric guitar brings with it an iconic shape that many of us have come to love over the years. Designed in partnership with Steve Vai, this guitar offers a joyous combination of striking aesthetics and blazing fast playing capabilities – pleasing even the hardiest of metal guitarists. 
The JEM JR guitar is carved from solid mahogany and features the JEM trademark monkey grip alongside two subtle cutaways. A slight contour can be found near the base of the guitar, designed to provide additional levels of comfort and playability.
The neck of this guitar has been custom-designed in partnership with Steve Vai, offering an ultra-thin neck that suits his rapid playing velocity. The neck is maple in design and sits at an extremely flat 15.74" in radius. A Jatoba fretboard is used in this guitar and is branded with the eye-catching "tree of life" inlay which, I think we can all safely agree, looks fantastic.
Furthermore, Ibanez has utilizes the metal industry standard H-S-H schematic in the JEM JR for maximum tonal variation. 
Humbuckers sit at the neck and bridge of the JEM JR and both feature ceramic magnets for additional harmonic overtones. To help complete the well-balanced sound of this guitar, the single-coil middle pickup provides a more traditional sound. With a double-locking tremolo system, this guitar makes tuning easier and faster than ever – offering stable tuning no matter how aggressive your playing style becomes. 
If you're looking for a guitar that isn't going to break the bank, but still provides all the excitement and tonal versatility you could want, then this guitar should be high on your list of considerations. 
Product Breakdown:
Designed in partnership with Steve Vai

JEM JR iconic "monkey grip"

H-S-H schematic

5-way switch provides endless tonal variations
View Price
10. Ibanez RGEW521MZW

Last but not least, is the stripped back RGEW521MZW electric guitar. This guitar brings a combination of stunning aesthetics and high-quality build construction to the table – not to mention wonderful tones that suit an abundance of genre styles. 
This uniquely styled guitar brings a Nyatoh cut body and Zebrawood finish to the table. Zebrawood, for those unaware, is usually characterized by its grainy finish, that being said, it also offers warm and resonant tonal properties. Like many other Ibanez guitars in this guide, the RGEW521MZW comes with a Wizard III roasted maple neck and matching fretboard – supplying that sweet exotic wood aesthetic combined with bright and vibrant tones. 24 Jumbo frets can be found along the fretboard – providing high levels of accuracy to this guitar's arsenal – alongside nicely finished black dot inlays. The fixed bridge of the RGEW has been designed for strength whilst providing proper intonation – a feature that is always welcome. 
Dual DiMarzio pickups have been installed at the centre of this guitar – giving it a nicely-balanced sound most will enjoy. A DiMarzio Air Norton humbucker can be found at the neck, with a DiMarzio "the tone zone" humbucker found at the bridge – tweaked specifically to add rich tones and additional tonal versatility. 
All-in-all, this stripped back guitar is a no-frills example of Ibanez's wonderful build quality and stunning tones. A fantastic guitar that offers something others don't. 
Product Breakdown:
Rich wood grain aesthetic

Zebrawood top

Wizard III Roasted Maple neck

24Jumbo frets

DiMarzio Air Norton Neck and "the Tone Zone" bridge pickup
View Price
Ibanez – First Time Buyers Guide
So, as a beginner guitarist or first time buyers of an Ibanez, what do you actually need to know? Let's break it down for you so you know what to expect when buying one of these utter beasts!
Neck
The most common thing any guitarist is likely to tell you about an Ibanez is that it has a thin neck, especially in consideration to something like a Les Paul. The neck is thin for good reason, as it allows you to scale the neck more rapidly and essentially makes it easier to play fast passages (ideal for legato and alternate picking).
This is also one of the main reasons why Ibanez as a brand is favoured by shredders and metal guitarists.
Pickups
Commonly, Ibanez guitars will have single coil pickups split in a three-way between dual humbuckers and a middle single coin, This results in a five-way pickup selector that allows the models to be both 'jangly' as well as suited to resonance and that crushing tone that many players favour.
I like to see this is a Fender Strat layout but pushed to the extreme, as the tones are similar but pushed a little more to the limits on both ends.
Weight
Basswood is one of the more common materials for Ibanez guitars, which allows the guitar to remain light. Why is that important? It plays into the functionality of the guitar, especially when playing live as you're not worrying about any potential density issues when your solo is coming up!
Locking Tremolos
A locking, custom tremolo system is very common on Ibanez guitars. Whilst they obviously do make guitars without locking systems, they really are a major selling point for aspiring shredders and fans of the whammy bar dive bomb alike. And, I can't even lie… They are a ton of fun!
Ranges & Models
Like any major guitar brand, there are multiple ranges at different price points based on build quality, materials and spec. At the lower end you're looking at the GRG and even some of the RG ranges. The RG also follows through to the top end, along with artist models and more unique collections such as Ibanez S, JEM and ART (you can view the updated 2020 range here).
Prices
For a middle range Ibanez with all of the premium specs but not unique enough to be classed as 'premium', you'll be looking to pay anywhere between $400-900 dollars, and beyond. The price varies massively based on specs and the range that the guitar is in, so just do a bit of research on common prices within your budget.
Pros
Lightweight guitars that are great for playing fast
Huge variety of ranges and spec even with the ranges their selves
Cheaper models are available that do not sacrifice quality
Cons
Locking tremolos can put a lot off players off, which is a fair critique
Some players think that Ibanez as a brand are a little too one note, which makes sense based on ranges however the brand as a whole offer a wide range of guitars for players of all types
Conclusion
I want to conclude this guide by stating the obvious. I love Ibanez, and have wanted to write this guide for some time. From beginners to experienced players, I feel like every player should have an Ibanez in their collection for when the shredding urge takes hold!
If you like this guitar brand guide, then may also enjoy the guide to the best PRS guitars.
More from Guitars
---
The Gibson Les Paul is a classic electric guitar that has been a favorite of guitarists for generations. One of …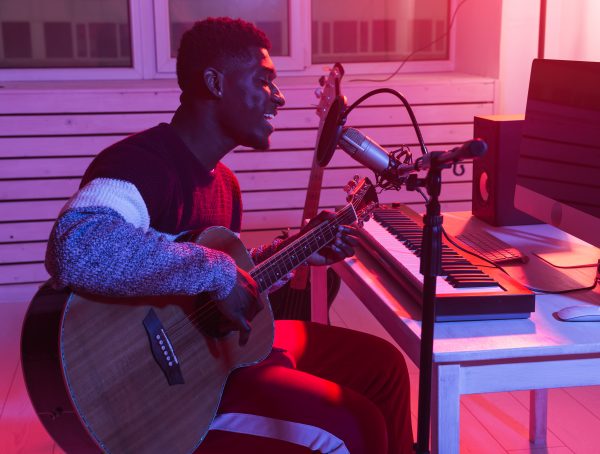 When recording music or audio, the equipment you use can affect the outcome of your production. This is necessary for …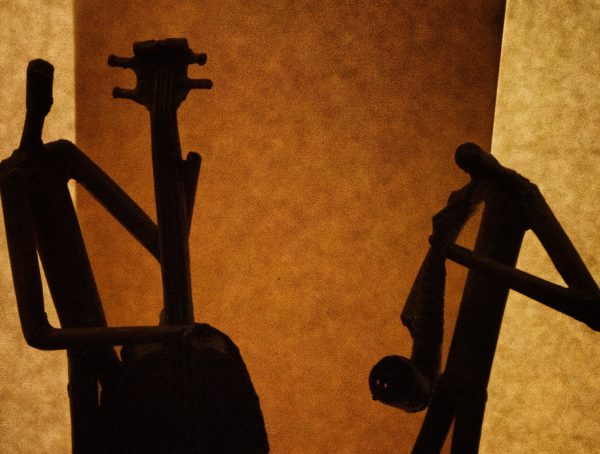 What should you be looking for when buying a gypsy jazz-specific guitar? Well, first of all, hello to you my fellow …
Editor Picks
---