Our Top Pick
Tone

Playability

Price

Build
Summary
Our top selection is the incredible Fender Tim Armstrong Hellcat.
View Price
A Guide To The Fifteen Best Acoustic 12 String Guitars Available Today
On the market for a 12 string guitar? Whether you've been tempted to by jangly country tunes or 60's rock prowess, there's no denying the undeniable allure of a 12 string guitar.
There are certain things you need to be aware of when buying a guitar with double the amount of strings as standard. These tips will be covered in this guide, along with our 15 favourite acoustic 12-strings that have been personally tried and tested by the team.
Let's stop the talking and get to a breakdown of our top selections.
1. Ovation ExoticWoods Collection (C2059AXP-5S)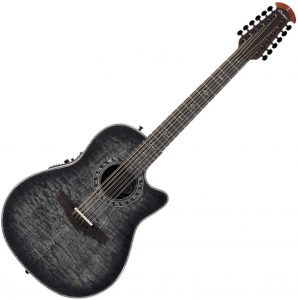 First up in the guide is the C2059AXP-5S from Ovation. Like many, we first came across Ovation guitars in the early 2000's and were thrilled by their curved, contoured bodies, which allowed the guitars to be both light and easy to play when standing with a strap.
The overall decrease in bulkiness due to their unique designs made Ovation the perfect and logical candidate for a 12-string guitar, and they've done it with the exotic woods collection. Not only does this acoustic look good, it's built extremely well with a tone to match. It's also an electro-acoustic 12 string, so that you can plug in and go with ease.
The need-to-know facts include:
Maple Body Over a AAA Solid Spruce
Curved Contour Construct
OCP-1K Signature Pickup
Dimensions – 41.5 x 16.5
It's not exactly cheap, but then again you're not going to find a cheap acoustic guitar that is both unique and supremely well built, that also is an electro-acoustic! The price puts this is a mid/high-end 12 string guitar, and whilst it's not at the kind of price to make an impulse purchase, it's certainly worth researching a little further.
Recommended For: Players serious at investing in a 12 string acoustic guitar that has a touch of individuality. Also recommended for players that already have an Ovation guitar in their collection and are familiar with their style and shape.
View Price
2. Fender Tim Armstrong Hellcat

Before we dive into why the Hellcat from Fender made our list, just take a look at it. Soak in that stripped-back acoustic goodness! The Hellcat is the signature model from Tim Armstrong of 'Rancid' fame, and is a far cry from the types of guitars used in his punk outfit.
However, in typical Tim Armstrong fashion, the Hellcat has a ton of personality for 12 string guitar. Straight out of the gate you can't miss the Fishman preamp, a surprisingly high-quality electro-acoustic addition for the low/mid-range price of the Hellcat. You'll find the guitar equipped with volume and tone controls, so that you can tweak your tone with ease in a live setting.
The body is natural mahogany, with a maple neck and walnut fingerboard and bridge. As with any signature model, there are a few main intricacies that you wouldn't find with a standard model. The biggest stand-out here is the scalloped bracing of the Hellcat, which alongside the solid top allows for greater resonance and depth of tone.
The Hellcat from Fender is an iconic 12 string, with a fantastic price point to match.
Recommended For: Players used to a high-end acoustic guitar that are looking for a similar 12-string model without a high price. Also great for the guitarists that look for signature models with intricacies that they wouldn't find elsewhere.
View Price
Full Review
3. Oscar Schmidt OD312

We've covered some of the higher-end 12 string guitars you can expect to see on the market already, but what about some of the low-cost models, and are they just as good?
Whilst there's always going to be an inevitable compromise in build quality, there's no reason to ignore some of the cheaper models on the market. One to watch is definitely the Oscar Schmidt range, which you'll see stocked in a lot of music stores both bricks and mortar and online. They're offering great 12-strings for, quite frankly, ridiculously low prices… so let's have a look at why they're so popular with the OD312 model.
The OD312 is a classic dreadnought shape and build, with a mahogany body, spruce top, finished with a classic rosewood fingerboard and bridge.
Whilst the body is a little bulky, it's expected because of the dreadnought shape. You also get chrome tuners as standard, and it's the little things like this that let you know the OD312 is built to last.
Recommended For: Guitarists looking to experiment with a 12-string that don't want to spend too much money initially.
View Price
4. Fender CD-140SCE

Fender are straight back into this guide with the CD-140SCE. Again, much like the Hellcat, Fender have stuck to a very stripped-back style, which fits perfectly with the ethos and history of the 12-string acoustic.
Unlike the Hellcat, the CD-140SCE has upgraded the natural body to a solid spruce top, sticking to the dreadnought style but with a single cutaway to allow the higher frets an ease of access (something we personally prefer).
As with the Hellcat this has a Fishman preamp, and the same scalloped bracing that allows all 12 string to fully ring through. It also has a mahogany neck and body, ideal for making those huge 12-string chords shine.
The 6-string version of this guitar exhibited to rave reviews, therefore we never expected the 12-string offering to be any less than incredible. And, let's just say that it certainly live up to the hype.
Recommended For: Players wanting a 12-string that looks identical to that of a six-string, e.g. an acoustic without any frills. Perfect for the kind of acoustic to grab and go around the home too.
View Price
5.
D'Angelico Premier Fulton

Get a load of this hybrid beauty! The Premier Fulton looks the child between a vintage acoustic straight out of a 60's video, and a modern acoustic guitar like the Fender's above in this guide.
The shape looks a little similar to the guitars in the Dean acoustic range, especially when looking at the custom headstock which is very Dean-esque. However, there's no heavy metal musings here. Just pure acoustic goodness. Let's look into the Premier Fulton a little further.
D'angelico have gone for a mahogany body, back, neck and sides, with the added Sitka spruce top (which we haven't seen since the Ibanez Artwood acoustic) for that unique, added chord 'shine'. What sticks out is the tortoise pickguard, and the custom headstock which just screams 'play country music on me!'.
Recommended For: All in all, it's a fantastic entry level 12 string acoustic, absolutely brilliant for players who are familiar with the basics and want the additional challenge of 12 strings.
View Price
6. Takamine G Series GD30CE Dreadnought

Is it just us, or does this look like the evil cousin of the D'angelico Premier Fulton? It still looks like a country/blues guitar, but with that unmistakable, all-black coolness that just emanates the Johnny Cash 'Man in Black' style.
If you're familiar with acoustic guitars, you'll have certainly heard of, played, or even owned a Takamine. Like many acoustics in this range, Takamine are known for their mid/high-end guitars that compete with other large names like Martin and Taylor acoustics. Basically, if it's a Takamine, you don't need to wrry about the quality.
The G series is a very classic and comfortable place for Takamine to be. They already know how to build incredible 6 strings, so it was inevitable they'd introduce a series of 12 strings to compete in the market. The GD30CE simply makes sense. It's made of solid Mahogany at the back and body, with a comfortable 'X' bracing to ensure the larger dreadnought body stays accessible, and a gloss finish to bring the all-black look together. Perfect.
Recommended For: Players looking for a stylish and modern 12-string acoustic from a reputable company. Beginners not willing to pay a little more for the brand name might want to consider some of the cheaper options in this list (unless you're serious about making a Takamine investment).
View Price
7.
Taylor T5z Classic Mahogany Top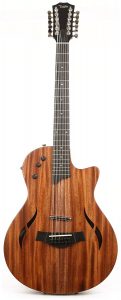 Get your wallets at the ready (and packed full) for this one! The futuristic T5Z from Taylor is as good an electro acoustic 12 string guitar gets. But before we go back to staring at it, let's take a look at what makes this guitar so striking.
The body is actually an exotic mahogany, and not a far-cry from the majority of acoustic in this guide. The neck is also quite conventional, with an ebony construct. The top of the guitar is also mahogany, again not out of the ordinary but finished with the deep, rich and ultimately natural mahogany that makes the guitar look as rich as the tone sounds. The body shape mimics a classic 'jumbo' style, however one that is ultimately slimmed-down with an added cutaway to reach those jumbo frets.
The F-Hole stylings amidst the satin finish bring that other added touch of modernity to an otherwise classic shape. What we're really trying to say is… this plays fluidly due to the compact sizings, sounds great because of the premium construct, and looks good because… well… just look at it!
Recommended For: Guitarists who already have a 12-string acoustic, and either want an electro-acoustic guitar for live playing or practising, or those players who simply want to treat their selves to one of the best, premium 12-string guitars on the market from a reputable brand.
View Price
8.
Ovation Standard Elite 2758AX

Another listing from Ovation, this time it's the Standard Elite series, with the 2758AX model. If you've seen Ovation guitars before, then you've no doubt seen the standard shape and body style from this series.
The sunburst finish with leaf body inlays is peak-level Ovation, alongside the deep bowl on the back0side of the body and deep neck cutaway to reach the top frets, it's an ideal 12 string for players not used to the added width compared to a standard acoustic.
The body is crafted from exotic Indian hardwoods, alongside a solid spruce top to add an extra 'zing' to the high-ends of the 2758AX. It's an Ovation, but not as you may know it.
Recommended For: Players curious about 12 string guitars who may not want to stretch the extra width and still have the chance of experimenting with the added 6 strings (also great for players that want a 12 string acoustic guitar with the slimmer width of an electric).
View Price
9.
Ibanez AW5412CE OPN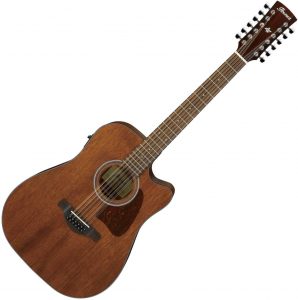 When you think of Ibanez, you might not think of acoustic guitars, let alone a 12 string guitar at that! Ibanez have kept the AW5412CE OPN very simple and stripped-back, whilst keeping it true to what we'd expect to see from a standard dreadnought 12 string guitar.
When we say dreadnought, it isn't exactly in the conventional sense. There is a deep cutaway which, in standard Ibanez fashion, allows the guitarist to reach higher frets with ease. The stripped-back finish is an ode to mid 2oth century acoustics, with a modern pickguard to give a touch of modernity to this otherwise retro acoustic.
In terms of build, Ibanez have opted for affordable materials that are both unique, and have enough depth to allow all 12 strings t0 ring-through. We're talking a mahogany body and sides, mahogany neck and solid top, and also a ovangkol fretboard (an evergreen tonewood known for its sustainability).
All in all, we're pleasantly surprised with just how good of a job Ibanez have done with this guitar. It's very stripped-back, but enough thought has been put into it at the build stage to ensure that nothing is missed in terms of tone. A firm favourite for us.
Recommended For: Lovers of the Ibanez brand that simply have to get their hands on a 12 string acoustic guitar.
View Price
10.
Fender CD-60SCE Dreadnought

Another Fender in our list (yes, they're really that good at making 12 string guitars). This time we're looking at the CD-60SCE, a lively modern dreadnought that is built to give an absolutely sparkling tone.
True to dreadnought styling the body widens at the base to give the chords a 'thick' sound, however a single cutaway at the neck position means that reaching those top frets is not a problem. As it's Fender, this another electro-acoustic guitar, so the slimmer body compared to other dreadnoughts makes sense (as does the smaller sound hole) to compensate for feedback or tonal interference when playing in a live setting.
When looking at build, we were please to find a mahogany body, top and sides, with a solid spruce top to being the build together.
This may be one of the best mid-range 12 string acoustic guitars we've played that can also be easily transferred to playing in the studio or on stage, which is all down to the superior build quality and attention to detail, that doesn't come with an excessive price. Give this one a go.
Recommended For: Perfect for guitarists wanting a diverse electro-acoustic 12 string guitar that you can just plug in and play with ease (and not have to worry about poor tone or flimsy build quality).
View Price
11.
Breedlove Pursuit Concert CE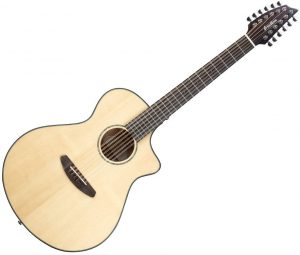 Futuristic? Check. Unique body shape? Check? Still completely playable and actually a fantastic guitar for players that like to challenge the conventional whilst not having to sacrifice tone or build quality? Check!
Breedlove are known for producing the types of guitars that make players take a second glance, and the Pursuit Concert is certainly no exception. It's a take on a traditional dreadnought shape, with a slightly larger base and more reduced top to ensure that reaching those pesky top frets are not an issue. Officially, the body shape is 'concert', but we'll leave you to decide what to call it yourself!
The top and body are a premium solid sitka spruce, along with a mahogany neck and ovangkol fretboard (we've seen this before in the premium Ibanez build). All materials used scream quality, and combined with the concert body shape really do allow the player to experience a full tonal depth.
Recommended For: This is actually the one guitar we'd recommend for percussive acoustic guitarists who want expand their skills into the 12 string world.
View Price
12. EKO
06217129-NB

Last in our list is one of the most iconic 12 string acoustic styles… It's the 06217129-NB from EKO. You might be having a glance and thinking 'Gibson', and it's certainly reminiscent of a very well know acoustic construct… but let's have a look at what all the fuss about EKO 12 string is.
Straight away you've got the striking dreadnought body with an almost David Bowie-esque pickguard and a solid spruce top. The body is a rich mahogany, with a neck of the same wood to finish this guitar off (along with those classic square inlays on the fretboard).
Well, what's all the fuss about then? It's all in the simplicity. The mahogany through-and-through build, thick dreadnought shape and unapologetic thickness of the guitar make this a rhythm players dream, and pretty much all it'd be recommended for. But it's this one job that it's built so beautifully to do, so get your chord book and and get jamming.
Recommended For: Rhythm guitarists looking for an extra challenge on a guitar that is literally built for big open chords and powerhouse backing numbers. Perfect!
13.
Recording King Dirty 30's Dreadnought
RDS-9-12-FE5-TS

The Dirty 30's dreadnought from Record King is exactly what it says on the tin. A vintage, dreadnought style acoustic guitar, finished in a beautifully retro tobacco sunburst and shaped like the kind of old-school acoustic we all know and love. Oh, and this one just happens to have six extra strings!
Aside from the looks, it's a great entry level acoustic with a unique whitewood body (a relatively low cost but fantastic sounding material), a solid sitka spruce top and standard Fishman pickups which gives that electro-acoustic modernity touch to this otherwise retro acoustic. Lovely stuff.
Recommended For: Players who like the look of retro acoustic guitars, but want those added extra six string for some jangly chord goodness.
View Price
14.
Luna Guitars ART V DCE

This 12 string from lesser-known Lunar Guitars is easily one of the more striking guitars in this guide. It's almost a blend between a classic tobacco sunburst dreadnought (like the Record King Dirty 30's at #13), and a more modern, slimmer acoustic like the Ovation's we've already mentioned. Alright, we've covered that this looks amazing, but how's it built and does the quality match the looks?
A solid mahogany body and solid spruce top mean that notes on this beauty will be thick, will ring-true and certainly not have trouble with sustain thanks to the build quality. On top of this is the iconic pau ferro fretboard (seen on premium models), and classic hardware finishings.
All in all, the ART V DCE handles like a smaller acoustic, but has the depth of a dreadnought. It's certainly one of a kind and will make you stand out from the rest!
Recommended For: Players looking for a unique, mid-range acoustic that has an incredible tone and looks to match.
View Price
15.
Ovation Mod TX Collection
2058TX-5

One for the metal players amongst us, don't think we've left you out of an acoustic guide! Last up in our reviews section is the incredible 2058TX-5 from the Ovation Mod TX collection. Styled in a stunning matte black, this 12 string guitar was literally made for stripped-back versions of metal and rock songs, built for soaring chords and even shredding with the thin neck and cutaway for ease of top fret access. 
The Mod TX comes with the classic Ovation deep cutaway bowl (which means the acoustic sits incredibly easily to your body, especially when seated), a unique lyrachord body completed with a spruce top tonewood to ensure tonal resonance. It's also an electro acoustic, which means that you really can stop that distortion pedal and flip this from a mellow acoustic to a searing 12 string fit for a shredding king.
Be aware that whilst the guitar is surprisingly louder than expected considering the lack of traditional sound hole, it is primarily an electro acoustic, and built for such use. Keep it plugged in and fire away.
Recommended For: Fans of metal and rock guitars who want to transition seamlessly into the acoustic world. Also a fantastic all-rounder electro acoustic, so worth considering as such if you want an electro with a bit of a difference about it.
View Price
Video Demos & Reviews
We've gone through our top fifteen 12-string guitars, now let's have a look at some our favourites. How they sound, what they feel like, and what they're suited for… find out below.
Fender Tim Armstrong Hellcat 
Fender CD-140SCE
Taylor T5z Classic Mahogany Top
Frequently Asked Questions
From comment and questions over the years we've responded a lot to queries related to 12 string guitars (part of what inspired this guide). So, let's take a look at some of the more common questions we're asked so that you can make more of an informed decision on how or why to buy a 12 string acoustic guitar!
Are 12 string guitars harder to play than conventional acoustics? 
The biggest issue most players encounter is that the neck of a 12 string is generally thicker than that of a standard 6 string. This really is the only issue, along with slight spacing issues when playing chords at a greater thickness (essentially thicker widths on each individual string).
What kind of music should i play on a 12 string guitar?
Mostly you'll see folk, country and blues guitarists playing 12 string acoustics, but that's not to say that you need to stick to that kind of music. Blues runs sound especially fantastic when you use a lower string as a drone or a bass note, then play the runs on the higher strings. Perfect.
Can I learn to play a 12 string before a 6 string guitar?
The differences aren't so huge that you'd need to wait to play one before the other. That being said, it'd be better to learn on 6 strings first just so you can feel and get acquainted to a 'standard' acoustic, then quickly transition across to the world of the 12 string guitar.
Conclusion
Whatever the acoustic you're after, make sure you've done your research before making a purchase. This has never been truer for a 12 string guitar, as you really need to be acquainted with the feel and the style before committing. For any questions or updates, please drop a question below and the team will get back to you as soon as possible!
More from Guitars
---
The Gibson Les Paul is a classic electric guitar that has been a favorite of guitarists for generations. One of …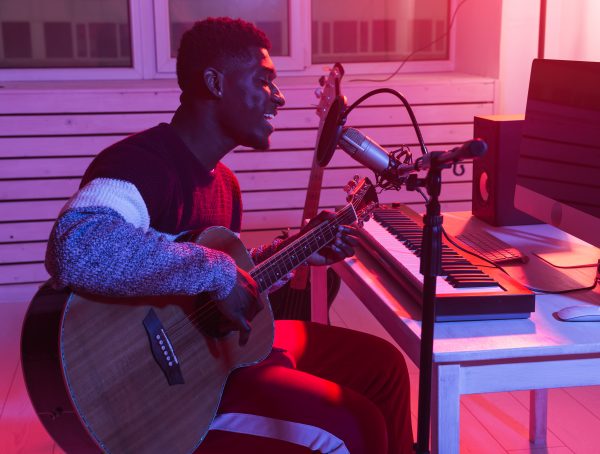 When recording music or audio, the equipment you use can affect the outcome of your production. This is necessary for …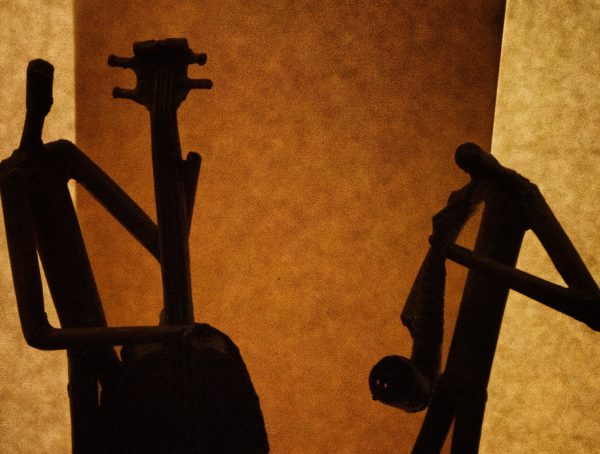 What should you be looking for when buying a gypsy jazz-specific guitar? Well, first of all, hello to you my fellow …
Editor Picks
---