Summary
Sound

Build

Cost

Playability
Ibanez AVN6 Artwood Review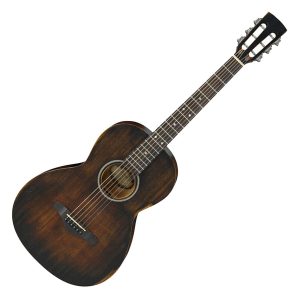 View Price
With an almost smoky design that makes you think of old jazz clubs, the Ibanez AVN6 Artwood has a lot going for it. It rolls in as one of the more expensive guitars on the market, but can it live up to the price tag? We've spent some hands-on time with this acoustic guitar to see if it's worth buying or not. After a good few hours of strumming different chords and getting a good feel for it in our hands, we think we've come to our conclusion. 
So, without further ado, here's what we think about the Ibanez AVN6 Artwood acoustic guitar.
The Low Down – Ibanez AVN6 Artwood
Build
The AVN6 is a parlor guitar that's got a solid Sitka spruce top, which is combined with a laminate back and sides – mahogany veneer, to be precise. You get a delightfully soft v neck profile that makes the guitar look and feels very nice. When it comes to build quality, the AVN6 Artwood really impresses. You're not going to throw this around, but if you did, it feels like it could take a minor beating. 
The neck is made out of mahogany, and the bridge and fretboard are both rosewood. This creates a very premium feel, which is added to with the gold mother of pearl dots on the inlay. 
Specs (just the need-to-know bits)
Neck: Mahogany

Body Build: Solid Sitka Spruce/Mahogany Laminate

Overall Length of Body: 24 ¾"

Number of Frets: 12
Sound & Playability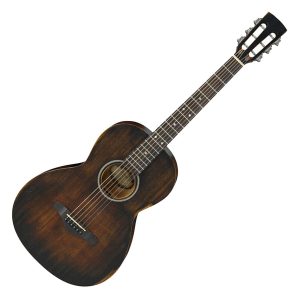 The Ibanez AVN6 Artwood is one of the smaller options out there. However, it boasts some really impressive sounds – and the volume is surprisingly great for such a little guitar. It gives off a unique sound that wouldn't feel out of place in some classic movie from the early 1900s. However, this plays into its favor as it makes it one of the best Ibanez acoustic guitars for blues players. 
That's what you get here; it's a guitar that plays blues tunes very well. The stings twang beautifully, and the sound is projected exceptionally well when you play. It can be a bit hard to play, at first, but you do get used to it the more you use it. 
Pros: 
Excellent build quality

Feels lightweight in the hands

Awe-inspiring volume
Cons: 
Doesn't have that tremendous tonal depth

Is a little bit expensive for a parlor guitar
Recommended For
You should consider this guitar if you're a blues player who likes to play some classic songs from the Blues era. It's not the type of piece you use to play modern music, and it can be a bit hard for beginners to handle at first. 
Closing Thoughts
The beauty of guitars is that there are ones for all kinds of players. If you're a keen blues fan, then we definitely think you'll get a lot of joy out of this.
But, if you're in the market for a shiny new guitar to use for all kinds of music, then we don't think this is the perfect match. If it suits your style, then you'll struggle to find a better acoustic guitar in terms of sound and looks. 
View Price
More from Reviews
---
As a guitar player, how do you choose the best chorus pedal? The right chorus pedal can add a huge amount …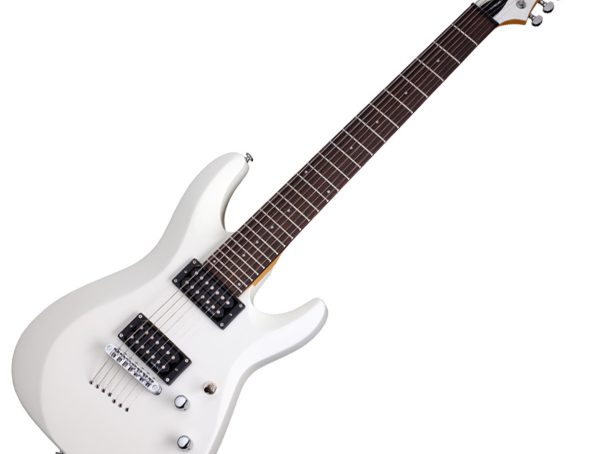 Is the Schecter C-7 the best budget 7-string guitar on the market today? Quick Look It certainly rivals its competitors, but how …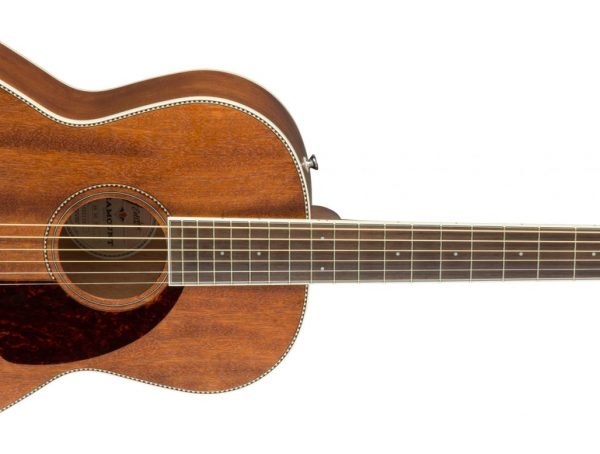 The PM-2 might just be the best parlour guitar from Fender yet. But how does it fare under our extensive …
Editor Picks
---