Best Budget
Epiphone DR-100
A fantastic Gibson-style acoustic on a budget
Looks and plays like the perfect blues acoustic guitar
Best Premium
Taylor 214ce
For the player looking for a premium, full-bodied acoustic tone
So, you're looking for the best acoustic guitar to play blues on, but where do you start? With thousands of guitars coming out every year, we've decided to focus on the best acoustic guitars that are available in 2017, specifically for playing blues, rock 'n' roll and even slide guitar.
If you want to find a vintage-style blues guitar, or need a smaller guitar to learn blues as a beginner, then we've got your back. Check out our extensive list, and make sure you take advantage of any deals that are on offer (don't worry, we list those too). Note – At the time of writing, all guitars mentioned are priced under 1000.
Updated in Fenruary 2020 with updated pricing and a fresh selection of guitars added to the guide.
Table of Contents/Jump To: Top 12 | Accessories | FAQs | Demos
The 12 best acoustic guitars for blues players – Quick Look
1. Epiphone AJ-220S in Vintage Sunburst
The first guitar in our list is the Epiphone 220S in a brilliant Vintage Sunburst finish. This is a great entry guitar and the perfect go-to practice guitar, especially for learning blues and classic acoustic music. The typical, thick Epiphone neck will also aid in honing any chord or speed issues, forcing guitarists to adhere to strict form with the neck radius.
This guitar is also a great introductory item for guitarists who want to learn how to play with a slide. At this price the guitar can be altered to have a high action, rendering the neck specifically set up for using a slide (a higher action means the strings are raised, and the slide will not be pressing down on to the strings). This guitar has all the features you would expect from the Epiphone Acoustic Jumbo range, including a solid spruce top, mahogany body, and classic rosewood fingerboard.
Pros: Surprisingly loud sound and great sustain from a fully acoustic, low-end guitar / (add as bullet points) The thick neck and slim body profile will force guitarists into fantastic practicing habits / Great overall price
Cons: Neck may be slightly too thick for beginners or players who struggle to stretch / Upper frets are difficult to reach because of body shape. The shape is very similar to the thickness of a 12-string acoustic.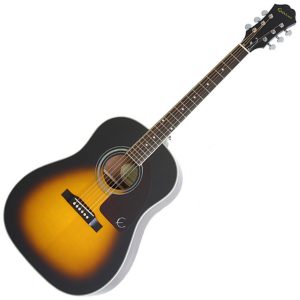 2. Fender F-1000 Dreadnought Acoustic Guitar – Natural
Next up in the list (and still lurking in the low-end range of massively underpriced guitars) is the Fender F-1000 Dreadnought in a natural finish. Another acoustic guitar for blues that is under 200 (but shouldn't be), the F-1000 is a tribute to the acoustic Fender guitars of the 70's, with modern additions for added durability and tone sustenance.
A dreadnought, acoustic steel guitar, this axe will remind you of the old blues guitars of the past, with a mahogany body to elevate the vintage acoustic tones. If you've found what you consider to be the best acoustic strings for blues guitar, but need a cheap acoustic to put them on, then dreadnought body, mahogany neck and rosewood fretboard will support and carry those vintage steel blues tones. Other features include a 70's style Fender Headstock and a spruce top. this dreadnought Fender is not one that fans of the vintage, steel acoustic tone want to miss.
Pros: Classic profile and headstock / Premium build at a low price / Dreadnought body successfully carries the steel, vintage acoustic blues tone
Cons: C-shape profile is limiting in fret reach / Fans of modern acoustic may find the dreadnought body and steel-first design a bit out of touch.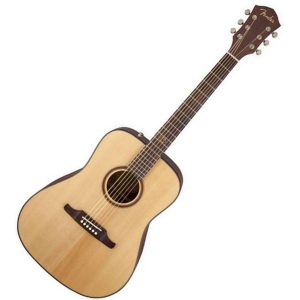 3. Gretsch G9511 Style 1 Single-0 Parlor Acoustic Guitar
Now, here's an acoustic guitar for the true vintage fans. Dedicated followers of blues and rock 'n' roll will notice this Gretsch as a beautiful tribute to the iconic parlor guitars that spawned an acoustic blues revolution.
A brilliant all-round blues guitar, the Parlor shape allows for ease of reach, is a great practice guitar for standard and small-handed players alike, an ideal acoustic for beginner guitarists learning blues music, and even a great guitar for learning how to use a slide, this acoustic really does cover every concern of the avid blues guitarist.
With a surprisingly loud sound emerging from the laminated mahogany body, this new to 2017 parlor acoustic boasts a solid spruce top, classic parlor body shape, rosewood fingerboard and vintage nickel hardware. The Gretsch G9511 is finished in a vintage Appalachia Cloudburst colour, which completes the overall vintage look. Fans of blues looking out for the classic Robert Johnson style blues guitar will not want to miss this one.
Pros: Classic blues guitar styling and build / Stunning hardware and Diamond Inlays / Perfect neck size for beginners and guitarists looking for an alternative to the standard acoustic fit.
Cons: Whilst surprisingly loud, the guitar may not be loud enough for some / Fans of the standard acoustic shape may not like the Parlor styling.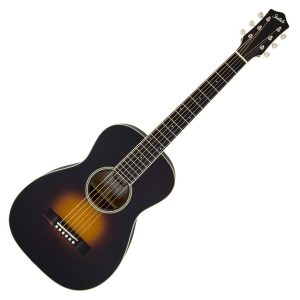 4. Ibanez AVN6 Artwood Vintage Acoustic Guitar – Tobacco Sunburst
Many guitarists associate Ibanez as a guitar brand that solely exists to cater to shredders, rock guitarists and players that just want to play fast. Whilst this is an easy assumption to go ahead with, it couldn't be further from the truth. With an acoustic range used by thousands of notable artists (including Mr. Steve Vai himself), Ibanez have made our list of the best acoustic guitars for blues music with a mid-range model that is more than fairly priced.
The Artwood vintage is no exception, with a traditional take on the classic Parlor acoustic guitar and a faded tobacco sunburst finish to really seal the aged and road-worn guitar look. With features including a mahogany body, a solid spruce top and distressed styling for a weathered aesthetic, the Ibanez AVN6 offers players of all ages and styles a fresh take on the classic blues guitar.
Pros: Classic blues guitar look and feel / Thin neck and body appropriate for both blues and fingerpicking styles
Cons: Fans of the traditional acoustic look, shape and natural finish may not like the pre-worn guitar approach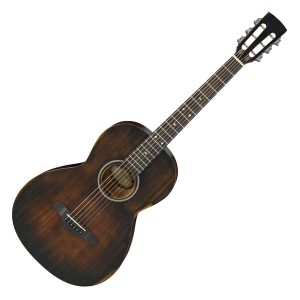 5. Martin LX1 Little Martin Acoustic Guitar – Natural
Considered by many as the classic campfire guitar, the Martin LX1 also makes a great, low cost acoustic for playing blues on the road. If sitting round the campfire is your thing the be sure to take your slide and harmonica with you, as the classic Martin build supports all styles of playing and the mahogany body perfectly resonates the iconic Martin guitar sound, with a surprising amount of sustain and volume for a standard acoustic.
Other points of note from the Little Martin include classic martin hardware and the iconic dreadnought shape which Martin are famed for introducing to the world. Priced around 399, this guitar is the ideal piece of kit for travellers and players who are looking for a durable acoustic guitar that will maintain shape, tone and feel for years to come.
Pros: Great look and overall style / The ideal guitar for players looking for an acoustic that stands out from the crowd
Cons: None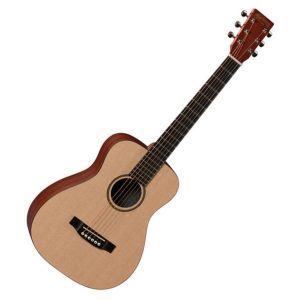 6. Takamine GN93-NAT NEX Acoustic Guitar – Natural
Now, here's a great acoustic guitar and also one of the best guitars for people with small hands, or beginners who are having trouble adjusting to a standard acoustic guitar and are looking for an alternative shape to try out.
The Takamine GN93 is a unique acoustic guitar, with NEX body shape that has a significantly smaller top of the body, with a larger curve and extended bottom half of the guitar. The guitar also has a thin neck, which makes the entire build suitable to guitar players looking for an acoustic guitar for small hands, especially one for blues playing and learning chord progressions on a thinner neck. Other features of the GN93-NAT NEX include a rosewood bridge, bound fretboard and lined sides, gold hardware and black button tuners for a truly unique finish to a fairly priced mid-range acoustic.
If you're in the market for something a bit different then you can't go wrong here!
Pros: Slim body and neck / The ideal guitar for players with small hands / A great guitar for beginners who struggle with a standard neck size / Great overall look and price tag
Cons: Players used to the standard shape and width of a guitar neck may struggle to come to grips with the size-downed attributes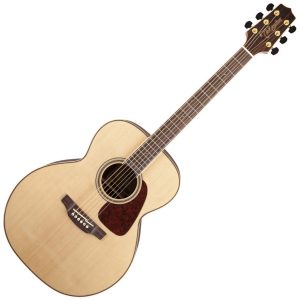 7. Yamaha CG192 Spruce Classical Acoustic Guitar – Natural
Whilst many players go straight to a steel string acoustic guitar, the classical nylon string guitars offer a great alternative for beginners or guitarists looking for something a bit different when playing and learning the blues. The Yamaha CG192 is a brilliant starter if you are looking for a new nylon string guitar.
With a slightly thinner body and neck in comparison to many of the standard classical guitar shapes, this classic acoustic will make a great tool for looking at the acoustic guitar differently, with the almost soothing touch of the nylon strings offering a welcoming alternative to the cold steel of the typical blues guitar. This is a brilliant mid-range purchase and will provide a new approach to the playing of any guitarist.
Pros: Spruce Top / Maple Body / Mahogany Neck and Ebony Fretboard / Natural Finish
Cons: May be considered too much of a standard classical guitar for more traditional blues players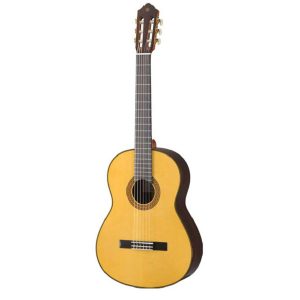 8. Tanglewood TW40 SDD Sundance Dreadnought Acoustic Guitar – Natural
Now, this is an acoustic that is perfect for any blues guitarist, and we've also labelled it as our top pick in this list.
The TW40 SDD is a Dreadnought guitar with a sloped shoulder and solid mahogany build. The supreme build quality and natural gloss finish really add to the overall quality of the guitar, and a rosewood fingerboard ties the guitar together. Other features include a rosewood bridge, dreadnought shape and a great price tag, making this acoustic guitar our best pick of the ideal acoustic guitar for blues on a budget.
Pros: Supreme build quality / Dreadnought shape / Beautiful natural finish
Cons: None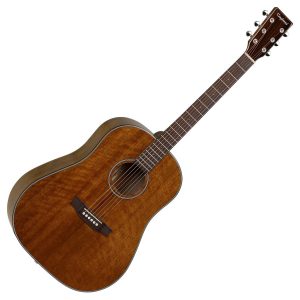 9. Fender PM-2 Standard Parlor – Natural
Another beauty from Fender, this time looking at their Parlor range. Specifically, the PM-2 Standard Parlor in a natural finish. Not only does this guitar looks the part, but the authentic blue shape, build and tone really carry the guitar forward and cement it as a viable alternative to actually purchasing a vintage acoustic parlor guitar to play blues with.
With a mahogany build and modern Fender guitar quality, to the classic guitar shape and vintage natural finish, the PM-2 is as close to a genuine vintage parlor guitar as any modern acoustic will get, and with a very fair price tag this really isn't to be sniffed at! This is also our overall winner, and a beautiful guitar for any blues player to add to their collection.
Pros: Vintage look, modern build / Beautiful acoustic blues tones / Certified Fender quality guitar
Cons: May be too vintage for some guitarists / is primarily suited for old-school blues and slide guitar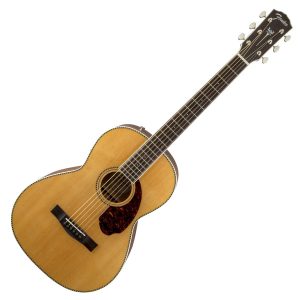 10. Taylor 110e Dreadnought Electro Acoustic Guitar – Natural
The Taylor Dreadnought 110e is the only electro-acoustic guitar we've added to this list, and for good reason. The classic dreadnought shape and the precision-built sapele & sitka spruce boy combination helps to resonate low notes, whilst also providing a crisp-high end on the higher strings.
Not a guitar traditionally suited for slide or shredding blues, this Taylor acoustic is best suited for blues rhythm guitarists or those guitarists who are after a greater tone, and don't mind a larger body-type or thicker neck. Not to say that you can't shred on this acoustic if you want to! Other features include an ebony fingerboard, nubone nute and a sapele neck.
Pros: Amazing tone and price / Superior build quality to many acoustics guitars of this price range
Cons: May be slightly too large for beginner guitarists or players with small hands
11. Tanglewood TW15ASM Acoustic Guitar – Solid Mahogany
Time to check out the TW15ASM from Tanglewood. With a pure, solid mahogany build and a classic dreadnought shape, the TW from the Sundance series is a warm and classically resonant acoustic guitar that breaks into the high-end with a price tag not be argued about. The guitar comes under amazing acoustic guitars for blues under 1000, and is definitely under-priced considering build quality, tone, and classic acoustic dreadnought shape. Check it out at the link below.
Pros: Dreadnought shape and dazzling build quality / Beautiful acoustic tone
Cons: None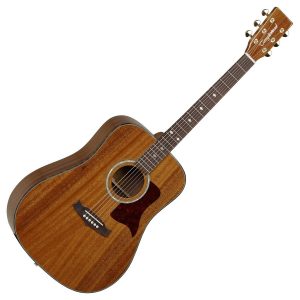 12. Martin D12X1AE 12-String Electro Acoustic – Natural
The final guitar in the list is the D12X1AE 12-string electro acoustic guitar from Martin. No stranger to 12-strings and acoustics in general, if you see any of your favourite guitarists on the big screen with a 12-string. chances are it's going to be a Martin.
With a solid Sitka spruce top, strong mahogany body build and birch laminate fretboard, this guitar is structured from a variety of quality materials, which add to the already warm tone of the 12-string.
A Fishman pickup carries the crisp tone of this guitar when plugged in, and when it comes to playing blues you cannot go wrong with a quality 12-string for taking your jamming to the next level.
Pros: Quality Construction / Crisp Tone & Suited for Blues
Cons: Neck may be a little thick for beginners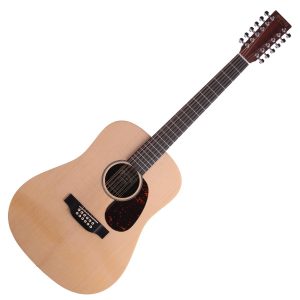 The best accessories for acoustic blues guitar players
Well, you've seen the guitars, but you're going to need the accessories too. Compare prices from our 2 favourite online stores, and grab yourself a good deal on strings, cleaning products, acoustic guitar stands and much more.
| Image | Product | View Price |   |   |
| --- | --- | --- | --- | --- |
| | Fender California Cable, Candy Apple Red | AMAZON | | |
| | Mono M80 Dreadnought Gig Bag | AMAZON | | |
| | B Bird Capo | AMAZON | | |
| | Fender Brass Slide | AMAZON | | |
| | Martin M170 Bronze Strings | AMAZON | | |
| | Jim Dunlop Guitar Care & Maintenance Kit | AMAZON | | |
| | K&M Guitar Wall Mount | AMAZON | | |
Blues Acoustic Guitar FAQ's
If you've got questions about blues acoustic guitars, we've got the answers. If we've missed anything feel free to leave a comment below, and we'll get your question added to the list.
What is the best guitar in this list for finger picking blues guitar playing?
Based on body size, shape, fret width and string material, we would suggest you go for the Martin LX1 Little Martin (particularly if you're a beginner looking to build up your finger picking chops and calluses). This guitar is great mid-way size, and perfect for practicing on the move too.
What kind of wood/material is the best for blues guitarists?
This is all down to your personal preference. When it comes to choosing a guitar for any genre, what you decide on may be different to the next person. Within this guide, you will see guitars of many different sizes, styles and materials, to appeal to each individual guitarists needs. Having said this, the most common material and wood you will come across is mahogany. Why's that? It's sturdy, holds a great tone, and gets the job done across all genres.
Which type of guitar body is the most common with blues guitarists?
Generally you will have the choice between a small body or a jumbo acoustic. When we say small body when it comes to blues guitars, we are usually talking about parlour guitars (such as our winner, the Fender PM-2). Jumbo guitars tend to have a much richer tone, however are not as well-suited to be beginners who are looking to conquer the fretboard first. If you're after an all-rounder jumbo guitar, we'd recommend the Epiphone AJ-220S as a great place to start.
How can I play blues slide guitar on an acoustic without the slide hitting the strings?
To play slide guitar and not hit the string you're going to want to raise the action. This kind of puts your guitar out of action for other forms of playing, so generally most dedicated blues players will have a guitar they used just for playing slide.
What is the small acoustic guitar called used by blues players in the early 1900's?
This style is the parlour guitar, a small-body, thin neck retro classic. It's also our winner in this list.
Demos of Our Top 3 Selections
It's all well and good reading our reviews and top picks, but what do these guitars actually sound like? Let's take a look…
Fender PM-2 Standard Video Demo & Review
Tanglewood TW40 SDD
Taylor 110E Dreadnought
Liked this post? Why not checkout our guide to the best parlour guitars for blues players too!
More from List
---
The Gibson Les Paul is a classic electric guitar that has been a favorite of guitarists for generations. One of …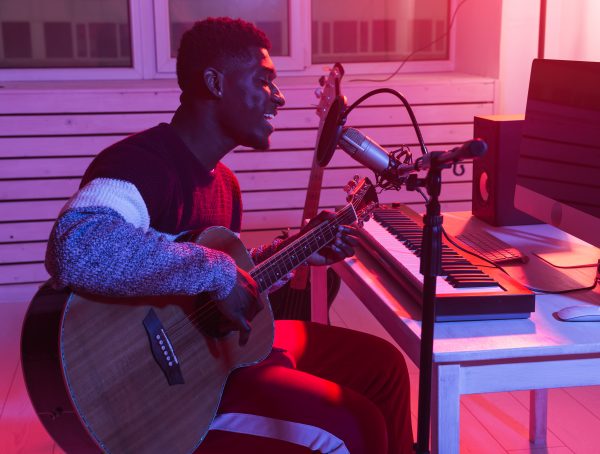 When recording music or audio, the equipment you use can affect the outcome of your production. This is necessary for …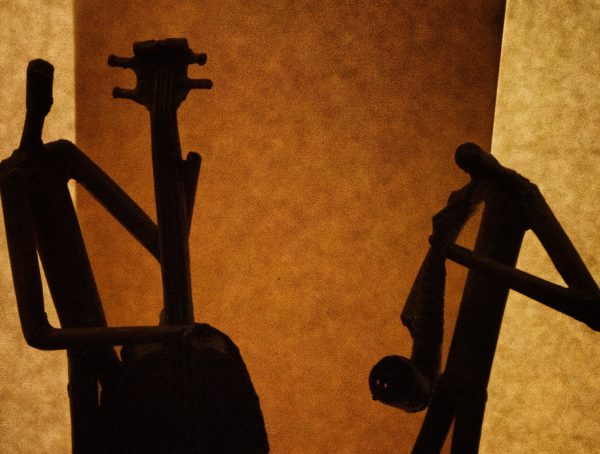 What should you be looking for when buying a gypsy jazz-specific guitar? Well, first of all, hello to you my fellow …
Editor Picks
---