Summary
Sound

Build

Cost

Playability
Fender F-1000 Acoustic Review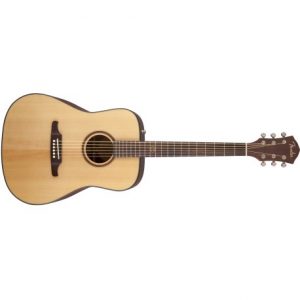 View Price
Does the Fender F-1000 sound as good as it looks?
The Fender F-1000 Dreadnought is a popular choice for those who want a high-quality acoustic guitar for a budget-friendly price. Paying homage to the 1970's Fender F-Series, it brings an essence of the decade with a modern twist. Ideal for beginners and those wanting a steel acoustic tone that's perfect for playing blues music, it has many beautiful features that will be favoured by many. 
Fender know how to make an amazing guitar and this review will talk about the material, specifications, etc. of the F-1000 to help you decide whether it's the right guitar for you.
Build
The Fender F-1000's back and side wood is crafted from beautiful mahogany (with a 'C'- shaped profile that makes it comfortable to use) and its top wood is crafted from spruce. Featuring an elegant natural-looking finish, it has a rosewood Viking bridge and aged chrome hardware that brings out the rich colours of the guitar.  Its quartersawn scalloped 'x' bracing allows for a solid sound, which means it's ideal for every type of playing, from picking to strumming.  
Despite its classic look and incredible craftsmanship, the F-1000 is a lot more affordable than other similar guitars, which makes it a must-have purchase. A trustworthy brand, you will never go wrong with a Fender guitar, whether you are a learner or an experienced guitarist.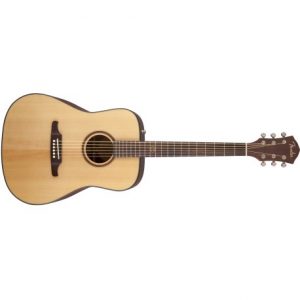 Specifications (need to know bits)
Neck:

Mahogany

Length of Neck:

25.3"

Body Build:

Mahogany with a spruce top

Body Finish:

Gloss Urethane

Number of Frets:

20

Fingerboard:

Rosewood 

Bracing Design:

Quartersawn Scalloped "X"
Sound & Playability (Video Demos)
Pros 
Beautiful and classic design 

Good value for money 

High-quality guitar

Smooth blue tones 

Premium build 
Cons 
'C'-shaped profile means fret reach is limited

A classic design might not be favoured by all
Recommended for
If you are looking for a classic guitar that can deliver a rich sound this guitar is for you. Perfect for those wanting a dreadnought guitar for blues playing, its sounds aren't to be missed. Reminiscent of the 1970s, this vintage-looking guitar is perfect for your first guitar or those who want a more classic-looking model. 
Closing thoughts
A charming and classic Fender guitar, the beautiful craftsmanship of the F-1000 guitar is clear. Boasting an array of elegant stand-out features, from the neat inlay of the maple Fender logo on the 12th fret to the "C"-shaped profile and aged white bridge pins, this acoustic guitar is definitely value for money in comparison to other guitars of a simple vain. Featuring a low action which means that you can play the guitar for hours on end, it promises a delightful sound every time that you go to play it. 
If you're in the market for a high-quality guitar that won't cost you the world, this is the best choice for you. With exactly play-ability and a time-honoured dreadnought design, it showcases why Fender is one of the world's most renowned brands and why it will continue to have that acclaim for many years to come.
View Price
More from Reviews
---
As a guitar player, how do you choose the best chorus pedal? The right chorus pedal can add a huge amount …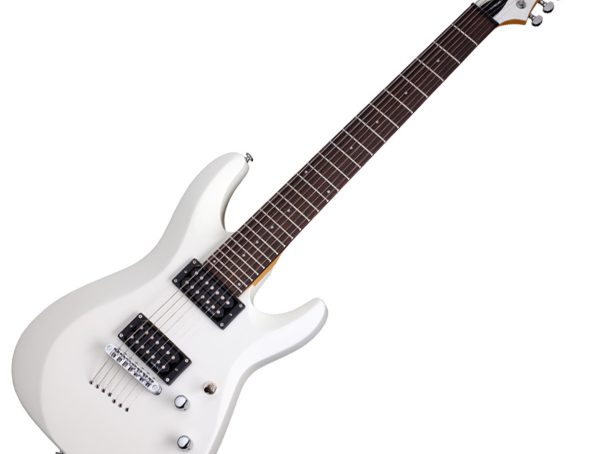 Is the Schecter C-7 the best budget 7-string guitar on the market today? Quick Look It certainly rivals its competitors, but how …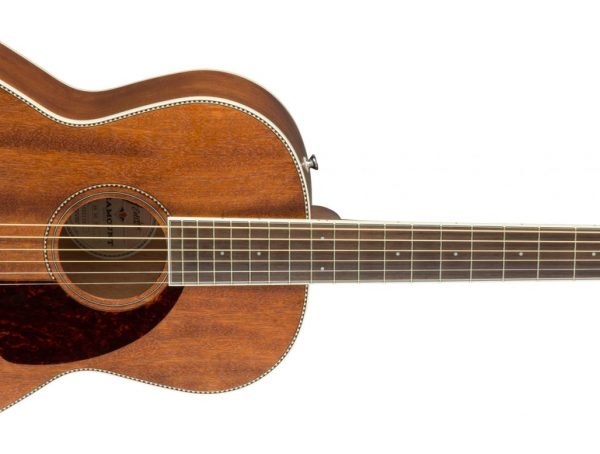 The PM-2 might just be the best parlour guitar from Fender yet. But how does it fare under our extensive …
Editor Picks
---