Summary
Sound

Build

Cost

Playability
Takamine GN93CE-NAT Review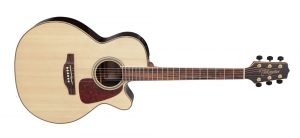 View Price
The Takamine GN93CE-NAT NEX has all the makings of the perfect all-round guitar. If you feel like playing some acoustic tunes, then you can do so as you please. But, it also has electric capabilities that bring a host of additional features to the party. The question we're interested in is; does the GN93CE live up to all the hype? 
Well, we've tested it, we've spent a lot of time feeling it and looking at all the features, and we're ready to review it. If you're looking for a new acoustic/electric guitar, then take a look at what the GN93CE has to offer:
The Low Down – Takamine GN93CE-NAT NEX
Build
Right away, there are a few striking elements that you notice on this guitar from Takamine. Firstly, it's absolutely gorgeous and the color scheme is wonderful. Secondly, there's a unique back construction that's made out of three pieces. Each piece is made from black walnut/maple, but it gives off a very upscale feel. Flip it over onto the front, and the face is solid spruce, and the sides are also black walnut/maple. 
The premium build quality extends beyond the body up to the neck as well. It's constructed from high-quality mahogany with a laurel fingerboard. The tuners are gold die-cast, which goes perfect with the mahogany on the neck. As if this all wasn't enough, you're greeted with a glorious gloss finish that just makes the guitar pop. 
Specs (just the need-to-know bits)
Neck: Mahogany

Body Build: Solid Spruce & black walnut/maple

Overall Length of Body: 43.2"

Number of Frets: 21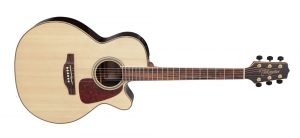 Sound & Playability
Obviously, with an acoustic/electric guitar, you really want to know what the sound is saying. When you use the electric function, you call upon the TK-40D preamp system from Takamine. With this, you get sublime volume and tone control, while also having the ability to control any gain as well. Plus, there's a built-in tuner that ensures your guitar sounds clear and perfect when playing it through the amp. 
But, even when you unplug it, the sound is so crisp and beautiful. The guitar resonates really well too, which helps bring out the different tones and makes it capable of playing a plethora of different music genres. In general, we found the acoustic capabilities excellent for quiet practicing while the electric functions turned it into a performance guitar. 
Pros
Unbelievable sound clarity

Excellent build quality

Very well-balanced guitar

Easy to use
Cons
The high end of the price scale

Quite heavy strings
Recommended For
Anyone can pick up this guitar, but you'll get a heck of a lot of use out of it if you play in pubs or other places; it's a great performance guitar. 
Closing Thoughts
If you're searching for an acoustic/electric guitar combo, then the Takamine GN93CE-NAT NEX is right up your street. We wouldn't say it's the best for beginners – maybe work up to this first. But, for anyone who performs regularly or just loves the electric sound with the acoustic style, then this is perfect for you. 
View Price
More from Reviews
---
As a guitar player, how do you choose the best chorus pedal? The right chorus pedal can add a huge amount …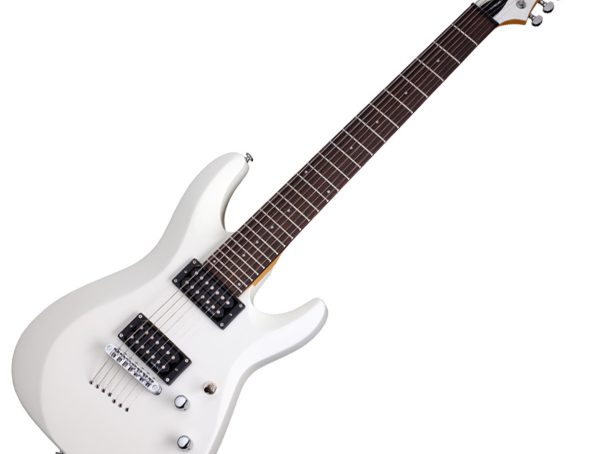 Is the Schecter C-7 the best budget 7-string guitar on the market today? Quick Look It certainly rivals its competitors, but how …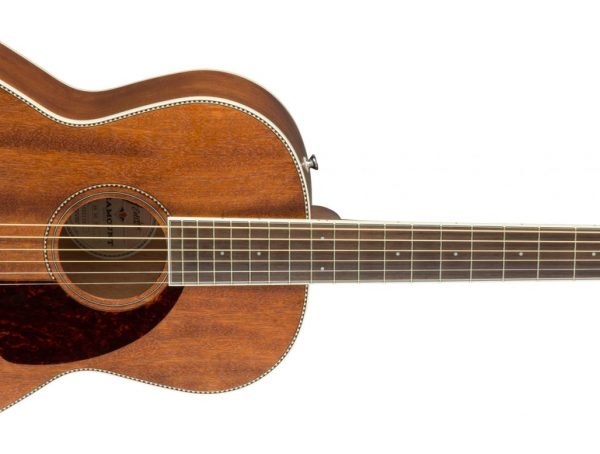 The PM-2 might just be the best parlour guitar from Fender yet. But how does it fare under our extensive …
Editor Picks
---