Sound

Build

Cost

Playability
Martin LX1 Review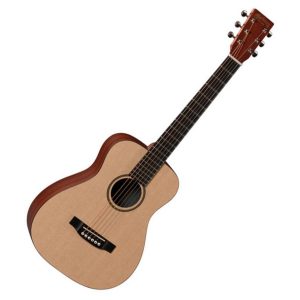 View Price
The LX1 Little Martin acoustic guitar certainly lives up to its name. As soon as we took it out of the box, we noticed how small it was. When it comes to the visuals, it almost looks like how you'd imagine a classic acoustic guitar. That pale wood body and black neck combination; it's very pleasing to look at. 
Of course, we're not just interested in looks; we want to know how well it plays, what it's made out of, and the key pros and cons. So, here's our review of the LX1 Little Martin:
The Low Down – LX1 Little Martin Acoustic Guitar
Build
The Martin LX1 Little Martin may be small, but it's big on build quality. The body is constructed out of a combination of solid Sitka spruce with high-pressure mahogany laminate. The back and sides get the laminated treatment, while Sitka spruce sits on the top. If you've bought a Martin blues guitar before, then you'll know this is a pretty standard combo for the body. 
Moving up the neck and we have a rust birch laminate material with an FSC Certified Richlite for the fingerboard. One of the beautiful things about both the neck and the body is that they have a hand-rubbed finish. For us, this gives the guitar a more authentic and classic look.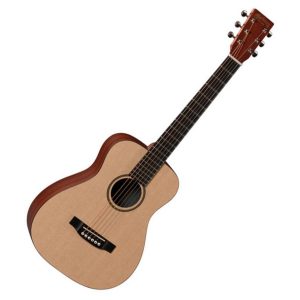 Specs (just the need-to-know bits)
Neck: Rust Birch Laminate

Body Build: Solid Sitka Spruce/Mahogany Laminate

Overall Length of Body: 23"

Number of Frets: 20
Sound & Playability
The size of the LX1 Little Martin acoustic guitar makes it so easy to play. It's the ideal size for beginners or anyone who has a bit of trouble cradling the larger guitars out there. However, the smallness does have one slight downside; it won't project sound that well. At least, not compared to some of the larger Martin blues guitars out there. 
But, we argue that this guitar was never created to be a big performer on stages. It has such a balanced sound to it; every single note and tone feels perfectly in tune and is audibly very clear. There's a real warmth to the guitar when you strum chords that almost makes you feel like you're sat around a campfire with your friends. 
Pros
Sounds fantastic

Is very easy to tune (and stays in tune for a long time)

Easy to carry and hold

Looks beautiful

Very well built
Cons
Doesn't reach high volumes

Lacks the tonal depth of larger, better, models
Recommended For
Beginners who want a high-quality guitar to practice on, or just any casual players that like playing at home, in the park, or anywhere that's not a stage!
Closing Thoughts
We had a lot of fun with the Martin LX1 Little Martin as it took us back to the early days of picking up a guitar for the first time. You will fall in love with this small guitar when you first lay your hands on it. The sound is so warm and pure, it feels so well made, and you can play all sorts of music on it. 
So, if you're searching for an excellent all-round guitar that works well for newbies and veterans alike, this is a fantastic choice. 
View Price
More from Reviews
---
As a guitar player, how do you choose the best chorus pedal? The right chorus pedal can add a huge amount …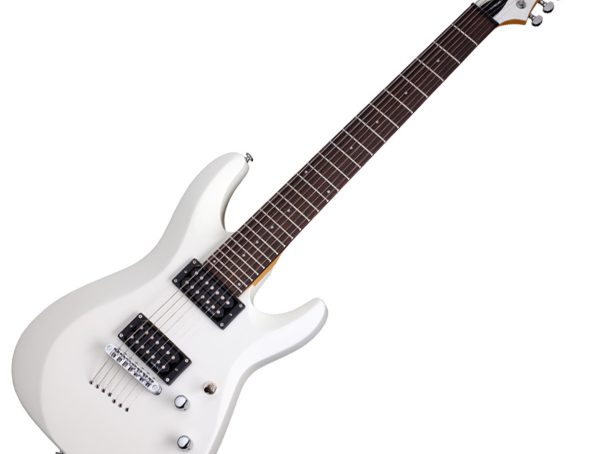 Is the Schecter C-7 the best budget 7-string guitar on the market today? Quick Look It certainly rivals its competitors, but how …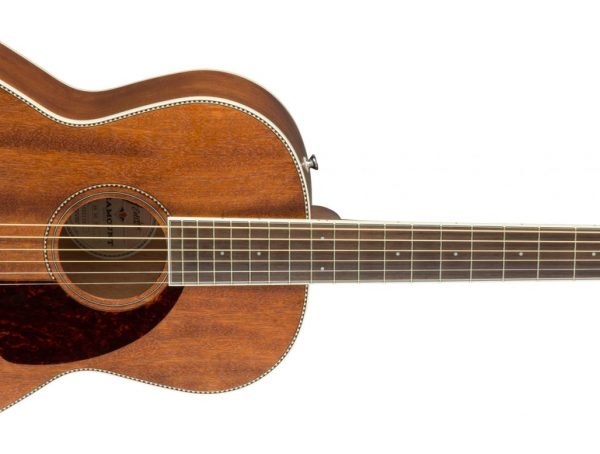 The PM-2 might just be the best parlour guitar from Fender yet. But how does it fare under our extensive …
Editor Picks
---