Summary
Sound

Build

Cost

Playability
Epiphone AJ-220S Review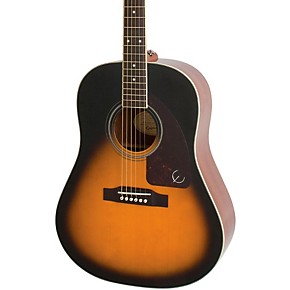 View Price
What makes the Epiphone AJ-220S Guitar stand out from the crowd?
The Epiphone AJ-220S acoustic guitar is a well-rounded guitar that's ideal for both beginners and professional guitarists. Delivering a crisp and rich tone with a loud projection, its beautiful craftsmanship demonstrates Epiphone's experience in the industry. Whether you want to fingerpick, flatpick or strum, this guitar is the choice for you. Available in a choice of colours, from natural to Vintage Sunburst, Trans Blue and Mahogany Burst, you're guaranteed to find the right design for your taste. 
Throughout this review, we'll discuss the material, its specifications and more to help you decide whether the Epiphone AJ-220S is the best acoustic guitar for your needs.
Build
No matter what colour you get the Epiphone AJ-220S in it's guaranteed to please. Featuring a solid Sitka spruce top, mahogany side and back, small round upperbout, rosewood fretboard and nickel hardware, it will turn heads no matter what you are using it for.
The build not only makes the guitar incredibly durable and long lasting but as it's on the larger scale of guitars it will create a broad dynamic range. Its Sitka spruce top will mature beautifully throughout the time that you have the guitar, warming in colour which will bring out the elegance of its craftsmanship.
The Epiphone's dovetail neck joint also allows the neck and body of the guitar to stay stable, without compromising on the tone that it delivers. 
Sound & Playability (Video Demos)
Specifications
Top Material: solid Sitka spruce 
Body: Mahogany
Overall Length of Body: 25.5"
Hardware: Nickel
Number of Frets: 20
Neck Profile: SlimTaper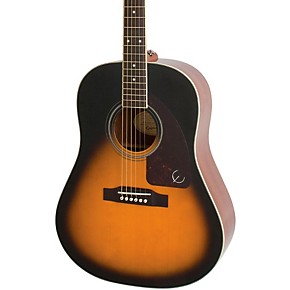 Pros
High-quality and durable 

Affordable price 

Great playability 

Selection of colours 

Loud projection and rich sound 
Cons
Difficult to reach upper frets because of shape

Large size means it's not appropriate for all ages
Recommended for
The Epiphone AJ-220S is appropriate for those wanting a blues guitar or those wanting to play acoustic music. The ideal introductory guitar, the neck on the Epiphone allows for honing speed and chord issues, which will help with learning.
For more seasoned professionals, it allows for brilliant playability and a full-range tone which makes it perfect for performing or recording in the studio.
Closing thoughts
If you are looking for a guitar that will give you a rich tone, a loud projection that will make your guitar heard, is easy to play and gives you the flexibility to either play blues music or acoustic (amongst other genres) the Epiphone AJ-220S is the guitar for you. Its price reflects its incredible design and its durable build means that you can enjoy the guitar for many years to come. 
Showcasing the legendary sound heard by the Advanced Jumbo Epiphone designs, it harks back to a classic style favoured by many in past years. A beautiful looking guitar that will have everyone asking where you got it from, its affordable price means that you can get a high-quality and excellently crafted guitar for a fraction of the price of similar makes. 
View Price
More from Reviews
---
As a guitar player, how do you choose the best chorus pedal? The right chorus pedal can add a huge amount …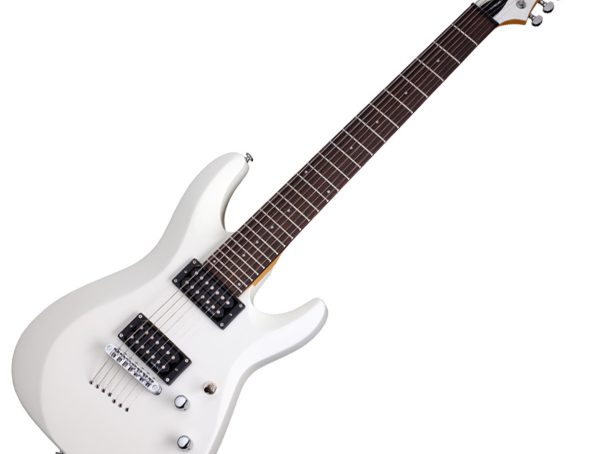 Is the Schecter C-7 the best budget 7-string guitar on the market today? Quick Look It certainly rivals its competitors, but how …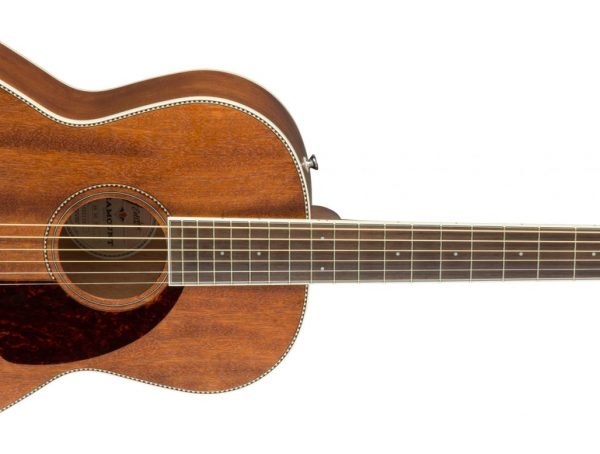 The PM-2 might just be the best parlour guitar from Fender yet. But how does it fare under our extensive …
Editor Picks
---