Looking for a miniature guitar amp (with a headphone jack) that still packs a punch?
You might be landing on this post and thinking…woah…this super specific! Well, you'd be right! The reason we've gone so specific is that, especially during lockdown, many guitarists have been forced to asses their larger amps and look to scale down in the interest of noise reduction and saving space in the home.
With this in mind, we've looked at ten of the best amps that not only are super small, but also have headphone support for even quieter jamming. Let's have a look.
Ten of the best mini guitar amps of 2021
1.
VOX AP2AC amPlug 2 AC30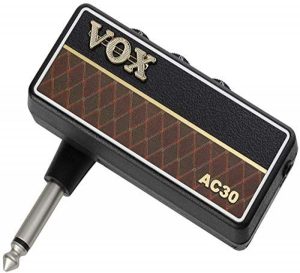 The VOX AP2AC mini guitar amplifier's crucial analog circuit has been modified to provide more apparent sound. 
This device allows you to use a tremolo circuit and nine selectable effects with three types of delay, chorus and reverb. It also features three amps modes, amPlug G2, AUX input, auto power-off function, and folding plug mechanism that rotates 180 degrees to fit the guitar and improve convenience and ease of use.
Pros:
It has three channels for different tones

Compact and lightweight

Clearer and organic sound
Cons:
High price.

The plastic casing is prone to breaking.
Check Price
2. Kithouse B6 Amplifier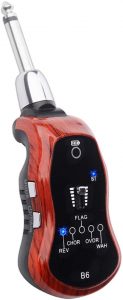 Kithouse B6 has a lot to love, including rechargeable batteries and buttons on the side to allow instant settings adjustments. This palm-sized amplifier offers output features that enable you to connect directly to wired headphones or speakers.
If you need wireless, Kithouse comes with a BlueTooth receiver for background music. This mini guitar amp supports five sound effects, including Reverb, Chorus, Override, Flanger, and Wow Wah 5.
Pros:
Output to speakers

Bluetooth function

One of the best smallest guitar amps

Rechargeable
Cons:
Some times it losses audio on wireless mode.
Check Price
3. Ammoon Guitar Headphone Amplifier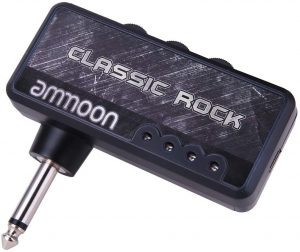 Ammoon headphone electric guitar amplifier comes with a real analog circuit that stimulates authentic amps' response. It has a ⅛ inch (3.5 mm) phone jack that allows you to play your guitar with headphones on high volume without bothering neighbors.
This headphone amp features an AUX input jack to allow you to play along with your MP3 player, classic rock distortion, and control knobs. It also comes with an in-built rechargeable battery.
Pros:
USB charger capable is included.

Has LED to display charging and remaining power status
Cons:
Some consumers have mentioned noisy sounds.
Check Price
4. JOYO JA-03T "Tube Drive" Amp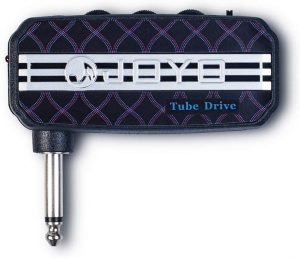 JOYO JA-03T guitar headphone amplifier is a tube drive sound amp powered by 2× AAA batteries. This mini guitar amp has a plastic casing that houses the amplifier circuitry jacks for stereo headphones and an AUX  for MP3 or CD player.
This amp features three controls,: volume, tone (treb.), and gain (dist.). It provides a super lead sound effect directly from your guitar. JOYO guitar amp models are available in silver and black colors.
Pros:
It has a power indicator

Color options

It's a pocket-size amp.
Cons:
The overdrive can be a little muddy 
Check Price
5. Donner Guitar Headphone Amp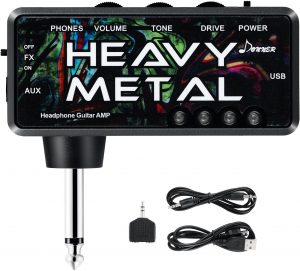 The Donner mini guitar amp is a pocket-size plug-and-play mini amp with a built-in rechargeable battery. It provides a great guitar playing sound that's based on Soldano. This amp also allows you to turn on the FX Function (chorus).
It features an AUX input jack that lets you play your guitar along with MP3 or CD player. Donner amp also has a clean or distortion channel, volume, tone, or gain.
Pros:
Comes with a USB charger cable

Capabilities to offer a wide range of tones

30 days unconditional money back guarantee.
Cons:
Doesn't have a noise gate or canceller.
Check Price
6. Valeton Rushead Max Guitar Headphone Amp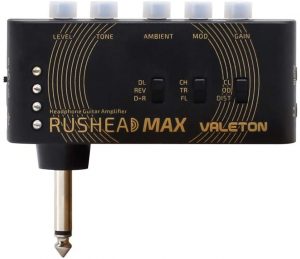 Valeton Rushead Max is an all-in-one mini headphone amp supporting a variety of different effects and sounds. It features a switchable MOD module with Tremolo, chorus, and Flanger for your tone demands.
It allows you to add ambience in the tone using its switchable ambient module. This device also comes with an AUX input for jamming along with other audio players.
Pros:
Onboard USB charger

Clean/distortion, and override modes.

Has a cab sim to improve headphone output.
Cons:
Check Price
7. JOYO Guitar Headphone Amp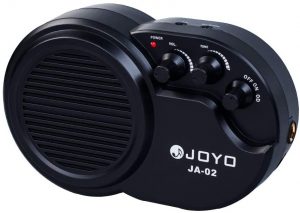 JOYO is one of the best mini guitar headphone amps that offer DC9V (input) and 6F22 battery (included) options. It Provides three controls: volume, gain, and tone. This amplifier has a big speaker and clean/distortion effect settings for stimulating the original playing sound.
Pros:
Comes with a power usage and charging indicator

Has a compact and transportable.

Power input options
Cons:
Its battery doesn't last long
Check Price
8. Orange MD20 Micro Dark Mini Guitar Amp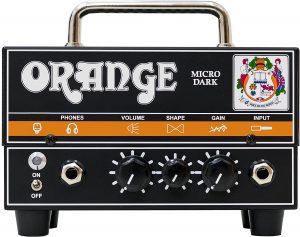 The Orange MD20 Micro Dark amplifier is a simple and portable hybrid electric amp with huge tones. It puts heavy high-gain tones to clean and original sounds and effects. 
It features high-gain preamp, solid state hybrid amp head/single channel valve, fully buffered effects loop, cabsim-loaded headphone input and, shape, gain, and volume controls. The amp offers 20 watts which is plenty for practice, rehearsals and several gigs.
Pros:
Easy-to-navigate control layout

Quality sound and effects

Excellent output to headphones than other mini amps
Cons:
The price is relatively high than other mini amplifiers
Check Price
9. Sonicake US Madness Plug-In Amp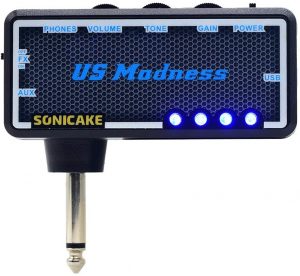 SONICAKE US Madness mini guitar amp is a small amplifier ideal for bedroom guitar effects with headphones for silent playing. It has a dynamic clean tone created for both bass and guitar. The built-in chorus effects add some sonic dimensions to the produced tone.
This mini amplifier comes with a headphone splitter and AUX cable providing more possibilities for different contexts of use. The SONICAKE has a rechargeable battery and a USB chrger included.
Pros:
It's a great amp for bassists. The bass sound is amazing.

Has a built-in chorus

Offers 5 hour continuous operation
Cons:
Working out the settings can be tricky
Check Price
10. Ammoon Mini Rechargeable Amp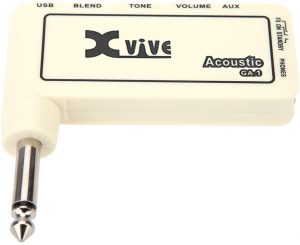 The Ammon Mini Rechargeable Electric Guitar Plug Headphone Amplifier is designed with three control knobs: volume, tone, and blend. It allows you to use a headphone jack to connect the headphones, a speaker, or mixer.
It comes with an AUX jack that allows you to connect an external CD/MP3 or any audio device. It has an in-built battery and comes with a USB charging cable.
Pros:
Compact size and light-weight design

Has an in-built rechargeable battery

You can connect to a portable speaker, headphones, mixers and external audio devices.
Cons:
Has a shorter battery life
Check Price
Buying advice for mini headphone amps
Size
The main thing you need to be aware of with these amps is that, by their nature, they are small. This makes them amazing as a practice amp, but not necessarily great if you're looking for something with a well-rounded tone. The best approach is to get one like those reviewed in this list that can sustain both a mild overdrive and an overall lovely clean tone, which you won't be stuck for in this list.
Sound
Not only are these cheaper amps, but they are also smaller than even a standard bedroom practice amp. Naturally, the overall tone will suffer. For me personally this isn't an issue as I want this type of amp purely to practice with, so it's not like it's going ot be used on any live recordings!
Price
The upside with these smaller types of headphone amps is that they're on the cheaper side… and that's something we should celebrate!
Conclusion
When it comes to a compact amplifier option that literally fits in your pocket, you can't go wrong with those in this list. Have a browse, have a listen, and you'll be jamming your favourite tunes with a tiny amp in no time!
More from Amplifiers
---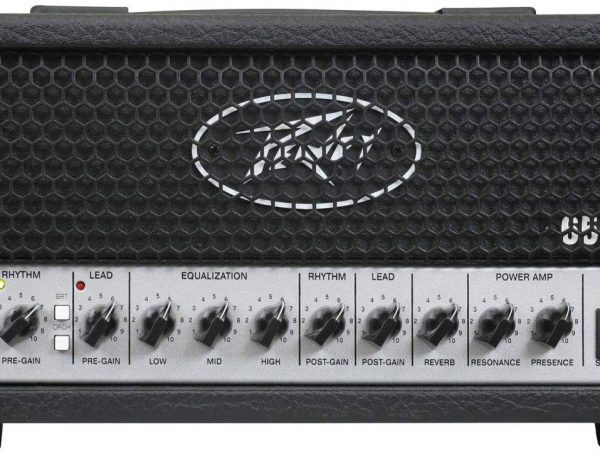 How does the Peavey 6505 Mini Head compare to larger amplifier heads? Here we're going to be taking a little look …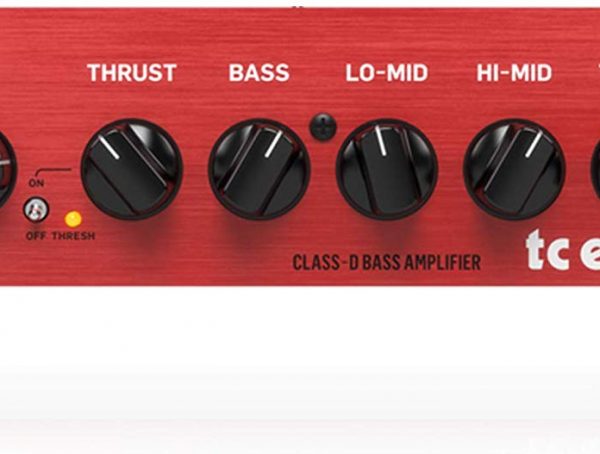 Is the TC Electronic BQ250 one of the best bass amp heads on the market? Let's find out in this review. …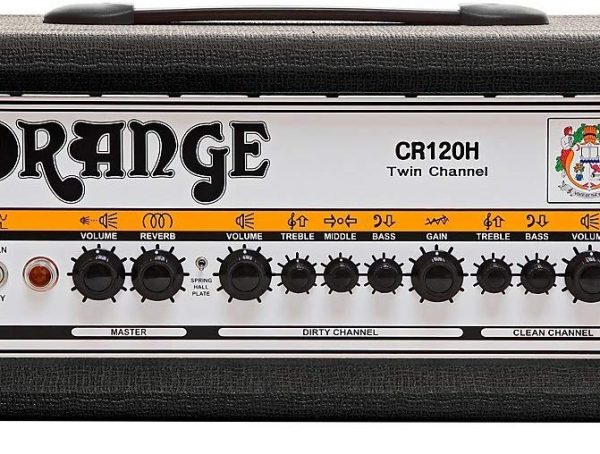 How good is the Crush Pro CR120H from Orange Amps? When it comes to Orange amps, their reputation is pretty grand. …
Editor Picks
---