Fender Acoustasonic 15 Amplifier
Features

Build Quality

Size

Price
Arguably one of the more popular amplifiers for acoustic musicians and travelling guitarists, the Acoustasonic range in general is a sheer stroke of masterpiece by Fender. But, with larger models in the range on offer, what does the smaller 15 watt amp have to offer? Let's get in to it.
The Acoustasonic amplifier series is a buskers dream – how does the 15 fare against more expensive models?
Quick Look
At a purely aesthetic level, it's hard to deny that this amp doesn't look amazing, It has that vintage vibe that sort of gives you a vintage Telecaster vibe, with the brown and wheat combined styling which give it that stripped-back, minimal look. Combined with that pastel brown on the control board and you're dealing with a seriously cool looking amp.
But enough about how you'll be turning heads with the Acoustasonic 15 when walking down the street… What settings, features and twiddly bits does it come with, and why should you care?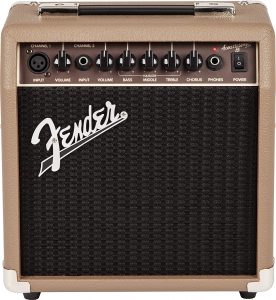 View Price
Features
As the amp is quite clearly on the smaller side with the 15 watt output, then you know you're not dealing with a hefty amp to travel around with. And, if you're looking for the type of amp to take on tours or on the road, then why would you want a 500 watt behemoth to just plug in and play anyway?
This is a solid state, portable amplifier, meaning that in simple terms it's relying on modern tech to give yo a crisp output, and none of them old-school tubes you hear the purists (quite rightly) raving about.
It's a 2-channel amp with both jack and XLR slots, which are mostly common used as one guitar and one mic input. This is why we immediately referred to the Acoustasonic 15 as the right type of amp for a busker as it's just so simple to plug in and play.
In terms of the settings on the amp there's a a volume knob for each channel, then a bass, middle, treble, and a very quirky chorus effect which will give you rhythm section a noticeable shimmer.
There's one 6 inch woofer (or, speaker) set against a standard black grate with Fender branding. The colour is as previously described, or if you want a better comparison it looks a bit like a Worthers original!
What we really like about the Acoustasonic 15, other than everything we've already mentioned, is that it doesn't over complicated things. It's not priced excessively, and rightly so considering that what's on offer is as straightforward and uncomplicated as it needs to be. Fender could've gone overboard with effects and added channels to try and appeal to everyone, but they haven't, and its very refreshing.
Features Summary:
Weight: 4.7kg
Portable? Yes
Power: Mains / No battery option
No of channels: 2 (Jack & XLR)
Additional Effects: Chorus
Dimensions: 29x28x18
Video Demos
Alright, you've heard us drone on about just how special of a small amp this is. But, let's face it, you need to hear what it actually sounds like in action, Feast your ears on the below:
Pros
Very well-built and robust
Classic vintage styling – it just looks incredible
No-nonsense, does what it needs to do
Ideal for acoustic guitarists and buskers from a 'plug in and play' perspective
Lightweight and easy to travel with
Cons
Will be lacking in onboard effects for some guitarists
15 watts just isn't very loud for anything other than bedroom guitarists or buskers. Anything else will require additional amplification.
Who's the Fender Acoustasonic 15 amp for?
Let's cut straight to who this isn't for first. It certainly isn't for the types of guitarists who like to play big and loud, and it definitely isn't for those that want to get buried into onboard effects before even strumming a chord.
This is a stripped-back, simple amp that does what it built to do; make your guitar (or mic) sound fantastic, and carry a true tone that isn't muddied by additional effects, controls or complications.
Conclusion
Surprise surprise, we love the Acoustasonic 15 and can't praise Fender enough about it. There are others in the range like the 40 and 90, but if it's a compact amplifier you're looking for then this is the one to get the job done.
View Price
More from Amplifiers
---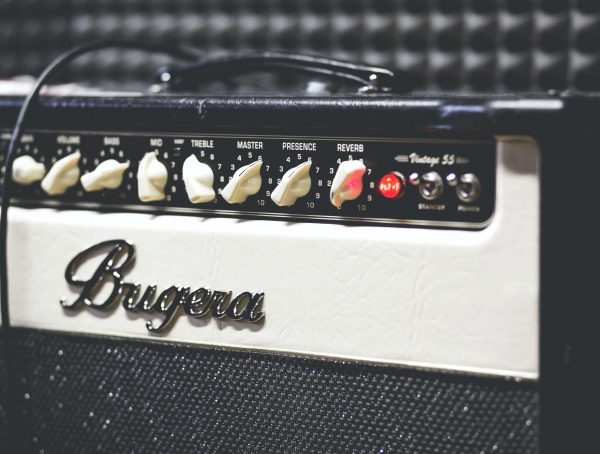 Looking for a miniature guitar amp (with a headphone jack) that still packs a punch? You might be landing on this …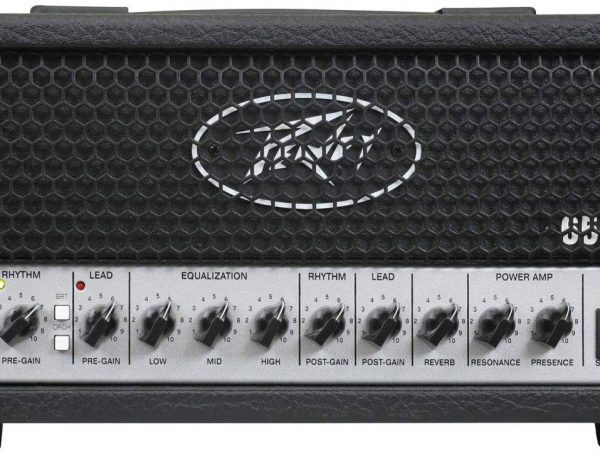 How does the Peavey 6505 Mini Head compare to larger amplifier heads? Here we're going to be taking a little look …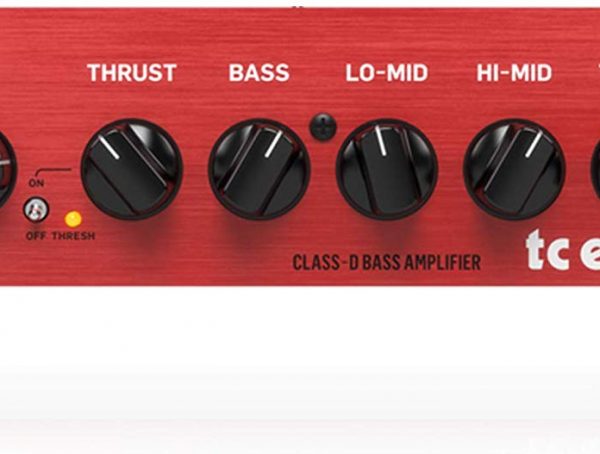 Is the TC Electronic BQ250 one of the best bass amp heads on the market? Let's find out in this review. …
Editor Picks
---