Best Budget
Gretsch Jim Dandy
A fantastic, compact budget parlor guitar
Best Overall
Tanglewood TWJP
The build quality alone makes this the top parlor guitar in our guide
Best Premium
Gretsch G9201
For the guitarists looking to splash out on a vintage-style parlor guitar
Looking for an acoustic parlour guitar for your exact playing style?
Updated in January 2020 with new guitars, demos and an FAQ section
With the recent rise in popularity of retro blues music and a look back to vintage styling, musicians are flocking to old guitar stores and spending thousands on very old, very expensive guitars in an attempt to imitate their idols. And who can blame them? Well, there's no reason to spend this much.
We've found the 10 best parlour guitars for blues music and acoustic blues that won't break the bank. You can still play the blues music you want to, and you will definitely still look the part, but most importantly, you'll have enough money for a fly suit and a double JD and coke for when you get to that jazz club with your retro-looking (but secretly brand new) vintage parlour acoustic guitars.
Jump To: Reviews | Demos | FAQ's
Top Ten Parlour Guitars – Quick Look 
1. Tanglewood Sundance Delta TWJP – Acoustic Parlour Guitar – Natural Finish
The first guitar in our list is also one of our favourites. Tanglewood are primarily known for making classic dreadnought acoustic guitars, with a brand that is proven to produce classic steel string acoustics, time and time again.
Despite its classic parlour shape and size, the Tanglewood TWJP is a surprisingly loud and warm guitar, with a tone that resonates along the solid mahogany body. Other features of the this parlour include a mahogany neck and rosewood fingerboard, with a natural glossy finish. Priced much lower than it should be, if you're looking for a premium parlour guitar at a mid-range cheap price, then the Delta TW40 PD might just be the one for you.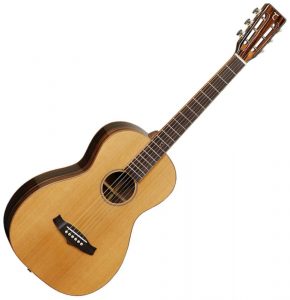 2. Blueridge BR-371
The BR-371 from Blueridge is certainly the most expensive in this guide, however it's easily one of the nicest parlour guitars that our staff at Guitaarr can agree on, in terms of both playability, looks, and the surprisingly full-bodied tone that can be achieved when playing.
We haven't made it our top pick but rather the runner up, based on that we feel it's a little too plain for what we look for in a blues guitar from a purely cosmetic perspective. The guitar has a solid spruce top, a beautiful rosewood back and sides, and a mahogany neck that aids when playing blistering blues runs and soulful slide guitar.
If you've just come in to a bit of money or want to splash the cash and get serious about an acoustic guitar for playing blues and country, then definitely gives the Blueridge a thought.

3. Washburn R314K Vintage Series Parlour Acoustic Guitar – Natural Red Finish
A defining staple in the vintage series from Washburn guitars, the R314K Vintage Parlour Acoustic is as classic and vintage as these kinds of guitars get.
Modelled after the very first parlour guitars that emerged at the start of the 20th century, the Washburn Parlour is a testament to the craft of the long-standing guitar brand, and shows that they don't only focus on electric guitars and axes built for shredding (contrary to popular opinion).
With features including a spruce top and mahogany neck combination, the Washburn R3 parlour has both the authentic look and genuine tone of a vintage Parlour acoustic. Priced at £479, this is an authentic mid-range parlour guitar for players looking to get serious with their blues music and retro acoustic guitar collection.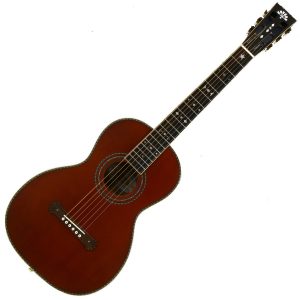 4. Gretsch G9500 Jim Dandy Flat Top Acoustic Guitar – 2-Color Sunburst Finish
The true gem in the crown of authentic vintage guitars, and the brand that every retro guitar fanatic thinks of when anyone mentions the defining vintage guitar brand, Gretsch have extended their line of legendary electrics to include a look into beautiful Parlour guitars.
The G9500 Jim Dandy is a look back at the original Rex line of guitars from Gretsch. Rising to prominence in the 30's, these parlour guitars introduced a whole generation to blues music, and brought acoustic blues and guitar music into the mainstream.
The Jim Dandy Flat Top had features which include an agathis body, a rosewood fingerboard and classic nickel-plated vintage guitar hardware. Get it at an amazingly low £187 at the link below!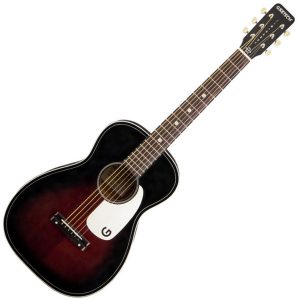 5. Eko NXT Parlour Acoustic Guitar – Natural Finish
The NXT is almost a hybrid between a classical guitar and the vintage, natural finish of the very first parlour acoustic guitars. With a small body shape that is an iconic feature of the late 19th century parkour guitars, this truly is as vintage and original as a retro parlour acoustic guitar can get.
Features of the Eko NXT include a solid cedar top, laminated mahogany body, and a rosewood fingerboard. If you need an authentic, vintage acoustic guitar, then give this one a look over. It's also incredibly fairly priced, and carries a thick, well-rounded tone from what is a very small body even by parlour guitar standards.

6. Fender Cp-60s Sunburst
Next up is the beautifully retro Fender small-body acoustic. In the classic sunburst, smokey effect, this guitar is fantastic for beginners and even seasoned players looking for that super retro, parlour guitar vibe without the hefty price tag of actually buying a real early 20th century acoustic.
With a spruce top and a mahogany body, this guitar is also built to last. And if you've been wondering if parlour guitars are good instruments to travel with, then just pack this thing up and go; super light, durable, and worth every cent.

7. Gretsch G9201 Honey Dipper in Metal
If you're looking for that retro, metal blues guitar which you've seen all the old blues players using, then this is about as close as you'll get without shelling out the big bucks.
Referred to as resonator guitars, the G9201 is a metal parlour resonator blend, with a nickel plated brass body, mahogany neck and rosewood fingerboard. Also note the f holes! This acoustic parlour guitar is just amazing, absolutely brilliant for slide and blues, and is our overall favourite (and at the top of our list).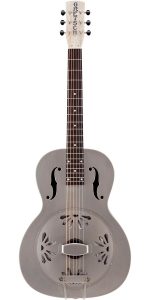 8. 

Gretsch G5021WPE Rancher Penguin Parlour 
The penguin parlour guitar from Gretsch is a crisp, white beauty, and a retro throwback to the stylings of old. This is as quintessentially Gretsch as it gets, with the unique thumbnail fingerboard inlays, custom sound hole, clear white colouring and gleaming gold machine heads. This is also electro-acoustic, with a built-in preamp yet subtle display, and a body size that suits both acoustic playing and electric playing when plugged in.
Compact, precise, with a beautiful tone and a body size that makes this guitar great for gigging blues players and buskers looking to take their slide runs and pentatonic scales to the masses.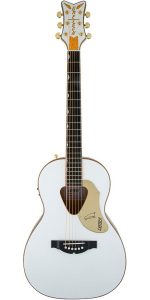 9. 

Eastman E20P-SB Parlour Guitar
Now we're really getting into the premium range. For players looking to really splash out and begin to take their blues playing seriously, we cannot recommend the Eastman range enough.
The E20P-SB is on such guitar in this range. We have really fallen in love with the classical-esque neck and headstock of this guitar, which is a really unique fuse of the different classic types of guitars. The sunburst backdrop illuminates the body, giving this guitar a crisp throwback to the original parlour guitars it is inspired by. Overall a fantastic guitar.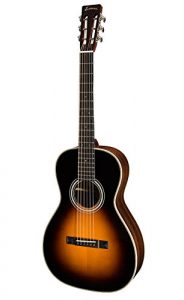 10. 

Washburn Vintage Series R320SWRK Guitar
This final guitar in our list reminds us of a certain Ibanez electric guitar….Anyone know what it is? Let's just say Mr.Vai would approve of the neck and fret design, that's for sure!
The R320SWRK is fresh out of the Washburn Vintage Series range, with a carefully crafted blend of materials to make this old school throwback built to last. This natural parlour guitar comes constructed with a spruce top, rosewood back and sides, an ebony fingerboard and a solid ebony bridge.
What does this mean to the average player? It means build quality is assured, so if you love the way this guitar looks then we recommend you take the plunge! 

Video Demos & Reviews of Our Top Selections
Whilst the Parlour guitars in our list look great, you're going to want to know how they sound too. Below is a selection of a few of our guitars in this best-of. Happy viewing!
Tanglewood Delta Parlour Demo
Nineboys Tonk Bros Demo
Washburn R314K Vintage Series Demo
Gretsch G9201 Honey Dipper
Parlour Guitar Accessories & Must-Haves
| Image | Product | View Price |   |   |
| --- | --- | --- | --- | --- |
| | Fender California Cable, Candy Apple Red | AMAZON | | |
| | Mono M80 Dreadnought Gig Bag | AMAZON | | |
| | B Bird Capo | AMAZON | | |
| | Fender Brass Slide | AMAZON | | |
| | Martin M170 Bronze Strings | AMAZON | | |
| | Jim Dunlop Guitar Care & Maintenance Kit | AMAZON | | |
| | K&M Guitar Wall Mount | AMAZON | | |
Parlour Guitar FAQ's, History and Commonly Asked Questions
Whether you want to know the history behind the parlour guitar, their more common uses in genres, or even if you're wondering the common material used to craft these beautiful guitars, we've added a handy section to help.
What's the history behind the Parlour guitar? 
Parlour guitars are rose to prominence in the early to mid-20th century, with a sharp increase of blues and jazz players flocking to purchase this style sue to their low price and compact build, perfect for the travelling musicians looking for a gig in the depression era. You can learn more about the history of the guitar here.
Why are parlour guitars commonly used for blues music?
As stated above, blues musicians and guitarists would commonly use parlour guitars as they were much cheaper than wide-bodied acoustic alternatives. The guitars are more commonly used for blues as they generally have a thick sound, a wide neck and a higher action which makes them perfect for playing slide guitar.
How much should I pay for a Parlour guitar?
Modern parlour guitars are much cheaper than you would think, with a premium option starting around 500 dollars/pounds. The vintage models are much more costly, as you will be paying for the age of the instrument (unless you're a collector with a large amount to spend we recommend sticking to the modern reincarnations such as those listed in our guide).
What is the exact definition of a Parlour guitar? How do I know what to look for?
These guitars have a much smaller body than any standard alternative acoustic range. The neck joint scale usually ends at the 12th fret, however different brands do vary. Look out for the size, which is a great place to start.
Why are they called Parlour guitars? 
This is another reference back to the time in which this guitar shape/range rose to prominence. The name refers to Parlours in retro clubs, bars and music halls where musicians would commonly play. The name also refers to an old term for concert halls or venues,  usually a smaller venue than the average modern-day gigging space.
Are Parlour guitars good for travelling?
Their compact size and lightweight build make these the perfect travelling guitars.
Not found what you're looking for? Check out the best acoustic guitars for blues players guide for more options, or be sure to check out our travel guitar buyers guide to find the perfect 3/4 or smaller guitar for you.
More from List
---
The Gibson Les Paul is a classic electric guitar that has been a favorite of guitarists for generations. One of …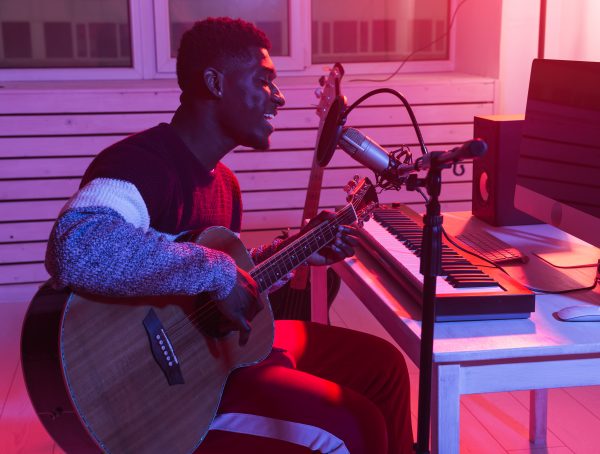 When recording music or audio, the equipment you use can affect the outcome of your production. This is necessary for …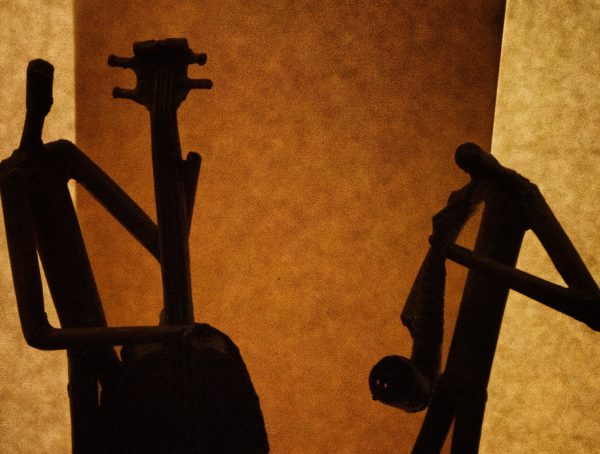 What should you be looking for when buying a gypsy jazz-specific guitar? Well, first of all, hello to you my fellow …
Editor Picks
---