Sound

Build

Cost

Playability
Summary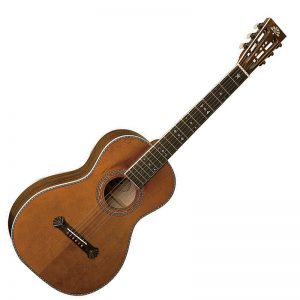 View Price
The R314KK is a  highly sought-after vintage parlor guitar… How does it measure up to other vintage acoustics?
With a low price, an amazing build quality, and an all-round retro aesthetic, it's very hard not to love this parlor guitar offering from the legend manufacturers over at Washburn. But, before you go diving headfirst into ordering this masterpiece, it's probably best to learn more about exactly why players around the world are raving about the R314KK, and the pros and (very few) cons that come along with it.
Let's get to it.
The Low-Down: Washburn R314KK
Build
Straight away, you need to know that if you're looking for a vintage guitar (as many players are who opt for the parlor shape) then this is an excellent choice. It feels almost worn when playing, the body shape fits perfectly, and the tone for its price is simply excellent.
Speaking of the body, it's crafted from a beautifully unique Trembesi wood, which is an exotic wood that many mid-range acoustic guitar manufacturers such as Faith always tend to choose. This is mostly down to its price, but also the amazing range that can come from the wood without having to opt for a more expensive quality.
In the case of this Washburn, the body wood is laminated with a Trembesi back, along with an a fresh spruce top, and a surprisingly thin mahogany neck (which is another sign of quality, far exceeding what you would expect to pay for a guitar of this calibre).
The laminated wood gives the body a delightfully 'aged' look, with the lower half almost looking like a shadow of the top section (reminiscent of a road worn acoustic, which is clearly what Washburn were going for). Despite the multiple wood blend, the guitar is light (4.5g) and remains true to the classic parlour guitars of the late 20th and early 21st century.
Finally,t he headstock is also a love letter to the original parlour guitars, perforated with small cutaways which add to the overall classic look.
Even the fretboard has been given extra attention, with triple-dot inlays which show that every single part of this build has been given an extra thought. Simply brilliant.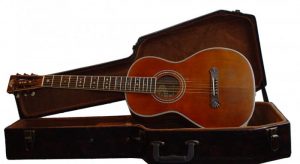 Spec (just the need-to-know bits)
Body: Laminated Spruce
Back: Trembesi
Fret: Rosewood
Neck: Mahogany
Weight: 4.5g
Length: 104 x 17
Sound & Playability (Video Demos)
Pros
Excellent build quality
Very low price
A genuine retro blues guitar
Works incredibly well as a standard acoustic too, so is not just for the blues players
Cons
Not an electro acoustic (for the gig players)
Sound is not huge, at least compared to full-bodied acoustics
Recommended For
A compact, retro and well-built guitar ideal for lovers of the parlor shape, for blues players, and for travellers who want a trusty acoustic to take on the road. Also great for acoustic players who are looking for an acoustic that is just a little more compact.
Closing Thoughts
To round this review up, it's got to be a 5 star rating all round from us. Going into demoing the R314KK we never initially enquired about how much it was, and just assumed it was a lot more expensive that in is! For this combination of wood, the two-tone build, and the aged styling, you would expect to pay much more.
From asking around and confirming that our love for this guitar is not just a bias (for all parlour guitars in general), we can confirm that many of the more 'standard' acoustic guitarists also consider this Washburn as a vintage go-to, based on the smaller sizing and tone.
If you're looking for a parlor guitar that has more of a 'steel appeal', we'd fully recommend you check out the Honey Dipper from Gretsch. Additionally, give our guide to the best travel guitars a look if you're after a small acoustic to take with you on a trip!
View Price
More from Reviews
---
As a guitar player, how do you choose the best chorus pedal? The right chorus pedal can add a huge amount …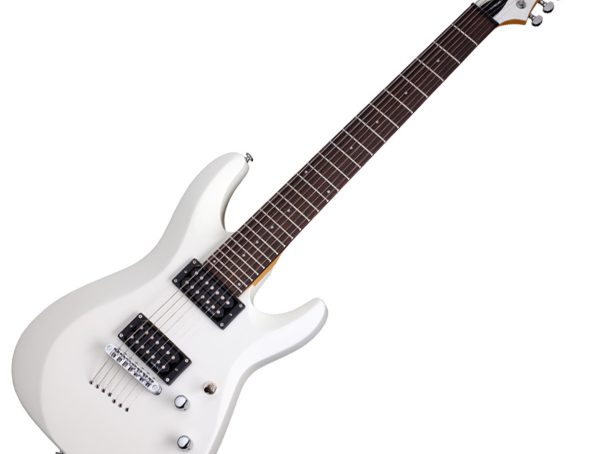 Is the Schecter C-7 the best budget 7-string guitar on the market today? Quick Look It certainly rivals its competitors, but how …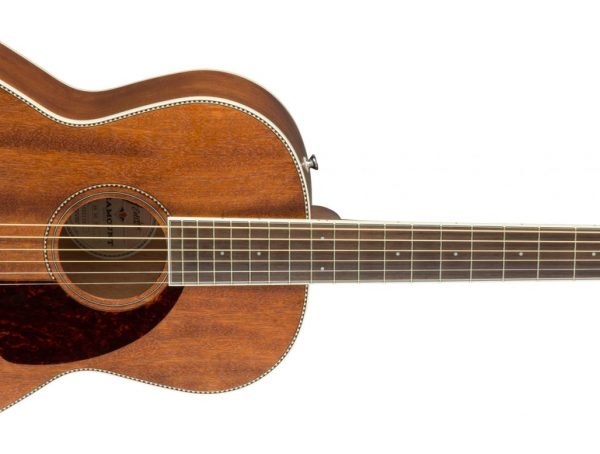 The PM-2 might just be the best parlour guitar from Fender yet. But how does it fare under our extensive …
Editor Picks
---