Gretsch G9201 Honey Dipper
Sound

Build

Cost

Playability
Review Summary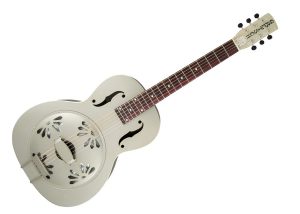 View Price
The Gretsch G9201 – What makes this parlor guitar so great?
If you've landed on this review then you've no doubt heard about all of the guitar sites and buyers guides raving about the G9201. With this being said, it certainly tops our best of parlour guitars list, and with good reason too.
This type of parlor guitar is a resonator, a unique type of instrument that was originally intended to provide guitarists in the early 20th century with more sound when playing in a live setting. Nowadays, resonators are loved the world over, particularly by guitarists who favour old school blues and bluegrass. And this is where the G9201 comes in. 
From its style and superior build quality to its beautiful resonant tone, this is truly an acoustic wonder that you can't miss out if you're in the market for a stripped-back bit of blues. Let's take a deeper look at what makes the G9201 so good!
The Low Down – Gretsch G9201
Build
As a classic resonator, the body of the Gretsch is all brass, ensuring that volume fully travels across the body. When it comes to resonators, there are certain body diaphragms that work better than others, most notably on brass bodies that are built exactly for the resonating purpose. Rather than have us butcher the explanations of why a cone diaphragms is the most suitable type the Honey Dipper, you can take a look at the different types of diaphragm shapes here.
It's known across blues circuits that brass bodies generally provide a fantastic middle ground between the more 'jangly' full metal bodies, and the more compressed sound of a typical wooden construct. The sound that emanates from this boy is surprisingly soulful, whilst maintaining its original sound that makes it an incredibly iconic mid-range resonator guitar.
The neck is surprisingly slim, and the guitar in general looks a lot heavier than it actually is. It's a very nice surprise, as you can imagine that standing on stage with a heavy brass guitars for hours would start to be an issue! The slim neck and light body also make the Honey Dipper fantastic for beginners who just want to dive straight into the world of the classic blues guitars. And, let's face it, if that's your favourite genre and you're insistent on starting with a resonator, then the Honey Dipper really is a great place to start.
The eagle-eyed amongst you will have spotted the F-Holes at the top of the body, a fantastic addition that really brings the classic shape into the 21st century, whilst skilfully remaining true to exactly what any guitarist would think of when picturing a brass resonator. This modern blend sits nicely beneath the classic 30's headstock, again a delightfully thin and slimline square headstock that was a common build addition on guitars of that era.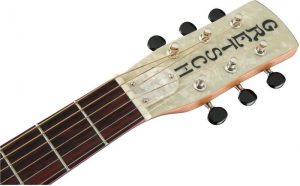 Spec (just the need-to-know bits)
Neck: Mahogany
Neck Dimensions: Scale length of 635mm. Slim Nut Width 44mm
Body Build: F-Hole Shape, Classic Bell Brass Construct
Overall Length of Body: 479mm
Number of Frets: 19, Jumbo
Sound & Playability (Video Demos)
FAQ's and Points of Note for the Honey Dipper
Will I need to use heavier strings because of the brass body? 
Commonly, the Honey Dipper will come with 0.12 gauge strings. This simply allows the sound to be 'thicker', and the thin neck/body combination requires a heavy string to ensure that tone is passed through, enough to be surprisingly audible as a result.
What are the recommended brand or types of strings to use on a resonator (specifically the Honey Dipper?) 
As a true blues guitar, we'd recommend true-blues strings. Martin 0.12 gauge will get the job done perfectly (and also seem to be the common consensus in the resonator community).
Is this an electro acoustic guitar? 
No, but you will be surprised about the volume of this acoustic.
What is the resonator style of guitar also know as?
You may more commonly see the Honey Dipper referred to as a 'Delta Blues', 'Mississippi Blues' or even a 'Porch Blues' guitar.
Can I play with a slider on the Honey Dipper? 
Absolutely. Many players actually purchase the Honey Dipper as a guitar just for slide, so they can keep one blues guitar with a raised action that ensures the slide does not push down on the strings and hit the neck (causing the dreaded buzz).
Pros
Fairly priced, especially for its superior build quality
Sound is very loud, ideal for home use or on the road
Light and portable
Thin neck, great for beginners and advanced players
Is right at home when accompanied with a slide and a bit of 12 bar blues
Cons
If you're not a fan of classic blues, you may not fully appreciate the unique sound of the Honey Dipper
May be slightly too expensive for beginners
Is not an electro acoustic, therefore if that's a must we would recommend a standard electro rather than an all-acoustic resonator
Recommended For
An amazing resonator guitar and a versatile one at that, perfect for hardcore fans of blues and players who want an acoustic that is there go-to blues guitar. Also fantastic for learning slide, and would work well as a stand-alone slide guitar (you will need to raise the action in order to ensure the slide will work effectively)
Closing Thoughts
The G9201 Honey Dipper is a true resonator, a classic model that integrates modern influences, and does so whilst maintaining a true delta tone and build quality. It's clear just by looking at it that this is for the blues players, however even if you're just interested in playing chords it's difficult not to fall in love with the warm tone of this guitar.
We'd recommend this as easily the best resonator guitar available today. From the price, to the materials used, to sizing and ease of playability, it doesn't get any better than the Honey Dipper.
View Price
More from Reviews
---
As a guitar player, how do you choose the best chorus pedal? The right chorus pedal can add a huge amount …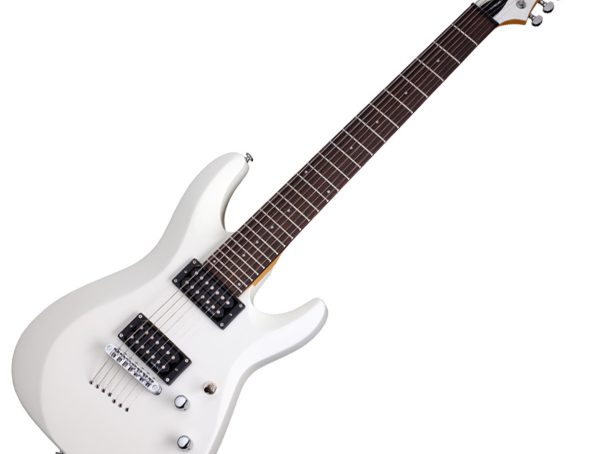 Is the Schecter C-7 the best budget 7-string guitar on the market today? Quick Look It certainly rivals its competitors, but how …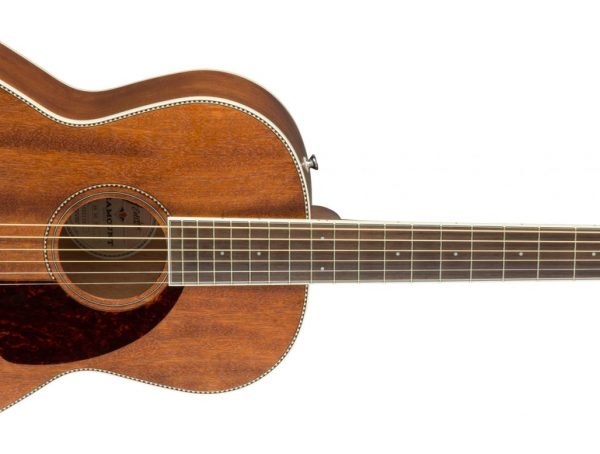 The PM-2 might just be the best parlour guitar from Fender yet. But how does it fare under our extensive …
Editor Picks
---