Buying a guitar for the first time, whether for yourself or as a present for someone else, is undeniably an existing thing! However, even with all the will in the world, a new guitar for a beginner can often end up in the corner of a room gathering dust.
This means that you need to be careful choosing a guitar for a first time player, not just because of price but also you're going to want a guitar that the player (or yourself) will be motivated in playing.
On the lookout for a beginner guitar that won't break the bank?
This guide has been put together based on my extensive knowledge in the world of guitars, and also from teaching guitar for a number of years and seeing the commonalties that all beginner players share. Often, beginner players will be looking for two things:
A guitar that suits their style from the outset
Songs they can learn that they are actually interested in
So, with this in mind, I've chosen a whopping 15 guitars for beginners that are not only on the cheaper-end of the spectrum, but are also varied enough so that you'll be able to find a match. I also answer the common types of questions that many beginner guitarists have.
The 15 Best Guitars For Beginners
Let's take a look at the 15 best guitars for beginners, so you can find your perfect match and start strumming! 
1. Squier Stratocaster Pack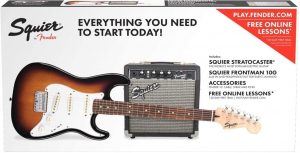 The "Strat Pack" has been one of the most popular options for beginner guitar players across the globe for many years. With a trusted brand name like Fender, the Squier Stratocaster pack includes everything a budding guitar players needs to get started, including: 
The original lightweight Squier Stratocaster

A gig bag

The Squier Frontman 10G amplifier

Strap

Cable

Picks
Essentially, you can pick this guitar up and start jamming right away. When people think about a classic electric guitar sound, this is what they mean! The guitar itself features three single-coil pickups that give you the classic electric tone. The tremolo bridge in the traditional Fender style allows the guitar to stay in tune easily, so you don't have to worry about tonal stability when you're playing. 
Not only does the Squier Stratocaster sound great, but it looks great and thanks to its lightweight body and smooth Laurel fretboard, it's very easy to pick up and start playing, no matter your experience level. Even seasoned guitar players can't deny how great the traditional Strat is. Plus, since this pack has everything you need to get started, it's also a great value if you're on a budget or don't want to invest a lot right away. 
View Price
2. Epiphone AJ-220SCE Electro-Acoustic Guitar

Epiphone has been a trusted brand in both electric and acoustic guitars for decades. The Epiphone AJ-220SCE Electro-Acoustic Guitar brings the best of both worlds together. People will be able to tell this is an Epiphone guitar right away thanks to the traditional sunburst look, which can make you feel like a pro from the moment you pick it up. 
One of the unique features of this guitar is the cutaway bell shape. It features a large lower bout and smaller upper bout, making it easy for both beginners and professionals to play on stage and in the studio. It also helps to create a clean and balanced tone. 
The cutaway on the fretboard also makes it easy to access the upper frets without straining or having to do much work with your hand. 
Unlike a traditional square-shouldered dreadnought guitar, the mid-tone sounds on this Epiphone are never muddy. The bass tones are rich and deep and the higher tones are crisp and brilliant without sounding tinny. 
If you're a singer-songwriter or you wan to perform or record by yourself, this acoustic-electric guitar is one of the best options, especially for beginners. It's easy to work with and will complement your singing and writing, rather than overshadowing you. 
View Price
3. Epiphone ETCCCHNH1 Casino Coupe

If you're looking for a guitar that looks as good as it sounds, look no further than the Epiphone ETCCCHNH1 Casino Coupe Electric Guitar. Again, the Epiphone name is one guitar players all over the world trust, no matter their level of experience. 
The Casino Coupe is a classic in the world of electric guitars, thanks to its 1960s-style hollow body. 
This model is actually a "racecar" version of the original Epiphone Casino, which is a bit bigger and bulkier. The benefits of the Casino Coupe are that it's smaller and easier to play while still giving you the legendary tone you're looking for and one that has been admired by everyone from Keith Richards to The Beatles. 
Most people recognize the Casino Coupe for the dogear P-90s, which are some of the best all-purpose pickups you'll find on any guitar. They offer controllable feedback whether you want gritty mid-tones, sharp high tones, or even acoustic-sounding bass tones thanks to the hollow body model. 
Because of its hollow body, the guitar is also very lightweight, making it perfect for stage use or recording, and easy to travel with. There's no reason to sacrifice style when you're looking for a great beginner guitar, and this classic electric allows you to have the best of both with a name you can depend on. 
View Price
4. Ibanez GRG121DX – BKF Electric Guitar

The Ibanez GRG121DX – BKF Electric Guitar comes from another brand name that is known throughout the guitar world and depended upon by many. This classic black electric guitar features a mahogany body and GRG maple neck. 
The shark tooth inlays feature 24 jumbo frets, and you'll be ready to rock out thanks to the two Humbucker ibz-6 pickups. 
One of the best things about this guitar, if you're a beginner, is that it's solid. That might make it a bit heavier, but it's durable and easy to take with you wherever you go. It also has reliable, dependable hardware that you can get to know and learn how to tweak your tone to your liking. The strings themselves are attached to the guitar in a hardtail style instead of being attached to a tremolo bar, which makes them more stable. You won't have to worry about that annoying "buzzing" that some beginner players experience. 
This guitar is one of the most affordable from the Ibanez line, and a great option if you want to go with a quality, name-brand that is easily recognizable but you don't want to break the bank while doing it. It's perfect for any beginner player, but it might especially appeal to you if you want to play rock or metal. 
View Price
5. Takamine Dreadnought Acoustic Guitar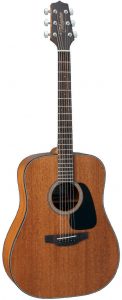 The Takamine Dreadnought Acoustic Guitar comes from another trusted name in the guitar world. This particular acoustic guitar combines tradition and contemporary styles to create a "hybrid" that makes it easy for anyone to play. 
The Venetian cutaway makes it easy to reach the upper frets, which can sometimes be difficult for beginners playing on standard bodies. It also features a classic Takamine asymmetrical "neck profile," which means it's slightly thinner on the bass side of the guitar? What's the purpose of that? It doesn't hurt your hand so much to play and takes less effort. When you're just starting out, that can make a big difference. 
This guitar also takes bridge pin positioning seriously, optimizing the break angle for players to improve the sustain, resonance, and tone while playing. 
While this might look like a simple, everyday acoustic guitar on the surface, there is so much beauty in that simplicity which makes it a great, playable guitar for beginners and experienced players alike. You'll want to take it with you wherever you go, and because of its size, shape, and weight, you'll be able to do just that, playing anywhere and any time. 
View Price
6. Fender Squier Affinity Telecaster 

You'll see Fender's name show up a few times on this list because of its timelessness, durability, tonal qualities, and simply for the fact that they make great guitars for beginners and professionals. When it comes to the Fender Squier Affinity Telecaster, it's a perfect example of style meeting functionality. 
This guitar features a vintage style that any guitarist can get behind, thanks to its slim "C"-shaped neck that makes it comfortable for new players. It features dual single-coil Tele pickups, a 6-saddle Tele bridge, and die-cast tuning machines that will make it easy for you to stay in full control. 
The tones the guitar can produce are punchy and vibrant and can remind you of some of the classic tones from vintage rock and pop. The bright tones will work with a variety of different playing styles, making this a great beginner guitar for just about anyone. Plus, you can take comfort in knowing you'll be using the trusted name of Fender without having to blow your budget. 
View Price
7. Ibanez Performance Series PC12MH-OPN 

No matter what level you are, this Ibanez Performance Series PC-12MH-OPN – Grand Concert Acoustic Guitar will give you supreme playability and an expert level of craftsmanship that Ibanez is known across the world for. 
This particular acoustic guitar is perfect for beginners who want to focus on detailed playing, thanks to its rich mid-range tones. It's smaller than a traditional dreadnought guitar, making it even easier for players of every level to enjoy with ease. 
The style of the guitar has an 'open more' finish, which not only makes the guitar look great but serves a dual purpose; it allows the tones to fully resonate from the wood itself. The neck is also responsive to finger playing – a tactical fretboard that will allow you to be comfortable as you move up and down the neck.
Whether you're a singer-songwriter or you want to focus on a more classical style, this is a great performance guitar that will sound just as good practicing in your room as it will on stage or in a recording booth. This guitar will provide you with Ibanez-quality sound and style at a fraction of the cost, but no matter how advanced you become, it's a guitar you'll come back to again and again. 
View Price
8. Yamaha CS40II Classical Guitar – 3/4 Size

The art of learning classical guitar becomes much easier when you have the Yamaha CS40II Classical Guitar to work with. The most noticeable thing about this guitar is its ¾ body size, making it easy for beginners to play on without having to reach around or strain to get up and down the fretboard. It also makes it a great travel guitar for gigs or practicing anywhere and everywhere. 
It provides a balanced, warm sound whether you're high on the neck or going for low, richer tones. The equal, accurate fret positioning makes it easy to learn proper classical guitar techniques without compromising quality and tone. There's a reason this guitar is highly-recommended by music teachers. 
The guitar itself comes ready to play. Unlike some other affordable guitars, you won't have to adjust anything to make the Yamaha CS40II sound great from the moment you receive it. The height of the strings and the angle of the neck are designed to be comfortable without having to make adjustments or fix the strings. Simply put, it's a no-fuss guitar for beginners that can teach you to love the musicality of guitars from the very beginning. 
View Price
9. Tanglewood Crossroads TWCR D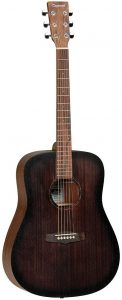 The Tanglewood Crossroads TWCR D Acoustic Guitar is an esteemed member of the Crossroads series created by Michael Sanden. Every detail of this guitar down to the wood that was chosen has been carefully crafted, making it feel more like a custom model than a beginner instrument. 
The soundboards are perfect for beginners since they flex, allowing all levels of players to master the technique and use precision in their playing. The top and sides are made from rich mahogany, resulting in a warm timbre that can't be replicated by knockoff models. The fingerboard is designed to let players transition smoothly between frets without having to strain. 
The rosewood bridge not only looks great against the mahogany finish but provides a secure anchor for the strings that can help to eliminate buzzing. 
This durable guitar is comfortable to play on, easy to learn on, and lovely to look at. For the price and for a beginner guitar, it's an acoustic model that has been crafted with care and is very hard to beat! Even as you continue to grow and learn, you'll undoubtedly come back to this guitar time and time again for gigs, recording, and practicing. 
View Price
10. Yamaha Pacifica 012

Yamaha is another trusted name in the industry, especially when it comes to electric models. You'll know exactly the kind of quality you're getting when you pick up a Yamaha Pacifica 012. 
This is about as classic as an electric guitar gets, and it comes from the award-winning Pacifica line, perfect for anyone who wants to rock! 
You can expect perfectly-tuned sounds from the accurate fret positioning and stable tuning, making it easier for beginners to learn quickly without having to adjust things too frequently. The body itself is contoured to make playing more comfortable, and the vintage vibrato that comes from the instrument will make you want to play it for hours at a time. 
One of the best things about this guitar is that it's a great starter no matter what genre you're interested in. Because it features two single-coil pickups and a bridge humbucker, it's perfect for rock, country, blues, and just about any niche in-between. It's a great guitar to experiment with different sounds and find what works best for you. You'll undoubtedly find between the classic look and sturdy Yahama hardware that this quickly becomes one of the staples of your collection through the years. 
View Price
11. Ibanez GIO Series GRX40-CA

If you're looking for a classic electric guitar that will inspire a passion in you to learn and grow, you'll love the Ibanez GIO Series GRX40-CA. With a contoured body and GRX maple neck, beginners will find this guitar comfortable to play for hours, making it the perfect instrument for practicing and for gigs. 
It features a classic Ibanez style with chrome hardware that ensures stable tuning. The H-S-S pickup allows you to play this guitar for a variety of different genres, whether you're a budding rockstar or you want to try your hand at blues or funk. It also features a tremolo bar – an extra feature that not many beginner guitars come with, especially at a lower price. 
Like other Ibanez guitars, you'll get a professional sound from this instrument that stands the test of time. Because it's a full-size guitar, you'll want to use it even as you reach intermediate and advanced levels. It easily combines craftsmanship with functionality to make it the guitar you'll reach for the most in your ever-growing arsenal. 
View Price
12. Jackson Dinky JS11

For starters, we can't get over how cool and sleek the Jackson Dinky JS11 looks. But, it's much more than just a pretty face, especially for beginners. 
This is a solid body electric guitar that is incredibly durable, making it perfect for gigs on the road. It features a double-cutaway body made of poplar, making it comfortable to hold and play for hours. With 22 jumbo frets on a 12-radius fingerboard, you'll feel incredibly loose when moving up and down the neck. Because of that, it's the perfect guitar for fingerpicking and shredding. 
The guitar features two Jackson high output humbuckers, which can give you an awesome tone. You can use the neck and bridge pickups on their own, or utilize the 3-way pickup selector to use them both at once. Plug this sleek axe into a high-gain overdrive amp and the tone will really shine. 
Not only does this guitar look great but it is easy to play, especially in more rock/metal settings. With Jackson die-cast tuners, you can depend on it to stay perfectly in tune while you're shredding away. You'll love taking this on stage with you, no matter what playing level you reach. 
View Price
13. Epiphone Slash"AFD" Les Paul Special-II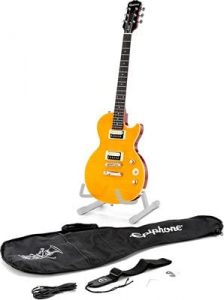 The Epiphone Les Paul has been a recognizable fixture in the world of electric guitars for years, setting a standard that simply can't be beaten. This Les Paul Special-II has the signature of one of the greatest guitarists of all time – Slash, so you know you're getting his seal of approval from the moment you play your first hard-hitting chord. 
The body is made of mahogany with the classic Les Paul contour, making it comfortable to play for beginners. It features two ceramic humbuckers so you can achieve the perfect tone no matter what style you might be going for (though if you're not rocking with this guitar, you're doing something wrong!). Finally, you'll enjoy the integrated shadow pickup ring tuner that will keep your guitar in perfect tune during long sessions. 
This particular outfit also includes a strap, gig bag, and cable, so you'll have everything you'll need to start rocking right away, whether you're practicing in the den or playing out with your band. 
View Price
14. Epiphone EJ-200SCE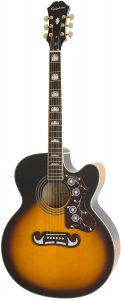 Epiphone makes the list again with another easily-recognizable model, the Epiphone EJ-200SCE Solid Top Cutaway Acoustic/Electric Guitar.
This particular model is 25.5 scale so it's perfect for beginners who are looking for a comfortable instrument to get started. The full scale of this guitar can sometimes be too big and bulky for those just starting out, so this is a great way to ease into playing comfortably while knowing you're using a quality instrument from a trusted brand. 
This acoustic-electric model features a maple body and select spruce top with a rosewood fretboard. It gives you all of the features of the more expensive model, the EJ-200, with a cutaway that makes it easier to play and a preamp EQ. It also features a good low-end response and keeps the focused, quality sound that the original model is known for. 
You'll love the historic tone you get from this guitar, with a modern twist that makes it clearer and more honed in than ever. Some of the greatest musicians of all time were fans of the original EJ-200, including Elvis Presley and Bob Dylan. Now, you can be a part of history even as a beginner player with the EJ-200SCE. 
View Price
15. Fender Malibu Player Acoustic

The Fender Malibu Player Acoustic Guitar is a part of the California series by fender, featuring unique colors and body styles. But, it's more than just a pretty face. The mahogany neck features a slim-tapered "C"-shaped profile, making it easier to play and move your hand up and down the neck freely. 
The sound is well-balanced and articulate, perfect for strumming along as a rhythm guitarist or taking the lead on stage or in the studio. It's suitable for any type of playing style and a variety of different genres when the acoustic needs to shine. 
This guitar has optimised bracing, allowing for a beautiful resonance that you'll never grow tired of hearing (or feeling!). The Fishman preamp system allows you to plug the guitar in while still experiencing a natural, beautiful acoustic sound. 
Fender took a page from their electric guitars with this series when it came to style, but the quality of the Malibu Player Acoustic Guitar is second-to-none, and everything you've come to expect from the Fender brand. Even if you're a beginner, you'll have fun playing this, and in no time you'll look like a pro. 
View Price
Video Demos
Taking my word for it is one thing, but you're going to want to hear what these guitars sound like too. Check out the videos below to see a selection of the guitars covered in this guide in action!
Common Beginner Questions
How much should a beginner spend on their first guitar?
For any new hobby or past time, I wouldn't recommend jumping into the deep end in terms of price. I'd would suggest up to $500 maximum, as if you decide the guitar isn't for you then you're going to struggle to get that initial value back!
Why do lots of beginners choose a classical-style guitar?
Beginners will often choose classical guitars as the nylon strings are typically softer, and more forgiving when building calluses (a pivotal part of learning the guitar). My advice is that, you're going to have to build calluses either way, so you're better opting for a guitar you're interested in rather than a classical guitar just to save your fingers.
Is it better to get an acoustic or electric guitar?
Again, this is totally up to you! What appeals to you the most based on the music you want to learn and the styles of guitar playing that appeal to you? The same goes with if you're buying someone a guitar as a gift too… What will appeal to the recipient of your awesome musical gift?
Are steel string guitars hard for beginners to play (and will they hurt)?
Steel string guitars can hurt a little more for beginners, but once your calluses have developed then you're not going to notice. So, don't let temporary pain influence your buying decision.
What's the best way to stay motivated with playing the guitar?
I actually wrote a guide on how you can keep children motivated when playing the guitar. I've been told that these tips also apply to adults too, so give it a look!
Conclusion
Whether you're learning to play yourself or are buying a guitar as a gift, I hope this guide has been helpful for you. Learning to play the guitar is a lifelong journey, and I'm honoured you're starting your journey here. Happy shredding!
More from Guitars
---
The Gibson Les Paul is a classic electric guitar that has been a favorite of guitarists for generations. One of …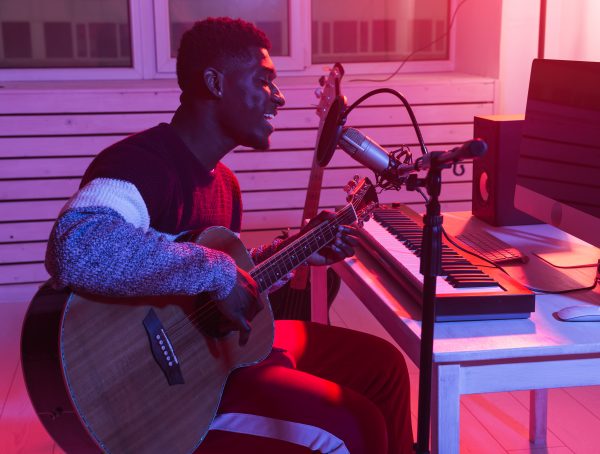 When recording music or audio, the equipment you use can affect the outcome of your production. This is necessary for …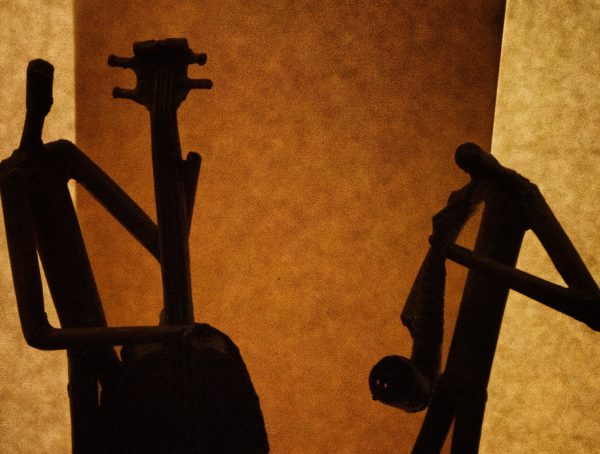 What should you be looking for when buying a gypsy jazz-specific guitar? Well, first of all, hello to you my fellow …
Editor Picks
---