Tanglewood Java TWJP E
Sound

Build

Cost

Playability
Review Summary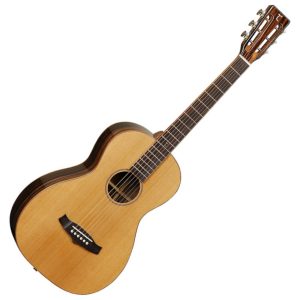 View Price
The Tanglewood TWJP E is a fantastically compact and blues-ready parlour guitar, reminiscent of a classical guitar with a thin 'mango' wood blend body that carries a surprisingly punchy tone for such a small-bodied guitar. 
Known more for their full-bodied dreadnought acoustic than their depression-era 6-strings, Tanglewood pleasantly surprised fans the world over with the TWJP. Everything from the wood used for the actual build of the guitar to the unique neck and headstock all point to the immense detail that Tanglewood have put in to making this one of the best parlour guitars you'll find under 500 big ones. But enough gushing, let's take an objective look at the sounds, pros, cons, and spec of the TWJP (and why we're huge fans of this budget blues guitar).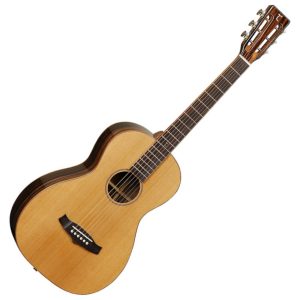 The Low Down – Tanglewood TWJP E
Build 
If you're anything like us, your first thoughts when looking at this guitar is just simply…wow. The body and neck are incredibly thin, however for the era in which this guitar is based is would actually be seen as larger than usual (not that this will affect playing, and it is substantially smaller than a typical dreadnought or full bodied acoustic).
Tanglewood have brought the parlour guitar into the 21st century by ensuring it an electro acoustic model, which may not be something that many guitarists consider until it's too late (for example, the ease of plugging in and playing an electro compared to the time and effort that it takes to mic up a standard acoustic).
Not one to stick to conventional builds, Tanglewood have constructed this TWJP with a solid cedar top. Fans of classical guitars will recognise that cedar is more regularly used on nylon string guitars, however in this instance is crucial in keeping the weight and compact appeal of the guitar whilst ensuring that a full tone is maintained. The back of the guitar is the aforementioned mango blend, a beautifully light wood that again is more commonly seen on classical guitars. Tanglewood even go as far to add a mahogany binding in the place of cheaper materials, which really finishes the body construction off and again speaks to the depth of detail that has gone into this build.
The use of this lighter wood may dissuade fans of the more standard acoustics, however we urge you to put your notions of parlour guitars aside and really take the time to seek this guitar out.
As with most parlour guitars, the top half of the body is very small and can throw regular players who expect to rest on a bulkier top half of the body. This does take a little getting used to, and accompanied with the slim neck can leave the guitar feeling rather strange in your hands. Because of this, the tone is not as 'full' as larger guitars, which can be heard at the higher-end when plugged in… But this is expected with a parlour guitar and for a low-cost model should be embraced rather than avoided.
Spec
Neck: 43mm
Size: 50.8 x 15.2 cm
Weight: 11.7kg
Sound (Video Demos)
Pros
Incredibly unique build and body construct
Great for beginners and players with small hands
Makes a good first guitar, particularly for fans of blues and parlour guitars
Build quality is admirable for the low price
Cons 
Does not carry tone as well as thicker dreadnought guitars
Is still a budget parlour guitar and does not compete in the tone department compared to more expensive models
Recommended For 
Beginners and fans of blues guitar who want a low-cost introduction to the world of parlour guitars
Closing Thoughts
For the price, it has to be said that this guitar is worth every penny. Whilst it doesn't compete with more expensive models, the overall quality is fantastic for the price. The electro-acoustic feature is not great, but at this price that is to be expected (think of the stock pickups that come on a standard electric).
With a little tweaking and addition of more refined hardware the TWJP E will really come in to its own.
Check out the full parlour guitar guide for more reviews and an objective look at the types of parlour guitars that are recommended for every style of playing.
View Price
More from Guitars
---
The Gibson Les Paul is a classic electric guitar that has been a favorite of guitarists for generations. One of …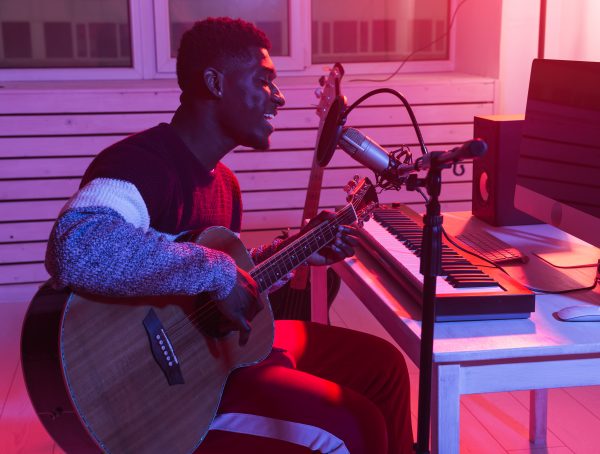 When recording music or audio, the equipment you use can affect the outcome of your production. This is necessary for …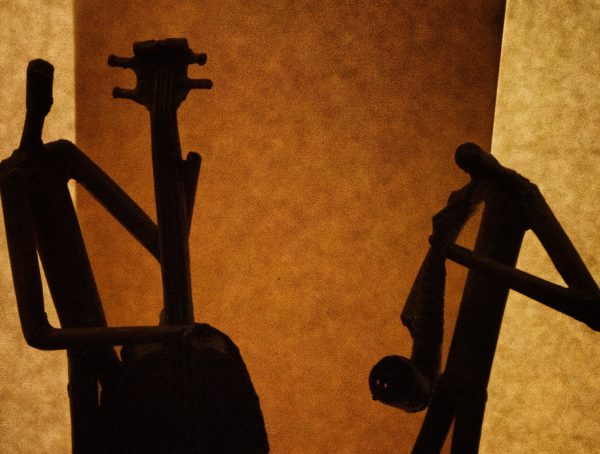 What should you be looking for when buying a gypsy jazz-specific guitar? Well, first of all, hello to you my fellow …
Editor Picks
---