When most guitarists think of an amplifier, they often picture (and purchase) a combo amp, which is the kind of amp where the head and cab (box housing the speaker) are combined. And, whilst combo amps are great, they do not offer even close to the flexibility and individuality of a separate amplifier head and cab combination.
From modern amp heads to mini ones and much more, we've put together a definitive guide to a collection of amplifier heads that we believe will suit every type of guitarist. Read on to see our recommended amp heads, learn why an amplifier head purchase is often overlooked, and get the correct head for your specific style and sound. Here we go:
Our ten favourite amplifier heads of 2020
1. Boss Katana-Head MKII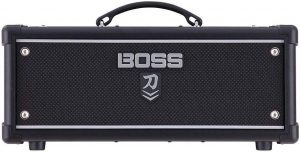 The Boss Katana-Head MkII could be exactly what you're looking for if you want an amplifier head that's going to take things to the next level. The Katana series of amplifiers from Boss is one of the most praised and renowned in the world. If you're looking for an amplifier that's not going to let you down and that assures genuine quality, this series of amps is a sure bet.
It doesn't matter whether you're looking to amplify an existing set of preamps and modellers or you're looking to build something entirely new for your live performances, the Katana MkII can provide you with precisely what you're looking for with ease and no fuss at all. This truly is a fantastic amp for the stage and for studio settings as well. It can do it all.
There are tonnes of amp variations that you can access. This includes 60 Boss effects that are simply timeless; you'll have a lot of fun playing around with them. Another nice feature that comes with this Katana amp head is the ability to run dual amps into cabs when you're on stage. That can make a real difference to your performance levels and the possibilities available to you.
View Price
Full Review
2. Behringer BXD3000H

The Behringer BXD3000H is among the best amplifier heads you'll find on the market today. It's a compact amplifier as well, which makes it very functional and easy to transport. This is a major concern for lots of musicians that are touring in an independent, DIY kind of way. The ultra-compact bass amplifier on offer here does everything you need on stage and in between gigs.
The Class-D amplifier tech that's used here is also a major selling point that shouldn't be overlooked. It offers an enormous level of power, unbeatable sonic performance and it all comes in a lightweight package that can make such a big difference when you're on the road and moving between gigs and venues night after night. It really is an impressive unit.
The thing a lot of people like most about this amp head is the price at which it arrives. It's definitely among the best value amp heads available on the market today. For the quality, features and performance levels offered by the BXD3000H, the price at which it can be purchased is certainly very impressive and enticing to buyers.
View Price
3. Orange Amplifiers Crush Pro CR120H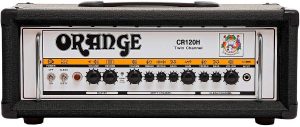 If you're looking for an amplifier head that's going to offer genuine clarity and definition, look no further than the Crush Pro CR120H from Orange Amplifiers. It's part of the Crush range that's already impressed so many musicians and industry professionals. With this amplifier, the people at Orange Amplifiers have taken things to a whole new level, offering a high power, solid-state amp for the first time.
It was years in production and it's now easy to see why that's the case. They've clearly spent a lot of time and energy producing a solid-state amp that offers everything musicians want and it's turned out very impressively indeed. There's a circuit that uses four stages of gain and a three band EQ. This makes achieving those distorted sounds easier than ever, and it sounds great.
Despite all of the things that are crammed into this impressive amplifier head, the people at Orange have managed to keep it simple. It's not an amp head that's too complex or challenging to use. You'll be able to get to grips with it and learn all of its functions relatively easily. The amp even has a transparent effects loop, making it easy to use your preferred pedals with it.
View Price
Full Review
4. TC Electronic Amp Head (BQ250)

The TC Electronic Guitar Amplifier Head (BQ250) is a standout in the field of amps for a variety of reasons. But it's without a doubt one of the top lightweight and compact solutions on the market today. If you're looking for an amplifier head that offers the maximum in terms of portability and ease of transportation, look no further than this impressive little model.
It's not just the compact nature of the amplifier that makes it impressive however. It has 250 watts of Class-D amp technology behind it and it's tone palette can't be ignored either. It's an amp that's great for the stage and studio settings. It has a fantastic thrust compressor and it's protected against all the problems you'll want to avoid, such as thermal overloads and short circuits.
This amp head also has a balanced DI output with pre and post EQ routing, which allows for direct connection to mixing consoles and other recording equipment. It's one of those functional advantages that'll make your life a lot easier if you do choose to buy a BQ250.
View Price
Full Review
5. Peavey 6505 Mini Guitar Amplifier Head
The Peavey 6505 Mini Guitar Amplifier Head is certainly among the best in the business and it's the kind of amp that you know isn't going to let you down. The price tag reflects this, but if you want to push the boat out and choose a guitar amplifier head that does everything you need it to and that offers genuine performance and durability, you definitely don't need to look any further than this model.
It has 2x EL84 power tubes, as well as 3x 12AX7/ECC83 preamp tubes that are essential for the high-quality performance and output of this amplifier head. It also boasts two footswitchable challenges with 3-band EQ, as well as crunch on rhythm channel, reverb and buffered effects loops. All of this can be controlled easily and smoothly with footswitches.
There's a lot to like about this Peavey amp head. If you want an amp that's going to be reliable and offers you all of the basic things that you want from an amplifier head of this size and stature, this model won't let you down.
View Price
Full Review
6. Randall RG Series RG1503H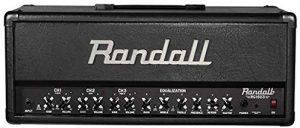 The Randall RG Series RG1503H Guitar Amplifier Head offers genuine quality, both in terms of output and in terms of the build quality of the cabinet. It's strong, durable and reliable, which is everything you want from the product after you consider the audio output and other related things. It's an amp head that offers real crunch and grind from your guitar sound too.
Randall is clearly a name that's beloved and respected by guitarists around the world. Their amps are among the best on the planet and that's been the case for a long time now. The RG Series follows in that lineage and offers quality in performance and build that won't let you down. That's something that you can believe for sure.
It offers everything you want from an amp head such as this, including bass boost, spring reverb, effects loops and plenty more. There are various reverb functions and this is one of the features that users like most about the Randall RG1503H.
View Price
7. Orange OR15H 15-Watt Tube Head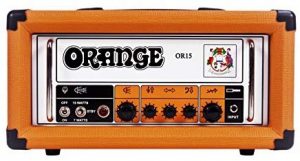 If you're looking for a warm 70s guitar sound, the experts at Orange of created an amplifier head that's ideally suited to your needs. It's a compact amp head but it manages to achieve an incredible classic sound that all vintage music lovers will recognise. On top of that vintage tone, it can also offer a lot of versatility that'll help you get a lot more out of your guitar than you might expect from an amp head such as this.
This amp head is also constructed in a careful and considered way. It's been designed to produce the very best tones while remaining durable and strong enough to withstand whatever you might but it through while using it. It's a 15-Watt amp head with a difference and that's really helps it to stand out above and beyond the competition.
If a classic sound and rich tones are what you're looking for from your amp head, the Orange OR15H amp head is definitely the one you're looking for. Orange have a fantastic reputation in this industry and their products can be relied upon to offer a level of performance that you won't be let down or disappointed by.
View Price
8. Bugera 333XL INFINIUM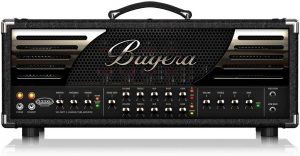 This Bugera 333XL INFINIUM model is among the most impressive amplifier heads on the market, and if you're looking for real quality and craftsmanship in terms of design and build, you need look no further. It has the versatility that enables it to deliver both hi-gain tones and cleaner tones as well. It can be used in a wide variety of ways and never lets you down as a musician.
One of the key things that makes this model stand out above the rest is the INFINIUM Tube Life Multiplier technology it employs. It ensures the life of the amplifier's tubes is extended by up to 20 times. It makes it a more reliable and durable amplifier head, and ensures the tone it offers won't diminish or become disappointingly lacklustre over time.
All of this also means that you can mix and match a variety of tube sets depending on your needs and preferences. You don't need to be restricted to expensive matched tube sets. The monitor shows you which tubes are defective when there's a problem, making it easy to replace the problem tubes on an individual basis. There are also XL switches on the lead and crunch channels, providing you with greater levels of control when using the amp head.
View Price
9. Fender Rumble 800 Bass Amp Head v3

The Fender Rumble 800 Bass Amp Head v3 is certainly very compact, making it great for people who want to take their amplifier head on the go and use it as they tour various venues. It's an 800-Watt amplifier head with a switchable overdrive circuit, three-button tone voiding and four-band equaliser controls. It's compatible with the Fender magnetic attachment system, which makes it very appealing to people with other Fender equipment.
This amplifier head even comes with its own padded carrying bag that enables you to make the most of it in a wide variety of touring situations. You can get it from the venue and back into the van after the gig is over without any troubles at all. It might sound like a small thing, but it's one of those features that will make your life a lot easier when actually using the amplifier head.
It's an amplifier head that's more than capable of delivering thick and natural tones that are ideal for live performance or for experimenting and recording in the studio. As well as the carrying bag, this amplifier head also comes with a footswitch that's intuitive and easy to use. It's another thing that makes the overall package here offered by Fender appealing.
View Price
10. Gallien-Krueger MB 500 Watt Bass Amp Head

The Gallien-Krueger MB 500 500 Watt Bass Amplifier Head is a 500-Watt amp head with a built-in limiter and four-band active EQ. It's a very compact model and is extremely lightweight. If you want an amp that's easy to get around, this is definitely an amplifier head that you won't want to overlook. It has the performance capability to suit all kinds of needs as well.
But it's certainly the portability arena in which this model stands out above all else. It claims to redefine portability, and it's very hard to argue with that claim. It's an amp head that's simple to move around and light enough to take just about anywhere. There are very few amp heads of this quality that are as easy to transport from A to B than this one is. It's undeniably a major selling point.
It comes with a footswitch and other features that you might not expect from an amp head of this size and price. It's a professional model that comes in a small package. Some sacrifices have to be made, but if you want an amp head offering genuine quality in a portable package, this is what you're looking for.
View Price
Video Demos
Wondering what these amps sound like? Of course you are. Here are a few examples of the types of amplifier heads that are in this guide:
Boss Katana-Head MKII
TC Electronic Amp Head (BQ250)
Bugera 333XL INFINIUM
Frequently Asked Questions
Should I buy a separate amplifier head and cab/speaker combination, or a standard amp combo? 
This completely depends on your budget, the storage room for an added amp head, and finally the type of tone you want to get from your amp. If a certain head appeals to you, then by all means go for the combo. However, be aware that it may be more costly than a combo amp.
Having said this, if you're trying to get a completely unique tone, then a separate cab and head purchase will be the only way to properly get close to one.
What are the benefits of purchasing an amp head and cab individually? 
As mentioned in the previous answer, this all revolves around your tone, and the type of tone you're looking for. You can swap-out the head based on the brands you love, opt for a tube head for a more old-school tone, and you even have the choice of switching out your cab (which most guitarists do not consider and will immediately opt for purchasing a new amp head).
Conclusion
There are literally thousands of amplifier heads on the market, so reading this guide should help you to understand the different types of amp heads, what it is they actually do, their averages prices, and the type of amp head that will suit your tone and specific playing style.
If you liked this guide, check out our post on the best acoustic amplifiers and make an informed decision on the typeof combo amp to run your beloved acoustic guitar through!
More from Amplifiers
---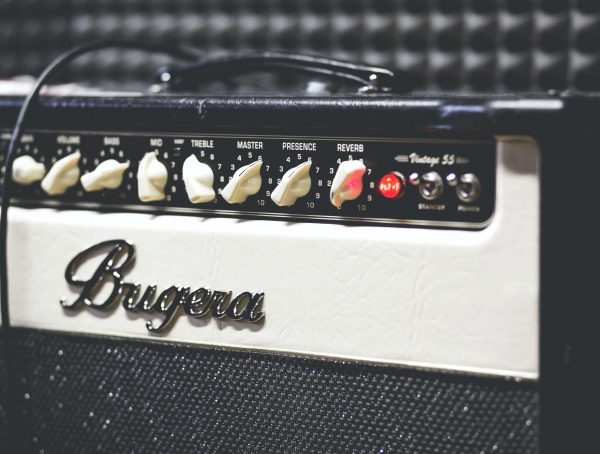 Looking for a miniature guitar amp (with a headphone jack) that still packs a punch? You might be landing on this …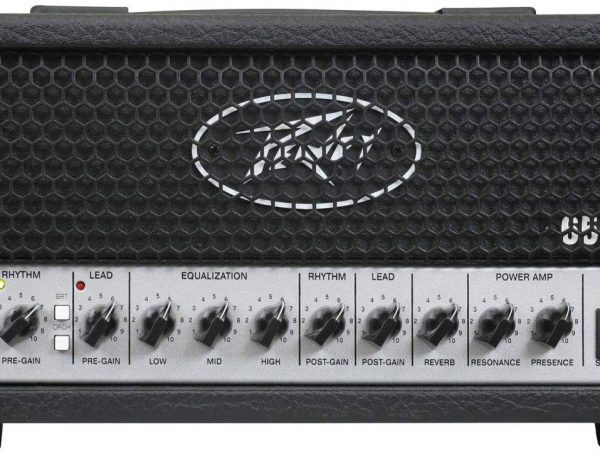 How does the Peavey 6505 Mini Head compare to larger amplifier heads? Here we're going to be taking a little look …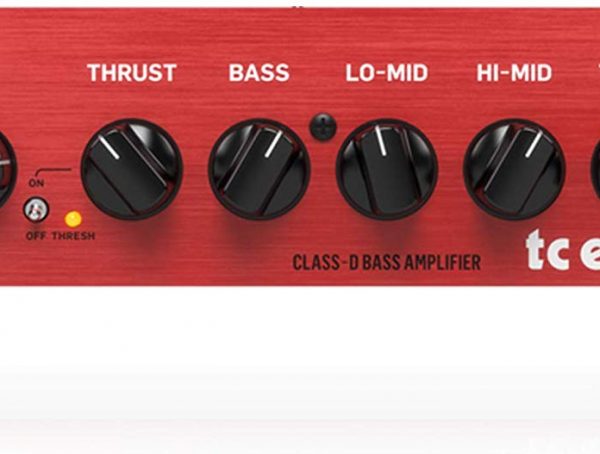 Is the TC Electronic BQ250 one of the best bass amp heads on the market? Let's find out in this review. …
Editor Picks
---