Sound

Price

Tone

Versatility
Recommended Phaser
MXR EVH90 Phase 90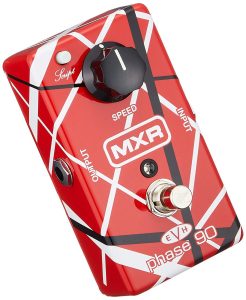 Check Price
Discover in-depth reviews of the 10 Best Phaser Pedals available in 2019
The perfect phaser pedal can add a huge amount of life and style to your tone, whether you're playing a solo or simply looking for a way to thicken up your rhythm guitar tone.
Popularised by Eddie Van Halen in the late 70s and early 80s, phaser pedals have found their place on the "essentials" list over the past few decades. Despite their 80s reputation, phasers have actually been in use by guitarists for well over half a century.
Like with other popular effects pedals, there are countless phasers available. Below, we've put together a list of our 10 favourites, including everything from classic 60s and 70s phasers aimed at enthusiasts to a range of more modern phaser effects.
1. Walrus Audio Lillian Analog Phaser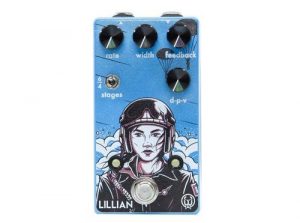 The Lillian phaser pedal from Walrus Audio is very much a piece of premium gear. It's compact, with an enclosure measuring less than five inches in length, and made from a thick metal that's perfect for use on stage.
From a sound perspective, the Lillian is an excellent phaser pedal. It includes four control knobs letting you tailor everything from the rate and width of the effect to the total amount of feedback, as well as a switch that lets you toggle from four to six stages.
While it's price puts it out of reach for most beginners, the Walrus Audio Lillian Analog Phaser is a great buy for enthusiasts, studio musicians and professional guitarists.
Check Price
2. Mooer Ninety Orange Phaser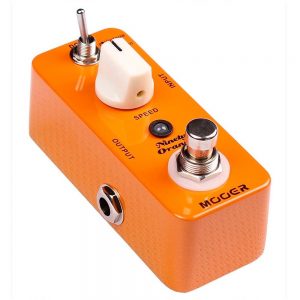 The Ninety Orange pedal from Mooer has classic mini-pedal phaser styling, with a bright orange color scheme and a compact, all-metal enclosure. It's also highly affordable, with a price tag that suits beginners just as much as it does experienced guitarists.
Don't let the cheap price fool you — the Ninety Orange is a great pedal. The phasing tone is rich and warm, with a 60s/70s psychedelic feel. The only real weakness is the lack of options — with just one control knob and a modern/vintage switch, you don't have a lot of control over the tone.
Still, if you're looking for a simple but effective phaser pedal that costs about the same amount as a nice meal for two, the Ninety Orange is definitely worth considering.
Check Price
3. Donner Mod Square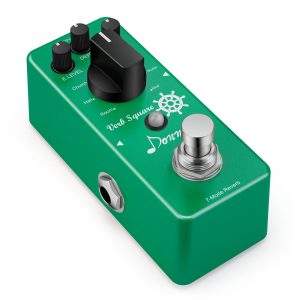 The Mod Square from Donner is a sleek, modern phaser pedal that's packed with great options for modifying your sound.
This pedal includes seven different modulation effects. In addition to the phaser effect, there's a tremolo, vibrato, two different types of chorus, rotary and a flanger effect. There are also control knobs for effect level, depth and rate control knob, letting you further tweak your sound.
While the effects offered by the Mod Square sound world class, they're more than good enough for beginners interested in playing around with new tones. Despite its low price, this pedal has a full metal enclosure, making it just as usable on stage as it is in the practice room.
Check Price
4. AZOR Guitar Phaser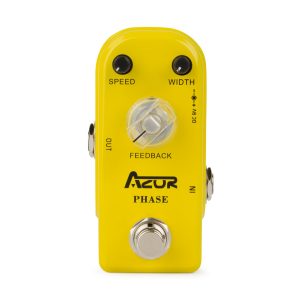 Affordable and simple, this phaser from AZOR is a great option for beginner guitarists that want to experiment with new sounds, all without spending more than they need to.
The AZOR Phase has a compact design similar to most mini-pedals. True to its simple design, this pedal only features three control knobs — one for adjusting the speed of the effect, one for the width and another for feedback.
While the AZOR Phase won't win any awards for its sound or its features, it's a great pedal for beginners. It also gets all of the essential features right, offering true bypass for a neutral tone when not in use and a simple LED indicator to show when the effect is active.
Check Price
5. EX Vintage Phaser Pedal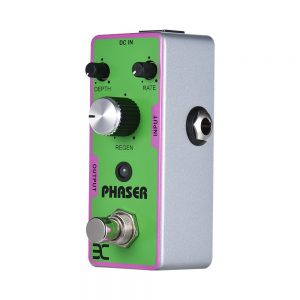 The Vintage Phaser from EX sports a full analog circuit, giving it a rich, warm and timeless tone that 70s and 80s rock enthusiasts are sure to love.
Like many of the other phaser pedals on this page, the EX VIntage Phaser is a mini-pedal, with a compact design that's perfect for slipping into a gig bag or storing in your pedalboard. Despite its small size, it packs a punch, with a versatile sound that compares to more expensive pedals.
Like other mini-pedals, the Vintage Phaser is quite minimalistic when it comes to controls. There are only three control knobs, allowing you to control depth, rate and regen. If you're looking for a simple, compact phaser and don't mind limited control options, this one is worth considering.
Check Price
6. MXR M290 Mini Phase 95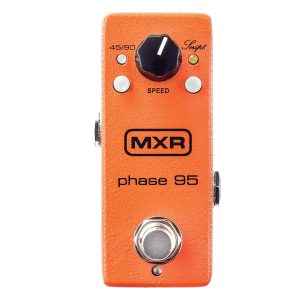 No list of phaser pedals would be complete without an option or two from MXR. Famous for their bright orange stompboxes, the Phase 95 is one of MXR's best known and most beloved pedals, delivering the classic sounds of the original 45 and 90 phasers.
Like other MXR pedals, the Mini Phase 95 is compact and extremely sturdy. With an enclosure that's made entirely out of metal, the Mini Phase 95 is more than suitable for regular use on the stage or in the studio.
As for the sound, it's tough to beat. This bundle includes the pedal and a variety of accessories, including two patch cables, an AC adapter and a longer instrument cable.
Check Price
7. Boss PH-3 Phase Shifter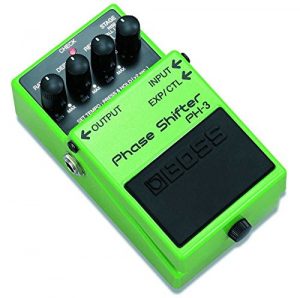 The Boss PH-3 is a versatile phaser pedal that has everything you'd expect from Boss, from its durable design and high quality construction to a range of effects options.
On the front of the PH-3, you'll find four control knobs, letting you control the rate, resolution and depth of the effect. There's also a stage control, allowing you to cycle through a range of classic multi-stage phaser sounds.
Add a tap-to-set-tempo feature into the equation and the PH-3 packs in almost everything you'd ever want in a phaser pedal. Like other Boss effects pedals, this is a great buy, with outstanding build quality and a versatile sound that's ideal for intermediate and enthusiast guitarists.
Check Price
8. Fender Lost Highway Phaser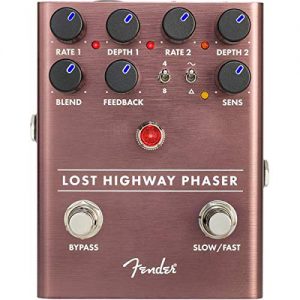 The Fender Lost Highway is one of the best phaser pedals on the market, offering both four and eight stage phasing with a huge range of control options.
If you're looking for a high-end phaser pedal that puts you in full control of your sound, the Lost Highway is sure to please. With seven control knobs, slow and fast speeds and a wave switch allowing you to toggle from sine or triangle waves, this phaser pedal is packed with options.
It also sounds great, with a versatile tone that's just as good for modern styles as it is for classic rock. Add true bypass into the equation and the Lost Highway is one of the best phasers on the market, especially for enthusiasts and professional guitarists.
Check Price
9. TC Electronic Helix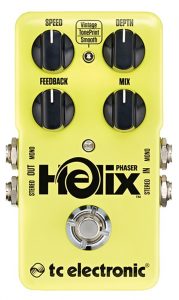 The Helix Phaser from TC Electronic is a compact, great-sounding effect pedal that's aimed at enthusiasts and professional musicians.
With its compact design, this phaser pedal fits easily into the front pocket of a gig bag and looks natural on even the smallest of pedalboards. Despite its small size, it includes a range of control options, from speed and depth to feedback and a variety of phaser types.
Like other TC Electronic pedals, the Helix Phaser is built to a high standard. Thanks to its solid metal enclosure, it looks and feels more than durable enough for use in the studio, as a practice pedal or live on stage.
Check Price
10. MXR EVH90 Phase 90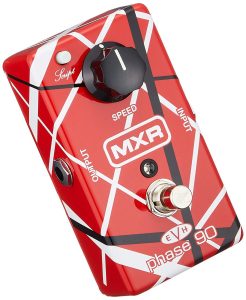 Eddie Van Halen was one of several guitarists to make the phaser a must-have pedal in the late 1970s and early 80s. This phaser from MXR combines the classic Phase 90 sound with Eddie's own style thanks to its instantly recognisable colour scheme.
The MXR EVH90 has a minimalistic design, with one knob to control the speed of the effect. It's also equipped with a small toggle button, allowing you to switch from a vintage, "Script" phaser tone and a modern "Black Logo" phaser effect.
If you're a Van Halen fan or just an 80s rock guru in general looking for something that will give you the classic 80s solo tone, the MXR EVH90 is definitely worth adding to your pedalboard. This was also always going to be our top phaser pedal selection, based on capabilities, tone, and looks… who can fault the EVH90?
Check Price
Conclusion
Hopefully this guide has helped you to understand the different types of phaser pedal subsets, particularly the types of pedals which are suitable for beginners and larger, more complex phasers for players looking for a highly-modified phased effect to add to part of their pedal board.
If you enjoyed this guide, be sure to take a look at our guide to the best delay pedals to add a touch of the spacey, echoey goodness to your phaser tone.
More from Pedals
---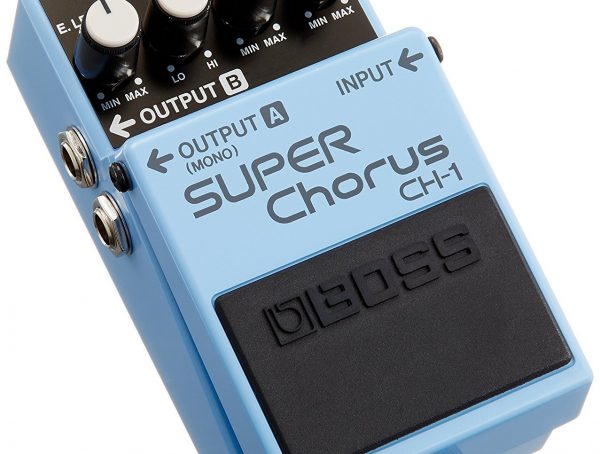 By now we've played, reviewed and got engrossed in countless Boss pedals... but what's one more, right? The CH-1 is …
As a guitar player, how do you choose the best chorus pedal? The right chorus pedal can add a huge amount …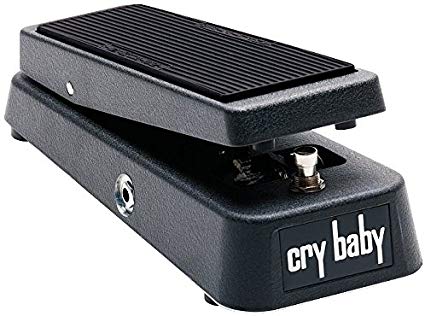 Full Review   First Impressions  We're perhaps a little biased with the Cry Baby, because it's such an utter classic, so it can …
Editor Picks
---