Build Quality

Price

Sound

Size
Summary
Our overall winner is the brilliant Boss DD-7!
In need of a definitive buyers guide for delay and echo pedals?
We've put together the complete, tried and test guide for guitarists looking for the best delay pedals of 2019. Be sure to take through our extensive list of the top 20, check out the video reviews, and pick up the pedal for your style of playing.
Before we get into this, it's important to understand what an echo or delay pedal actually is. Whilst the in-depth information can be found at the relevant wiki page, we've broken down the process into plain English. Simply put, this kind of pedal emulates the retro tape machine effects, meaning that if you're really into classic pedals then a tape machine option is the one for you.
Echo pedals are one of the more common pedal types for beginners, due to both their relatively low learning curve, and the diverse range of uses available. Delay pedals have also been around for years, expanding on the common reverb pedal to offer even more options. For the lovers of retro pedals, tap delay and echo units are still in production, and are incredibly sought-after. Varying in complexity, tape delay pedals are a step up from the standard echo option. If you're looking to get serious about using this kind of pedal, then be sure to check out our tape delay additions within this ultimate guide.
Let's get down to our top selections, so you can get going with the perfect pedal for you.
Table of Contents: 
Best Delay & Echo Pedals 2019 – Quick Look
Not got chance to read our review of each pedal? No worries. Below is a quick look table of our roundup of the best delay, reverb and echo pedals of 2019.
| Image | Pedal | View Price |   |   |
| --- | --- | --- | --- | --- |
| | Donner Wave Super Mini Analog Delay | AMAZON | | |
| | Behringer Vintage Delay VD400 | AMAZON | | |
| | Boss DD-7 Digital Delay Pedal | AMAZON | | |
| | Joyo JF-08 Digital Delay | AMAZON | | |
| | TC Electronic Flashback Mini | AMAZON | | |
| | Electro-Harmonix Canyon Delay | AMAZON | | |
| | MXR M169 Carbon Copy Analog | AMAZON | | |
| | Andoer Guitar Digital Delay | AMAZON | | |
| | Twinbuys NUX Time True Bypass | AMAZON | | |
| | Wampler Ethereal Delay | AMAZON | | |
| | MXR M169 Carbon Copy Analog Delay | AMAZON | | |
| | CNZ Audio Analog Delay | AMAZON | | |
| | Donner Multi Delay | AMAZON | | |
| | Mooer Reecho Digital Delay | AMAZON | | |
| | Aural Dream Breath Delay | AMAZON | | |
| | MXR M292 Delay | AMAZON | | |
| | TC Electronic Nova Delay | AMAZON | | |
| | Keeley Delay Workstation Analog | AMAZON | | |
| | Danelectro D-8 Fab 600 ms | AMAZON | | |
| | EX AD-6 Analog Delay | AMAZON | | |
1. Donner Wave Super Mini Analog Delay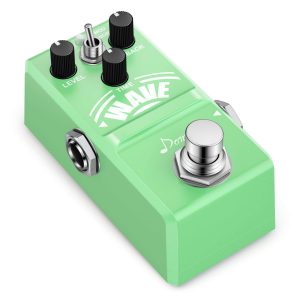 Made from aluminium alloy, this delay pedal is super small in size. It's regarded as one of the most compact analog delay pedals out there. The tone of wave is suitable for a wide range of music and works just as well as the more expensive pedals in the market.
The unit is very simple and easy to use. It comes with complete basic adjustment knobs, with three function knobs as well. The Level knob adjusts the delay volume, Time sets the delay time and F.Back sets the repeated notes. A LED indicates whether the unit is working or turned off. All in all a great pedal for beginners or guitarists looking for a pedal that won't take up a whole load of room in their pedal board.
2. Behringer Vintage Delay VD400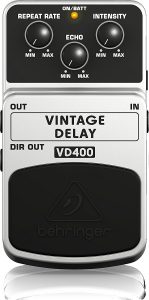 This delay pedal offers a great variety of effects for its price. The Vintage BBDs delivers up to 300 ms of delay, and a clean signal is ensured through the noise reduction circuit. A LED light also indicates the working status of the unit.
The knobs for repeat rate, intensity and echo allow you to adjust the sound specifications. It can be powered using a 9V battery or Behringer PSU-SB DC power supply, great for players looking for a chargeable option on the move.
3. Boss DD-7 Digital Delay Pedal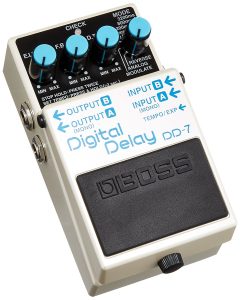 The new DD-7 stretches creativity with the modulation delay mode, modelled analog delay mode, and pedal control options. It even gives a longer delay time, with the extended delay rate at about 6.4 seconds. Natural and chorus sounds can be obtained through the modulation delay mode. The standard Boss DM-2 sound can be obtained by the analog delay mode.
There is an external footswitch that controls the tap rhythm. An expression pedal is sold separately that controls delay time, feedback and effect level. Furthermore, this product offers sound-on-sound recordings for up to 40 seconds. It also comes with a five-year warranty too, not that it'll be needed due to its bulletproof construction.
The complete functionality, options, build durability and price is also why the DD-7 is our top selection for this buyers guide.
4. MXR M169 Carbon Copy Analog Delay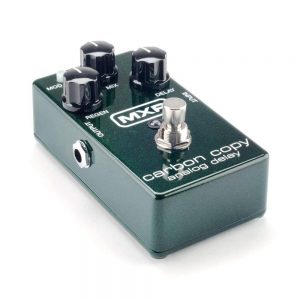 With a delay time of up to 600 ms, this pedal is simple and easy to use. Weighing 1 pound, the unit is very lightweight and durable. It's also 100% analog for the fans of analog pedals reading this guide. Other than providing you with a good analog tone, the pedal has an added modulation effect which adds a whole new twist to the standard effect you might be expecting from an echo pedal.
The pedal switches to a true bypass mode once the delay is turned off. The delay can be altered and controlled through the three knobs on the unit. The Regen knob controls the repeat rate, the volume rate can be adjusted by the Mix knob and the Delay knob adjusts the delay time between repeated signals.
5. Joyo JF-08 Digital Delay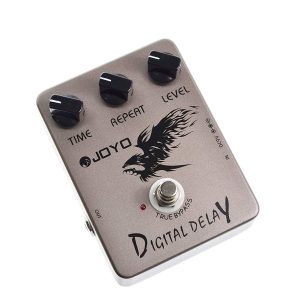 The Joyo JF-08 Digital Delay Effect Pedal has a special filter circuit that remakes the sound of the analog delay. It offers three knobs that can be used to adjust the time, repeat and level. The Time knob is used to adjust delay time, the Repeat knob is for controlling the intensity of feedback signals and the Level knob is for adjusting the mixing ratio.
The delay time has a short range of about 25-600 milliseconds, which make it very popular among its users. It is considered as a true bypass design as it is most effective at reducing the loss of tunes. A 9V battery is used to power it.
6. TC Electronic Flashback Mini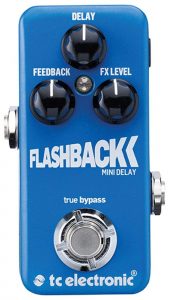 The TC Electronic Flashback Mini is a mono delay pedal with a large range of delay effects. It allows you to tweak the sound easily through Tone Print, which can help you create your own custom delay settings. It lets you control your delay sound according to your needs with the Feedback, Delay and FX knobs. Your tone is preserved by the true bypass.
The product's ultra-small footprint saves pedal board space. It has high-quality components and is designed in such a way that it's easier to take on the road than standard sized stomp boxes!
7. Electro-Harmonix Canyon Delay & Looper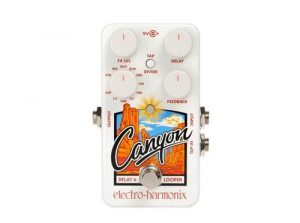 This pedal comes with a rotary mode switch with 11 positions that contact the looper and give access to 10 different delay modes like echo, modulated delay, multi-tap delay, reverse, octave delay, deluxe memory man, shimmer, reverb plus delay and sample/hold. It also contains controls for time delay from 5 ms to 3s.
It has an FX knob for mixing and balancing. It also features a Feedback knob for single to infinite repeats. For every effect mode, a secondary mode knob is available. Multi-tap, reverse and sample/hold provide a secondary function for the delay knob. There is a footswitch that sets the tap tempo.
8. Andoer Guitar Digital Delay – 600ms Max True Bypass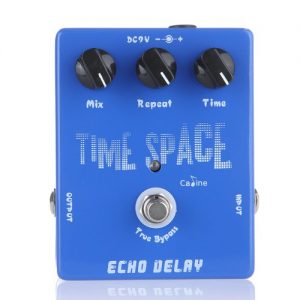 Andoer Guitar Digital Delay offers a delay time from 25 ms to 600 ms. It has settings that allow the user to alter the Mix, Repeat and Time settings. A true bypass feature is also provided to reduce the loss of the tone being produced. It is designed with a full-metal casing and has a sturdy stomp switch.
It can be connected to a negative center 9 V power supply. It is very easy to use and weighs around 0.9 pounds. It is not a high-end pedal, but it is a great delay pedal for novice guitarists (and bass players in particular).
9. Twinbuys NUX Time True Bypass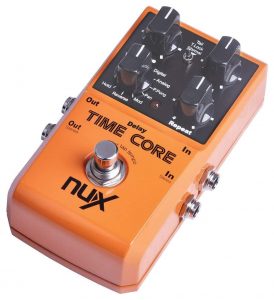 This pedal weighs 9.6 ounces and has a standard size of 5 x 2 x 4 inches. It offers true stereo signal processing. It also comes with 'function of tone locking' with the ability to save or recall one preset. This is very useful for users who like to experiment as they cannot lose the tone they worked hard on establishing before.
Along with the delay feature, this pedal comes with an on-board loop machine with 40 s of memory space. It can detach stereo and mono connections with the set of flexible in and out jacks and comes with 32-bit DSP. This pedal is highly recommended for fans of loopers and those who like to get their hands dirty with experimenting with guitar effects.
10. Wampler Ethereal Delay and Reverb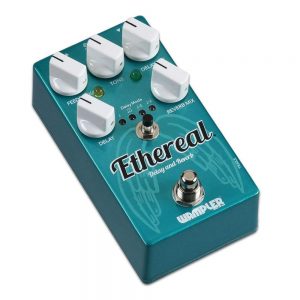 This regular pedal has 2 delay knobs and a plate reverb that can be used simultaneously. They can also be used individually or combined to create an amazing ambient sound. It can work up to 1s of delay with a quarter note. There is a tone knob which gives the right sonic color for your effects. It has high-grade components that give better sound and response.
Your tone is preserved by a soft switch with true bypass. The pedal board space can be preserved by the top-mounted input and output jacks. It also has a trail button that helps with the delay pattern and helps the reverbs ring out after switching off the pedal.
11. MXR M169 Carbon Copy Analog Delay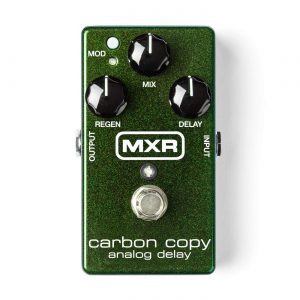 A top-mounted modulation switch is featured in this pedal, which can control the emulation of crisp tape echo. This product has internal trim pots, which can adjust the width and rate control of the modulation according to your preferences. It produces warm delay sounds and with the bucket-brigade technology, it can product that classic echo and FX. It also provides double tracking and flanging effects.
It has 3 simple knobs to control the effect, delay repeats and blending. A Mix knob controls the volume, the Regen knob manages the number of echoes produced, and the Delay knob controls the speed of the delay.
12. CNZ Audio Analog Delay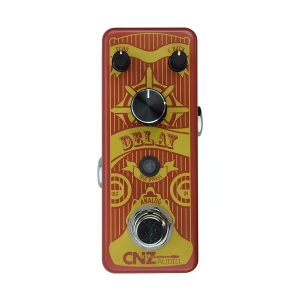 With the help of this guitar pedal, you can enjoy all those classic guitar riffs and breathe new inspiration into your music. This pedal has an echo knob that lets you handle the time of your echoes and number of echoes. You can even choose around 1-10 echoes to fill any needed space in your music.
There is a feedback knob on this pedal that enables you to manage the volume of the feedback from this pedal. More volume and body to the delay effect can be given by adding some feedback, while a clear and crispy delay can be avoided with a low feedback. Then, there's the time knob that can help you control the speed of the delay.
13. Donner Multi Delay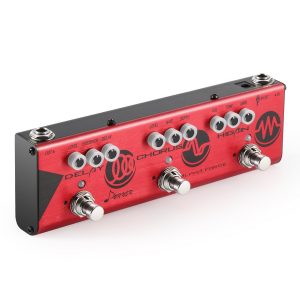 This pedal is made of aluminium alloy and weighs around 350 g. It consumes the power of 70 mA and charges with a power supply of 9 V DC with the negative in the center. It contains a ¼" mona jack for input and output. A stable LED indicator is installed to indicate its working state.
You might experience insanely heavy distortion with the full range response. The unit is very simple to operate and has a standard size of 196 x 64 x 45 mm.
14. Mooer Reecho Digital Delay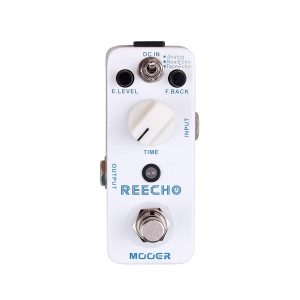 This delay pedal offers 3 delay modes – analog, tape echo and real echo. The Analog option recreates the classic analog delay with a smooth echo, Tape Echo produces a spacey echo that is usually heard from a vintage machine, and the Real Echo option produces a sound just like a real echo.
The product comes with a footswitch for recording and playing. It can give a delay time of 5 ms to 780 ms. It's also extremely small, so it can be stored anywhere you want. It also features true bypass to reduce noise distortion.
15. Aural Dream Breath Delay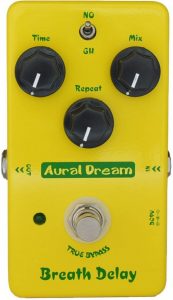 This delay pedal has a true bypass mode. It also has a solid and compressed design. It is suitable for pop stars as it has a classic atmosphere delay effect. It plays retro, warm, new, and natural timbre. It has three switches for time, repeat and mix. Time manages the time delay, Repeat helps with adjusting the repetition and Mix controls the dry and wet signal ratio.
It weighs around 270 g and works at a power supply of 28 mA. It has a two-mode switch as well: NO mode and GH mode.
16. MXR M292 Delay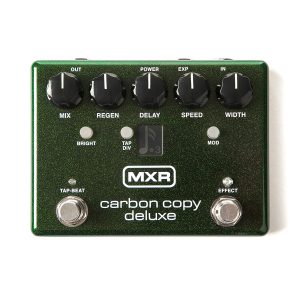 This gives the same warm analog sound as the original carbon copy analog delay. It can provide a delay time of up to 1.2 s, which is twice as much as its predecessor. Furthermore, it offers an easy-to-read status display with different types of tap tempo subdivisions. It also allows the user to program presets. This will help it recall your favourite sounds or settings.
Various functions can be controlled externally by an expression jack. It has true bypass switching and requires a standard 9 V battery to charge it. It is really useful for beginners.
17. TC Electronic Nova Delay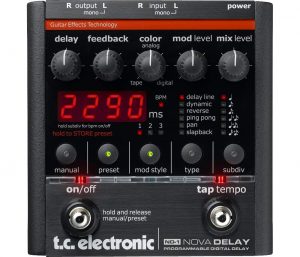 It has a compact design and has rich features that can help you create totally different sounds with 6 delay types, 9 programmable presets and switchable modes. Slapback, reverse and dynamic delays are included in the 6 delay types. It can easily recall the sound you need. It offers you around 2290 ms of delay time, which gives you plenty of room to product a high tonal impact.
There are shaping and mixing knobs added as standard, along with a a 12-volt power supply which is needed as a separate purchase to ensure charging efficiency.
18. Keeley Delay Workstation Analog Multi-Effect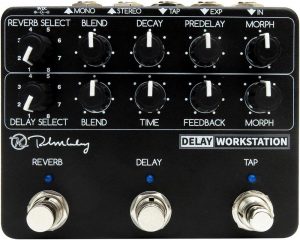 This Keelay pedal has two banks of 8 effects. It is a powerful workstation with a dual DSP processor delay and reverb machine. It is an extremely creative device that comes in a small packaging with different delay and reverb patches. To make some classic sounds, this workstation can mix multi-head tape echoes and a vintage slapback with spring or plate reverbs.
Hall reverbs can be used to create a huge and endless space if you set the delay workstation for warm sounding analog delays. Weighing only 14.1 ounces, the unit is lightweight and takes only a small space on your board.
19. Danelectro D-8 Fab 600 ms Delay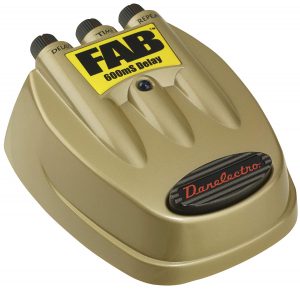 This pedal delay is very affordable and takes as little space as possible. Three knobs control the mix, speed of repeat and number of repeats. It has a delay time of 600 ms. The Delay, Time and Repeat controls are simple to use and are very effective, making it easy to produce the sound you are looking for.
At a very low price, the D-8 Fab pedal is a steal. If you are a beginner, this delay pedal may be perfect for you to start practicing on.
20. EX AD-6 Analog Delay Pedal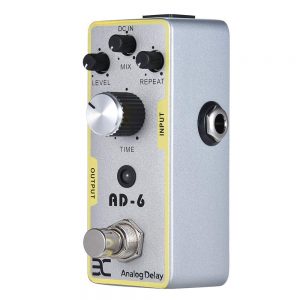 This is a pure analog circuit delay pedal with 30 ms to 340 ms of delay time. The converted tape delay repeats are delivered by AD-6. It offers controls for volume, wet, repeat and time that enable an accurate response from short slaps to long, extended echoes.
It also gives smooth new delay effects. It has a compact and powerful analog circuit. When the pedal is switched off, the input jack is directly connected to the output jack through the means of true bypass. It uses a standard 9V battery for charging. It also has an AC adaptor input on the top of the unit.
Conclusion
We hope you've found what you're looking for in our guide to the best delay and echo pedals for guitarists. If you enjoyed this guide, then be sure to take a look at the overdrive pedal buyers guide for beginners, and our latest guide to the best guitars for travellers.
More from Pedals
---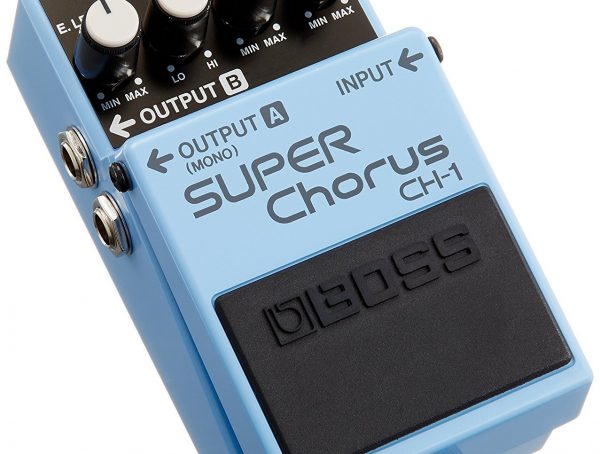 By now we've played, reviewed and got engrossed in countless Boss pedals... but what's one more, right? The CH-1 is …
As a guitar player, how do you choose the best chorus pedal? The right chorus pedal can add a huge amount …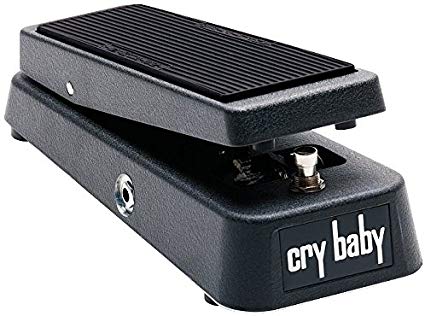 Full Review   First Impressions  We're perhaps a little biased with the Cry Baby, because it's such an utter classic, so it can …
Editor Picks
---