If you love playing the guitar you will know the feeling of wanting to take it everywhere with you. But spending so much money on a guitar is going to make you hesitant to travel with it. This post will look at the top 10 guitar cases that are perfect for traveling, more specifically flying, so that you never have to worry about if your guitar will get damaged throughout the journey ever again.
Also, take a look at our guide on the airlines that allow you to take your guitar on board with you here: https://guitaarr.com/guitars/which-airlines-take-my-guitar-on/
1. GatorTSA ATA Molded Acoustic Guitar Case in Black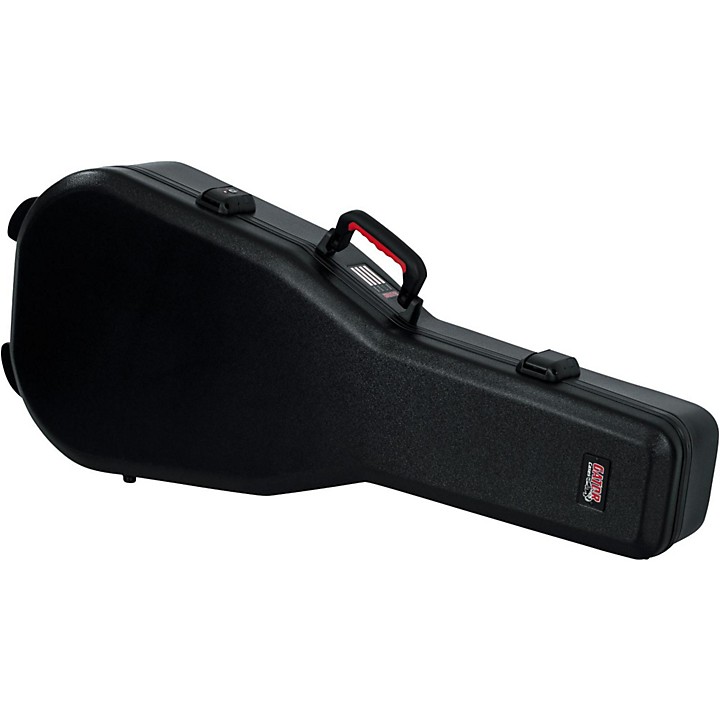 This case is only 11.40lbs making it the perfect case for someone who likes to travel with their guitar but doesn't want to have to choose between protecting their guitar or travelling light.
The plush interior is thick enough to ensure your guitar will be safe and secure and won't get damaged in transit. But is still a lightweight enough material so your guitar can be carried around with ease for extended amounts of time.
This case is reasonably priced at $199.99 and its shape means that it takes up less space than the standard rectangular guitar cases on the market. 
Check Price
2. GatorGL-ELEC Lightweight Fit-All Electric Guitar Case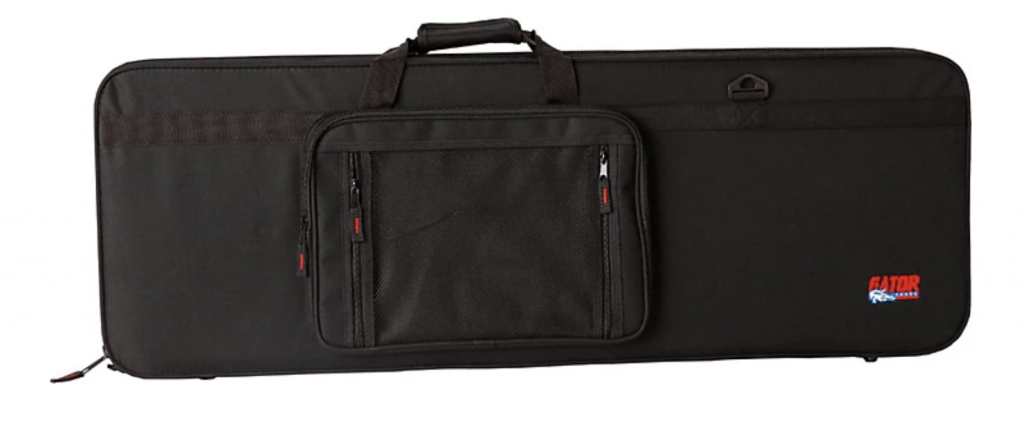 This electric guitar case fits the majority of electric guitars on the market, so it is the perfect case to choose if you have more than one guitar and like to switch around which one you use regularly.
The soft plush interior of the bag along with the foam neck support will protect your guitar when travelling. However, the bag is a mix between a hard-shell case and a soft bag which makes it much more lightweight, again making it the perfect travel bag.
The bag also features two accessory pockets so that you can keep all small guitar equipment together. This case is good value for money at $119.99.
Check Price
3. Ibanez M300C Hardshell Guitar Case in Black/Blue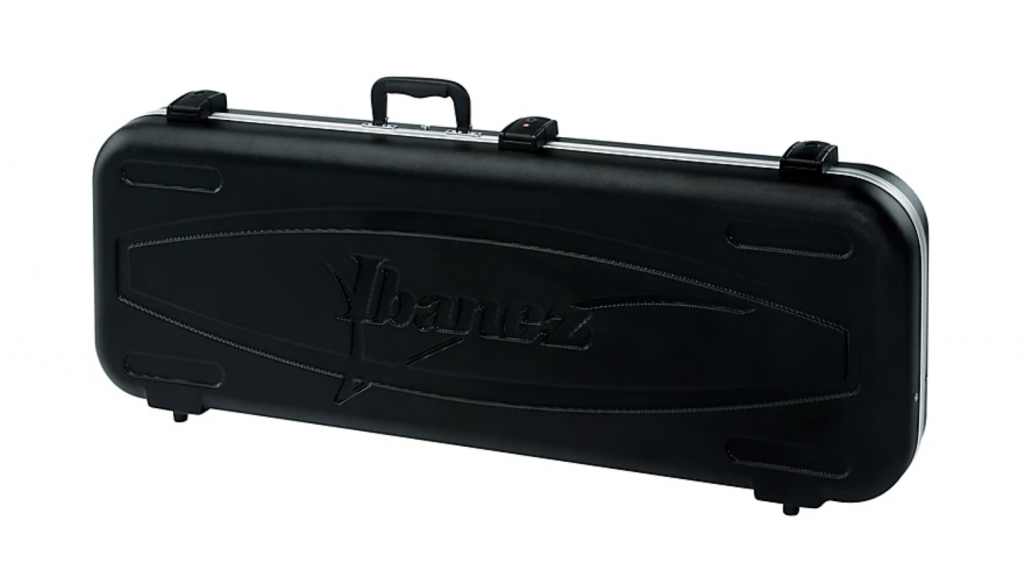 If you need a case that can withstand lots of rough travel, then this is the case for you. This hard-shell case with aluminium rim can protect your guitar from dust, dents, scratches, and water damage whilst maintaining a sleek compact design.
The case features three pockets giving you plenty of space to store all your guitar accessories. Weighing 10.48lbs, this case is the perfect lightweight travel case. With a mid-market price of $149.99 this case is also great value for money. 
Check Price
4. IbanezAC100C Classical Guitar Hardshell Case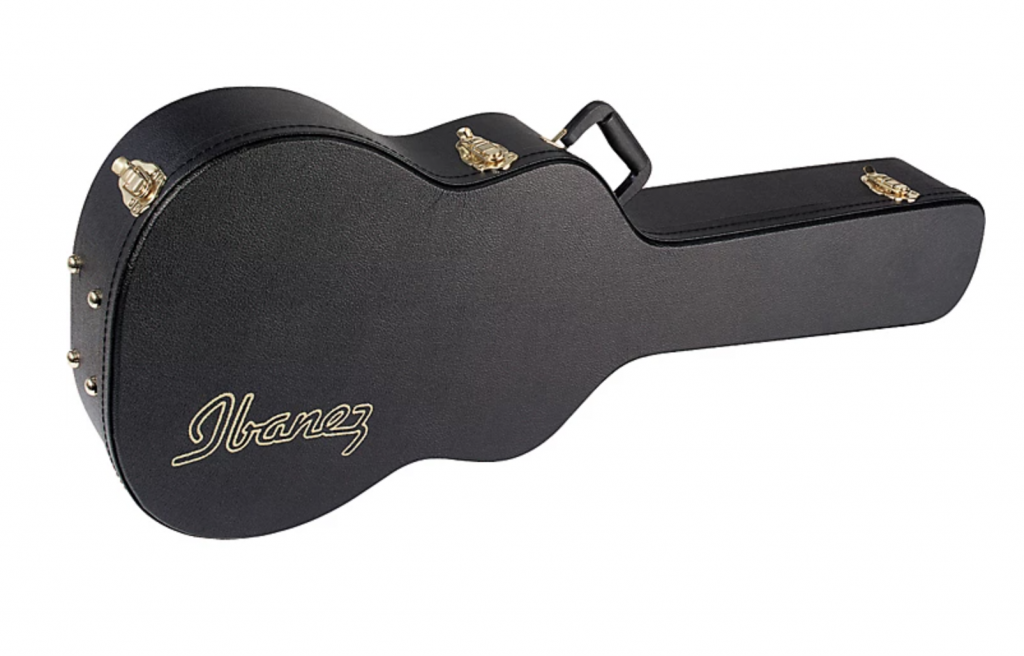 This sleek black case with gold hardware is at the lower end in terms of price at $118.95 but that doesn't mean that it is low quality. In fact, this product has an overall rating of 4.3 stars and customers are happy with their purchase.
The reviews even point out how lightweight this case is, so you can be reassured that it will be a great travel case. The case is suitable for a selection of guitars including the Ibanez AC10, GA, Talman, PC, and JX70 guitar.
Check Price
5. Musician's Gear Deluxe Electric Guitar Case in Black

If you are on a budget but don't want to compromise on quality, then this case is perfect for you priced at just $79.99. But is currently on sale for $63.99, such a great price. This case is made from plywood and features textured vinyl corners making it a good solid case to protect your guitar from any damage that travelling may cause.
You can choose from a tweed or black design, both come with a plush interior for your guitar to rest on. This case is pretty universal in terms of sizing and fits both Strats and Teles. 
Check Price
6. Fender Strat/Tele Hardshell Case in Black Tweed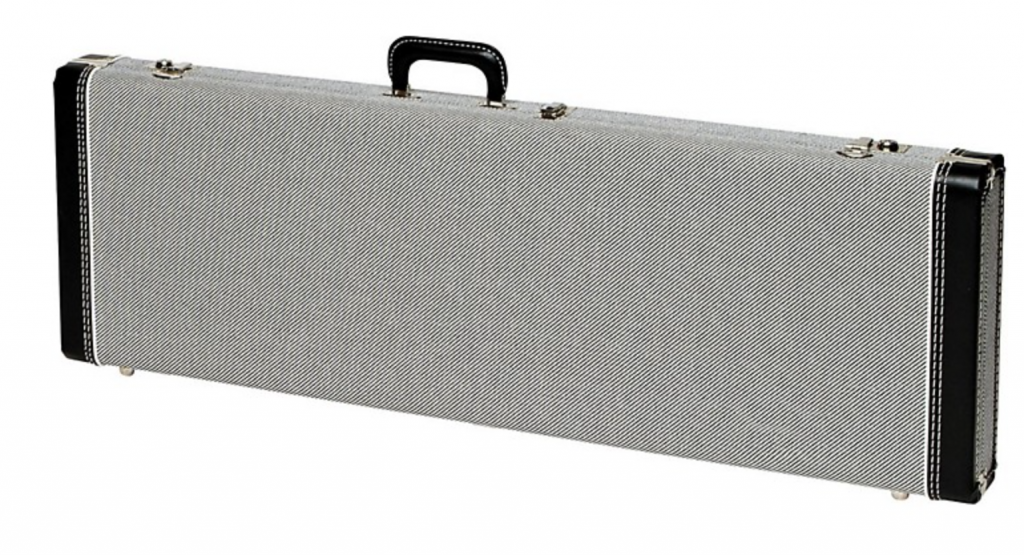 This case is one of the pricier cases in this list priced at $299.99, but that is with good reason. This case is suitable for both Strat and Tele guitars and features a locking latch and a large pocket, the perfect place for your easy to lose accessories.
The case has a black vinyl trim on both ends which makes the case even stronger and more protective as well as keeping it stylish. This case comes in 5 different colourways, so you are spoilt for choice. 
Check Price
7. Musician's GearV-Style Case Black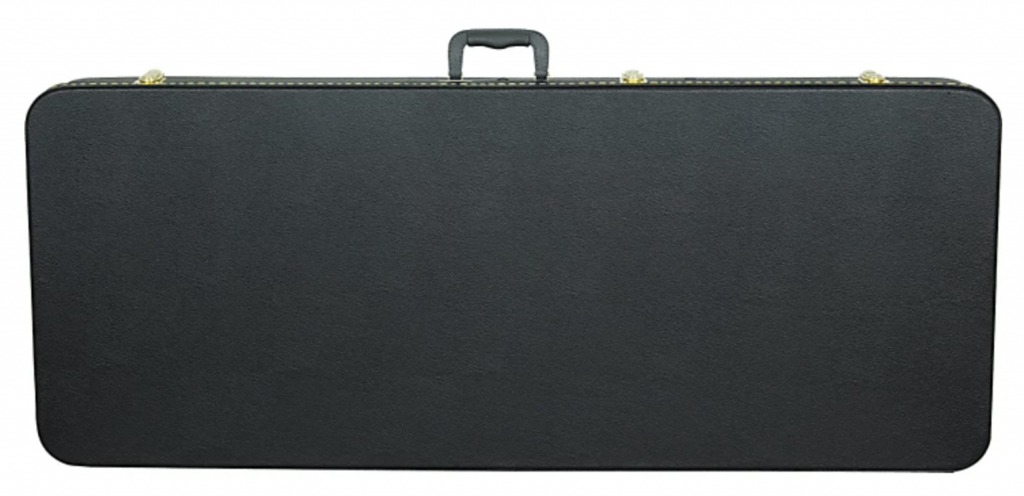 This case is specifically designed to transport V-style electric guitars from one place to another with ease.
Made from plywood and finished with a black vinyl wrap that covers the outside, this case is sure to be strong and durable whilst maintaining a stylish appearance. It also has an interior pocket which provides a great place to store all your accessories.
It also has lockable fastenings that have a modern gold finish to them. All this for a great price of $109.99.
Check Price
8. Schecter Guitar ResearchDiamond Series Case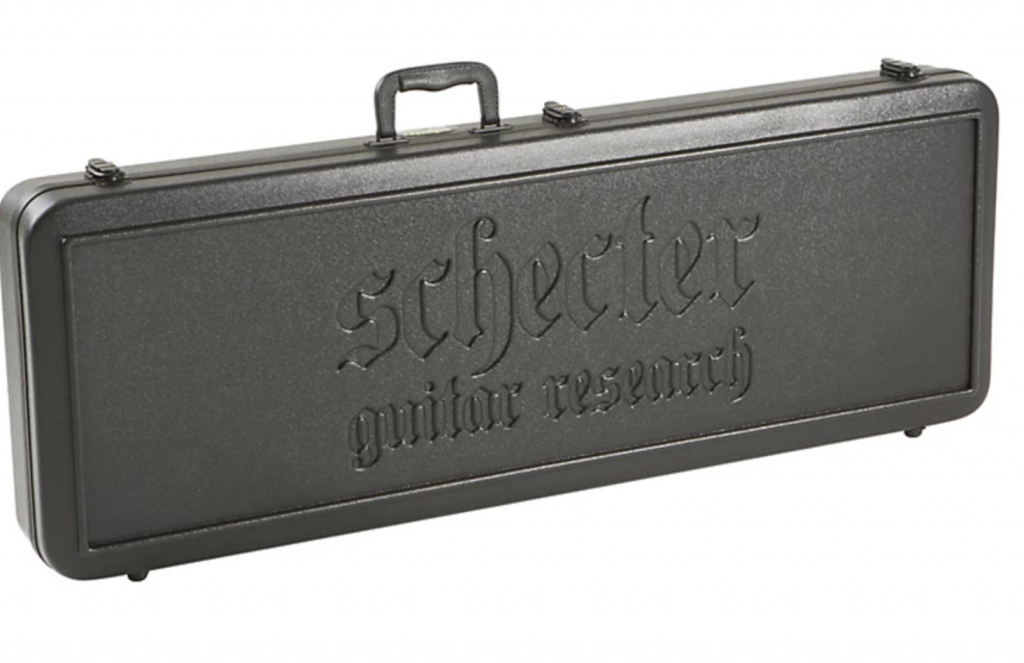 This case is the perfect fit for all Dimond Series guitars and is on sale for the mid-market price of $149.00. It has a hard-shell black exterior which will make sure that your guitar is protected from any bumps throughout your travels.
The plush blue interior further protects the guitar by ensuing that it doesn't move around in the case mid journey. Drawback latches are the perfect practical finish for this case. 
Check Price
9. SKBTaylor GS-Mini Guitar Hardshell Case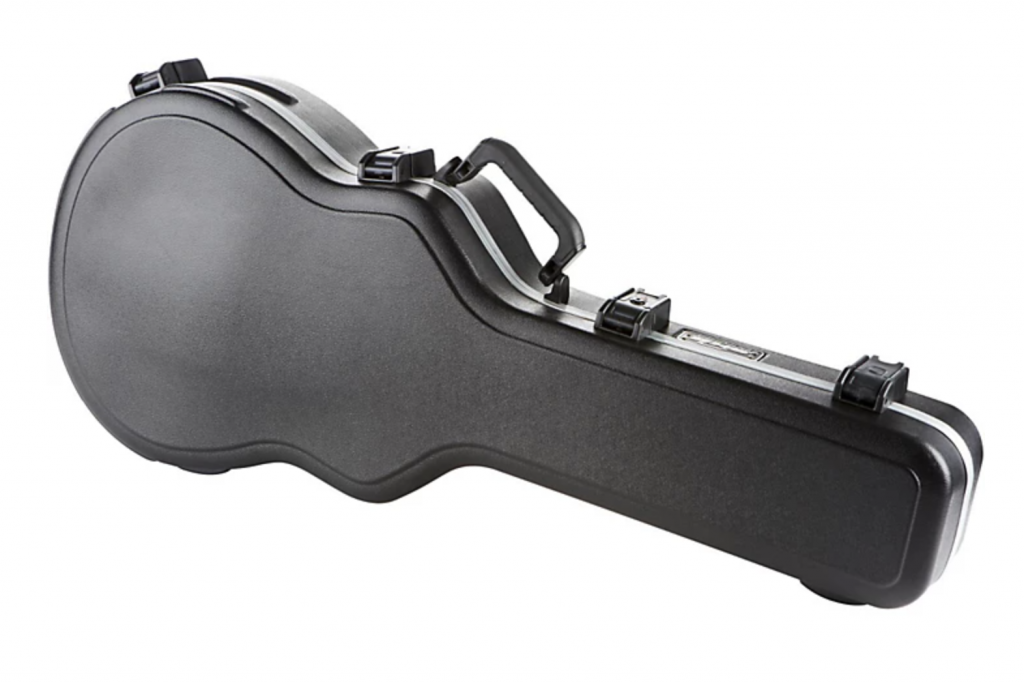 Designed to fit the Taylor GSM Mini guitar, this case does not disappoint. It has full-length neck support to make sure that even the most fragile part of your guitar is protected against any traumas that travel can cause.
Moulded bumpers and several locks are other features of this case that ensure even more protection and safety.
The interior of the case is fully lined with plush fabric. Considering all the extra protection and safety measure that this case has, it is still so lightweight at just 9lbs. 
Check Price
10. Road RunnerRRDWA Deluxe Wood Dreadnought Acoustic Case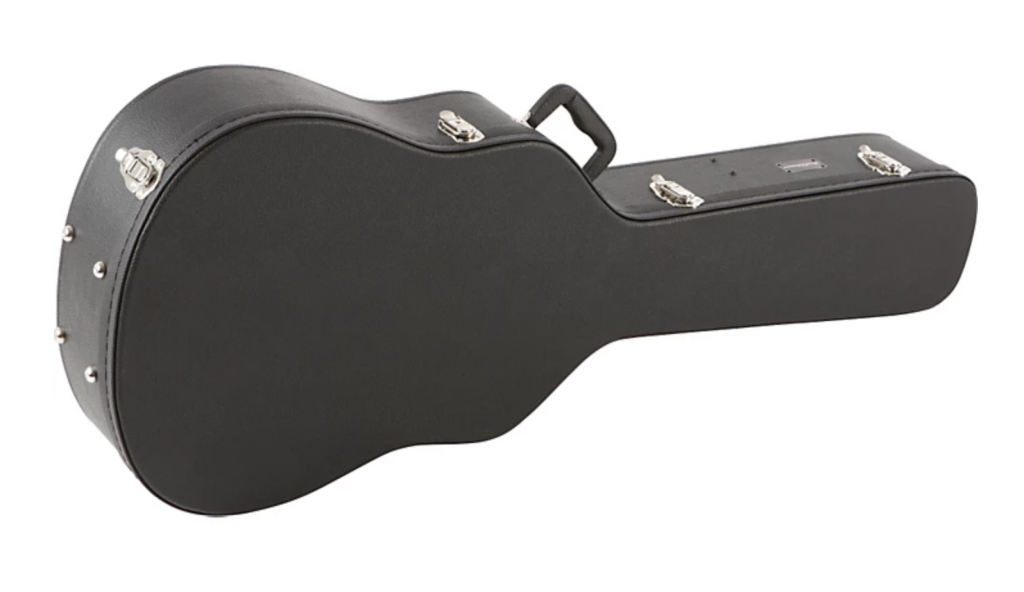 Looking for an eco-friendlier product? Then this case is for you. Made using environmentally friendly dye-free materials, this plywood case doesn't compromise on quality. The exterior of the case is finished with durable black Tolex and features valances that are stitched through the case. This alongside the soft cushioned case lining means that this case will protect your guitar from any travel adventures you take it on for many years to come. Priced at $119.99, you are sure to get your money's worth out of this case. 
Check Price
If you enjoyed this guide then you might also love:
More from Guitars
---
The Gibson Les Paul is a classic electric guitar that has been a favorite of guitarists for generations. One of …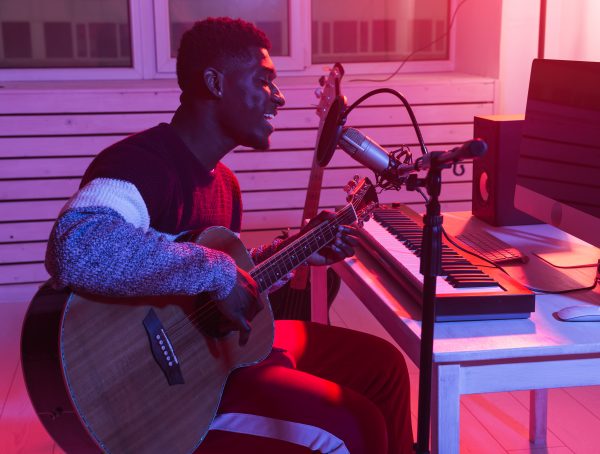 When recording music or audio, the equipment you use can affect the outcome of your production. This is necessary for …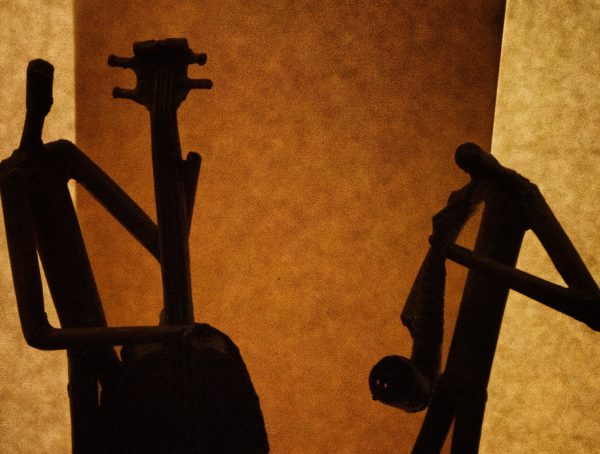 What should you be looking for when buying a gypsy jazz-specific guitar? Well, first of all, hello to you my fellow …
Editor Picks
---