Why are classical guitars a good choice for a beginner player?
It's no coincidence that many first-time players will either buy or be gifted a classical (often referred to as 'Spanish' guitars for their first guitar. There are quite a few reasons behind this, but the main ones are:
Price – Generally, you'll find that you can buy a standard classical guitar for a beginner much cheaper than an electrical equivalent. Largely down to the lack of components in comparison to an electric, cheap classical guitars cost less to manufacture and the lower-end ones are produced on a mass scale
Availability – Go into any department store or even just look on Amazon. You'll no doubt see beginner guitar kits where 90% are classical or at least acoustic guitars. Naturally, if you didn't know about the guitar, you'd go straight for whatever the cheapest and most readily available option is if you were buying it for a gift (or if you were just starting out and didn't want to spend a fortune).
String texture – It's often said that nylon strings are much more forgiving than metal ones, and there's certainly truth in that. They can, however, be harder to change, but if you're just starting out you're going to want to build your calluses on strings that won't destroy your fingers from the outset – this is the beauty of the classical guitars for beginners
Where do you start with buying a classical guitar as a beginner? 
My main advice is not to jump in by spending a fortune from the get-go. You want to view this first classical guitar as the perfect one to learn on before you can then spend more money on an electric or something else once you know you're ready to level up.
However, as you're probably not spending a lot, it's not necessarily the type of guitar purchase that you need to sit on for weeks or try in a store. Go for price and average review from a trusted brand. I've outlined ten of my favorite below.
10 of the best classical guitars buy if you're just learning to play the guitar
1. Lucero LC100CE Acoustic-Electric Cutaway Classical Guitar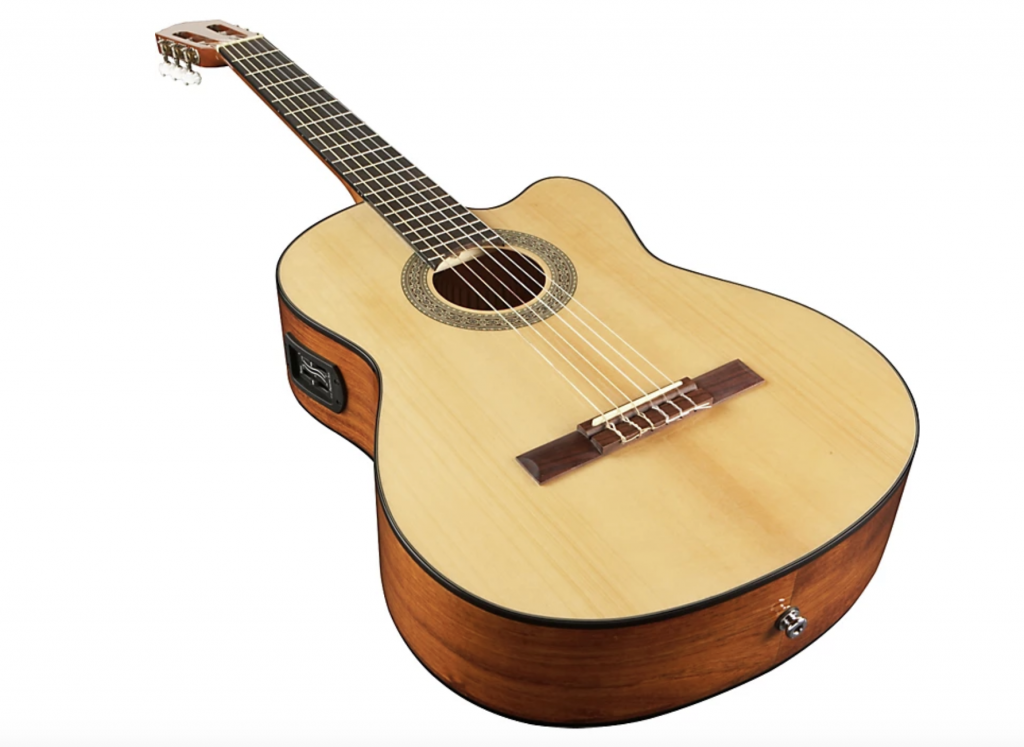 This natural gloss acoustic-electric guitar with chrome hardware is the perfect starter guitar. The body of the guitar is made from mahogany and the top wood is made from spruce which makes this guitar sturdy and durable without an extortionate price tag.
It is currently on sale for $199.99 down from $239.99. This guitar also has a cutaway design which allows full fingerboard access, this makes it easier for beginners who haven't memorised the chords yet to see exactly where their hand placement should be. Previous purchasers of this product recommend this guitar for practicing.
Check Price
2. Yamaha CGS Student Classical Guitar in Natural 1/2-Size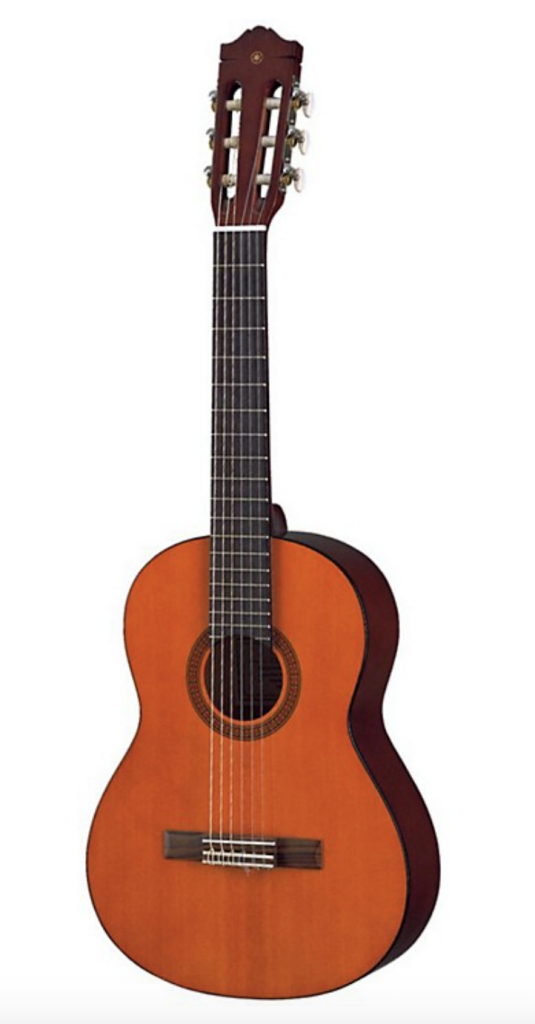 This guitar is perfect for beginners as it is a ½ size guitar, making it less bulky than your average full-size guitar. It is a much simpler guitar to practice with compared to others on the market and reasonably priced at $129.99.
You can also purchase a ¾ sized version of this guitar for just $10 more if you would like a little bit of a larger beginner guitar.
Made up of meranti wood on the body, spruce on the top and nato wood on this neck, this guitar has the durability that is needed for a beginner player. To make this guitar sleek and stylish, it is finished with chrome hardware and a natural wood finish.
Check Price
3. Cordoba C5-CE Classical Cutaway Acoustic-Electric Guitar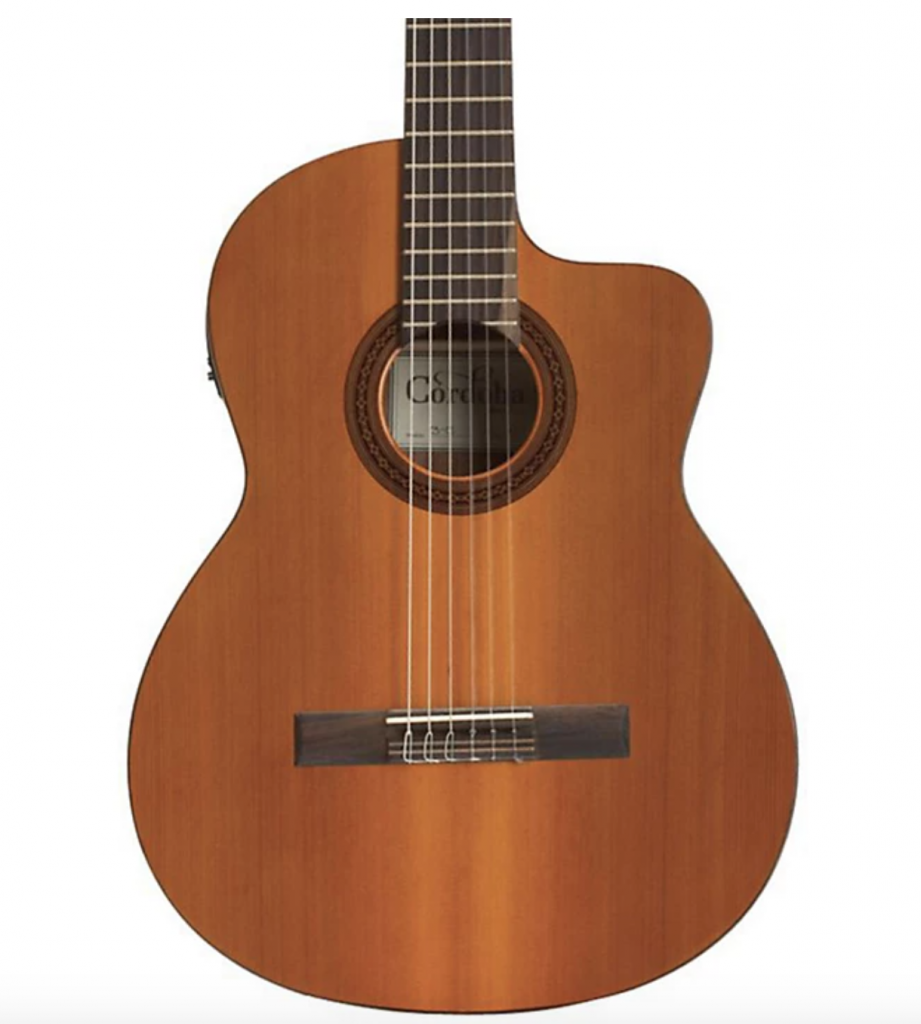 This acoustic-electric guitar is great for beginners at it features a cutaway design and has a thinner neck compared to most standard full-sized guitars. Both features make this guitar easier to play and hold.
If you want a durable guitar for a mid-market price this one is for you. The top is made from Canadian cedar wood and the back and sides are made from mahogany, finished with either a sunburst stain or a natural stain. This guitar is not only practical but nice to look at too! All for under $500.
Check Price
4. Cordoba C3M Acoustic Nylon String Classical Guitar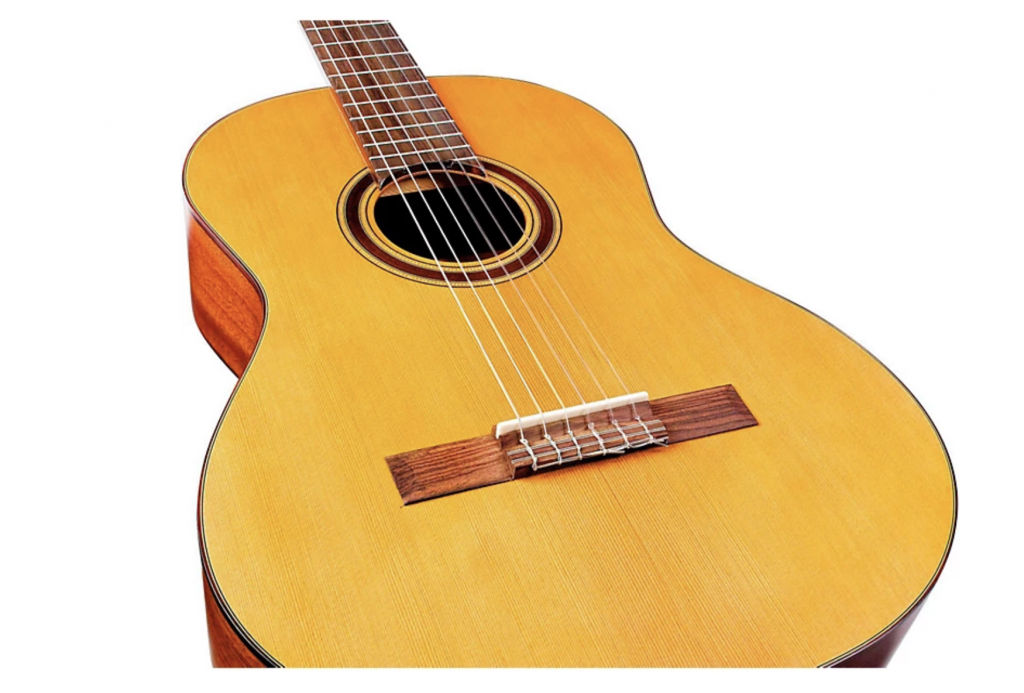 This guitar is an affordable option for people who want to get their first full-sized guitar, as it is good quality and priced at just $275.00. The guitars top is made from cedar wood and the back and sides are made from mahogany.
This guitar also has a rosewood fingerboard and pearl buttoned nickel turning machines.
In terms of appearance this guitar has a hand inlaid wooden rosette and is finished in a natural light matte. A great option to consider when buying your first full-sized guitar.
Check Price
5. Yamaha CG102 Classical Guitar Spruce Top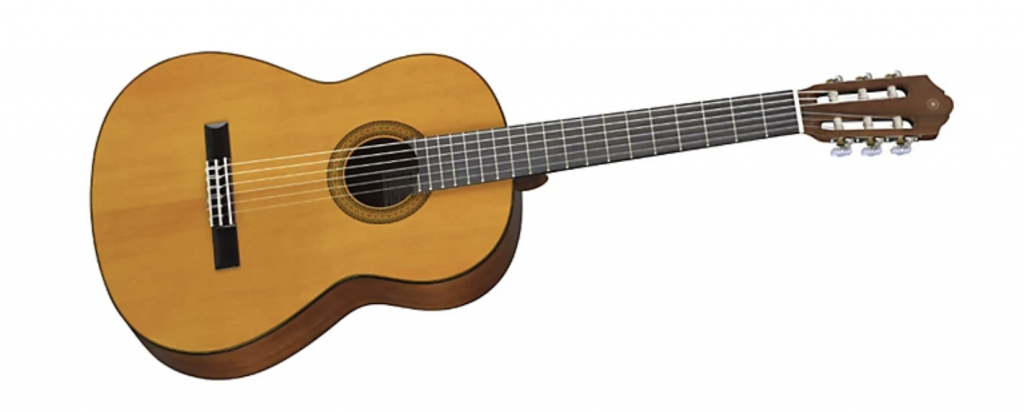 This full-sized classic guitar is designed to deliver a rich tone with high end sound quality without the high-end price tag. Priced at $209.99, this guitar will give beginners a top quality instrument that they need to create great music without costing a fortune.
The top is made from spruce wood and the back and sides are made from nato wood. It features a rosewood fingerboard and has a width of 52mm. The guitar is finished off with a natural wood coloured stain with chrome hardware that finishes the guitar off nicely.
Check Price
6. Lyons Classroom Guitar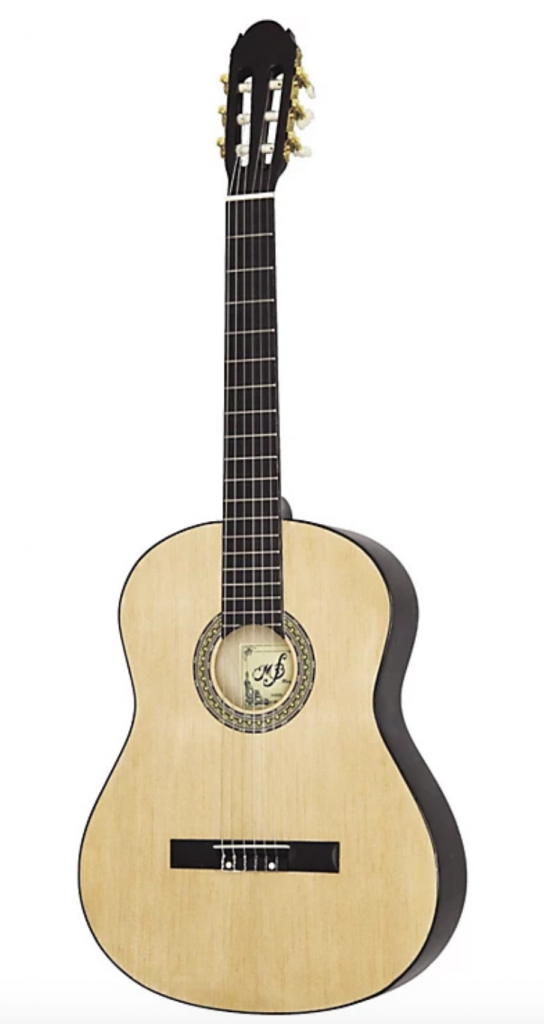 This is the cheapest guitar on this list priced at just $84.99. Admittedly, you may not get an as good quality product as some of the more expensive guitars on this list, but this guitar will be everything a beginner needs to learn guitar on.
If you're not sure if playing the guitar is for you but would like to try it out then this guitar is the perfect thing. This guitar is full sized but is available in ½ size and ¾ size for the same price. With a laminated spruce top, this guitar is a fuss-free budget friendly option.
Check Price
7. Taylor Academy 12-N Grand Concert Nylon String Acoustic Guitar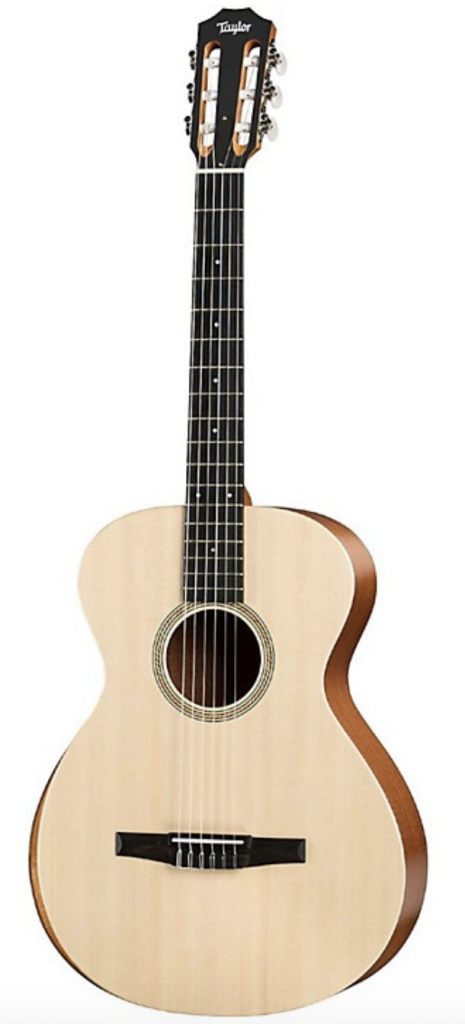 This is one of the pricier guitars for beginners in this list, but the price really does reflect the quality of the product. Taylor guitars are passionate about making sure guitars don't restrict someone's talent and for a beginner that is vital.
You could have a natural talent, but your guitar isn't performing as well as it needs to be to keep up with you. That's why paying a bit extra to get the best quality is the way to go. The top of this guitar is made from solid Lutz spruce.
The guitar itself is finished in a light natural wood stain and features chrome hardware.
Check Price
8. Fender CN-60S Nylon Acoustic Guitar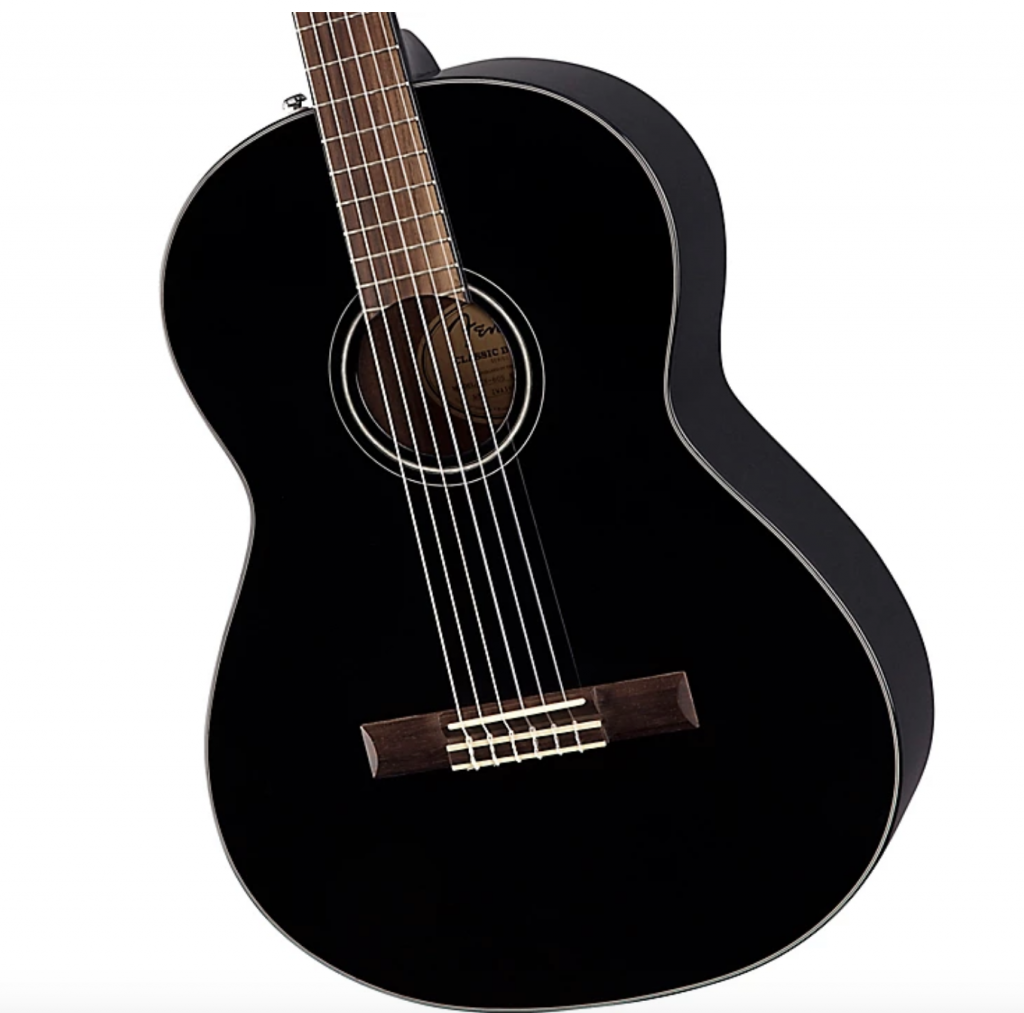 Appearance-wise this guitar is unique compared to all the other traditional guitars on the list as it has a black finish to it with chrome hardware. This makes the guitar look a lot more expensive than $229.99.
The top of the guitar is made from spruce wood and the back and sides are made from mahogany wood. This means that you aren't swapping style for durability, with this guitar you get both.
This guitar is also easier to play than standard guitars as it has rolled fingerboard edges making it the perfect guitar for beginners.
Check Price
9. Takamine TC135SC Classical 24-Fret Cutawa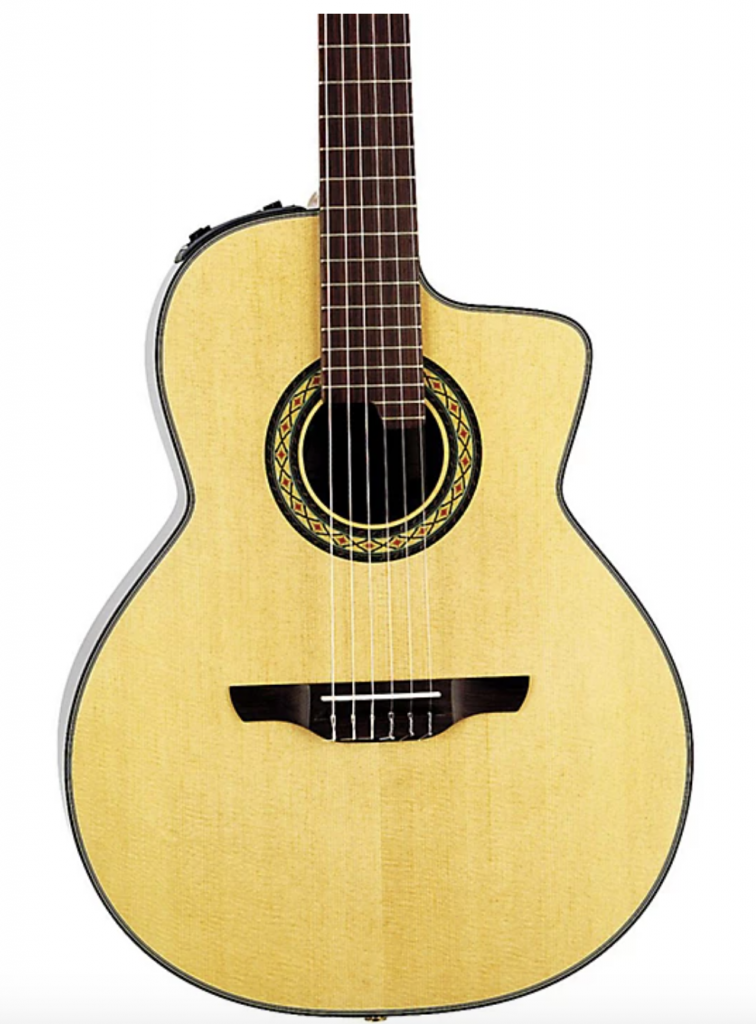 This is the most expensive guitar on this list priced at $1,899.99 which you may think might be a bit steep for beginners, but if you love playing the guitar and are planning on playing it for many years to come then spending that bit extra on a great quality guitar in the beginning is worth it.
This guitar features an on-board preamp with a built-in chromatic tuner and it has a cut-out design making it easy to play. Its top is made from spruce and the sides and back are made from rosewood.
A luxury beginners' guitar to say the least. 
Check Price
10. Cordoba C10 CD/IN Acoustic Nylon String Classical Guitar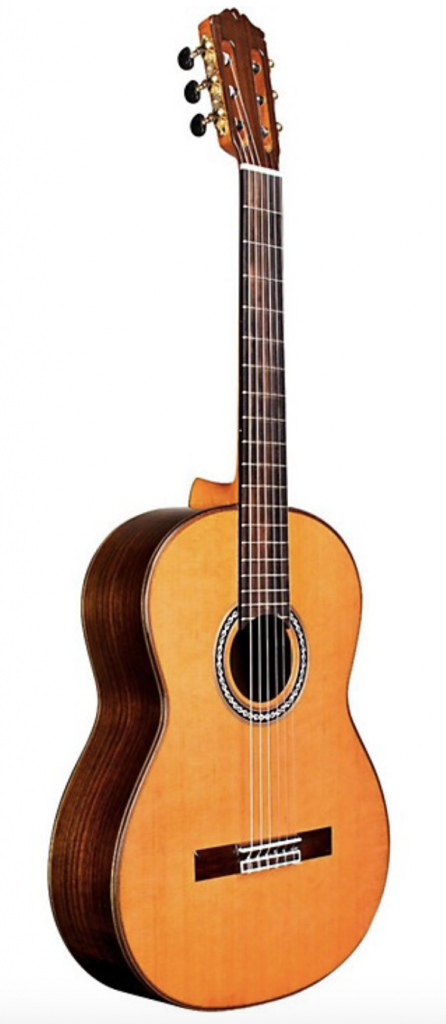 Priced at $1,299.00, this guitar also falls into the luxury guitar category especially for beginners. It features a Canadian spruce top and Indian rosewood back and sides.
This guitar has a fan bracing pattern to it which gives the soundboard a larger surface area to vibrate. Which results in a louder guitar with a better tone. This price also includes a polyfoam case, a great added extra that you're sure to need.
Check Price
What else do beginners need to know about buying a classical guitar?
How to change a nylon guitar string 
How to clean a classical guitar 
The best chords to learn on a classical guitar 
Conclusion
Whether you're buying a classical guitar for yourself or someone else, use this comprehensive guide for what you need to know prior to making a purchase.
If you liked this guitar buying guide then you'll also enjoy:
More from Guitars
---
The Gibson Les Paul is a classic electric guitar that has been a favorite of guitarists for generations. One of …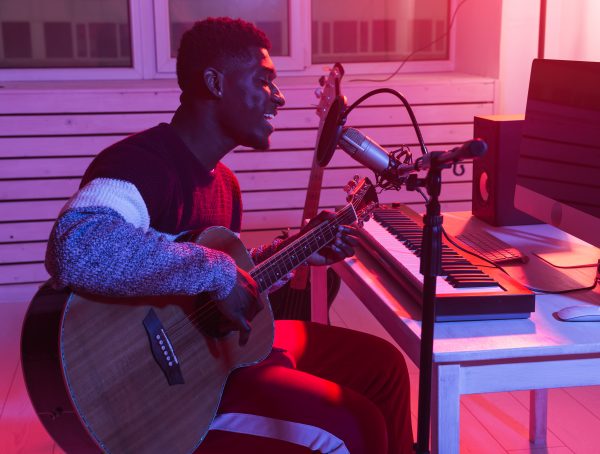 When recording music or audio, the equipment you use can affect the outcome of your production. This is necessary for …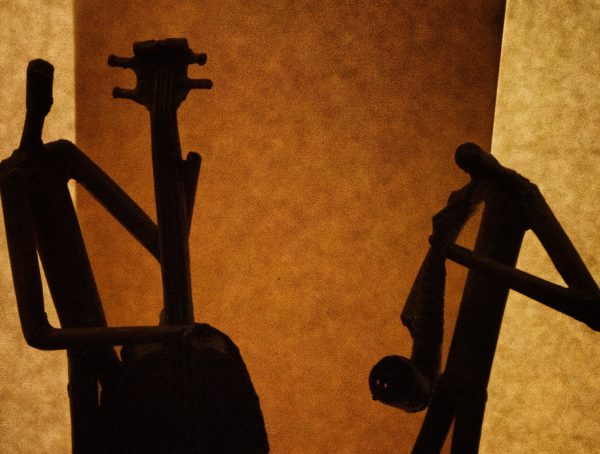 What should you be looking for when buying a gypsy jazz-specific guitar? Well, first of all, hello to you my fellow …
Editor Picks
---