NUX MG-20 Processor Pedal
Features

Build Quality

Size

Price
First Impressions
One of the main things to note about the NUX MG-20 Processor is that it is an exceptional effect pedal for the money. Extremely affordable, it's perfect for guitarists on a tight budget. As it's a floor pedal processor, it's also really convenient to use while playing.
Features
There are a number of top-quality features that help the NUX MG-20 Processor stand out from all the rest that are currently on the market. It's a complete all-in-one processor that is equipped with a 32-bit float point DSP as well as True Simulation of Analog Circuits technology. So, you're guaranteed better sound when you use this processor while you play.
There are also 60 different effect models, so you will be able to really switch things up as you play as well. The built-in tuner ensures that your guitar always sounds great, and you can also take advantage of a drum machine and phase looper. Once you've made a recording, you can then use the USB port to transfer data and start editing your songs. The USB port also makes it a lot easier to update the processor's software.
Even those who are new to using these kinds of pedal processors will find that the NUX MG-20 is simple and easy to use thanks to its intuitive user interface. You can also choose between the 36 factory presets or 36 user presets. Once you are ready to listen back to what you've recorded on the processor, you can do so thanks to the built-in MP3 / WAV player. You might have never heard yourself quite so clearly before!
Other notable features of the NUX MG-20 Processor include the following:
NEw CTRL Footswitch

Scene Selecting to Match Equipment

AC Adaptor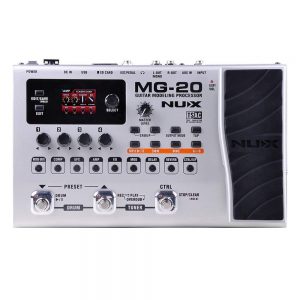 Build Quality
The NUX MG-20 Processor has been built quite compactly, so you don't have to worry about carrying around such a bulky piece of equipment.
It's also a very sturdy machine too, so you won't have to worry about in transit between gigs and practices. The handy USB port also makes editing your recordings easier than ever as you can instantly connect it to your computer!
If you are looking for an affordable pedal processor, then the NUX MG-20 is definitely one to consider. You get some great features for a very reasonable price tag. Here are some of the processor's pros and cons to help you make your decision.
Pros:
The USB port makes editing recordings on the computer super convenient.

It's a small and compact machine that can be easily taken to gigs.

There are plenty of effects to use, including a handy drum machine and looper.

As a processor the team at NUX have thought of the main bugbears when it comes to exporting effects in a digital format
Pedal integrations and a wide degree of formatting elements means that the MG-20 is truly versatile as a multi effects unit that is still on the smaller side.
Cons:
The looper doesn't record directly onto an SD card. 

Some of the buttons can be difficult to press at the same time when only using your foot.

The AV adaptor is the only source of power. This processor won't run on batteries.
Conclusion
Even though there are a few minor shortcomings of the MUX MG-20 Processor, it's a great option for those getting into pedals.
View Price
More from Pedals
---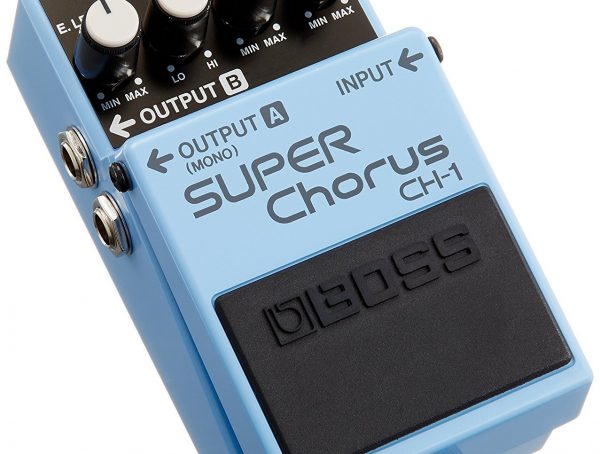 By now we've played, reviewed and got engrossed in countless Boss pedals... but what's one more, right? The CH-1 is …
As a guitar player, how do you choose the best chorus pedal? The right chorus pedal can add a huge amount …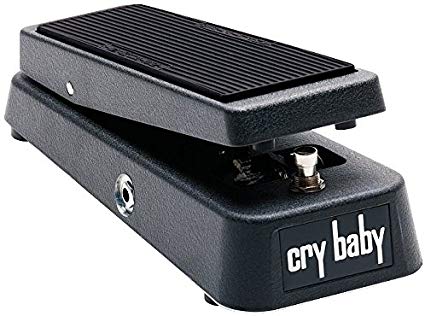 Full Review   First Impressions  We're perhaps a little biased with the Cry Baby, because it's such an utter classic, so it can …
Editor Picks
---