Keeley Dark Side Workstation Review
Features

Build Quality

Size

Price
Is the Keeley Dark Side the best mutli effect pedal for classic rockers?
First Impressions
The first impression you get of the Keeley Dark Side Workstation Analog Pedal is that it looks great, capturing the classic rock aesthetic in its appearance as well as its sound. It's got the Dark Side triangle printed on the front and it's relatively compact for such a powerful and impressive pedal.
Full Review
Key Features
The design of the Keeley Dark Side Workstation Analog Pedal is very simple indeed, but that doesn't mean it doesn't have plenty to offer in terms of features because it does. The knobs are all clearly marked out and easy to use, even if there's nothing complicated about them. It makes it a little simpler to start using this pedal without too much of an initial learning curve.
The pedal provides that fuzzy, saturated sound that people associated with old school classic rock. And if you've bought this analog pedal, the chances are that's exactly the kind of sound you want to create. There's a multi-head tape delay and a rotary speaker effect that are ideal for creating vintage effects that evoke 70s classic rock better than any comparable pedal out there.
The phaser here is based on the MXR Phase 90 that David Gilmour used in the mid-70s when the band was touring Dark Side and recording songs like Wish You Were Here. If you're looking to create those kinds of sounds, there aren't many or even any phasers that will help you do that better than the one featured on the Keeley Dark Side Workstation Analog Pedal.
All four of the different effects in the modulation section are impressive and offer the kinds of sounds buyers of the Keeley Dark Side Workstation Analog Pedal are going to be looking for. The flanger is offers an adaptable metallic sound, while the Uni-Vibe offers a fantastic analog sound that's beautifully crisp. We've already discussed the phaser and the rotary offers fantastic chorus.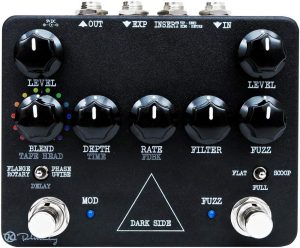 Build Quality
The Keeley Dark Side Workstation Analog Pedal is certainly a very ruggedly built device and that's something that'll make it long-lasting and durable. It's up to the  demands of performing and touring, so you won't have to worry about it cracking or breaking on you after a little usage.
Pros
Very sturdy build quality
Filter & blend modes offer a great degree of versatility
Works incredibly well with distorted signals
Cons
Heavily suited to classic rockets
May be too 'one note' for guitarists outside of the rock genre
Conclusion
If you're looking to achieve a 70s David Gilmour sound with your guitar, the Keeley Dark Side Workstation Analog Pedal is more than capable of making that happen. It's a pedal with a lot to offer and the signature sound of David Gilmour is definitely there is you use it properly. Those class tones and analog sounds are simply fantastic.
Some people find it frustrating that it's not possible to use the delay and the modulation simultaneously with this pedal. That option would open a whole world of new possibilities and make this great analog pedal even greater. If that lack of diversity isn't a problem for you and you want to achieve a classic rock sound, the Keeley Dark Side Workstation Analog Pedal is the pedal for you.
View Price
More from Pedals
---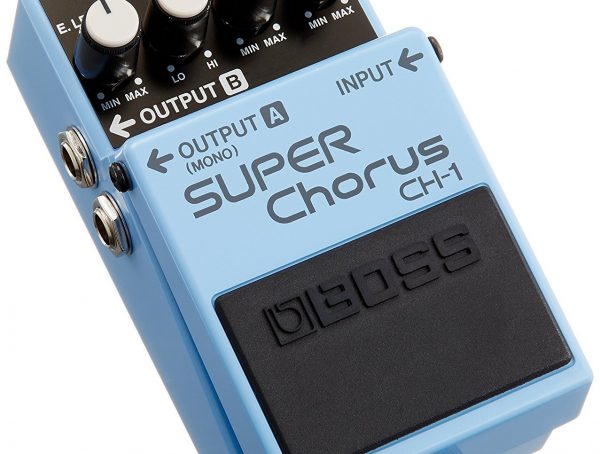 By now we've played, reviewed and got engrossed in countless Boss pedals... but what's one more, right? The CH-1 is …
As a guitar player, how do you choose the best chorus pedal? The right chorus pedal can add a huge amount …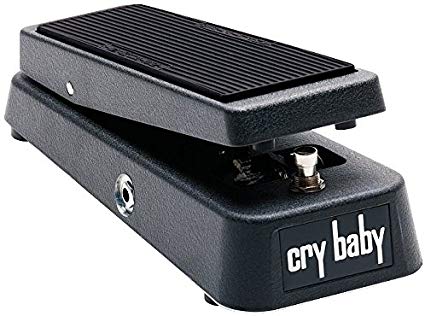 Full Review   First Impressions  We're perhaps a little biased with the Cry Baby, because it's such an utter classic, so it can …
Editor Picks
---