Review
Features

Build Quality

Tone

Size
The Octave Multiplexer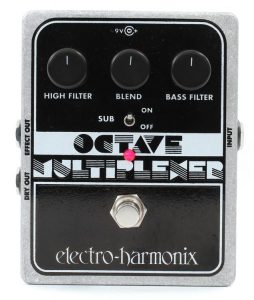 Check Price
Creating Well-Rounded Bass Tones With The Octave Multiplexer XO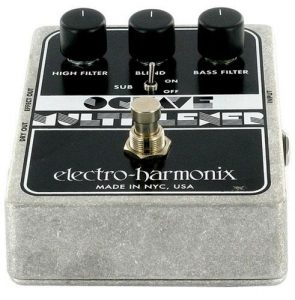 Is there anything more satisfying than finding a pedal that gives a true bass emulation, to the point of pure bliss? Let's get one thing out of the way… We love the Multiplexer and we're also no stranger to the wonders that Electro Harmonix deliver in pedal form.
But this one is truly special. Very clearly geared towards players looking to achieve a funky, natural and harmonic bass sound when a six-string is their only weapon of choice, the Electro Harmonix engineers have developed a smooth, well-rounded and diverse octave pedal that includes everything you'd expect, with an output that is modern and just incredibly clean.
This is not a pedal that is necessarily for the metal players amongst us. We only say this because of how the pedal is much better suited for funk and blues, or the 'lighter' level of octave frequencies that emulate a bass sound without 'muddying' the signal too much. If you like the sound of that, keep on reading, or check out our octave pedal guide to find the right pedal for you.
First Impressions
As soon as you plug in to this pedal you'll see that it's more of a bass emulator rather than a true octave pedal, in the sense that the pedal delivers monophonic octave modelling rather than a murkier, all-encompassing octave or even fuzz effect.
Upon discovering this, we immediately paired the Multiplexer with the Boss RC-30 loop pedal to create some tasty bass loops, and this is where the pedal really sits nicely. The bass emulating tones are also shockingly good, far better than a 'one stomp fits all' octave pedal.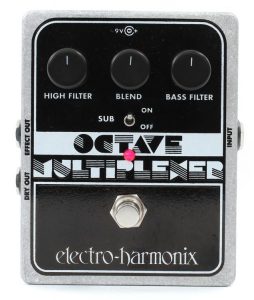 Features
Despite its bulky size, the Multiplexer is quite simple to operate, and with the monophonic effect, it's very easy to tailor the pedal to the exact bass tones that you're looking for. Settings include:
High Filter: This addresses the higher harmonic frequencies of the octave effect. View this more of a tonality controller for the overall octave effect.
Blend: Used to blend the high and bass filter together to complete the true octave sound. This is also used to dial back and go full steam ahead with the affect as needed.
Bass Filter: Used for the lower harmonic frequencies and really gives the lower ranges a boost when it comes to rounding off the bass effect. Combining both the high and the bass filter gives a true bass emulation, focusing just on the bass filter gives a murkier effect, however still very much like a bass… More like a 5 or 6 string bass rather than a standard 4 string emulation.
Sub Switch: An incredible feature, allowing the bass filter to be turned on or off as required. This dials back on the lower octave harmonic frequencies, so you can kick the sub switch into play when the lower boost is needed, the dial back and focus on the higher ranges.
Size & Build Quality
The pedal is a little bulky but the construct is solid, and it's not too big to get on a moderately large pedal board. Let's be honest too, we've been recommending this pedal throughout this entire review, so if it's a little on the large side we're not massively concerned.
It may be considered heavy for a travelling guitarist at 15 ounces, and is a little wide at 6.2 x 3.2 x 5.7, but again if you really want a realistic and cost-effective bass emulating pedal (without actually going out a buying a bass guitar) then this shouldn't stop you or dampen your decision.
Video Demo
Conclusion
This is a firm favourite in our eyes when it comes to bass emulators. Not what we'd call an octave pedal in the conventional sense, but certainly one to get your hands on if it's a bass effect you're looking for. All in all, the pedal may be too large for some, but Electro Harmonix clearly needed a bigger pedal to fit all that bass and octave goodness!
Whilst it didn't win the top spot in our octave pedal guide, it's certainly the best bass octave emulator we've come across, and at a very modest price too.
Recommended For
Live loopers and gigging guitarists looking for a very realistic bass emulator pedal, that can give an octave boost which doesn't muddy their original signal.
Check Price
More from Pedals
---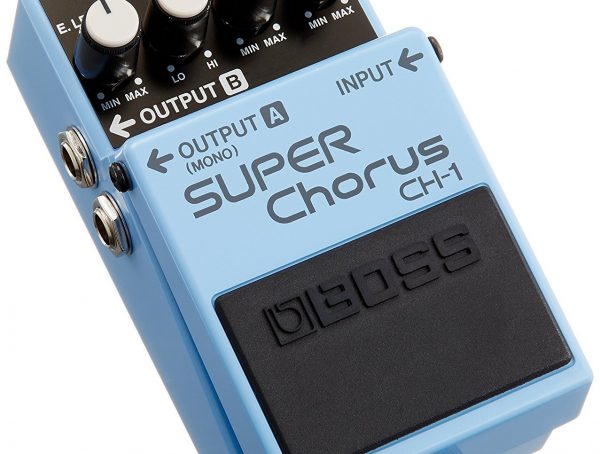 By now we've played, reviewed and got engrossed in countless Boss pedals... but what's one more, right? The CH-1 is …
As a guitar player, how do you choose the best chorus pedal? The right chorus pedal can add a huge amount …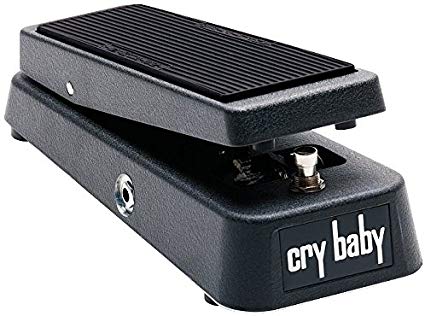 Full Review   First Impressions  We're perhaps a little biased with the Cry Baby, because it's such an utter classic, so it can …
Editor Picks
---