Features

Build Quality

Tone

Size
Review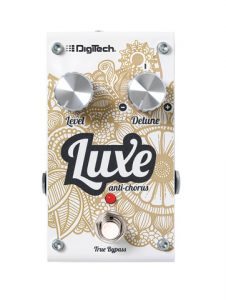 Check Price
Digitech Luxe Review – A fantastic detuner & octave pedal combination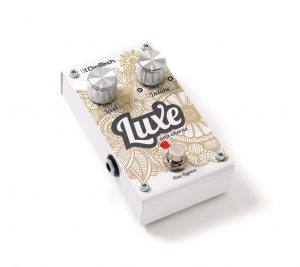 The Digitech Luxe is a brilliant blend of octave and detuning capabilities, based in part of the hugely popular Digitech Whammy pedal. It's clear that, off the back of the Whammy, Digitech needed to create a much more compact, easy to navigate pedal that wasn't styled after a standard Wah Wah pedal, rather a more traditional, smaller pedal that could easily be added to pedalboards and be transported in gig bags.
You could argue that this is not a true octave pedal, but for the sake of argument, we're lumping it into the octave category. Clearly, it's more of a detune pedal than anything else, however we've included the Luxe in our best octave pedals guide, so allow us to explain why!
First Impressions
It's hard to objectively view this pedal without comparing it to the Digitech Whammy. A modern reincarnation, the engineers over at Digitech have clearly taken their cues and positives from the Whammy to deliver a solution for guitarists that is cheaper and smaller, whilst maintaining the detune effects that the Whammy is famed for.
On the surface, the pedal looks great. At a glance it appears very easy to use, with clear control knobs and a neat interface that will not deter beginner guitarists from experimenting with a detune effect.
Features
The 'Anti Chorus' name comes from what a detune effect inherently is, or rather how Digitech choose to define a true detune pedal. Usually, a chorus pedal will naturally modulate a guitars' signal when applied, with also minor or major detuning or octave harmonics dependant on how heavy the effect is applied.
With the Luxe, this modulating chorus effect is removed, resulting in a true detune effect that is free to be controlled and not manipulated by an additional modulating harmonic or unwanted after-effect.
Let's take a look at the features on the true bypass Polyphonic Anti-Chorus pedal. Digitech have opted for two very simple controls, which is a welcome no-nonsense approach to applying and controlling the exact effect you're looking for:
Level: View this as the rate in which the 'shimmering', chorus side of the effect is applied. As stated, the pedal directly addressed a clean shimmering tone without unwanted modulation. Level achieves this by adding an almost tremolo-like effect to the signal, leaving out interference of the original signal.
Detune: The control you're here for. The pedal can detune a signal both down and up by 50 cents, which is the unit of measurement for a 100th of a semitone. This minuscule degree of detuning a time results in a 'thickening' effect to the signal, rather than an all out Whammy dive-bomb which fans of the original pedal may be used to.
Size & Build Quality
The pedal is beautifully compact, light with a sturdy construct and no unnecessary guards or barriers to add unwelcome bulk to the unit.
Size: 4.75″ x 2.875″ x 1.75″
Weight: 0.36lbs
Video Demo
Recommended For
If you're specifically after a detuning effect but do not have the room for the larger Digitech Whammy pedal, then we cannot recommend the Luxe highly enough. The price, size, and diversity of the effect along with the degree of control you get is second to none.
Conclusion
An absolutely brilliant pedal for guitarists who want to experiment with a detuning effect, players who want a chorus pedal without unwanted modulation, and even for fans of the original Whammy pedal who are looking for a smaller, more compact solution.
Check Price
More from Pedals
---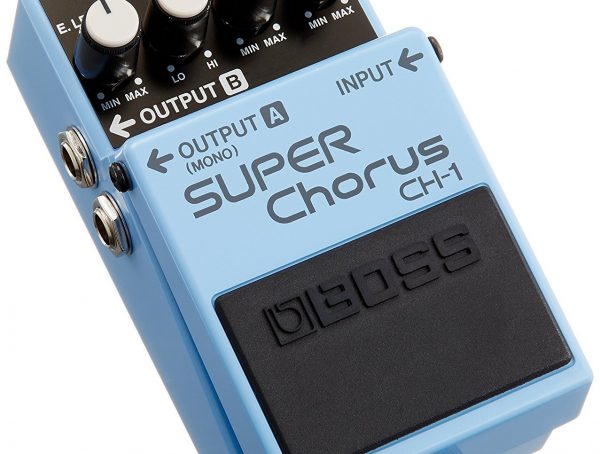 By now we've played, reviewed and got engrossed in countless Boss pedals... but what's one more, right? The CH-1 is …
As a guitar player, how do you choose the best chorus pedal? The right chorus pedal can add a huge amount …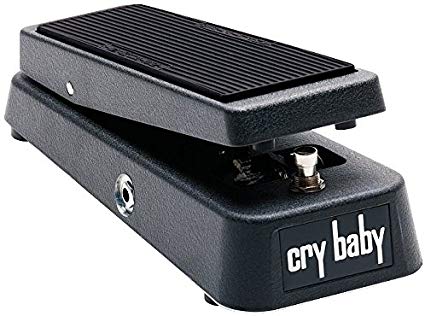 Full Review   First Impressions  We're perhaps a little biased with the Cry Baby, because it's such an utter classic, so it can …
Editor Picks
---