BOSS ME-50B Bass Pedal
Features

Build Quality

Size

Price
The Me-50B is a truly high-end bass pedal with multiple effects – how does it do in our review?
Boss is among the most revered and respected manufacturers in the music industry, and this makes the BOSS ME-50B an intriguing choice.
Full Review
First Impressions
First impressions matter, even when it comes to guitar pedals. And this is what is so impressive about the BOSS ME-50B. It looks like the sort of FX pedal you could imagine a professional band tearing up a gig using.
It looks like there's a lot going on, but that's because this is a professional pedal that looks high-end because it is high-end.  
Features
When it comes to the features present, the BOSS ME-50B bass pedal is one of the best and most impressive pedals out there for bassists. The pedal comes complete with some of the best world-class bass effects anywhere on the market. There are 6 different major sections that the effects can be divided into on the pedal; compressor, master, filter, delay, and expression.
Additionally, there are unique new tones and effects that bass players can play with to really get their impact to stand out in any song or jam session.
There is also a floor-based bass multi-effects processor which offers simplistic analog control, and this is in addition to the extra T-Wah, Slow Gear, and Defretter features as well. The state-of-the-art innovative Sound Hold function is the feature bassists have been crying out for and can be used for sustaining a low note while playing over the top of it as well.
We also love the fact that there are dedicated knobs for each setting, so you don't have to waste precious jam time skimming through all the settings until you find the right ones.
Easy Tone effects allow for quick and easy editing, while the warm, rich sounds elevate your bass playing to another level. There's a common misconception that multi-effects are for newbies, but it's fair to suggest that our BOSS multi-effects pedal review puts paid to that idea.
There is an excellent Sound on Sound feature as well, which lets you create loops and build more ambitious song structures.
But, the great thing about the ME-50B is that it also has its very own Kick Drum function as well, which opens up even more possibilities when it comes to being able to achieve complex and interesting sounds. And, on top of all of that, you can power it on batteries! Incredible!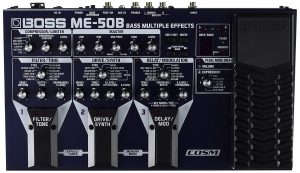 Build Quality
The build quality is another thing to love about this pedal, and this is what draws us to it. There are so many different factors that you need to keep in mind these days, and it is clear that this is a piece of gear built to last. It clearly is made for people with some idea of what they are doing.
This rugged floor unit with easy pedal access would look equally at home in a bedroom or studio.  
Pros
A large pedal that certainly offers a wide array of bass effects
The ME-50B really is a finely tuned pedal that comes with a huge range of modelling effects to make your guitar sound like a bass
The expression pedal adds to the overall usability
Cons
Far too large for guitarists stuck for space
The bulky construct can make the pedal hard to store
Conclusion
Some of the biggest positives of this unit is the fact that it offers so much choice and a unique range of different ideas and effects to work with. It also has amazing Easy Tone and Sound Hold functions, and has pretty much everything a bassist could want.
Drawbacks are generally that the pedal can be pretty overwhelming with all those dials, as well as the issue with the sound occasionally cutting out when switching between presets. But, aside from this, the BOSS ME-50B is one of the most popular bass pedals on the market and a clear choice for players looking for that heavy bottom-end addition. 
View Price
More from Pedals
---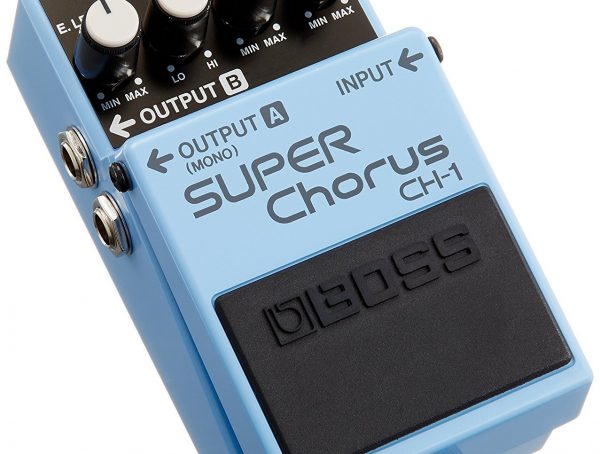 By now we've played, reviewed and got engrossed in countless Boss pedals... but what's one more, right? The CH-1 is …
As a guitar player, how do you choose the best chorus pedal? The right chorus pedal can add a huge amount …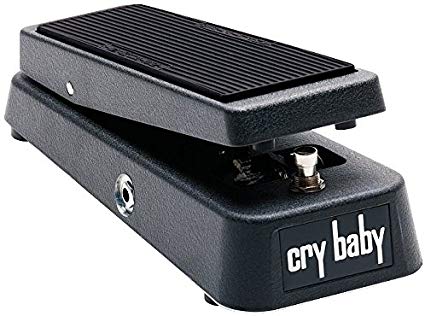 Full Review   First Impressions  We're perhaps a little biased with the Cry Baby, because it's such an utter classic, so it can …
Editor Picks
---