Build

Price

Versatility

Features
Volume Pedal - Top Selection
Our top selection is the Dunlop GCB80 volume pedal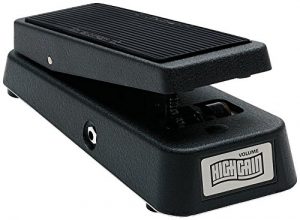 Check Price
Roundup of the Ten Best, Recommended Volume Pedals for Guitarists in 2019
Although a volume pedal won't have the same impact on your sound as the right distortion or delay pedal, it's an important part of your pedalboard. Used right, a volume pedal can make it easier to tailor your sound for the perfect solo, acoustic part or rhythm guitar line.
Functionally, volume pedals are fairly straightforward. By adjusting the level of the pedal, you can adjust the volume of your guitar's signal. This makes it easy to pump up your volume for solos and other melodies, or dial it back a north for a more reserved part.
Just about every well-known effect pedal brand has their own volume pedal. Below, we've put together a list of our 10 favourites, ranging from affordable volume pedals aimed at beginners to high-end pedals designed with the needs of professional guitarists in mind.
1. Behringer FCV100 Volume and Modulation Control Pedal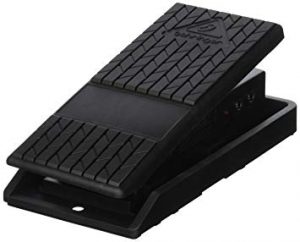 The Behringer FCV100 delivers everything you'd expect from Behringer — good sound quality, solid construction and excellent reliability, all with a price that's perfect for beginner guitarists in need of something that won't break the bank.
At a reasonable price, the FCV100 is a great volume pedal for beginner guitarists looking to get to grips with the basics of a volume pedal. It offers volume control for one stereo signal or two individual instruments, with a dedicated modulation function allowing it to be used with a keyboard.
While the plastic construction means this pedal is more suitable for the practice room than the stage, the Behringer FCV100 is a great beginner-focused pedal that's perfect for any guitarist with a limited budget.
At 13 x 6 x 15 inches and a whopping 1.5kg in weight, the pedal is quite bulky, but for good reason. With inputs to control two instruments in one, or one standard stereo input for external audio makes this fantastic for not just beginners guitarists, but musicians in general looking for a cheap expression pedal to play with the effects that come with altering volume.
Whilst some players don't tend to favour the overall tone of Behringer pedal, we've got nothing but good things to say about this one, especially considering the price.
Pros: Great price, and built to last. An ideal option for beginners.
Cons: As is standard of  expression pedals from Behringer, the FCV100 is quite bulky compared to other pedals on this list.
Recommended For: Guitarists new to volume pedals looking for a cheap but high-quality pedal to experiment with.
Check Price
2. Ernie Ball 6110 40th Anniversary Pedal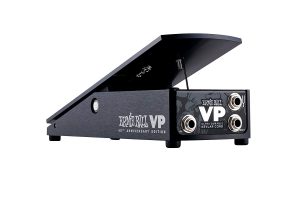 The Ernie Ball 6110 is an excellent mid-range to high-end volume pedal aimed at performing musicians and enthusiasts.
Like other Ernie Ball pedals, the 6110 is extremely well made. It's manufactured entirely from thick, firm metal, giving it a hefty feel that makes it perfect for use on stage. While it's heavier than plastic volume pedals, the all-metal design makes it look and feel extremely durable.
From a sound perspective, the 6110 works well. It's compatible with passive and active signals, delivers precise volume control and uses a switchable taper for two swell rates. If you're looking for a quality volume pedal that's built to last, the Ernie Ball 6110 is definitely worth considering.
So, what makes the 40th anniversary different and why should you consider it instead of the standard option? One word… Durability. The 40th anniversary 6110 has been updated with kevlar wires and a reinforced casing with modern graphics, so not only is the pedal ready to be thrown around when travelling on the road, but it'll look great in your pedalboard too.
However, at 25 inches long and overall 1kg in weight, the solid construct may be better for gigging guitarists that specifically need a volume pedal that is large and constructed to withstand a bettering on the road.
Pros: Built to withstand anything, particularly the kevlar cabling alongside the updated look for its 40th anniversary.
Cons: The 6110 is certainly one of the heavier pedals in this guide, and is recommended for regular players who specifically require an expression pedal that can withstand regular touring and transport.
Recommended For: Guitarists who transport their pedalboards or pedals regularly and need a pedal that is built for the purpose.
Check Price
3. Sonicake Vexpress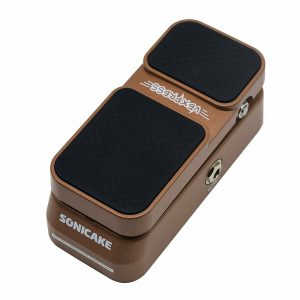 Another great option for beginners, the Sonicake Vexpress has an analog circuit design that has two separate functions, allowing it to be used as an independent volume pedal or as a separate expression pedal for use with other effects. As with the majority of pedals in this guide, this means that the pedal can be used for guitarists and for controlling keyboards, MIDI controllers and much more. 
Like the Behringer FCV100, the Sonicake Vexpress is a budget volume pedal. It's made using a type of hard plastic, giving it a reasonable durable feel. However, while it's ideal for the studio or practice room, this pedal doesn't quite feel strong enough for regular use on stage. With a weight of just 250g and a size at just 14.9 x 6.6cm, the pedal is fantastic for players stuck for room either in their practice space, gig bag or pedal. 
All in all, if you're looking for an inexpensive, lightweight (this pedal is compact and very easy to transport) and versatile volume/expression pedal, the Sonicake Vexpress is a great choice.
Pros: Low price, incredibly light, and very easy to transport even within gig bags (if taking your pedalboard everywhere proves to be too much hassle).
Cons: The 6110 is certainly one of the heavier pedals in this guide, and is recommended for regular players who specifically require an expression pedal that can withstand regular touring and transport.  // The small size comes at a cost, this one being that the Vexpress is not as durable as many of the larger units in this buyers guide.
Recommended For: Players who need a small volume or expression pedal to carry in a guitar case or gig bag, and for those players in small apartments stuck for room and need a compact pedal that doesn't cost the earth.
Check Price
4. Dunlop DVP4 Volume X Mini Pedal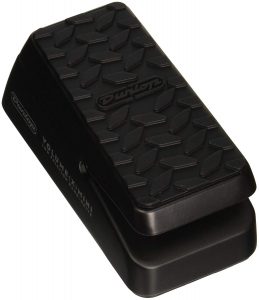 Durable and compact, the Dunlop DVP4 is a fantastic mini volume/expression pedal that's ideal for slipping into your gig bag before a practice or recording session. The tension in the pedal can be adjusted to accommodate how hard you like to stomp on the pedal, and for which part of your foot you tend to use to press the pedal with. There's also in internal setting to control the minimum level of output, as is common with most volume and expression pedals. 
As you'd expect from Dunlop, the build quality of the DVP4 is fantastic. In spite of its small size, this pedal looks and feels like a premium piece of gear. Dunlop claim it's roughly half the size of the similar DVP3, which seems believable considering its tiny dimensions (581g, and 15.2 x 8.9 cm).
This makes it perfect for use as a practice pedal, or on stage as part of a pedalboard. When it comes to sound, the DVP4 is no slouch, delivering a clean signal whether it's used for volume control or to control another effect pedal's parameters. The pedal also looks a lot heavier and larger than it actually is, which speaks volumes to its durability!
Pros: A low-cost pedal that is just as durable and of a lighter weight than many of the more expensive pedals in this list.
Cons: The DVP4 is a fantastic middle ground between the smaller, cheaper pedals, and the larger more sturdy pedals. Therefore, if you're a musician looking for a specific type of volume pedal, the DVP4 is more of a one-size does all, but may not work for your specific needs e.g. a volume pedal for a small room.
Recommended For: If you don't know what type of volume pedal you require, the DVP4 is the best of both worlds when it comes to size and durability, without being too costly or bulky.
Check Price
5. Donner 2 in 1 Vowel Mini Active Wah & Volume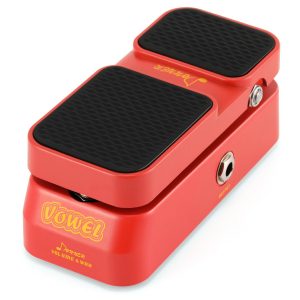 The Vowel is a two-in-one pedal from Donner. Unlike other two-in-one volume pedals, most of which combine a volume effect with an expression pedal function for other effects, the Vowel combines an active volume function with a vintage wah pedal.
With an active volume design, the Vowel minimises signal loss, making it a great addition to any long, complicated signal chain. This means that it fits right at home in a pedal board and can happily control any heavy signals you can throw at it, and is constructed with a compact build size of 15.5 x 6.8cm. The pedal is also the lightest in this guide at 340g, making it the best pedal for players in need of a small volume or expression effect. 
Although it's made of hard plastic, it feels durable and looks as if it can stand up to regular use in the studio or practice room, as well as light gigging.
If you're looking for a combination pedal at a fair price, the Donner 2 in 1 Vowel is one of the best options out there.
Pros: Highly recommended for musicians looking for a compact and easily transportable volume pedal.
Cons: The construction is nowhere near as durable as some of the larger pedal in this guide.
Recommended For: Great for players looking for a cheap and small pedal that has a surprisingly diverse effects range.
Check Price
6. Ernie Ball 500k Stereo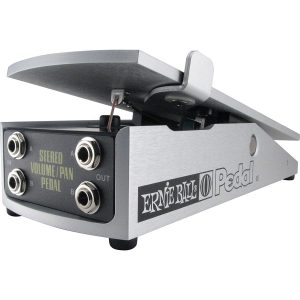 Another multi-function pedal, the Ernie Ball 500k combines volume control with a secondary pan feature, allowing you to quickly switch your guitar's signal between different effects chains.
As you'd expect from Ernie Ball, the 500k Stereo Volume/Pan feels outstanding. It's built out of a hard metal, making it extremely durable. If you're looking for a reliable volume pedal that's made from the ground up for use on the stage, the 500k is the pedal you're looking for.
The higher price is reflected in the potentiometer, which is a variable resistor used to control the modulated output of a signal. The higher cost is that these types of builds are generally seen in much more boutique or hand wired pedals, therefore the 500k should be viewed as exactly what it is; a high-end, boutique volume pedal for players looking to make a serious investments for their pedal board.
From a sound quality perspective, the 500k is an excellent pedal. It delivers a clean signal when not in use and works flawlessly when activated. The only real downside of this pedal is its price — as you'd expect, this is a high-end, professional volume/pan pedal with a matching price tag. 
Pros: The perfect pedal for players ready to spend a serious amount on a serious pedal.
Cons: At 1.9kg and 29.2 x 14 cm the pedal is hardly small, and may be too expensive for the players looking for a more simplified pedal.
Recommended For: Seasoned effects pedal uses looking for a volume or expression pedal that comes at a premium.
Check Price
7. Boss FV50H High Impedance Pedal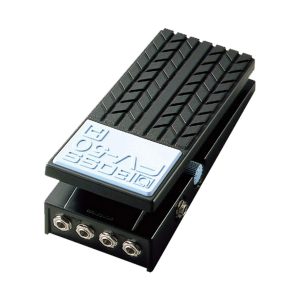 The Boss FV50H is an excellent mid-priced volume pedal that's perfect for use in the practice room, in the studio or even on stage.
As you'd expect from Boss, the FV50H is built to a high standard. Although it doesn't feel quite as sturdy as the Ernie Ball 500k, this is a dependable pedal that's built to tolerate regular use in the studio, as well as limited use on stage (especially with the tuner jack which makes quick tuning a possibility in a live environment). Despite its size, the pedal weighs in at a surprisingly light 599g, however with most expression pedal is quite large at 25.4 x 15.2 cm. 
From a functional perspective, the FV50H does everything it should. While it doesn't deliver a huge boost in volume, it's perfect for adjusting your levels during performances to make sure you're never lost in the mix. All in all, a fantastic volume pedal for intermediate guitarists.
Pros: Deceptively light, and with more features than most standard volume pedals.
Cons: May not be durable or sturdy enough for touring players.
Recommended For: Guitarists who gig regularly but may not need a bulky pedal that weights in at above 1kg.
Check Price
8. Donner Wah Cry 2 in 1 Mini Guitar Wah Effect/Volume Pedal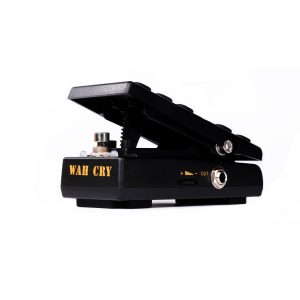 Another combination volume/wah pedal from Donner, the Wah Cry is a great pedal for guitarists in need of something compact and simple to control volume during live performances.
This is a mini-pedal, meaning it's smaller than the typical volume pedal. Folded flat, it's compact enough to fit inside the front pocket of a gig bag. Used as part of a pedalboard, its compact size means it takes up little space and allows for use with plenty of other effects pedals. True dimensions weigh in at a perfect, middle ground of 13.6 ounces (or 385 grams), with tightly strung proportions of 5.8 x 2.8 inches. Take a look at the pedal image again… deceivingly small isn't it? 
From a sound perspective, the Wah Cry gets a good but not perfect score. While it's perfect for controlling your signal's volume during performances, the wah tone is — as you might expect — not as rich or precise as the sound you'd get from a larger, dedicated wah pedal. But then again, this isn't a wah pedal guide, and it's the expression capabilities that we're focused on here; all additional effects are a bonus! 
Pros: Deceptively light, and with more features than most standard volume pedals. / Much smaller and sturdier than it looks, built to last.
Cons: Wah effect is not the greatest, however the volume capabilities more than make up for this.
Recommended For: A sturdy, lightweight option for guitarists in need of a volume pedal with additional expression effects.
Check Price
9. Dunlop GCB80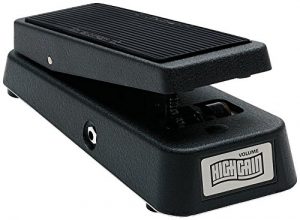 The Dunlop GCB80 combines Dunlop's classic expression pedal design with an sensitive, 1 million cycle  volume control, making it a great pedal for matching levels with the rest of a band or just giving your signal the boost it needs to stand out in the mix. This level of control is what make the GCB80 our overall winner in this guide, as this degree of signal manipulation makes all of the difference in controlling volume swells, expression output, and the minimum levels of volume needed as a signal output. 
With the same design as Dunlop's other pedals, the GCB80 looks and feels as if it's made with the demands of gigging in mind. This is a durable, well-made pedal with a potentiometer that's designed to handle upwards of one million cycles.
Overall, the GCB80 is a great all-rounder volume pedal that's just as usable and effective in the studio as it is on stage. It also looks great next to the standard Cry Baby Wah (be sure to put them apart in your pedal board though as they do look alike!).
Pros: An unprecedented degree of control, and built with touring guitarists in mind.
Cons: Takes a little bit of playing with to achieve the amount of volume control you're looking for, so is not necessarily recommended for players completely new to expression pedals.
Recommended For: Guitarists looking for a serious pedal that has an amazing amount of volume capability, and is crafted to withstand bumps and scrapes for touring and gigging players.
Check Price
10. Ernie Ball VP Jr. 25K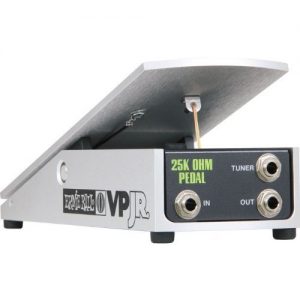 Available as an active or passive pedal, the VP Jr. 25K is a smooth, high quality volume pedal from Ernie Ball.
The VP Jr. 25K is a mid-priced pedal that's built with the needs of enthusiasts and professional guitarists in mind. It uses an aircraft grade aluminium housing, making it durable enough for use on stage, with solid input and output ports that feel like they're built to last.
From a sound perspective, the VP Jr. 25K is great. It works great as a pedal for controlling your guitar's signal chain, but also functions perfectly as a volume pedal for keyboards. Thanks to its fair price and extremely solid construction, this is a great mid-range option. 
Pros: An absolutely solid pedal, suited more for the regular player than the occasional bedroom guitarist due to price and construction. `
Cons: The pedal itself is a not as heavily constructed as many of the other pedals in this review, despite its solid shell beneath. `
Recommended For: A mid-range option for guitarists who are no strangers to playing on the road. Nicely sized and very light, with a compromise in sturdiness because of its smaller weight.
Check Price
Video Demos
You've read the reviews, now you're no doubt going to want to hear what these pedals sound like (or at least how they can modulate a guitars signal). The below pedals listed are a varied selection of the above in this guide. For further information you can read the individual product reviews across the site, or leave a comment below for more information.
Behringer FCV100
Dunlop DVP4 Volume X
Dunlop GCB80
Frequently Asked Questions
Below are some of the questions we've been asked when it comes to both volume and expression pedals, including some of the thoughts we've had ourselves when looking for the perfect pedal. The below questions and answers are quite common, so if there's anything you need answering please leave a comment below and it will be added to the FAQ section.
What's the difference between an expression pedal and a volume pedal? 
The core difference is that an expression pedal controls the degree of any and all effects that enter through it, whereas a volume pedal is solely concerned with controlling and manipulating the volume of a signal.
The best way to think about the difference between the two is an expression pedal acts as an extension of a pedal that is already part of your signal chain, such as the units within a pedal board, or a singular pedal being passed through the chain. This external capability allows musicians to essentially use the expression pedal as an additional method of control for a chosen pedal, much like an extra knob or control that is actually on the pedal.
A volume pedal, on the other hand, is focused on controlling the signal that is directly put into it, to decrease only the volume of the signal. This core difference means that, unless your other pedal in the chain have volume capabilities which can be linked to an expression pedal (and most do), that you are better to choose a stand-alone volume pedal which simply makes it easier to control the desired effect.
What are the benefits of using a volume pedal? 
Some guitars have heavy knobs and control pots, and lowering/raising volume can become difficult if needed quickly, especially in a live setting. An external pedal takes away this issue, and also allows for a much greater degree of signal control that cannot be achieved by the guitar alone.
Are volume pedals expensive? 
This all depends on what your requirements are for the pedal. Cheaper options are available if you just want a stomp on, stomp off option, and pedals also get more expensive once a greater degree of control os introduced. It is better to get a pedal that meets all of these points, to save with having to change pedals for different needs later down the line.
Does it matter which brand of pedal I choose? 
No. It's very easy to choose popular effects pedal brands, but like everything to do with the guitar the choice will ultimately come down to what you need the pedal for, and what you personally prefer in a pedal.
Conclusion
Hopefully this guide has given you a better insight into the best types of volume pedals on the market, and how different pedals should be used by the needs of the individual player. It's always recommended to do your own research too, and even go into your local store to play the pedals if you have the chance.
Alternatively, be sure to read the individual reviews available throughout this site to make an informed decision once you've chosen the perfect pedal for your style of playing.
Liked this guide? There's plenty more to take a look through. Check out the recently updated octave pedal guide to get to grips with the latest updates and recommended effects in the world of the octave stomp boxes.
More from Pedals
---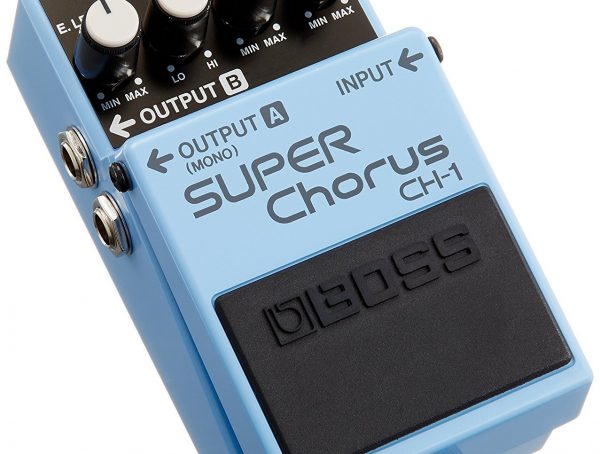 By now we've played, reviewed and got engrossed in countless Boss pedals... but what's one more, right? The CH-1 is …
As a guitar player, how do you choose the best chorus pedal? The right chorus pedal can add a huge amount …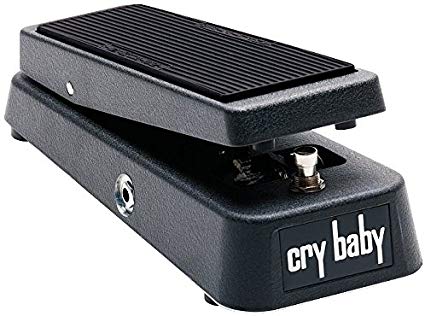 Full Review   First Impressions  We're perhaps a little biased with the Cry Baby, because it's such an utter classic, so it can …
Editor Picks
---