Our Top Pick
Playability

Looks

Tone

Durability

Electronics
Summary
The Steve Vai Ibanez Universe Premium 7 string is the top pick from our list, and we gladly award this unique and expertly-crafted electric guitar with a full 5 stars. You can get the Steve Vai Premium with £200 off at the link below, and be sure to check out the rest of the guitars in the list too.
STEVE VAI UNIVERSE PREMIUM 7 STRING

There are always exceptions to a rule, and these guitars certainly shouldn't be judged by the 'you get what you pay for' adage. We've found the 8 guitars under £800 that could easily be double their price, but for whatever reason…they're not. Either way, we've got our eyes on number #3 and you should probably snap up your favourite before the price gets bumped up… Have a ganders!
Quick Links
1. Ibanez SA160FM – Transparent Gray Burst
To kick this list off we have the Ibanez SA in a beautiful transparent gray. Priced at a smooth £239, this a great first electric guitar, or beginners shredding guitar, and is definitely underpriced.
With a recently redesigned body shape and thinner overall aesthetic, the SA160FM is now even lighter and suited much more to beginners and the devoted shredders. With 3 SSH Pickups and a Tremelo system, Ibanez have really gone to town at making this guitar a brilliant first electric and easy to play piece of equipment.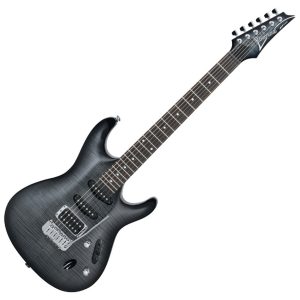 IBANEZ SA160FM ELECTRIC GUITAR
2. Yamaha Revstar RS320 – Black Steel
The first release from Yamaha in over 20 years, the Revstar RS320 has been purpose built t0 be a great looking, durable, and effective guitar for beginners and experienced players alike. The ideal guitar for being on the road and first-time giggers, the Revstar features 2 beefy ceramic humbuckers that pack a satisfying punch, a stable bridge and a neck to rival any classic guitar that we have all come to love. Coated in a finish of black steel, the RS320 is bound to become a firm favourite for Yamaha fans and electric guitar fanatics alike. And with over £40 off, now's your chance to get your hands on this sturdy and durable electric guitar!
YAMAHA REVSTAR RS320 ELECTRIC GUITAR
3. PRS SE Standard 24 Electric Guitar – Translucent Blue
Now, who doesn't love the heavenly guitar making of Paul Reed Smith (PRS) guitars? Here we have the SE standard, a 24 fret beauty in Translucent Blue. The PRS line is very much considered as a love child of Fender and Gibson, with the stream-lined neck and playability of a strat, the jangly tone of a tele and the beefy rock capabilities of a vintage Les Paul. With custom guitars from Carlos Santana to Mark Tremonti, most players would assume that a PRS would be out of their budget…Enter the SE range. With a tremolo system, mahogany body, rosewood fingerboard and dual humbucker combo, the PRS SE Standard is massively underpriced at an RRP of £500. Hold on, this gets better… With an £80 discount on the PRS SE in 2019, now is the perfect time to get your hands on this masterpiece. Hurry though, these PRS Guitar Sales never last very long!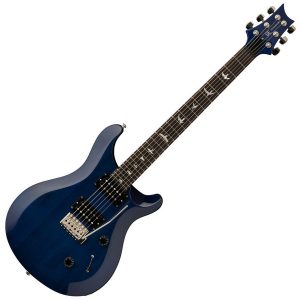 PRS SE STANDARD ELECTRIC GUITAR
4. Epiphone Explorer EX – Ebony
This deal is an absolute steal. Not only is this iconic guitar on sale with over £150 knocked off, but it comes with to the go-to pickups of every metal guitarist since their inception; the EMG Humbucker pickups. Capable of switching between a crisp clean tone to a crushing metal distorted hum, the EMG's allow the Epiphone Explorer to have both the looks and the sound. In other words, the Explorer EX will be able to talk the talk and walk the walk. Additionally, the Epiphone EX features a mahogany body and ultra-slim 'D' profile on the neck, adding to its shred capabilities. With an ebony finish and a huge amount of money off, isn't about time you got your metal guitar chops in order? Check it out at the link below.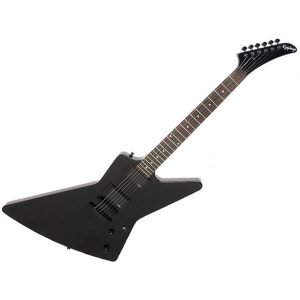 EPIPHONE EXPLORER EX ELECTRIC GUITAR
5. Fender Standard HSS Stratocaster – Arctic White
The Fender Standard Strat is considered by many as the epitome of the electric guitar. The arctic white model was one of the go-to guitars of none other than Mr Jimi Hendrix, and has since been a firm favourite of all guitarists who come into contact with one, time and time again. The HSS Stratocaster has all the vintage vibes, with the retro off-white styling and classic Strat headstock. It also plays like any new guitar does today, again adding to the overall appeal of this must-have electric. Combining three single-coil pickups, a maple neck, a 60's inspired tremolo system and a slim alder body, the HSS Stratocaster has everything that you would expect in a legendary classic electric guitar.
Also, note the opposing colouring on the maple fingerboard; makes a nice touch doesn't it? Now, you would expect this guitar to be in the thousands, but with the latest Fender Stratocaster HSS sales we've been looking for, we've managed to find this guitar with a £30 discount at £537. The Standard Fender Strat line often goes out of stock quick, so if you want to get your hands on a cheap, brand new Fender Stratocaster you'd better hurry!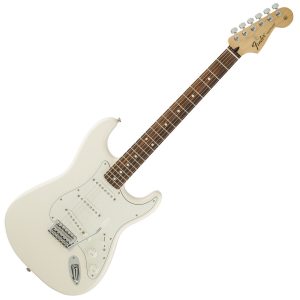 FENDER STANDARD HSS STRATOCASTER
6. Gretsch G5435TG – Limited Edition Jet Black Electromatic
A guitar massively associated with the rockabilly era and legendary guitar that was paramount in introducing rock and roll music to generations, Gretsch continue to build classic looking guitars without compromising on tone or build quality. Famed for their large body and unique tremolo system the G5435TG is a limited edition run that includes all of the hardware and styling that fans of Gretsch have grown to love. Soaked in a Jet Black finish, the Gretsch Electromatic has a thick basswood body, laminated maple top, classic vintage Gretsch humbucker pickups and crisp gold hardware, this guitar looks like it could be the most expensive guitar in the world; luckily it is far from it! At a reasonable £555, the Gretsch G5435TG is a must-have for fans of early rock and offer a new perspective to many budding blues guitars that want to get to grips with a vintage guitar that has earned its stripes.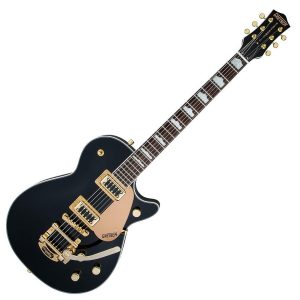 GRETSCH ELECTROMATIC G5435TG GUITAR
7. Ibanez Steve Vai Universe Premium 7 String – White
Now, this is on special axe for the true guitar lovers. Everyone in the guitar has no doubt heard of Steve Vai, the Ibanez JEM shredding maestro and all round guitar prodigy who has more licks than you can shake a whammy bar at. But who can really afford his signature line, the fabled Ibanez JEM? Well, it seems like Ibanez have heard the cries of fans and guitarists the world over, and have crafted this 7 string beast in the image of the main man himself. The Universe Premium Electric Guitar is a cross between then JEM (without the monkey handle) and a high-end Ibanez 7 string electric. Finished off in the crisp white of the JEM, the Universe brings to the table a 5-piece walnut/maple neck, an iconic inlay pattern of pyramids, signature DiMarzio pickups, and an edge-zero locking tremolo for that true Vai style. And, even better than all of this, is that the guitar is currently undergoing a massive price reduction with a £200 discount. Needless to say this won't be around for long, so don't go sleeping on this amazing electric guitar if you're an Ibanez and Steve Vai fan.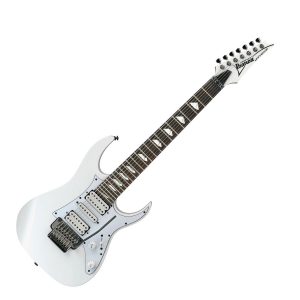 STEVE VAI UNIVERSE PREMIUM 7 STRING
For the review — The Steve Vai Ibanez Universe Premium 7 string is the top pick from our list, and we gladly award this unique and expertly-crafted electric guitar with a full 5 starts. You can get the Steve Vai Premium with £200 off at the link below, and be sure to check out the rest of the guitars in the list too.
More from Reviews
---
As a guitar player, how do you choose the best chorus pedal? The right chorus pedal can add a huge amount …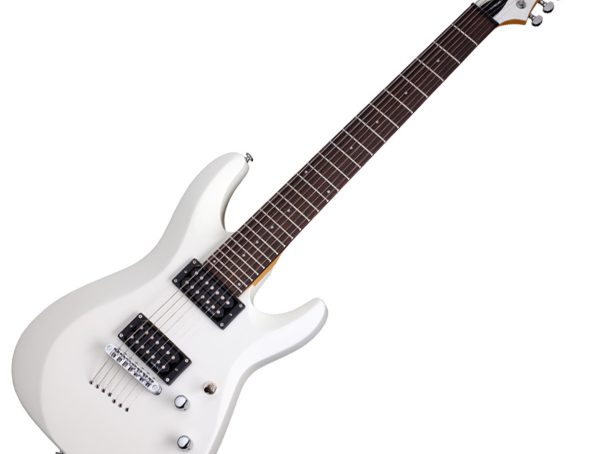 Is the Schecter C-7 the best budget 7-string guitar on the market today? Quick Look It certainly rivals its competitors, but how …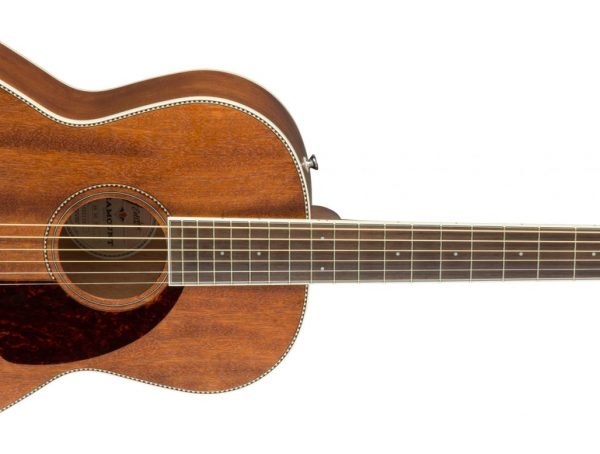 The PM-2 might just be the best parlour guitar from Fender yet. But how does it fare under our extensive …
Editor Picks
---