We all love blues guitar lick, and whether you're a beginner guitarist looking to get to grips with blues styles or you've been playing for years and want a fresh approach, there's always something you can take away from a blues lesson.
Looking for free blues guitar licks to add that extra edge to your playing?
You're in the right place. As part of my free blues guitar lessons series I've put together ten separate guitar licks, all centred around common blues patterns and popular techniques.
As you can see throughout the lessons I focus on a variety of approaches, all within common pentatonic shapes. This includes things like:
String skipping
Sweep picking
Legato
Natural harmonics
Finger picking
Slides
Alternate picking
Micro bends
Passing notes
Essentially, it's a crash course of guitar techniques all within the realm of the keeping things as bluesy as possible! Without further ado, let's look at each free lesson and what it focuses on.
10 Blues Guitar Licks – Lesson Breakdowns
Blues Lick #1 – Pentatonic Solo Finisher
This first lesson is a nice introduction to what a lot of guitarists struggle with when soloing… how to actually end the solo! It focuses on hammer-on and legato passages within an A pentatonic shape, with a cool barred hammer-on with a passing note to finalise the solo.
Blues Lick #2 – Open String Blues Run
This is lesson looks at how you can use open string soloing whilst maintaining speed, and also introduces the concept of string skipping whilst fingerpicking in open string shapes. Whilst it's an open string focus, the lesson still revolves around a pentatonic shape in E, based on a similar solo put together at the 12th fret.
If you like adding country influences to your playing in order to keep your blues playing 'funky', then you'll love this open string run.
Blues Lick #3 – Sweep Picking Pentatonic
Sweep picking is not just reserved for metal playing. When done correctly, sweep picking offers a great addition to blues playing, especially when leading up to a solo higher up on the neck.
This sweep picking lick is only short, and shows how you can use both sweep picking and string skipping together, whilst remaining in a pentatonic shape.
Blues Lick #4 – Stevie Ray Vaughan Style Blues
This lesson takes its influence from 'Texas Flood', the classic SRV song. It revolves around a blues scale shape within G minor, introducing elements of melodic playing and very brief open string playing to what would otherwise be a 'minor' solo. Essentially, it's how you can add minor phrasing to a blues solo, with that iconic SRV influence.
Blues Lick #5 – Sliding Pentatonic
If you're stuck playing in the same pentatonic shapes, then you're not going to want to miss this lick. It's all about how you can move across the neck with slides, whilst remaining in pentatonic shapes.
Also, it's easier to master than some of the other licks in this series of lessons due to the slides, so if you're wanting to add elements of speed to your playing then it's one to certainly put the practice time into.
Blues Lick #6 – Octave Blues
Octaves are incredible fun, and can give you the opportunity to hop around the neck, especially combined with string skipping. This is a simple blues octave riff, again in the typical pentatonic shape so beginners can get to grips with pentatonic positions.
Blues Lick #7 – Chromatic Blues
Chromatic playing, or using passing notes within a pentatonic shape, is very common in blues solos. When you're learning how to use chromatic passages and passing notes correctly, it can sound incredibly jarring until you're used to how they need to sound. The best way to approach them is not to linger on these notes, and use them to 'pass' through to the final note in the section.
I break down how you can use chromatic notes within standard blues shapes, and how they can add that extra depth to your playing.
Blues Lick #8 – Distorted Legato
I waited until lesson 8 to introduce distortion to soloing, purely because I want to stress the importance of playing on a clean setting so that you can fully hear how your technical playing is progressing.
This lick is mostly centred around a legato passage on the a string, introducing the idea of a blues run but only on one string. Essentially, that you don't need to scale all 6 strings to shred and make your way across the neck.
There are also very common blues solo methods within this one too, as well as a hint of minor playing to introduce a bit more 'feel' to the lick.
Blues Lick #9 – Natural Harmonics
Natural harmonics provide a whole other world of soloing possibilities to your playing. Whilst they're more commonly used in rock and metal, you can definitely use them sparingly in blues solos too.
I also show one of the most common introductions to a blues solo, and then how you can use string skipping to 'hop' to a natural harmonic, all while remaining in that pentatonic shape.
This lick then ends on a simple a chord, which shows how you can reset with this a solo finisher and end up back to a rhythm section. This is also one of the more common blues licks I use as a one-bar filler in between playing rhythm on a track.
Blues Lick #10 – Clean Blues Run
This is the final lesson in the series, and a revisit to the clean setting of the earlier lessons. I wanted to show how you can use legato techniques whilst on a clean setting to rapidly scale across all six strings.
It sounds incredibly impressive but it's a whole load easier than using something like alternate picking, and it's easily my most preferred way to rapidly scale across strings whilst sticking to a blues shape.
Conclusion
Hopefully you found these blues licks interesting, challenging, and engaging! I really want to stress that, while some of them may seem complicated, if you break them down into workable chunks they can become very easy to grasp.
Blues soloing offers an entire new outlook to playing the guitar, and can be incredibly rewarding when you nail that technique!
Make sure you check out my Fender Play Review if you like these types of lesson formats.
More from Lessons
---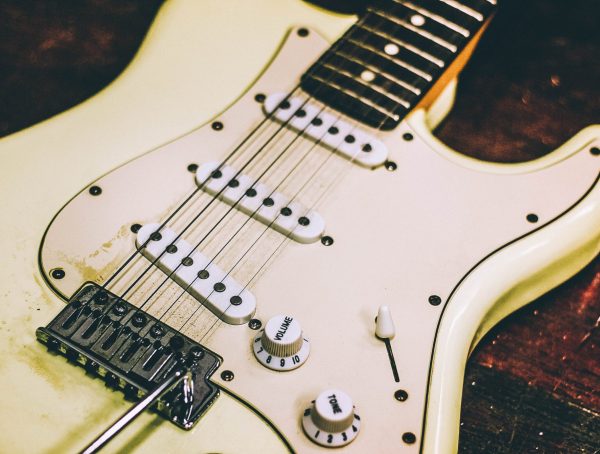 Looking for an honest review of Fender Play? We've spent the last few weeks getting to grips with the Fender Play …
Editor Picks
---