Schecter Banshee Elite-8
Build Quality

Features

Price

Tone
Wondering what the Schecter Banshee Elite 8-string guitar is really like?
Quick Look
We were wondering that too. And, after an extensive amount of time spent playing with and getting to know the Banshee, we've certainly made our mind up when it comes to where we think Schecter stand in the world of the 8 string guitar.
In a pit-stop review, the Banshee is certainly a premium 8 string guitar that has had a lot of thought and care put into it. The slim neck and body means that the guitar is just as good for beginners as it is players used to an 8-string, and whilst it is pricey, the premium build certainly justifies the price. 
But what about the features of the Banshee, how it fares to 8-string guitars in a similar high-end price range, and mire importantly, what it sounds like? Let's have a look.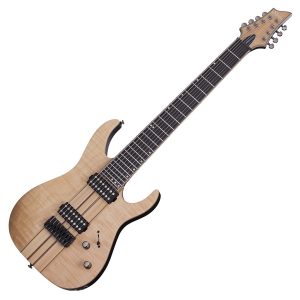 Build Quality
As you'd expect with an expensive 8-string guitar, when paying above the odds for the guitar itself you're very well justified in expecting a superior build quality. The Banshee ticks the boxes with an incredibly unique swamp ash body with a flamed maple top, a surprisingly light body with a blended smooth/satin-esque finish to really increase the wow factor.
The beautiful swamp ash body is built to evenly balance the ultra low-ends of the sixth, seventh and eighth string, whilst having the capability to deliver at the high-end with a muddy tone. This is capable not only due to the body but also the maple/walnut neck blend, and the ebony fingerboard we've come to expect on the majority of top of the range Schecter models.
Naturally you're getting 24 frets with the Banshee, and also a thoughtful cutaway so that there's no worrying about shredding. The neck size also isn't anywhere near as thick as you may expect considering the two extra strings, so playing those shredding licks isn't much more of a problem that it would be on a standard 6-string guitar. You can actually also get the Banshee in 7 and 6 string versions, and you're also able to choose from a standard hardtail bridge, or a locking floyd rose tremolo system for those players who want to whammy like there's no tomorrow!
In terms of hardware, we'd expect to see something like a meaty set of EMG humbuckers, however the Schecter team have gone for an arguably more versatile layout of their own-brand supercharged pickups. Their own pickup models mean that they're truly built for this guitar, and by opting for two dual singecoils instead of a dual humbucker, there is certainly more versatility and tonal range when selecting/merging pickup options.
It's pretty clear by diving into the specs that Schecter have spent a whole load of time and effort on the Banshee. All of the need to know bits can also be seen in the next section below.
Specifications
Body: Swamp Ash
Weight: 6.5kg
Colour: GNAT/Natural
Pickups: Schecter USA Super Charged
Neck: Maple/Walnut
Fingerboard: Ebony
Frets: 24, Jumbo
Bridge: Hipshot Hairdtail (Fixed)
Fret Radius: 20″
Scale: 28″
Video Demos
Pros
Superior build quality
The Banshee feels like a fully custom model, made for the player
The pickups and hardware and incredibly well thought-out
Cutaway ensures higher frets are easily accessible
Cons
Most beginners or casual players looking for a cheap 8-string guitar will consider the Banshee Elite far too expensive
Pickups may need to be swapped to 'beefier' humbuckers if you're looking to turn the Banshee into a guitar built purely for distorted metal playing
Review Conclusion
All in all, we love the Banshee Elite. Whilst it is an expensive 8-string guitar, the price is fully justifiable once you look at the work and attention that has gone into it.
From the hardware and the unique materials to the finish and even simple aspects such as the cutaway, nothing has been missed out. If you're looking for an expensive, premium 8-string guitar then we highly suggest that you get saving for this beauty.
If you're still looking, be sure to give our 8-string guitar guide a look over. We've put together a definitive list that will help players to make an informed decision on the types of 8-string guitars that are right for them.
View Price
More from Guitars
---
When recording music or audio, the equipment you use can affect the outcome of your production. This is necessary for …
What should you be looking for when buying a gypsy jazz-specific guitar? Well, first of all, hello to you my fellow …
When you start out in what I like to call the incredible world of the guitar, you might immediately assume …
Editor Picks
---