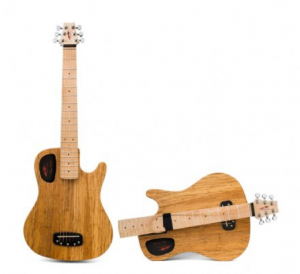 If you've ever tried to travel with a guitar, you'll know what a stressful experience it can be. Quite aside from the fact that whatever mode of transport you choose, your guitar will take a pretty hefty amount of space and make moving around more awkward, if you're flying, you'll often face the horrors of the hold. Guitars are delicate, sensitive instruments, and if you don't manage to flirt the flight attendants into submission, you may end up with a case full of matchsticks when you reach your destination. This is why travel guitars have become such big business.
What is a travel guitar?
Picture a traditional guitar body with a neck that can fold down over the sound hole, and you will be picturing a travel guitar. And every player who's never laid their fingers on such an instrument will be screaming out that it just can't work. How could a guitar that folds in half hope to have the integrity of a solid instrument? How can the neck not move around under pressure? How can the strings hope to maintain their veracity when being constantly bent and pulled about? How can you call that a proper guitar?
Well, because when it's assembled, it looks like a guitar, feels like a guitar and sounds like a guitar. It's sturdy. It's reliable. It sounds great. And it's just as comfortable to play as your favourite axe. British maker, Snap Dragon Guitars, hand produce folding versions of all guitar types – bass, electric, acoustic, classical – so whatever you like to play, you can play it wherever you go.
How do travel guitars work?
In essence, it all comes down to a cleverly placed screw… And occasionally some detachable wings.
The travel guitar has all the components and build quality of any other guitar. The only difference is that it comes with an additional moving part; a screw, which allows the neck to be straightened or bent. With the screw removed, the neck bent, and the strings tucked safely inside the body, the guitar loses half its length, but none of its integrity. This means that it can fit in a backpack and be taken on to any flight as hand-luggage. Then, to restore to its playable form, you simply need to unpack, straighten the neck and refit the screw. The strings will need tuning, but only as much as they would before any session, and nine times out of ten, you'll find the them in the same state as you left them. As for the solidity of the instrument, a Snap Dragon's folding guitar will feel as robust as any you've ever played with.
How small do they go?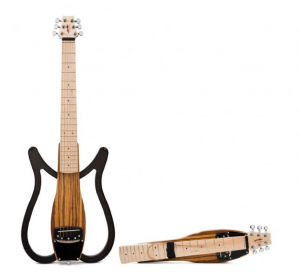 While most travel guitars can be transformed and transported at around half their usual length, some go a few steps further. Just like Red Bull, Snap Dragon gives them wings.
If you're dealing with a situation where size is really important, the aim is to reduce the packed width of your guitar as much as the packed length. And this involves replacing the wide hips of the body with detachable polymer wings. Using this technique, the Snap Dragon SnapaXe A, for example, is able to be packed down to just 54 x 8 x 10 cm. It's perhaps hard to believe, but this has no impact upon the sound at all. Once the instrument has been snapped back together, it will play like any other acoustic model – it just looks a little fancier.
Travelling with a standard guitar is possible. People have been doing it for centuries. There are precautions you can take to protect both body and strings. You can plan ahead and select airlines with a music-friendly reputation. And if you play regularly, you're probably used to carting a large case around. But, if you travel a lot, like to unwind with music and keep your fingers in shape, then a travel guitar is certainly worth considering – especially if you want to remove a needless layer of stress from your life. And despite the name, you don't have to – and probably won't want to – wait until you're travelling to use one: they're comfortable whenever and wherever you want to play.
More from Guitars
---
Is the Takamine GD90CE-ZC Dreadnought as good as it looks? The Takamine GD90CE-ZC features the tried-and-tested Dreadnought body shape which is …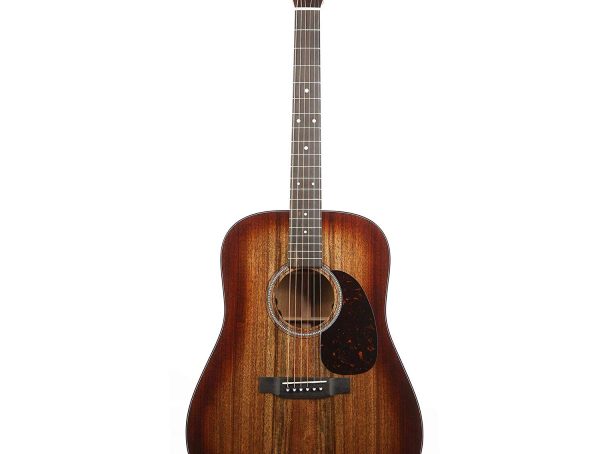 20
Is the Martin D-16E Burst a premium acoustic dreadnought? The american born and bred Martin D-16E guitar is part of the …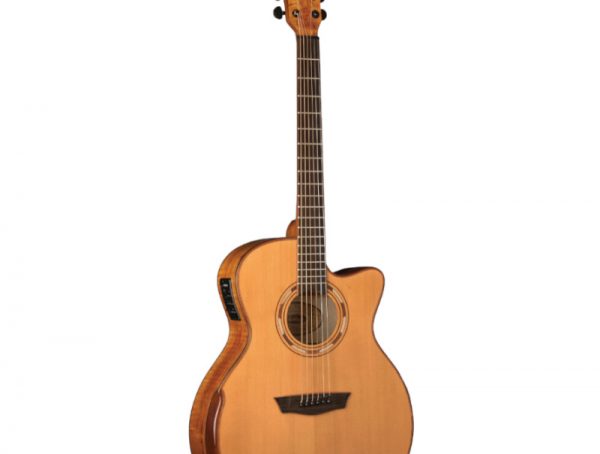 36
How does the Washburn WCG hold up to a detailed review? The Washburn WCG66SCE-O is part of their comfort series of …
Editor Picks
---