Why is Choosing the Right Guitar Strings Important?
Choosing the right guitar strings for your instrument will have a huge impact on your performance and how the music sounds. Choosing good strings for your guitar is a fast and inexpensive way to boost the quality of your instrument.
If your strings are not high quality or ill-suited for your instrument, you will notice your fingers getting sore, your sounds sounding dull, and you will need to replace the strings regularly, which is not cost-effective and annoying.
The best guitar strings to choose will depend entirely on the kind of guitar that you have and the kind of playing you do. Coated guitar strings will help the tones last longer because they have an extra layer of protection against dirt and the oils on your fingers.
The kind of materials that the strings are made of will also be a huge indicator of a good string or not. This will also depend on your playing style. Some alloys incorporated into strings will play brighter notes while others are predisposition towards warm and darker tones.
The thickness of the string is another important factor that you need to contemplate before purchasing. The playability of the instrument and the sound will be greatly affected by the thickness of the strings.
Why Would You Want Lighter Guitar Strings?
Sometimes lighter gauge guitar strings get a bad rap, but they can come with a lot of benefits. It depends on your end goal. Just because they may be seen as amateur strings doesn't mean that there isn't the time and place for them to shine.
With lighter guitar strings, you are able to bend a lot further than with a heavier string. You can not only get a better bend on the high strings, but you can also get more vibrato on the lower strings as well. This can help you add more expression to your sound.
If you like to play the music that involves a lot of fret action, then lighter strings may be the way to go. Funky music and slap bass require a lot of contact with the frets from the strings, and that is easier to achieve on a lighter string.
Lighter strings are also easier to play in general. If you are a beginner guitar player, then it is going to be easier to learn on lighter strings and then move on once you have mastered the techniques. Using them occasionally can also be a great way to mix up the sound of your music if you are an experienced guitar player and are looking to switch things up a little bit and experiment with different techniques.
Lighter strings are also a lighter sound than heavier strings. If you want to play quieter because of your setting or because you are playing in a group and don't want to overpower the other instruments, then you may want something a little softer. This is also true of acoustic guitar players that want to play softer songs.
Your style of playing may also factor into which guitar strings are right for you. If you do a lot of finger playing, then the lighter gauge may make it easier on your fingers to hit the right notes and keep moving quickly.
Lighter strings also have less tension in them, which is going to put less strain on the neck of the guitar. This may be an important consideration for vintage guitar owners that you want to play but are worried about keeping in good condition. A lighter string will allow you to get it down and use it with considerably less risk to the actual guitar.
Why Would You Want Heavier Guitar Strings?
Just like with lighter guitar strings, heavier guitar strings come with their own set of benefits. You will have to use the information to determine which strings are best for your personal style and preference.
Heavier strings offer more tuning stability. When you take the time to tune a guitar, it is important that it stays in tune. The longer it stays in tune, the better it is for you. You have more time to play instead of spending it adjusting knobs, and your songs will sound better.
There are many different factors when it comes to tuning stability (how the strings are made, storage of the strings, length of time in use, and frequency of use), but even taking all these factors into consideration, your strings will stay tuned for longer if they are heavier instead of lighter.
Heavier strings will also allow you to play at a higher volume with less effort. This will also depend on the consistency of the alloy wrap, the brand, and other factors, but in general, heavier strings are just louder. This applies to acoustic or electric guitars, so no matter what kind of guitar you have, you will get more volume with heavier gauge strings.
Heavier strings will also give you more tension. Some players like to avoid high tension, but it does come with benefits. You will have better pitch stability because you won't be able to pull strings into being sharp as easily. It is also beneficial for slide players who may want to avoid knocking a fret or creating a buzz when they play.
If you are playing metal styles of music, or any music that requires you to pick fast and trill easily, a heavier gauge string will make that easier. Heavier strings enable you to get a faster and better attack out of the guitar than smaller strings.
Higher gauge strings are also great for acoustic guitars because the higher tension will get a better resonance out of the guitar. You will hear a fuller sound, and your music will sound better. Heavier strings usually come with some bragging rights as well. A lot of great guitar players use heavier gauge strings, and they can take a little more skill to play.
Whatever you decide to use on your guitar, make sure it is the best choice for you and the kind of music you want to be playing. 
Conclusion
Choosing the right strings comes down to two things:
The type of music you want to play e.g. shredding with multi-tonal bends will require lighter strings 
Preference to your personal fretting hand strength and what is comfortable to you 
It's also a case of trial and error. Get down to your local guitar store and check out multiple guitars with different gauge strings just so you can really get a sense of what works for you.
Also, give the following articles a read if you enjoyed this one:
More from Frequently Asked Questions
---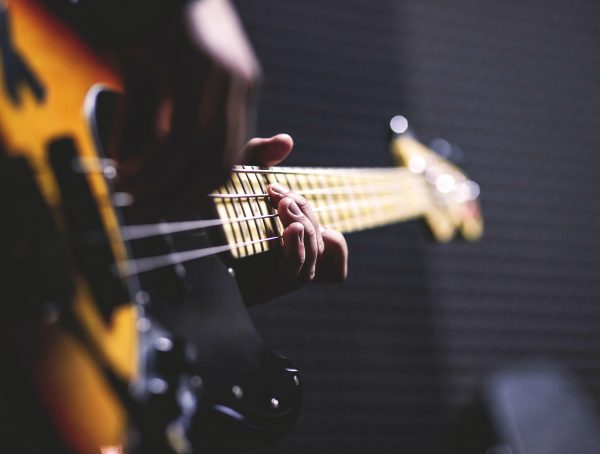 The short answer is yes, you can absolutely play the guitar if you have long nails, acrylic nails, fake nails... …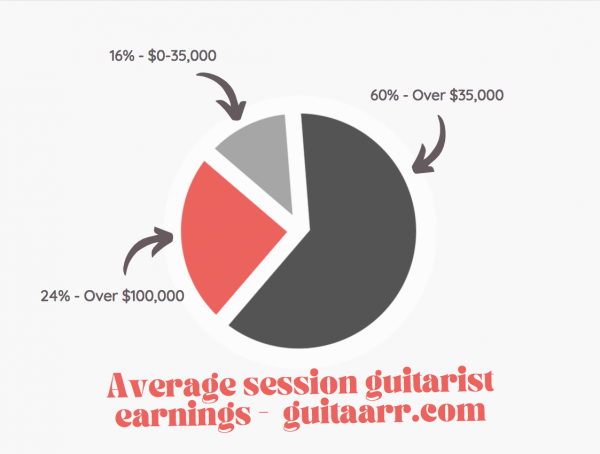 There has been an argument for years now that the era of the session guitarist is long-gone. With nearly every …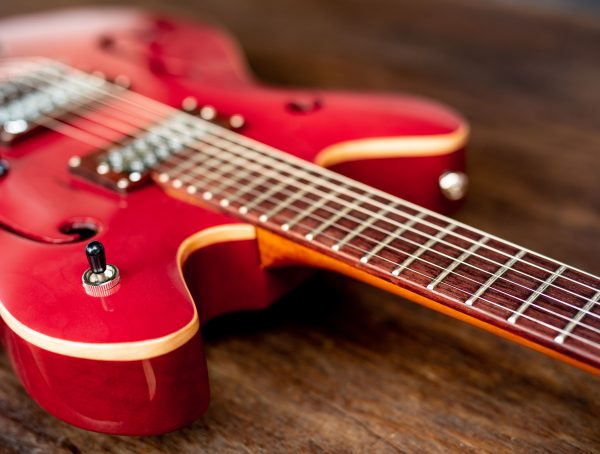 While your first guitar is unlikely to be worth more than a couple of hundred dollars, as you progress as …
Editor Picks
---