Capos are arguably the perfect kind of accessory when it comes to playing the guitar. They help you essentially play what would otherwise require an entire fret barre, allowing the guitarist to shift keys at the flick (and a squeeze) of a wrist.
Plus, you can get some really amazing sounds just by simply throwing a load of open string hammer-ons and pul-off together, and who doesn't love that? But, we digress. In this guide we've put together firstly our ten favourite capos for all types of guitars whether acoustic, electric, or a hybrid between the both. Then, we've expanded to specifically show our fice favourite capos that have been made specifically for acoustic guitarists, just for the dedicated acoustic guitarists amongst us. That's 15 individual capo reviews so that you can make the right choice!
Throughout this guide you'll find answers to frequently asked questions, reviews of individual capos, and more importantly recommendations for each type of capo based on the different types of guitars and playing styles (so that you can make the right decision when it comes to investing in a quality capo). Anyway, enough of the rambling. Here we go.
The ten best capos to choose in 2020 for guitars of all types
1. Kyser Quick-Change Capo – Black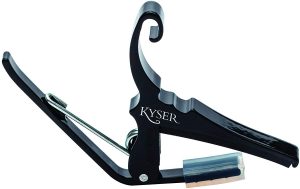 The appeal of this capo just says it all in the name. It's incredibly easy to grip, slip along the neck and change to the desired key, and the premium construct allows you to do so without damaging the neck of the guitar.
Made in the USA using lightweight yet robust aluminium with steel spring, this is one of the best guitar capos on the market today. It features the original one-handed Quick-Change, with an array of different colours for you to select from, including everything from classic black to yellow, green, and purple.
One thing you can be certain of with Kyser capos is that they are built to last for years to come, ensuring you can easily raise the pitch of your guitar, enabling you to play in another key without changing or returning fingering. The simplicity of this product is what makes it one of the best options out there for musicians today. 
View Price
2. GUITARX X3 – Chrome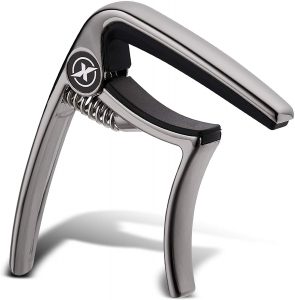 Straight away in testing, we noted that the X3 from GUITARX is almost absurdly durable, and is compact considering how well it is built.
There is also no denying that this is a guitar capo that has been very well received by those who have purchased it, and there are a number of different reasons why this is the case.
This includes the resistance and strength you can expect from this product, making it ideal for both professionals and beginners on the road. It is created from zinc alloy, promising you longevity. Aside from this, it has great intonation in all frets so that it stays in tune.
It is also easy to move and your instrument is protected against damaged, such as scratches, thanks to the premium quality silicone pad. You also do not have to worry about fret buzz with this product. You get just the right amount of tension through the steel spring with internal memory. 
View Price
3. Sound Harbor Capo with Clip-On Tuner – Black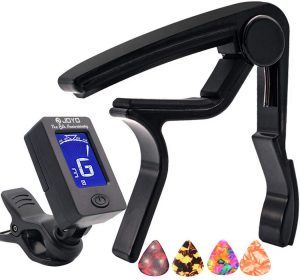 This capo comes from Sound Harbor, and there are a few things that have impressed us with it. If you are looking for a capo that is going to give your beloved instrument an excellent performance and a more reliable one at that, then you won't be let down with this option.
If you are looking for beautiful and varied tones, it certainly delivers on that part as well. You only need to look at what other musicians in the industry have had to say about this capo to see that it is very much a good choice.
Let's elaborate a bit further on why this is the case, though. You don't have any fret buzz and it is tight on the strings too, featuring steel springs with an internal memory. One thing we were definitely impressed with is the level of pressure put on the instrument; it is just the correct amount. The tuner is also highly precise.
The sensitive vibration tuner clip coupled with the high precision detection makes for the perfect product. It can be used in a number of different environments and these is no background noise. You can also use this capo on a number of different instruments.
While it has been designed for electric and acoustic guitars, a lot of people use this product on mandolins, as well as bass, banjo, and ukuleles. It comes with a multi-usage tuner as well, which can be used when tuning instruments including the banjo, ukulele, viola, violin, bass, chromatic, and guitar. 
View Price
4. TANMUS 3in1 Guitar Capo (includes pick holder)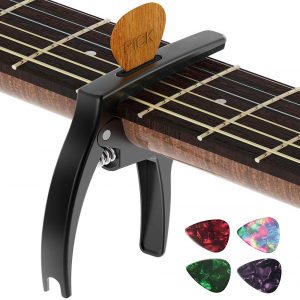 There is a lot to love about this guitar capo, which includes the creative three-in-one design. You have a guitar pin pull and compact capo, which has been designed to make playing as easy as possible. The three-in-one feature is finished off with the carry 360°clamping pick holder, which has a clip top, ensuring it won't shake off. We have been really impressed by the weight of this capo.
It is not too light nor is it too heavy. You don't have the draping sensation when in a fast move. At 2.1 oz, the lightweight design is a real pull point. 
Aside from this, you can expect great debugging with this capo. There are matched key parts, with widening thick silica and steel springs, delivering great resilience. You can be sure of safe instrument protection and a reliable performance because these key parts have been tuned carefully.
One thing you will definitely notice about this capo when compared with others is that it has a brighter luster. This is due to the uniform brushed spray; not only does the luster improve the color but it also delivers a comfortable grip feel when you are using it too, which is a great plus.
Oh, and let's not ignore the fact that you are going to get free picks with this and a pick holder. That's great value for money, we're sure you will agree. 
View Price
5. Donner Guitar Capo DC-3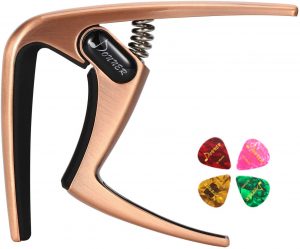 The next capo we recommend is one that makes exceptional use of the labor-saving arc and lever principle. If you are looking for one of the most ergonomic capos on the market, you will struggle to find better than this. The grip is more labor-saving than a lot of other products out there with this hand-held design.
However, it's not just the ergonomics that we are interested in with this capo! It is made from a premium quality alloy material, boasting a stunning metal appearance. This means that it not only looks great and has a cool metal texture but it is also highly resistant to corrosion as well, meaning it should last you for many years to come.
When you use the capo, each string is pressed evenly and tightly. This means that there is no buzz and that the strings ring in a clear and loud manner. Like some of the other capos mentioned, you get four free guitar picks with this version as well. The spring itself is made from special steel spring, which is of a high level of quality and extremely elastic. No matter how often you use this capo, the elasticity is still going to be as great as when you first purchased it.
Finally, the capo's silicone pad is created using premium quality silica gel material. It will fit your neck comfortably, ensuring the tone change is accurate and the neck shaft is also protected. We love that everything has clearly been thought of very carefully when it comes to this capo.
View Price
6. WINGO Wide Guitar Capo – Black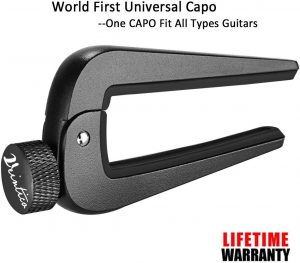 There are a lot of great qualities that are associated with this capo. However, one of the main factors for us is the versatility that you are going to get. You can expect Rubber B Length 57mm, Curved Rubber for Acoustic Guitars, as well as Rubber A Length 61mm, Flat Rubber for Classical Guitars.
This capo is also suitable for instruments with fewer strings, including mandolins, banjo, bass, and ukuleles. So, no matter what sort of string instrument you have, this capo is not going to let you down.
Aside from this, it is made using premium quality material. This includes zinc-alloy, which is used for the body and is aircraft-grade, as well as being very lightweight. It also has an extremely smooth and stylish finish. You can be sure of long-time use too, thanks to the strong steel spring. 
Other qualities worth mentioning include the micrometer adjustment tension. This makes sure that, at every fret, you can get a higher performance level. Precise tension control is provided through the big knurled tension knob, which can be adjusted with ease.
You can also keep the strings in tune with precision control due to the enough-width clamp. The dual protective silicone rubber pads are also worth a mention, boasting a seamless twist. This makes certain there are no sharp parts that could cause damage to your instrument. Not only is the capo, therefore, a long-term investment but it helps to protect your guitar from any scratches or wear and tear too.
Of course, one of the best things about this capo is that it actually comes with a lifetime warranty, which is something that is exceptionally rare with any sort of product! This gave us complete peace of mind that we were not going to have any troubles with this item.
View Price
7. Shubb S1 Stainless Steel Capo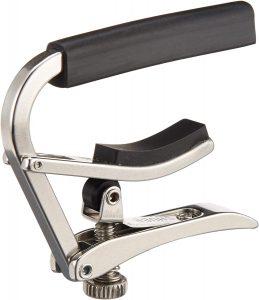 Next, we have this Deluxe S Capo, which has a new roller design that we were impressed with. This helps it to resist any wear and tear, as well as ensuring it opens and closes with greater fluidity.
Created using stainless steel, this is a robust and strong capo that will not let you down.
It is the upgraded version of the original Shubb capo. What's different? Well, it has become a lot easier to handle, as the lever has been restyled. Impressive!
View Price
8. Greg Bennett Co – Glider Capo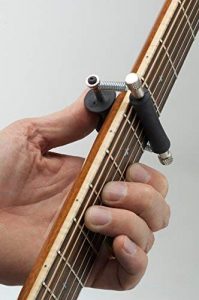 This is another capo that has been handmade here in the USA. It also protects your guitar, as it has been carefully created to ensure the finish of your guitar is not impacted by its use. It is also easy to store too, as it can be stored on the nut of your guitar when it is not being used.
Other factors we liked about this capo include how versatile it is. It does not pinch you of tone, as it rolls seamlessly. Greg Bennett Co. is a company very much respected in the world of music and craft, and so we knew we were not going to be disappointed with this one.
View Price
9. Creative Tunings SpiderCapo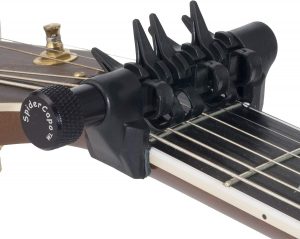 This capo features a patented design, offering optimal sustain and full tone. It delivers hundreds of open tunings, delivering fine-tuning for each string on your instrument.
We love the soft leather that is used to provide the neck; it has a luxurious quality to it. It is also very lightweight too, which makes it easy to use. It weighs less than one ounce. No matter the music you're into, this is a creative tool that you will get a lot of use out of. 
View Price
10. Shubb Standard series GC-20A (C1) – Polished Nickel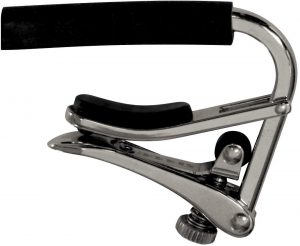 Finally, we have this Shubb capo, which we simply had to mention, as it has been used and loved by musicians for more than 35 years now. The design of this capo is very distinctive, which is why a lot of people have fallen in love with it.
Amongst the adjustable capos out there today, it is one of the more unique ones. You do not need to reset the pressure every time you use it – you can set it and forget it so to speak. All you need to do is flip the lever to lock and remove as well.
This is definitely one of the most unique and effective capos available. 
View Price
The 5 Best Capos For Acoustic Guitar
If you're an acoustic guitarist, you may be looking for the types of capos that are specifically crafted for an acoustic guitar neck. And, with many acoustic guitarists being made of expensive woods and costing a pretty penny, you're not going to want to damage anything with a low-cost or poorly built accessory such as a capo.
Let's take a quick look at our favourite, tried and tested capos that specifically cater to the acoustic guitarists.
1. D'Addario NS Tri-Action Capo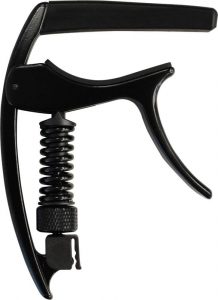 Considering the low price, the NS Tri-Action is an absolutely brilliant piece of kit.
The sturdy, strong grip of the tri-grip provides a unique tension experience, meaning that tension will be evenly-spread, regardless of the width of the neck.
It's this reason why the Tri-Action is at the top of our best acoustic guitar capo list, as they've really thought about the different neck widths and how tension can be spread across the entire width of the neck, ensuring safety especially with prolonged use.
View Price
2. Shubb Deluxe GC-30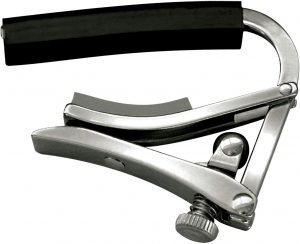 It seems like in this guide we just can't get enough of Shubb…And that's true! This brand truly do make quality capos at a price that is very fair, and the GC-30 expands on their core offering with an updated, streamlined design and a tweak to their current lock design which makes unlocking and sliding a breeze.
It's also very light and small, with no unnecessary extending parts unlike some of the cheaper acoustic capos on the market today.
View Price
3. Planet Waves NS Capo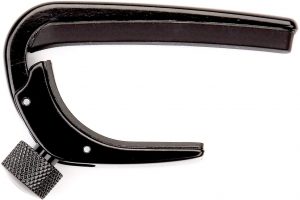 This is one for the acoustic guitarists who want a no-hassle, tighten and go sort of a capo. Planet waves are known primarily for their guitar accessories, so it's no surprise that they've hit the nail on the head with this too.
It's a simple aluminium capo with micrometer tension adjustment that will completely eradicate any potential of fret buzz. Lovely stuff.
View Price
4. Paige Original Capo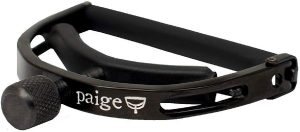 Now, it's very easy to claim that all of these capos have been made just for acoustic guitarists, but the Paige original capo truly has. For the guitarists looking for tension control to the highest degree, this is absolutely perfect.
The manual clamp is placed and lowered to fit the exact tension required for the neck of each specific guitar, meaning that tension is perfectly spread across the neck as it is taylor-clamped by the user. When it comes to looking after the neck of your acoustic, what more could you ask for?
View Price
5. Guitto GGC-02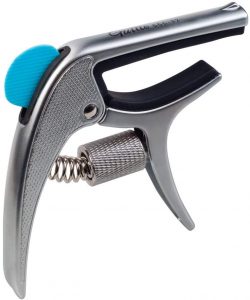 The Guitto is the type of capo with the most novelty out of those on this guide, due to the compact almost stocky shape, and obviously the added plectrum holder.
However, novelties aside, this really is a fantastic capo due to the heavy build, the zinc construct, and the almost elastic effect of the clamp which is very responsive to even the lightest of squeezes. This means you can grip and slide very effectively, so if you're using a capo often in a live environment and need to make some quick changes, we'd recommend going for something like the GGC-02.
Frequently Asked Questions
Is using a capo difficult? 
Like any accessory for the guitar, using a capo will take a little bit of getting used to. However, if it not like you need to master an additional component on top of the instrument, for example compared to the difficulty of learning how to use a slide.
Can I stick to a cheap capo? 
Yes, by all means you can, however just be aware that very often with guitar accessories, cheap can also mean poor quality. We'd recommend going for something mid-range, within your budget but the type of capo that would suit your playing style.
How do you use a capo? 
In simple terms, you just squeeze the grip and put the capo slightly above the fret you want the capo to latch on to. This will then essentially transpose whatever you were playing up to the fret you've selected, essentially barring that fret into a specific key or transposition. Check out the video below for a practical guide on using a capo for the first time:
Can you make your own capo? 
Yes…But, with capos starting at incredibly low prices, we'd advise against it. The last thing you would want to do is damage the neck of your guitar in the process of using your DIY capo. However, here's a handy video on making your own capo (and doing so that won't result in damage) if you're really set on making your own:
Conclusion
Hopefully this guide has given you a greater understanding into why buying a capo is a much more informed decision that you may have initially expected. We've covered the types of capos for specific playing styles, common questions, and also our overall favourites.
If there's something you feel is missing from this guide, please leave a comment below and we'll be happy to make an addition, or answer any further questions you may have regarding the best type of capo for your specific guitar playing style.
More from Accessories
---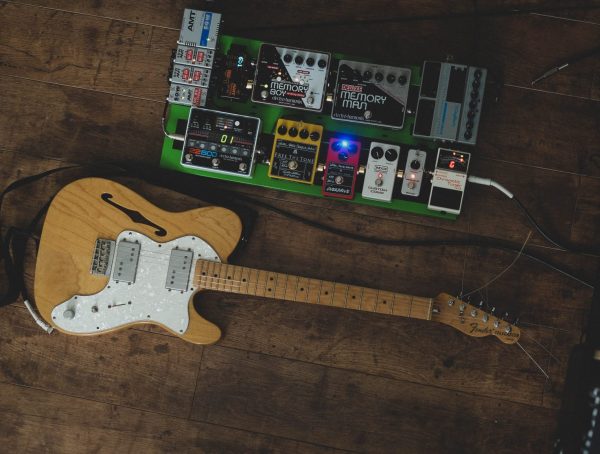 If you're looking for a high quality guitar pedalboard, you will find a multitude of options online. However, it's all …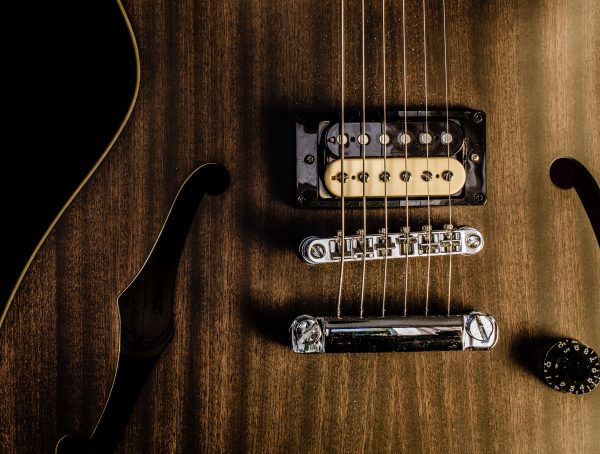 The Definitive 2019 Guitar Stand Guide - Our Top 20 Selections Jump To:   - Overall Top 20  - Types of Stands  - FAQs Kicking off …
Editor Picks
---