If you're looking for a high quality guitar pedalboard, you will find a multitude of options online. However, it's all too easy to be bombarded with information overload, or simply make the wrong decision based on what you actually need for your playing style (and the amount or types of pedals in your collection). 
First of all, what is a pedalboard?
A good guitar pedalboard is a panel that acts as a container and power supply for your electric guitar pedals. Storing and transporting each of your pedals between gigs, rehearsal spaces and performances is very important; a pedalboard means that you don't have to take care of each individual pedal in your collection.
Choosing a pedalboard that's right for you
Every guitarist will be looking for something unique from their pedalboard, so let's breakdown ten of the most popular options that are available online right now.
Ten of the best pedalboards available in 2020
1. Vangoa Guitar Pedal Board (with carry bag)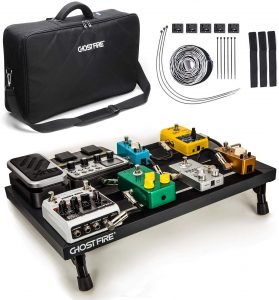 This pedal board weighs in an only 3lb and can store up to ten compact pedals. If you're looking to store and transport a large number of effects pedals, the Vangoa would be a stable choice for you.
The portable and lightweight nature of this board means that you can easily transport your pedal board between gigs and rehearsals with ease. The frosted aluminium surface means that is stays in good condition, scratch free condition for years. If organisation has always been a struggle for you, the handy wiring management pocket will give you the neat storage you have always been looking for.
One of the most attractive features of this board is the flexible folding legs that allow the board to be tilted upwards for easy reaching. This feature also allows you to fold it up for safe and compact storage when travelling.
The high quality carry bag also makes this pedal board very travel friendly. The mid-range price, one year warranty and lightweight nature of this board makes it an ideal choice for many guitarists.
View Price
2. Soyan Large Pedal Board – Metal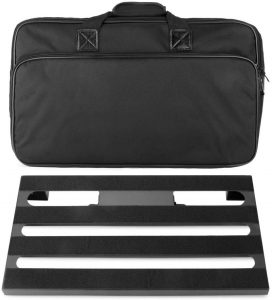 This is one of the lowest prices out there for guitar pedal boards. Even with the low price this Soyan board doesn't compromise on features.
This large size (22" x 12.5"), solid pedal board comes with a separate compartment for your power supply and the handy carrying bag makes it easy to travel with. The material feels very high quality, which is solid, yet durable when you're using it. As well as the travel bag, this pedal board comes with the necessary Velcro to attach your pedals and cable ties.
This is a great choice if you're on a medium to small budget and you're looking for added extras for better transportability.
View Price
3. Mr. Power Aluminium Alloy Pedal Board with Carry Bag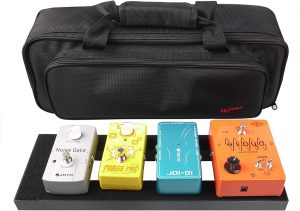 This is one of the most inexpensive and compact pedal boards on the internet right now. If you're looking for a small, simple and thrifty choice, this board will suit your needs well.
It is worth noting that this pedal board is on the small size, but it still has all the features you would expect and it suits any volume of power supply.
The measurements of this pedal board come in at 40cm x 13.5cm x 2.5 cm and the package also comes with a small bag to transport your pedals from place to place.
This pedal board can fit four regular sized pedals, so it is perfect if you don't use more than four effects pedals usually. Magic Velcro Tape also comes included in this options, which is perfect for securing your pedals. If you travel by public transport regularly, this is an excellent, lightweight option for you.
View Price
4. Gator Cases – Aluminium Pedal Board (includes cary bag)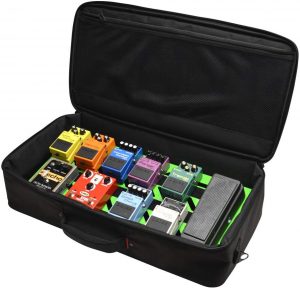 This is a unique and attractive design for a guitar pedal board; the green design is ideal for those who are fashion conscious. This pedal board measures in on the larger side at 23.75″ x 10.66″, yet can still be classed as a lightweight and transportable option.
Made of aluminium, this pedal board comes with a universal mounting bracket for mounting the most common power supplies underneath the board. The angle of the pedal board also makes it very easy to access the effects pedals you need at that moment.
Gator is a trusted brand and is known exactly for helping musicians perform in style whilst staying highly organised. If the colour green doesn't suit your tastes, there are other options to choose from too such as orange, yellow and black. The brighter colour options will certainly make yours stand out if you're performing with other musicians in a tight set up.
The sturdy and solid carry bag makes it very simple to pack up your board and head to your next gig quickly and efficiently. The removal shoulder strap and thick padded boxes are certainly impressive features too.
This is a great choice if you're looking for lifetime warranty and a safe place to store all of your high tech guitar gear.
View Price
5. Gator Cases -G-Tour Series Pedal Board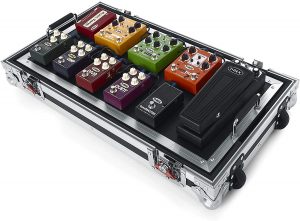 This is a larger option when it comes to guitar pedal boards, sizing up at 24″ x 11″ (internally). The pro grade shock absorbing EVA foam interior makes it stable for even the heaviest of stomps! Made of plywood and aluminium, this Gator case offers super solid protection as well as easy assembly with the dual lock fasteners. If you're hoping to get more organised, the lower casing is ideal for storing your cables and guitar accessories.
Travelling with this pedal board couldn't be simpler as the retractable handle and in line wheels make it smooth and simple to board a plane or train. The key attractive features of this pedal board are its amazing transportability and the extreme protection for your guitar effects pedals.
If you're working with effects pedals such as Vox, Zoom, Digitech, Joyo and Donner, this pedalboard is the ideal choice for you. Gator will always be a trusted brand for guitarists as they always ensure maximum protection for your equipment.
View Price
6. Vangoa Pedal Board – White Aluminium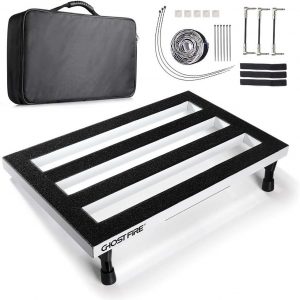 This Vangoa guitar pedal board is made of stylish white aluminium. As well as being chic and a unique colour, it only weighs 1.18lb, making it one of the most lightweight choices out there right now. It measures in at 19.8″ x 11.5″ and comes with a coordinating, waterproof bag to keep all of your effects pedals safely stowed away. The bag also comes with zipped pockets to keep all of your accessories secure.
The majority of pedal boards are black, so this one truly stands out for those who are style conscious. This Vangoa model has folding legs so that you can perform at a more comfortable angle. The practical accessories that are also included in this package make it incredibly appealing; with adhesive backed hook and loop, tie stickies, tie wraps and an adhesive cable strap, you won't be short of useful tools for your board.
This pedal board comes with a one year warranty and Vangoa always pledge to serve their customers with high quality products and services. Their energetic team is always very keen to answer any questions, should you have any. Although the brand is still fairly young (founded in 2017), they are continually introducing more and more original products to their line.
The innovation of Vangoa can't go unnoticed, so it is definitely worth considering their range of guitar pedal boards.
View Price
7. BOSS Large Guitar Pedal Board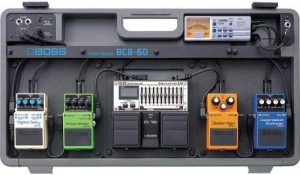 Boss is a trusted brand, that is well known amongst guitarists and their large guitar pedal board (BCB-60) has plenty of impressive features. This product is considered to be a relatively lightweight option for transporting compact pedals and effects.
It has a padded interior, which can be completely customised to suit your individual needs. It can even be used to store twin pedals and even wahs. The exterior is made up of tough,  moulded Resin that can withstand heavy impact. Weighing in at over 10lb, it isn't the lightest option on the market, but considering the advanced features it seems to balance out.
The measurements for this pedal board are 28 x 16 x 11 inches, which is a standard size compared to the other options on the market. Although this is a BOSS model, it can fit pedals from a whole range of other manufacturers.
View Price
8. SKB PS8 Powered Pedal Board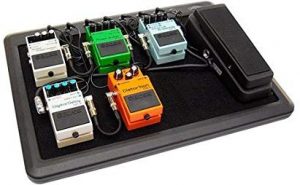 The SKB PS8 Powered Pedal Board with Gig Bag is rates 4.2 stars out of 5 by online consumers. It comes in the colour black and it can power up to eight effects pedals at a time. The injection is created from eco friendly rubber modified styrene. This creates a very durable, but also a surprisingly light platform for your effect pedals.
This pedal board comes with a heavy duty 19 x 12 inch hook and loop mounting surface for secure positioning as well as a tidy storage pocket for all of your cables and accessories. With eight built in 9VDC output jacks and an external transformer it has everything you need to plug in your effects pedals.
This is a very reasonably priced option that would suit all of your needs as a professional guitarist. The eco friendly features are a unique selling point and the lightweight style is perfect for those who are always on the go with their guitar equipment.
View Price
9. Voodoo Lab Dingbat Medium Pedalboard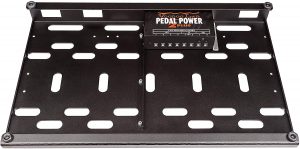 This is one of the higher priced pedal boards online at the moment, but the features certainly complement the price point. The lightweight aircraft grade aluminium chassis makes it easy to transport and durable at the same time.
The pre-mounted Voodoo Lab comes with a 2 PLUS power supply and contains eight isolated outputs. There is also ample room for mounting an additional pedal power unit below this pedal board. Organising your pedals and cables couldn't be easier with the included bag; your cables will be neatly and safely tucked away when travelling on tour.
Measuring 22″ x 13 1/2″ this medium sized board is considered to be ideal for six to ten effects. This options comes with several accessories to keep secure your pedals and cables, such as zip ties and four way tie mounts. If you're looking for hand-free transportation, this pedal board will provide you with just that, as well as super quick installation.
If you've got the budget to purchase this pedal board, it will certainly have many advantages to you as a professional or amateur guitarist.
View Price
10. Gator Cases – Bone Moulded Polythene Pedal Board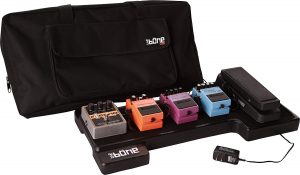 This USA made guitar pedal board consists of moulded polyethylene and includes a hook and loop friendly velcro surface. If you need a board that homes up to five pedals, this is would be a good choice for you. The dimensions are 23.75″ x 10.25″ x 2″ and it comes included with a Daisy Chain Power Supply.
This handy and portable carry bag is also equipped with a useful accessory section for all of your wires and additional equipment. The selling point of this pedal board is it's lightweight style and durability. Gator Cases such as this one come in a number of different options such as mini and meg; depending on your needs, you may want to explore the different types available.
All in all, you need a pedal board that can withstand the pressure of your feet, without feeling too bulky and heavy. This pedal board is the ideal mixture of the two, which is why many guitarists would swap towards the Gator Case brand.
View Price
Frequently Asked Questions
Why are some pedalboards expensive? 
The main reason why some pedalboards are more expensive than others is down to their features. Some come with gig bags, others are completely portable via a trolley, and then those at the even higher end have a built-in power source.
Ultimately, the choice is up to you on how much you want to spend, however do bare in mind that if you want a board with all of the 'bells and whistles' types of features, it's going to cost more (and no doubt last longer) than a cheaper, standard board.
Can I make my own pedalboard? 
Yes! Commonly, guitarists would make their pedalboards out of milk crates and slabs of wood. Fast forward into the modern era, and you can even buy DIY starter kits! Take a look at the helpful video below and one of the better ways to make your own:
Do I really need a pedalboard? 
If you have a lot of pedals that you use regularly, then it certainly makes sense, both in terms of keeping your expensive pedals safe, and making it much easier just to pack-up and transport at a moments notice.
Also, you'll either use smaller pedalboard cables to patch each pedal within the board (and even use the built-in power source if you opt for one of the more expensive pedals), so that you won't be messing around patching and plugging pedals before every gig.
Can I fly with a pedalboard? 
Yes, however this completely depends on size. Larger boards can often include a bag with wheels, whereas the smaller boards may just be used as carry-on luggage. Take a look at our guide on taking guitars & accessories on a flight, and what each airline permits.
Is there an alternative to a pedalboard? 
Yes. You can either carry all pedals separately and enjoy the logistical nightmare which that brings, or opt for a multi-effects pedal so that all of your favourite and must-have effects are together in one unit.
What's the best pedalboard in this guide? 
Our favourite simply has to be the Large BOSS Pedal Board. It's durable, well built, big enough to cater to larger pedals, and also not overly big to the point that it's hard to travel with.
Conclusion
This guide should help to shed some light into the world of the pedalboard, and why it's really important to carefully consider the type of board that you buy.
For any further questions, drop a comment to this guide below and we'll get an answer added for you to the FAQ's section.
More from Accessories
---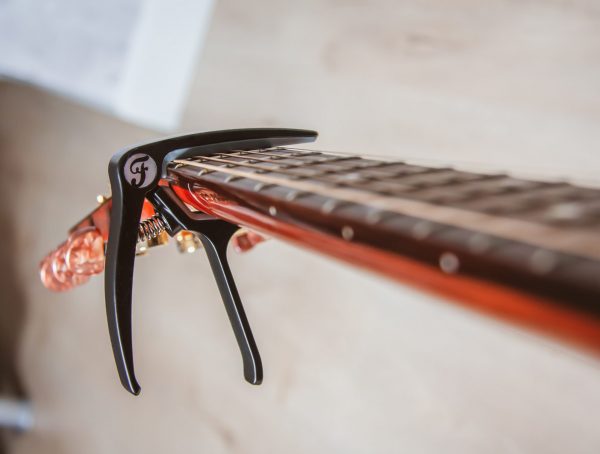 Capos are arguably the perfect kind of accessory when it comes to playing the guitar. They help you essentially play …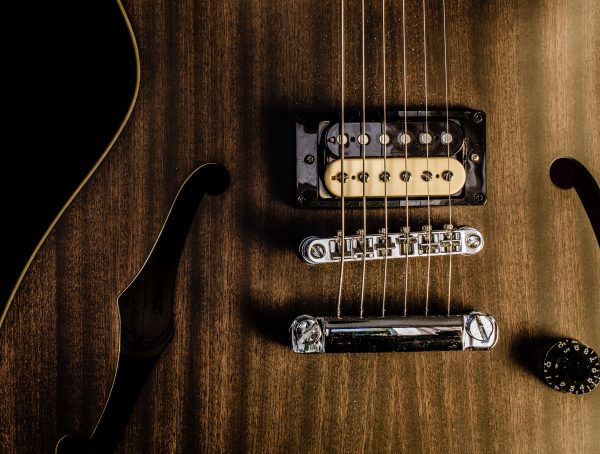 The Definitive 2019 Guitar Stand Guide - Our Top 20 Selections Jump To:   - Overall Top 20  - Types of Stands  - FAQs Kicking off …
Editor Picks
---